Ready to use instant whatsapp clone app development
You are on the right page if you want to leverage the most sought-after messaging application that has completely revolutionized the messaging app market. Numerous attempts have been made in vain to clone WhatsApp as a real-time messenger application, but none of them turned into a successful result. Despite of introducing similar functionalities, no real-time messenger application has ever been a game-changer or have touched WhatsApp's supremacy as an application.
In order to build an instant messaging application like WhatsApp, at Bacancy Technology we are offering a detailed understanding of its functioning mechanism and technicalities. We are offering a ready to use the instant chat app like WhatsApp.
Whatsapp Clone Core Features
Social Login
Lets you sign in using social media account, instead of creating a new login.
Push Notification
To keep users engaged with alerts, discounts and deals
Individual/Group Chat
In individual/group chat you can exchange endless messages, photos and videos.
Video/Voice Call
Using phone's Internet connection you can talk to your friends, family or in group for free.
Photo, Video and Document Sharing
Users can share images, videos, spreadsheets, slideshows, contact and more with simply attachment.
Privacy and Security Settings
Users can change settings according to their needs.
Let's Build Your Whatsapp Clone For iOS and Android
Experience Smart & Fast Whatsapp Clone Development without burning your pocket with the help of our skilled and experienced experts.
You will hear from us within 2 hours!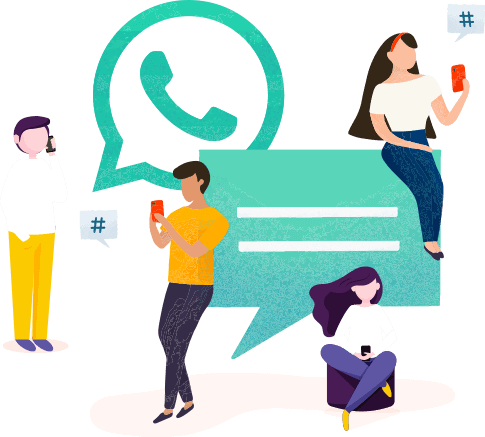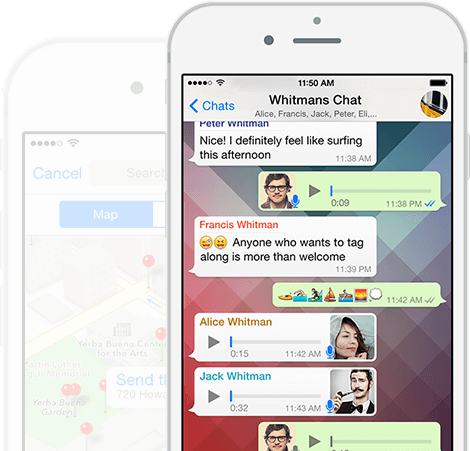 Build A Whatsapp Clone App With Bacancy Technology
Since entertainment and social apps such as Dubsmash, Snapchat, Instagram, and WhatsApp are getting more popular and widely accepted. A startup entrepreneur like you who wants to take great advantage of this game-changer phenomenon can become an appreneur by building an app similar to WhatsApp with awesomely crazy and dynamic features. We can help you turn your dream of becoming a millionaire appreneur into reality.
Bacancy Technology is a one stop solution of Instant Messaging App and other WhatsApp like apps for your smartphones.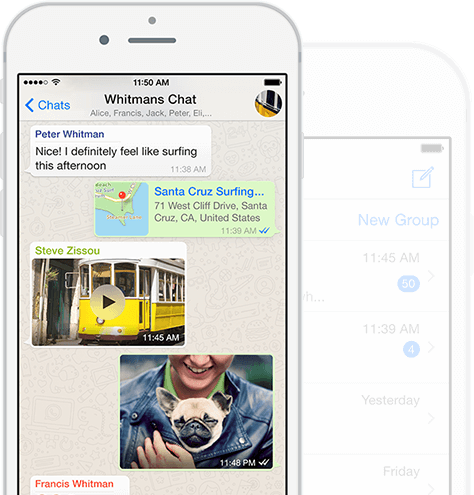 Why Hire Bacancy Technology Developers To Build Whatsapp Like App For Android And Iphone?
At Bacancy Technology, we have skillful developers who have in-depth knowledge and extensive experience and we precisely know that what it takes to make an app like WhatsApp.
Bacancy Technology – top-notch web and mobile app development company, have made it more than simple for you to get a ready-made clone of WhatsApp messenger. Just put forward your idea or requirement and we ensure to build an app application surpassing all the expectations.
How A Clone Of Whatsapp Can Make You Money?
You can earn a good amount of money using the instant messenger application and it is an easy task. There are so many ways for earning money and it is quite easy to understand as well. Use link shortening services to let your users shorten the links of different web properties and for every click you will be getting paid some amount of money.
Affiliate marketing of specific products, specific brands and companies is an excellent way to consider. You can also use PPD networks – pay per download. Sharing referral links of instant recharge in different contacts and groups is another good way of earning money.
Yes, We Can Also Help You Market Your Application
Yes, we market an app too
We have left no area uncovered when it comes to offering WhatsApp like application. When you hire us to build an app like WhatsApp, we offer an exclusive marketing team to market your app.
Apart from the ASO stuff such as keywords, optimizing the screenshots and a meaningful App description, our marketing team comprehends the bits and pieces of leading Mobile Ad Platforms such as RevMob, Applovin, Chartboost and how to leverage them to promote it as a social messaging application.