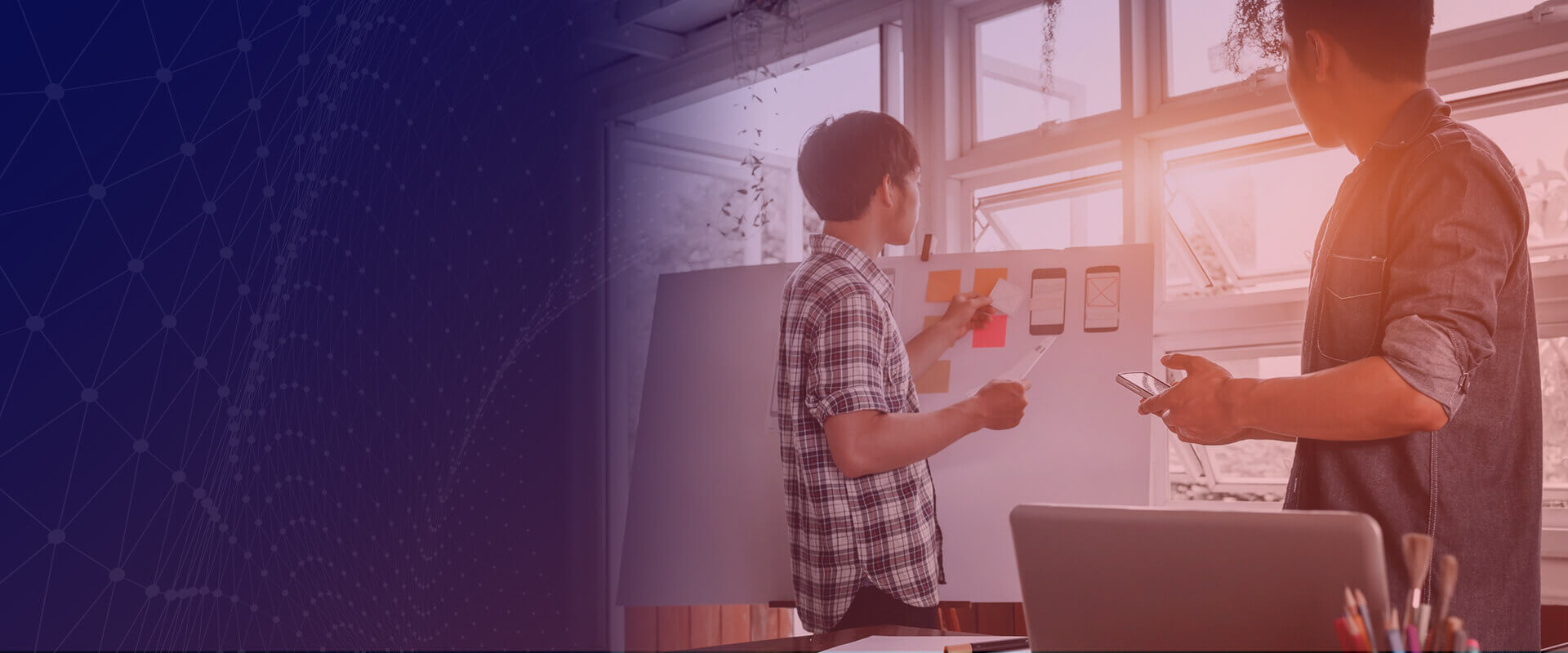 UX/UI Design and Development Services
Creating visually compelling, highly intuitive and optimal designs with the end-user in mind to captivate your audience and convert them into potential customers.
Request Free Consultation
UI/UX Design and Development Company
Well-designed user interface and enjoyable user-experience is a key to increase your user interaction and drive sales. In today's highly competitive market, rich feel and great look go hand in hand. User Experience (UX) and User Interface (UI) are an essential part of web applications, mobile app designs, and software development to create a lasting impression on users' mind. From conceptualization to UX, from graphics to branding a well-planned and executed UI bridges the gap between stakeholder goals and user expectations.
That's where Bacancy Technology brings the most critical aspect to deliver exceptional customer experience. Considering human behavior, we start by thinking about the user feel, ease of use, and experience to ensure satisfaction when they interact with your product. Our skilled designers and adroit developers work closely to ensure that the entire process is perfectly structured. Throughout the UI/UX process, we work with you as your co-creation partner. We are a globally renowned UX/UI design and development company, bringing simple, elegant, and worthy experiences all at the same time.
UI/UX Development Offerings
UI/UX Design Services
Our UI/UX designers collaborate with you to create user-centered ideas, objectives, and goals to accomplish the whole process with perfection. With proven expertise in mobile apps, web apps, and human-machine interfaces, our designers believe in creating human-centered experiences that people love!
Product Conceptualization
Product conceptualization plays a significant role in the organization's growth as well as success. We employ product conceptualization to bring your vision into a unique UX solution. Our expertise lies in offering top-notch capabilities by implementing innovation for the organization's development.
UX Strategy
Whether it's a mobile app or a website, our top-of-the-line expertise in UX is par excellence to achieve perfection in elements that lie beyond prototypes. Leverage our UX strategy to enable a fascinating presence ensuring customer loyalty and superior brand value.
Request Free Consultation / Quote in 24 Hours
Schedule A Developer Interview / Get A Free Consultation
Wireframing
Before we bring your product idea to life, we create a logical and interactive structure so you can visualize the result. Your idea is emphasized with responsive buttons and other significant ingredients of the application as well as the website. Wireframing keeps evolving with each prototype to create experiences to deliver tangible business results.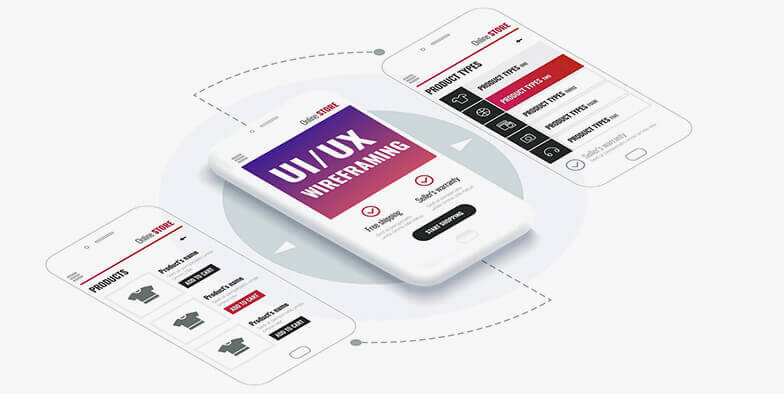 Visual Experience & Branding
By going through your views, ideas, and needs, we capture the strength and spirit of your business to identify the right identity for your brand. Our UX/UI designers hold skillful expertise in creating a coherent and resonant visual identity to differentiate your brand in today's competitive marketplace.
Design Consultancy
The way your website appears in the search result, definite a huge percentage of its impact on its users. In today's digital age, it has become mandatory to stand out; we provide digital consultancy services to create user-centered, user-friendly, engaging, and responsive designs to create an exceptional user experience.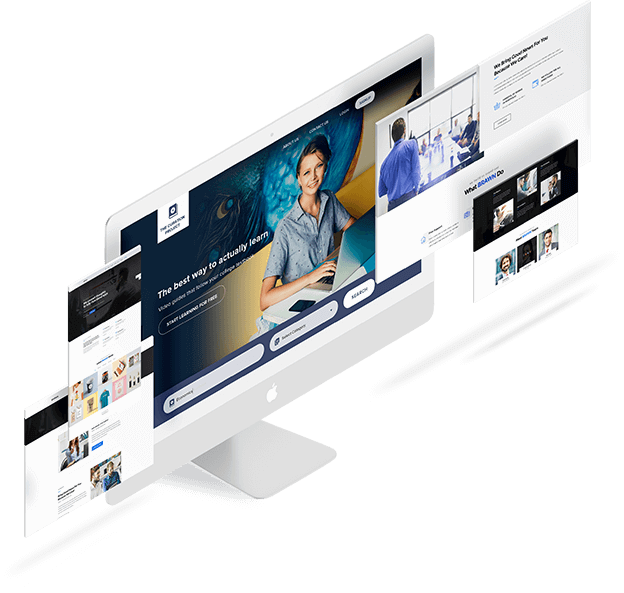 UI & UX Web Applications
UX and UI play an essential part to enhance your user experience and increase the value of your brand. Due to the high internet usage worldwide, the web has become a crucial part of any marketing strategy. Search engine optimization, online marketing, eCommerce, social media, and many other tools emphasis enjoyable web experience. Hence, an effective and powerful web application based on analytical data leveraging our skillful expertise is must.
Customer research
User Experience mapping
UX Experience with a UX audit
Creating marketing Persons
Information architecture
Wireframing, Prototypes, Mockups
Brand Style Guide
Branding & identity
Full-stack development
Usability Testing for web application
UI & UX for Mobile Apps
When it comes to understanding user experience and developing a customer experience for mobile apps, we follow the best industry practices. We have in-depth knowledge and extensive experience in empowering the most effective approaches to guide mobile application user behavior. Based on our user-focused approach of how people interact with your mobile app, we will help you create user-centered designs and effective graphical interfaces to create engaging visuals with excellent user experience.
Customer research
User Experience mapping
UX Experience with a UX audit
Creating marketing Persons
Information architecture
Wireframing, Prototypes, Mockups
Brand Style Guide
Branding & identity
Full-stack development
Usability Testing for web application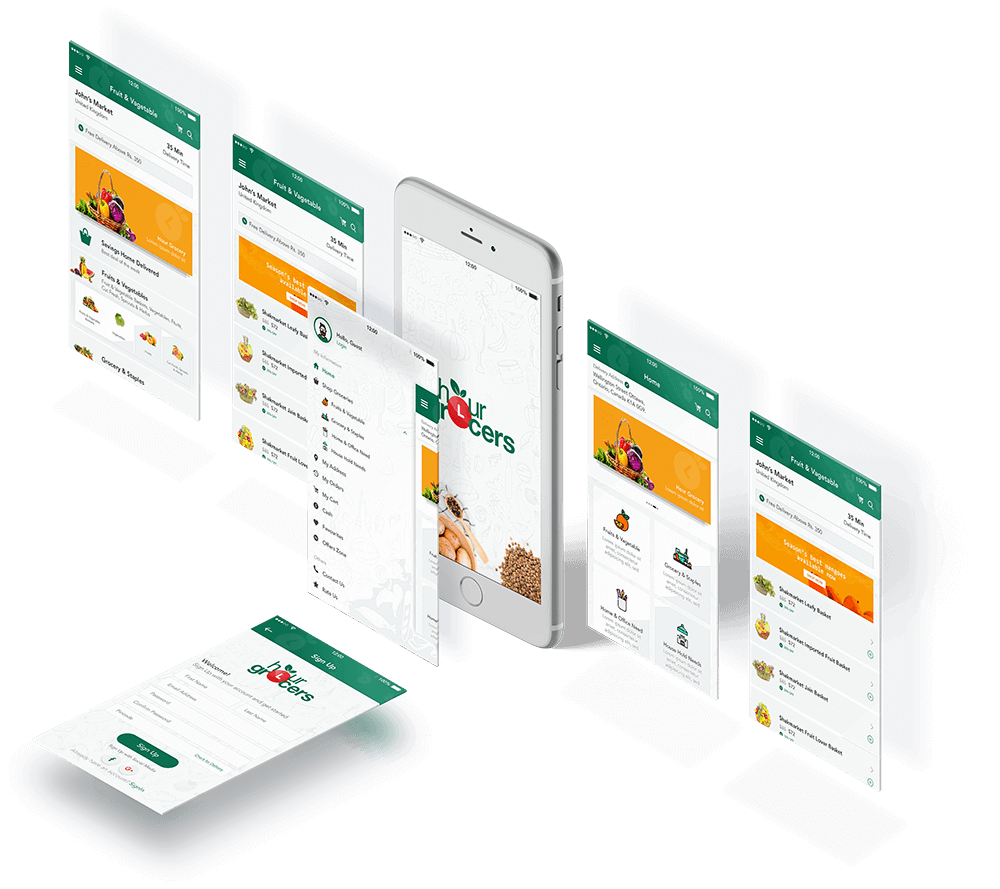 Frequently Asked Questions
Is 15 days risk-free trial period completely free?

Yes, It's completely free. We allow this free time period to evaluate the code quality, communication, on-time delivery, Agile software development process, and more of the hired trial resource. If you get satisfactory work, then you can continue with the engagement, and if not, then you can right-away cancel it.

Where is Bacancy Technology based in? What is the team-strength?

We are based in the USA, Canada, and India. We have 650+ in-house skilled developers with an average experience of 8+ years.

I am not tech savvy; will I still be able to work with your team?

Absolutely, you can. Choosing us gives you peace of mind, and we are here to help you fill the technology gap on your behalf.

May I know your developer's core expertise and industry experience?

We have extremely talented Agile software developers who have in-depth knowledge and extensive experience in all the top-notch technologies.

Do you work according to my time zone preference?

Hire Dedicated Developers from us to work according to your time zone (EST/PST/CST/MST), deadline and milestone. To know more get in touch with us at [email protected] or skype "Bacancy."

Will I have complete control over the hired developers?

Yes, the developers you hire from us will dedicatedly work on your project as your employees only. You will have the total access and complete control on them through your convenient communication platform.

Do you use any project management tools?

Yes, we use industry-standard project management tools like Jira, Trello, Pivotal Tracker, Asana, etc. Where you will be able to track the productivity of developers and monitor the daily progress of your project. You can create the task, assign the work and monitor the development progress.

How do you manage the code?

For source code management and version control, we use Github / Bitbucket. Our developers will regularly push the code so you can review all the commits and manage it easily.

No, not at all. We ensure not to re-use your license keys, patented processes, trademarks or proprietary algorithms or anything specific that we have used explicitly for your project only.

What is your project development methodology?

We follow Agile and Scrum methodology. Where the team does a daily standup, meeting called "daily scrum." Preferably, the meeting is held in the morning and it lasts 10 to 15 minutes. During the daily standup, each team member is required to answer the following questions:

1) What did you do yesterday?
2) What will you do today?
3) Are there any blockers or impediments in your way?

The developer is required to mention what he/she accomplished yesterday and will he/she work on today. It helps the entire team to understand what work has been done so far and what work has remained to achieve the milestone. This is how you can have full transparency and control over your project and developers.

How can I choose a developer of my choice?

After careful consideration of your project requirement, we assign a skilled and seasoned programmer to work on your project under a well-established IT set-up.

If you prefer, you can conduct as many interviews as you want, before you hire a developer of your choice. If in-case, the expertise of a hired developer does not deliver the desired output or if you want to add more developers with the diverse skill-set, then we will help you in both situations right away. We are offering peace of mind with 100% success guaranteed.

What is the cost and engagement options available at Bacancy Technology?

We provide three types of hiring engagement models.

Dedicated Developer - Monthly basis 160 Hours a Month. 8 hours a day, 5 days a week Hourly Basis – Hours/ Month We use time tracking tools like time doctor, hub stuff for time tracking Time and Material Base You can share your requirements with our team. Our team will evaluate your requirements and then get back to you with the detailed estimation of your project along with time and cost as well as the roadmap of the project.

What's your pricing model?

Dedicated Hiring: - For dedicated resources hiring or engagement, you are required to pay the one-month upfront payment. Then the payment will be on a monthly basis from the next cycle. Hourly Basis: - As per the pre-agreed contract with you, in hourly basis you are required to pay one week of advance payment, and the remaining amount can then be paid in weekly, fortnightly or monthly payments. Fixed Time and Cost Model: - For the time and material base hiring, you will be required to pay 20 to 30% cost of the project as upfront payment and the remaining amount will be based on the milestone so upon completion of milestone you will be releasing next % of payment.

How absolute is my ownership?

You will have complete ownership of your entire project. It includes the NDA, copyright, source code, intellectual property rights, etc.

Do you have service level agreement in place?

Why should I hire a dedicated development team?

There are a couple of benefits of hiring dedicated and skilled developers

An opportunity to work with dedicated and skilled developers
Total control over the development process
Hiring a dedicated team guarantees a Quality Assurance and risk minimization
We will provide a dedicated Scrum Master (Project Manager) to manage your project and team, without any additional charges. At a free of cost
A shared QA will be provided to assure quality without any cost
And at last, but not least is the fact that developers work as a part of your team

I am looking to switch service providers for smooth transition & efficient processes. Do you have the expertise to manage high service quality levels for my project?

Yes, we have. Interestingly, our skilled and experienced developers have worked upon many projects and ensured smooth transition & efficient processes for our many clients. Get in touch with our expert at [email protected] OR Skype us at Bacancy to know more about the services we provide & how many projects we completed till now.

Here is a simple procedure we follow once you start your project with us:

Understand your existing project requirements & work done by the other service provider.
Provide a Full Stack developer or a team with the same skill set you require in your project.
Provide progress report & manage daily Stand-up calls with our Project Managers regarding the work.
Last but not least, we will give our best to make your expectation for a smooth transition possible.

Either Party to this agreement may terminate the agreement, with or without cause, by providing at least 14 days (2 weeks) written notice to the other Party. Upon termination of this agreement, the Bacancy Technology shall deliver a termination Invoice for work completed to date, which shall be paid by the the client (in 3 business days). The Termination Invoice shall specify all unpaid work and the remaining amount of the work done till termination date. On termination all work completed to date shall be delivered to the client in a usable electronic format.
Still have questions? let's talk