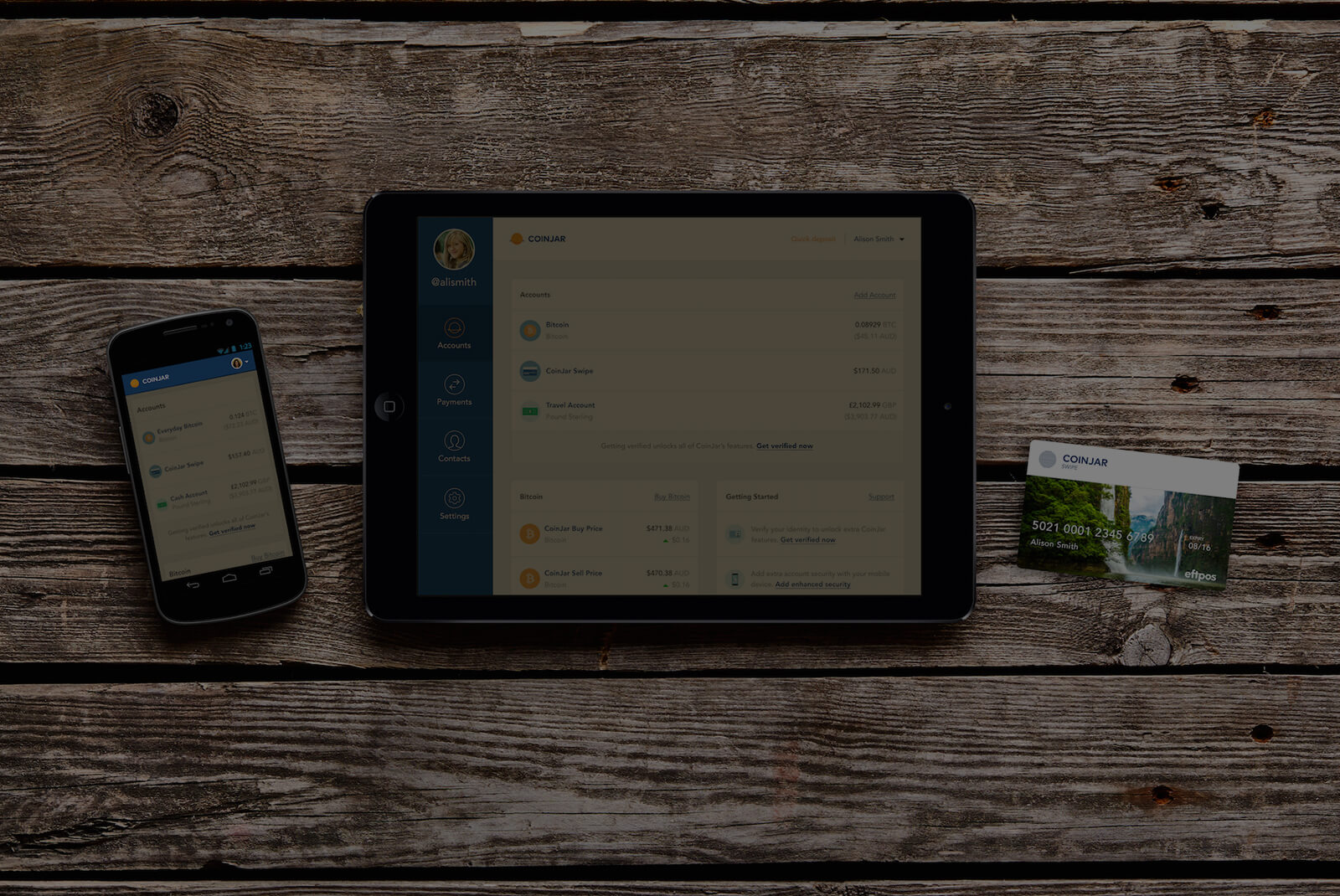 Know the cost to develop
an application like coinjar
CoinJar is world's fastest next-gen personal finance account to buy, sell and spend bitcoin
Free EstimationResponse in 24 Hours
CoinJar, a Melbourne-founded startup that allows Aussies to trade, store, send and receive bitcoin. The organization inaugurated its operations in 2013 by Ryan Zhou and Asher Tan, it's an essential bitcoin exchange and wallet provider, globally known as next-generation personal finance account. CoinJar, an Australian Bitcoin wallet has accumulated more than 70,000 customers over the past four years of its operation and has processed over $100 million worth of transactions.
Things You Can Do With Coinjar
Spend With Bitcoin
Similar to a mobile banking application, the CoinJar Touch app lets you transfer between different accounts such as different currency accounts. You can link your bank account as well.
CoinJar has an EFTPOS card that allows its users to convert their bitcoins into Aussie dollars when using the card for withdrawing cash or payment. It costs only $29 to order. It also charges 2 at rediATMs). Thus, CoinJar recommends EFTPOS withdrawal to avoid such fees
You can pay with Bitcoin via QR code using the app
Making use of CoinJar Touch app (available on the google play and app store), you can pay anyone in the bitcoin network in less than 6 seconds for $0
You can also access your transaction history and customize your account as per your convenient
Send Money In Bitcoin
You can send money to 196 countries via your CoinJar username and bitcoin address
Bitcoin is one of the most volatile currency in the world (In July 2015, 1 bitcoin was worth $USD260-$300; in Oct 2017 it's worth $USD 5625.8780. Thus, CoinJar allows its users to store their money in a range of various currencies Australian Dollar, British Pound, Euros and USD to perform as hedged accounts.
Trade Bitcoin
CoinJar Bitcoin wallet lets you buy and sell BitCoins at flat 1% fee
CoinJar makes use of 'CoinJar Fair Rate' for its exchange rates.
CoinJar allows you to deposit at one click with POLi or BPAY for free.
CoinJar can be topped up instantly via debit, credit card or bank account.
What Makes Coinjar A One-Stop Shop For All Your Bitcoin Wallet Needs
Free Bitcoin Wallet Make use of CoinJar as a bitcoin wallet for your everyday spend.
Fee-Free Transfers Spend and send, deposit and withdraw at free of cost. Link tour bank account and move your money instantly for free.
Hedged Accounts Hedge your Bitcoin against all the major currencies that you think that it won't be affected by Bitcoin price fluctuations.
Free Estimation Response In 24 Hours
Build your own multi-currency wallet application like coinjar
TCoinJar is Aussies first Bitcoin company, with more than 70,000 users. This multi-currency platform has processed more than $100m in the past 4 years. Instead of Bitcoin exchange to trade large amounts, CoinJar provides a platform for practical purposes, like transfer money to a friend or pay a supplier overseas.
"CoinJar is one of the fastest Android and iOS Bitcoin wallet to access your money from anywhere in the world"
Hire Bitcoin wallet app developers from us to Build your own multi-currency wallet application like CoinJar. At Bacany Technology, we are inspired to build innovative and futuristic applications using key principles of Agile. Get a full spectrum of Bitcoin application development services from us. Hire Bitcoin wallet app specialists from us to develop your own custom Bitcoin wallet application. We provide professional Bitcoin Wallet Application development services.
Frequently Asked Questions
What actually is coinjar?

CoinJar is a Bitcoin wallet that allows you to buy, sell and spend bitcoins. It's an ideal platform for mobile devices to swipe and pay for goods and services anywhere in the world.

Which cryptocurrencies can i buy and sell through coinjar?

CoinJar is a multi-currency wallet that integrates traditional fiat currencies and bitcoin such as the euro, British pound, Australian dollar and US dollar. No other cryptocurrency is accepted at this time.

Which payment methods are accepted?

Bank transfers from Australian banks are only supported to CoinJar. US residents will need to transfer bitcoins into their CoinJar wallet from other wallets. To get your Bitcoin address from CoinJar you will be required to sign in to the web application, select your "Everyday Bitcoin" account and select "View Address".

How much will it cost to use coinjar?

Receiving bitcoin is completely free.

Transfer fees and outgoing payments are outlined below:

Source: Finder

How fast will my funds be available?

Bitcoin payments can be sent anywhere around the world in under 6 minutes. Transferred funds into your account will be available within few minutes.

Is there any transfer limit?

Once you are verified, you will be assigned a daily limit for converting currencies and making bank transfers within your wallet.

Is it safe to use coinjar?

CoinJar offers the industry-standard 2-factor authentication on all of its accounts that has successfully proven to be a good security protocol.