Docker Solutions Architect at Your Service
Our Docker Solutions Architect can help you integrate Docker with Microsoft Azure, Google Cloud Platform, AWS, Kubernetes, and Oracle Container Cloud Service.
Docker is a set of the platform as a service, specially designed to wrap software and make it even easier to create, deploy, and run applications making use of containers. Docker container service enables an independent environment between applications, infrastructure, developers, and IT operations to ship faster as well as run the same application unchanged on data center VMs, laptops, or on any cloud infrastructure.
At Bacancy Technology, with the help of Docker Certified Associate certification experts, we empower clients to enhance the development efficiency by offering seamless development to deployment experience and prevalence against multi-core virtual machines. Furthermore, our Docker solutions architect can also help you customize and integrate Docker to address the ever-growing challenges and fulfil your organization's ongoing development needs.
Get Free Consultation
End to End Docker Development and Consulting Services
Docker Consulting
Leverage our Docker consulting services to migrate from legacy architecture to modern microservice architecture. We can help you develop PoC using the right set of tools and methodologies for faster app development and deployment.
Docker Assessment
Hire Docker developers from us to assess your application's current infrastructure and conduct a cost of benefit analysis to adopt and implement Docker to attain business benefits
Cost Optimization
Our Docker developers can help you run and migrate your application anywhere, including Google Compute, bare metal, AWS, and Azure. Along with that, we also ensure to optimize the costs with an elastic infrastructure supply.
Microservices Architecture with Container Technology
Our Docker developers have top-notch in building outstanding web, mobile, and custom solutions. Leverage our Docker programming expertise in Dockerizing applications and deploying it on various on-premise as well as cloud infrastructures
Docker Managed Services
We are offering Docker containerization support engine and application containerization. To help you with container and container platform adoption at scale, we are also offering orchestrate containers with Kubernetes, GKE, EKS, and Nomad.
Docker Implementation
Our Docker implementation services can help you set up and configure Docker in your IT environment, integrate LDAP, issue Docker license, and modernize microservices with containerization.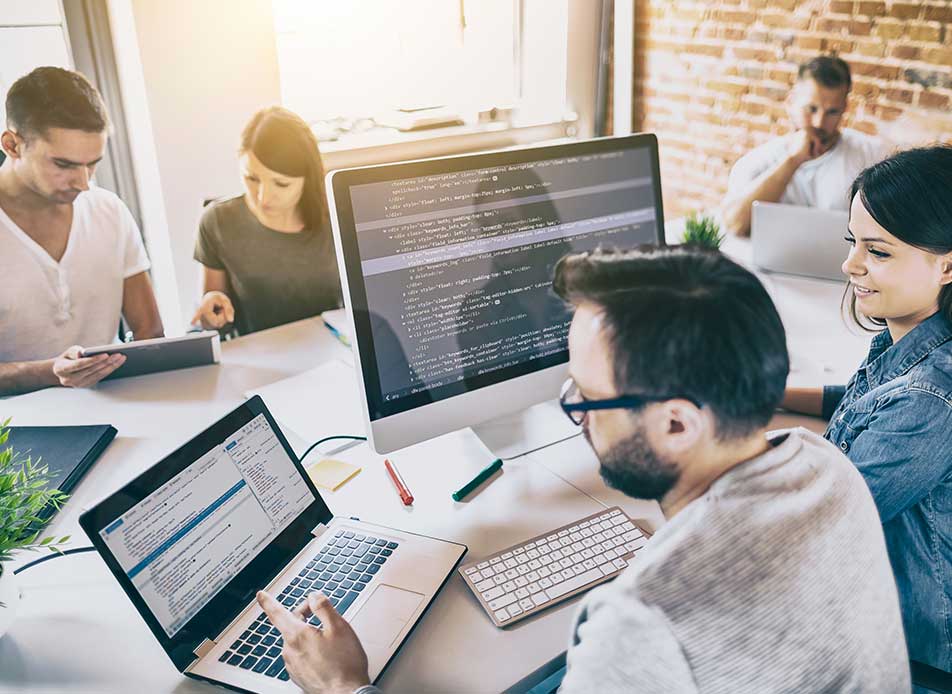 Docker Consulting Services
Experience open source DevOps expertise to install any technology at one click with open source container management platform like Docker without any downtime. Our Docker engineers can help you implement cloud infrastructure to give you the freedom to innovate and experiment with the cloud at lower costs.
Leverage our DevOps consulting services to streamline CI/CD services and navigate the complicated paths to faster application development and delivery. With our top-of-the-line Docker consulting and top-notch Docker containerization support services, our experts can help you bring code consistency, introduce microservices and convert monolithic architecture patterns into a container-ready system. We can help you establish a standard Docker interface that can be leveraged by operational as well as development teams to work in tandem.
Talk To Our Docker Expert
Frequently Asked Questions
Docker is a set of the platform as a service that makes use of OS-level virtualization to deliver product/software/application in packages called containers. By making use of containers, our skilled Docker developers package up the application with all the libraries as well as dependencies in one. It provides continuous integration and deployment.

Is Docker development & deployment service secure and cost-saving for my application?

Yes, It is! Because Docker development & deployment service provides a considerable level of security due to container application. As containers are lightweight and host can run more than one container along with the least amount of run time requirements; thus, Docker development & deployment is fast and cost-effective.

Is it possible to scale my application with the help of Docker development?

Yes, It is possible. You can expect guaranteed scalability of your app with the help of portable containers in Docker development. Hire Docker certified associate from us to scale your application using Docker.

How do you scale Docker containers in production?

We use a container orchestration tool, like Kubernetes or Docker Swarm. To scale up or to remove containers to spread application load evenly across host infrastructure, our experts use balancing of service discovery within containers.

What are the extra perks of using Docker?

Hire certified Docker associate to run your app in a lightweight, secure, and agile manner. The followings are the extra perks you can get using Docker.

Flexible infrastructure
Lightweight operations
Broad Integration
Additional security
Creative development
Consistent software deployment

May I know your Docker developer's expertise and industry experience?

Sure, we have incredibly talented Docker developers who have in-depth knowledge and extensive experience in building real-time and dynamic apps using Docker. Our Docker developers have an average experience of 4+ years. Hire Docker developer from us for top-grade Docker development services to achieve desired business results.

How do you manage the code if I give my Docker project to you?

We will create new Docker Image and use Docker registry is a storage and distribution system for images such as DockerHub

Will you re-use the source code?

No, not at all. You will have complete ownership of your source code. We ensure not to re-use your license keys, patented processes, trademarks, or proprietary algorithms or anything specific that we have used explicitly for your project only.

What is your pricing and hiring engagement model for the Docker project?

Here you go! We provide three types of pricing & hiring engagement model for your Docker project.

Dedicated Developer - Monthly basis

160 Hours a Month. 8 hours a day, 5 days a week

Hourly Basis – Hours/ Month

We use time tracking tools like time doctor, hub stuff for time tracking

Time and Material Base

You can share your requirements with our team. Our team will evaluate your needs and then get back to you with the detailed estimation of your project along with time and cost, as well as the roadmap of the project.

What project management tools do your Docker developers use to communicate?

Our Docker developers use industry-standard project management tools like Jira, Trello, Pivotal Tracker, Asana, etc. Where you will be able to track the productivity of developers and monitor the daily progress of your project. You can create the task, assign the work, and monitor the development progress.

Will you work according to my time zone preference for my Docker development project?

Sure, you can hire dedicated Docker developers from us to work according to your time zone (EST/PST/CST/MST), deadline, and milestone. To know more, get in touch with us at [email protected] or Skype "Bacancy."

Do you provide any document to absolute ownership of my Docker project?

Yes, Be assured; you will have 100% ownership of your Docker project. It includes NDA, copyright, source code, intellectual property rights, etc.

What if I am not satisfied with your Docker developer's work and would like to exit?

Be assured. That will never happen. Client satisfaction is our highest priority.

Either Party to this agreement may terminate the contract, with or without cause, by providing at least 14 days (2) weeks written notice to the other Party. Upon termination of this agreement, the Bacancy Technology shall deliver a termination invoice for work completed to date, which shall be paid by the client (in 3 business days). The Termination invoice shall specify all unpaid work and the remaining amount of the work done till the termination date. On termination, all work completed to time shall be delivered to the client in a usable electronic format.
Still have questions? let's talk