Hire Freelance Ruby on Rails Developers
We have top-of-the-line programmers, engineers, coders, consultants, architects and dedicated ruby on rails developers to help you offer reliable, robust and affordable services to scale your development team.
Freelance Ruby on Rails Developers
As per your need
Monthly
---
8 hours a day & 21 working
days in a month.
HOURLY
---
No hiring commitments.
Hire whenyou require.
Monthly
---
For 5 skilled
Developers
Request a Free Consultation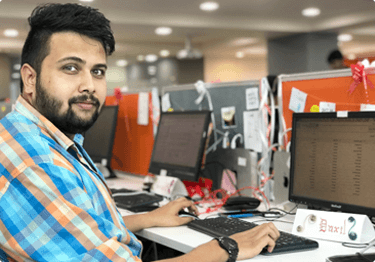 Mavens in Ruby On Rails
Development Since 2012
We are providing Ruby on Rails development service as per your requirements and ease. Our expertise and skills are nothing but an outcome of the vast experience. You can reach us to take the first step towards building your application using our proficiency.
Being a top-notch Ruby on Rails development company, we have excelled in delivering world-class ROR projects to the enterprises around the world. With years of experience and expertise, working on over 200 ROR applications and projects and with offices spread over different geographies in US, Europe, India, Canada and Ireland facilitates "follow the sun" agile work methodology.
Benefits Of Hiring Ruby On Rails Developer form Bacancy Technology
100%
FIT FOR YOUR TEAM
Our feature-rich, dexterous and incredibly talented ROR freelancers have been a perfect match for more than 350+ projects across and 33 industries.
0%
RISK
We know the difference between good code and great code. We own skillful expertise in making great codes deliver tangible results for your business.
1 Click
AWAY
Drop us a line or fill out a quote request form to get started. Yes, it's that easy.
How We Work
Sign a
contract
Start a
Development
Technology Index
We use best-in-class tools, state-of-the-art technologies and modern approaches to scale up your business
Project Management Tools We Use
We use industry-standard tools to scale your business propel further and go beyond
developing completely new categories, products and services even faster than ever before.
Slack
Rally
Trello
Versionone
Pivotal Tracker
TFS
Basecamp
Podio
Jira
Team Gantt
Accelo
Asana
Excellent Communication, Great Code And Top-Notch
Ruby On Rails Development Services
Request a Free Consultation / Schedule an Interview
Your Success Is Guaranteed !