Hire Freelance Ruby on Rails Developers
We have top-of-the-line programmers, engineers, coders, consultants, architects and dedicated ruby on rails developers to help you offer reliable, robust and affordable services to scale your development team.
Freelance Ruby on Rails Developers
As per your need
Monthly
---
8 hours a day & 20 working
days in a month.
HOURLY
---
No hiring commitments.
Hire whenyou require.
Monthly
---
For 5 skilled
Developers
Request a Free Consultation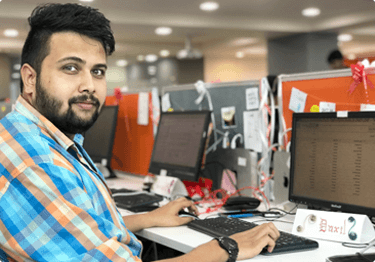 Mavens in Ruby On Rails
Development Since 2012
We are providing Ruby on Rails development service as per your requirements and ease. Our expertise and skills are nothing but an outcome of the vast experience. You can reach us to take the first step towards building your application using our proficiency.
Being a top-notch Ruby on Rails development company, we have excelled in delivering world-class ROR projects to the enterprises around the world. With years of experience and expertise, working on over 200 ROR applications and projects and with offices spread over different geographies in US, Europe, India, Canada and Ireland facilitates "follow the sun" agile work methodology.
Benefits Of Hiring Ruby On Rails Developer form Bacancy Technology
100%
FIT FOR YOUR TEAM
Our feature-rich, dexterous and incredibly talented ROR freelancers have been a perfect match for more than 350+ projects across and 33 industries.
0%
RISK
We know the difference between good code and great code. We own skillful expertise in making great codes deliver tangible results for your business.
1 Click
AWAY
Drop us a line or fill out a quote request form to get started. Yes, it's that easy.
How We Work
Sign a
contract
Start a
Development
Technology Index
We use best-in-class tools, state-of-the-art technologies and modern approaches to scale up your business
Project Management Tools We Use
We use industry-standard tools to scale your business propel further and go beyond
developing completely new categories, products and services even faster than ever before.
Slack
Rally
Trello
Versionone
Pivotal Tracker
TFS
Basecamp
Podio
Jira
Team Gantt
Accelo
Asana
Excellent Communication, Great Code And Top-Notch
Ruby On Rails Development Services
Request a Free Consultation / Schedule an Interview
Your Success Is Guaranteed !
Flexible Communication Tools
Wherever you are, whatever you want, our communication channel follows. We are available on almost all the convenient communication channels to help you to bring your ideas to life
Inspiring success stories
To tell a tale, we are crafting compelling stories
Client Speak
We love to hear what they say about our services
"I would like to express my deepest appreciation for the work Bacancy has done to help me bring my project to the life. There was a real sense of IT development partnership. Reliable, professional and a friendly team of Bacancy, daily updated me with the detailing of the progress. I appreciate the dedications and efforts of the Bacancy Technology team."

Paul Stiles

Entrepreneur

"You can find a web developer anywhere. But, if you are looking for a strategic partner,who will learn about your organization and help you develop & grow your Web presence long-term,then chose Bacancy Technology as your one stop solution partner."

Gerry Dunne

Retail CP, Inc.

"We have used Bacancy on a couple occasions for iOS, Android, and Ruby on Rails development. Overall, we have been happy with them and will likely use them again. For our project, they didn't appear to adhere to any agile workflow, but they did have a good management structure of engineers and project managers. As with many offshore groups, there are senior and junior developers, so the quality of the specific engineer on your project does vary. This being said, they do a pretty good job using the senior guys to manage the junior guys."

David Carta

CEO/President at Telaeris, Inc.
Frequently Asked Questions
How much skilled and experienced are your developers?

We have 250+ in house developers working in the same office holding an average experience of 5+ years.

Hire Dedicated Developers from us to work according to your time zone(EST/PST/CST/MST), deadline and milestone. For more get in touch with us at [email protected] or skype "Bacancy"

Will I have the complete control over your developers?

Yes, the developers your hire from us will dedicatedly work on your project as your employees only. You will have the total access to developers through chat, emails, calls and Skype on the daily basis.

Do you use any project management tool?

We use industry-standard project management tools like, Jira, Trello, Pivotal Tracker, Asana etc. Where you will be able to monitor daily progress. You can create the task, assign the work and monitor the development progress.

How do you manage the code?

For source code management and version control, we use Github / Bitbucket. Our developers will regularly push the code so you can review all the commits and manage it easily.

How do we communicate and monitor the project development with our hired developer?

We follow Agile and Scrum methodologies. In Scrum, on each day of a sprint, the team holds a daily scrum meeting called the "daily scrum." Meetings are typically held in the same location (we use Skype / Hangout / GoToMeeting / slack/voice call for communication) and at the same time each day. Ideally, a daily scrum meeting is held in the morning, as it helps set the context for the coming day's work. These scrum meetings are time-boxed to 10 to 15 minutes.
During the daily scrum, each team member answers the following three questions:

1) What did you do yesterday? 2) What will you do today? 3) Are there any impediments in your way?

By focusing on what each developer accomplished yesterday and will accomplish today, the team gains an excellent understanding of what work has been done and what work remains, so this is how you can have full transparency and control over your project and developers.

Do you provide Profile/CV of developers?

Yes. You can then choose the best developers whose skills and experience suits to your requirement.

How can I hire resources from Bacancy Technology?

We provide three types of engagement models for hiring resources. Clients have the option to choose from the following models: Dedicated Developer (Monthly basis) – 160 Hours/Month. 8 hours a day, 5 days a week Hourly Basis – Hours/Month We use time tracking tools like time doctor, hubstuff for time tracking Time and Material Base – Fixed time and cost based on the requirement Where you can share your requirements with our team. The team evaluates your specific requirements and then get back to you with the detailed estimation of your project along with time and cost as well as the roadmap of the project.

How absolute is my ownership of the final results from the project?

You will have complete ownership of your entire project. It includes the NDA, copyright, source code, intellectual property rights etc.

How do I pay? What are the payment models?

Dedicated Hiring: - For dedicated resources hiring, you are required to pay 50% of one-month payment upfront and for the remaining amount, you will be required to pay at the end of the month on the specific mentioned date. Hourly Basis:- In hourly basis, you are required to pay 1 week of advance payment and the remaining amount can then be paid in weekly, fortnightly or monthly payments pre-agreed contract with you. Time and Material Base: - For the time and material base hiring, you will be required to pay 20 to 30% cost of the project as upfront and the remaining amount will be based on the milestone so upon completion of milestone you will be releasing next % of payment.

Can I hire dedicated development team? What are the main advantages that I can get from hiring a dedicated team?

Yes, you can hire a dedicated development team. We want to present you with a couple of advantages:

An opportunity to work with dedicated and skilled developers.
A total control over the development process.
Hiring a dedicated team guarantees a Quality Assurance and Risk Minimization.
We will provide you with a dedicated Scrum Master (Project Manager) to manage your project and team, without any additional charges. At a free of cost.
A shared QA will be provided to assure quality without any cost.
And at last, but not least is the fact that developers work as a part of your team.