Hire MEAN Stack Developers & Consultants
While starting a new project, dealing with various technologies and tools, server side operations and client side handling seem to be a daunting task at first. The step up of project structure and tools consumes a considerable amount of time. This is where a framework or stack aid in reducing the time as well as speed up the application and software development.
Request Free Consultation
MEAN Stack Development Services
The MEAN Stack is a collaboration of four most proficient JavaScript based technology platform, which is widely used for building web applications and JavaScript development. MEAN is the new go-to technology in the enterprise market, exclusively for those who are targeting towards providing reliable, responsive and scalable web apps. At Bacancy Technology is mean stack development company specializing in full stack development, we are well proficient with each component of MEAN, that helps us with flexibility and ease of development in making the world-class MEAN JavaScript based technology according to your business needs.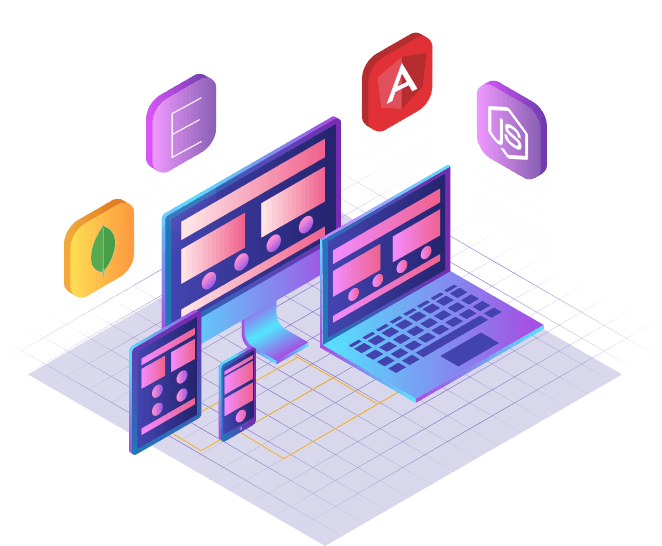 MongoDB
MongoDB is an open source NoSQL database, which empowers businesses to be more agile and scalable. MongoDB has a flexible architecture and it supports different data formats.
Express.Js
Express.JS is a minimal and flexible Node.JS web application framework which provides us a robust set of features to build single page as well as multipage web along with mobile applications. Node.JS makes routing easier.
Angularjs
AngularJS is an open-source web application framework for dynamic web apps, which allows you to extend your HTML vocabulary application. This JavaScript based development framework is extraordinarily expressive, readable, and quick to develop.
Node.Js
Node JS, the open-source, cross-platform which is used for building fast and scalable server-side applications. Node.JS applications are built on Google Chrome's V8 JavaScript Engine which has a rich library of various JavaScript modules.
Our Mean Developers Are Our Most Prized Asset
We are inspired to create awesome UIs using key principles of agile
Get a full spectrum of Mean-Stack development services to build large web applications that changes over time. Hire ReactJS developers to build client-centric front-end experiences to drive innovative business growth.
Bacancy Technology is one of the best Mean Stack development company in USA and Canada.
Excellent communication, great code and top-notch MEAN Stack Developers
Your Success Is Guaranteed !
Why Mean Stack Development?
MongoDB Express.JS Angular JS Node.JS are a group of technologies makes a combination of MEAN Stack technology Mobile and Web Applications. In the recent time, MEAN Stack powers a number of complex websites as well as web applications. MEAN Stack, being one of the fastest growing open source development framework helps developers with popular tools and reduces the time they spend on system administration and It' allows quicker deployment of web applications, websites and API's. MEAN Stack helps developers to concentrate on development.
Why Choose Bacancy Technology For Mean Stack Development?
Bacancy Technology is one of the fast growing MEAN Stack development company. We make use of MEAN Stack technology for crafting web applications and websites that can transform your website into a more productive as well as effective business. Our skillful MEAN Stack developers are capable of creating websites along with web apps to showcase your business.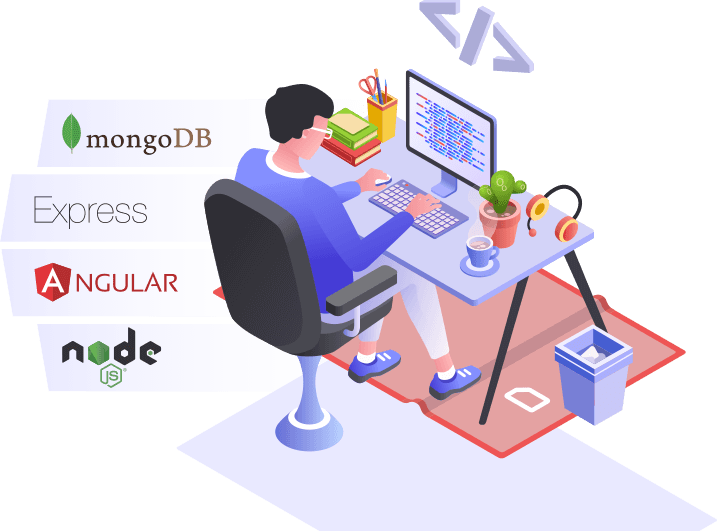 Hire Mean Stack Developer
Bacancy Technology is your MEAN Stack development partner and we strive to build websites and web applications that deliver a rich user experience and has more dynamic features.
ExpressJS Development
AngularJS Development
NodeJS Development
Mobile Friendly Web App Development
API Development
Porting to MEAN Stack
Mean Stack Is Easier To Fit Into Ionic For Mobile App Development
When you make use of Ionic, you are already using the 'Angular' part of MEAN. As it allows you to write the app code in the native language of the platform and it allows you to do at the ease of HTML, CSS and JavaScript. So MEAN Stack is familiar and easier to fit into Ionic. Hire ionic developers from us for custom mobile app development to get it done right.
Frequently Asked Questions
How much skilled and experienced are your developers?

We have 250+ in house developers working in the same office holding an average experience of 5+ years.

Hire Dedicated Developers from us to work according to your time zone(EST/PST/CST/MST), deadline and milestone. For more get in touch with us at [email protected] or skype "Bacancy"

Will I have the complete control over your developers?

Yes, the developers your hire from us will dedicatedly work on your project as your employees only. You will have the total access to developers through chat, emails, calls and Skype on the daily basis.

Do you use any project management tool?

We use industry-standard project management tools like, Jira, Trello, Pivotal Tracker, Asana etc. Where you will be able to monitor daily progress. You can create the task, assign the work and monitor the development progress.

How do you manage the code?

For source code management and version control, we use Github / Bitbucket. Our developers will regularly push the code so you can review all the commits and manage it easily.

How do we communicate and monitor the project development with our hired developer?

We follow Agile and Scrum methodologies. In Scrum, on each day of a sprint, the team holds a daily scrum meeting called the "daily scrum." Meetings are typically held in the same location (we use Skype / Hangout / GoToMeeting / slack/voice call for communication) and at the same time each day. Ideally, a daily scrum meeting is held in the morning, as it helps set the context for the coming day's work. These scrum meetings are time-boxed to 10 to 15 minutes.
During the daily scrum, each team member answers the following three questions:

1) What did you do yesterday? 2) What will you do today? 3) Are there any impediments in your way?

By focusing on what each developer accomplished yesterday and will accomplish today, the team gains an excellent understanding of what work has been done and what work remains, so this is how you can have full transparency and control over your project and developers.

Do you provide Profile/CV of developers?

Yes. You can then choose the best developers whose skills and experience suits to your requirement.

How can I hire resources from Bacancy Technology?

We provide three types of engagement models for hiring resources. Clients have the option to choose from the following models: Dedicated Developer (Monthly basis) – 160 Hours/Month. 8 hours a day, 5 days a week Hourly Basis – Hours/Month We use time tracking tools like time doctor, hubstuff for time tracking Time and Material Base – Fixed time and cost based on the requirement Where you can share your requirements with our team. The team evaluates your specific requirements and then get back to you with the detailed estimation of your project along with time and cost as well as the roadmap of the project.

How absolute is my ownership of the final results from the project?

You will have complete ownership of your entire project. It includes the NDA, copyright, source code, intellectual property rights etc.

How do I pay? What are the payment models?

Dedicated Hiring: - For dedicated resources hiring, you are required to pay 50% of one-month payment upfront and for the remaining amount, you will be required to pay at the end of the month on the specific mentioned date. Hourly Basis:- In hourly basis, you are required to pay 1 week of advance payment and the remaining amount can then be paid in weekly, fortnightly or monthly payments pre-agreed contract with you. Time and Material Base: - For the time and material base hiring, you will be required to pay 20 to 30% cost of the project as upfront and the remaining amount will be based on the milestone so upon completion of milestone you will be releasing next % of payment.

Can I hire dedicated development team? What are the main advantages that I can get from hiring a dedicated team?

Yes, you can hire a dedicated development team. We want to present you with a couple of advantages:

An opportunity to work with dedicated and skilled developers.
A total control over the development process.
Hiring a dedicated team guarantees a Quality Assurance and Risk Minimization.
We will provide you with a dedicated Scrum Master (Project Manager) to manage your project and team, without any additional charges. At a free of cost.
A shared QA will be provided to assure quality without any cost.
And at last, but not least is the fact that developers work as a part of your team.