Hire ReactJS Developer
Integrate skilled and seasoned Freelance ReactJS developers into your existing team to leverage top-of-the-line ReactJS development services irrespective of your business size and domain. We have incorporated all the versions of ReactJS from 0.3.0 to 16.6.3 as our mainstream front-end technology.
hire react developers
ReactJS Development Company
For an astonishing client-side experience, ReactJS is one of the most preferred JavaScript models that render consistent page performance by offering interactive visual effects using reusable components.
We have excelled as ReactJS web development company in delivering world-class ReactJS development services, and we are globally renowned for offering best-fit technology solutions to our clients and focus on bringing up truly progressive web and mobile applications to meet the specific business objectives.
We have a proficient team of React specialist with extensive experience in ReactJS development services. We've so far delivered small and enterprise scale projects to many of our clients who communicated their objectives to scale their business success in the various verticals like, media, automotive, eCommerce, grocery, luxury, finance, communication, real-estate, healthcare, petrochemicals, and home furnishing industry.
How Bacancy Does Work?
Request Free Consultation / Schedule an Interview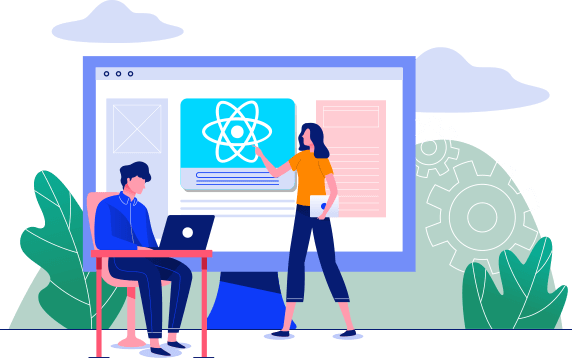 ReactJS Framework for Web Application Development
React is a light-weight and an ultra-fast JavaScript framework, backed by Facebook's amusingness. React, being a modern and extensive framework, it is used to build JavaScript-based isomorphic web applications. The open-source nature, ease of development and high flexibility is creating a strong ecosystem for the web applications to serve the purpose gracefully.
With proven skills in ReactJS web application development services, we are pioneers in building high-octane web applications. We thrive on fulfilling the core objectives of our clients, and it has always been our firm endeavor to deliver the most prudent React development solutions best suited for your business. Hire ReactJS developer from us to fulfill your varied business objectives
Our ReactJs Development Services
ReactJS Website Development
Leverage our top-of-the-line ReactJS development services to build dynamic, interactive, and intuitive websites.
Migrating Website to ReactJS
Our React developers have in-depth knowledge and extensive expertise in migrating or upgrading your existing web app to the ReactJS platform without losing your data.
ReactJS Front-End Development
With our top-of-the-line expertise in ReactJS, we have proficiency in resolving various challenges like single-page applications, various frameworks as well as multiple architectures.
ReactJS Native App Development
At Bacancy Technology, our ReactJS developers are well-versed in building cross-platform native applications with 100% guaranteed satisfaction.
ReactJS UI/UX Development
We are offering full-fledge ReactJS development services, choose us as your development partner to build your next ReactJS application with captivating UI/UX and interactive features
ReactJS Plugin Development
We hold a pool of skilled ReactJS experts who are veterans in developing plug-in and modules. Our ReactJS developers have helped numbers of clients to fulfill their requirements.
React JS Customization Services
Hire React JS developers from us to avail custom software development services according to your niche business requirements.
ReactJS Integration
We have a pool of skillful ReactJS developers who have proven expertise in integrating your existing web app and system with ReactJS.
ReactJS Product Development
We are offering bug-free and result-driven custom ReactJS product development services to match unique requirements of clients' business
ReactJS Template Creation
With the rising popularity in web and mobile application development services, we are offering responsive email templates to up your business game and run ahead in the cut-throat competition era.
ReactJs Social Networking Solutions
Outsource ReactJS developers from us to leverage our proven skills in social networking solutions. We provide the most prudent and effective communication solutions best suited for businesses as well as customers.
ReactJS Support & Maintenance
Leverage our on-time maintenance and support services to meet your business objectives under all the scenarios.
We use best-in-class tools and state-of-the-art ReactJS development services to scale up your business
ReactJS

The widely used JavaScript open source library Created by Facebook and adopted by industry leaders like, Netflix, Instagram, Yahoo and Dropbox.

Redux & Flux

Redux is a FLUX pattern that provides a unidirectional data flow and act as a JavaScript container for the data.

Webpack + Es6 + Babel

Improve your user experience endeavors and enhance engagement by ES6, Webpack and Babel to leverage the advantages of bleeding edge technology.

Jasmine

Jasmine-react is a small suite of utilities and helper function that aims to solve unit testing ReactJS components painless.

Isomorphic

Building isomorphic apps to improve the overall user experience, write well-formed modules, easier code maintenance and leverage the benefits of search engine indexable.

Agile & Lean

We follow agile scrum process and lean methodology to execute projects and respond to the changing needs in the Digital Economy.

Firebase

Firebase allows a seamless connection and integration between your data, users and authentication. Firebase + ReactJS is fast development. Very fast development!

GraphQL

GraphQL is a query language open sourced by Facebook in 2015 to provide intuitive and flexible syntax and system for describing data requirements and interactions.

Apollo Server

The Apollo Server is a flexible and fully-featured GraphQL client that is making it easier to get started with GraphQL and building your own GraphQL server.
Hire Redux Developer To Help You Build Excellent Web Application
To build react applications, our skillful experts use Redux To manage complex state for scalability, and simplicity. What is Redux, and why use React-Redux? Redux is an open-source JavaScript library that is most commonly used with libraries such as React or Angular for building interactive user interfaces. Redux is inspired by Facebook's architecture.
Being a globally renowned redux development company, our expert team of Redux developers are using Redux to deal with complex state interactions that is hard to express with React's component state. Our Reactjs Redux developers ensure that simplicity, flexibility, and robustness are the key features of your applications to cater all your business needs. Hire redux developers to offer your current and potential users the best cross-platform experience.
Hire Redux Developer
Project Management Tools We Use
We use industry-standard tools to scale your business propel further and go beyond developing completely new categories, products, and services even faster than ever before.
Hire Dedicated ReactJS Developer or A Team
Being a top-notch ReactJS development company, we propose an outstanding custom ReactJS development services to the businesses of all shapes and sizes. We let you hire React developers from us, and our seasoned ReactJS developers are experienced with AngularJS, AJAX, ANDROID, CSS, NODE.JS, RUBY ON RAILS, SASS, DOCKER and SQL. From promising startups to the fortune 500 companies, we are working with everyone to provide commendable ReactJS development services.
Hire React Developer
Our Business Model
Full-Time Hiring
Duration
8/hours per day, 5 days/week
---
Communication
Email, Skype, Phone
---
Billing
Monthly
---
Hiring Period
Minimum 1 Month
---
Part-Time Hiring
Duration
4/hours per day, 5 days/week
---
Communication
Email, Skype, Phone
---
Billing
Monthly
---
Hiring Period
Minimum 1 Month
---
Hourly Hiring
Communication
Email, skype, Phone
---
Billing
Monthly
---
Hiring Period
Minimum 25 Hours
---
We also allow you to take an "Interview" prior to hiring our ReactJS developer which makes you more "Comfortable"
Frequently Asked Questions
Where is Bacancy Technology based in? What is the team-strength?

We are based in the USA, Canada, and India. We have 250+ in-house skilled developers with an average experience of 7+ years.

I am not tech savvy; will I still be able to work with your team?

Absolutely, you can. Choosing us gives you peace of mind, and we are here to help you fill the technology gap on your behalf.

May I know your developer's core expertise and industry experience?

We have extremely talented Agile software developers who have in-depth knowledge and extensive experience in all the top-notch technologies.

Do you work according to my time zone preference?

Hire Dedicated Developers from us to work according to your time zone (EST/PST/CST/MST), deadline and milestone. To know more get in touch with us at [email protected] or skype "Bacancy."

Will I have complete control over the hired developers?

Yes, the developers your hire from us will dedicatedly work on your project as your employees only. You will have the total access and complete control on them through your convenient communication platform.

Do you use any project management tools?

Yes, we use industry-standard project management tools like Jira, Trello, Pivotal Tracker, Asana, etc. Where you will be able to track the productivity of developers and monitor the daily progress of your project. You can create the task, assign the work and monitor the development progress.

How do you manage the code?

For source code management and version control, we use Github / Bitbucket. Our developers will regularly push the code so you can review all the commits and manage it easily.

No, not at all. We ensure not to re-use your license keys, patented processes, trademarks or proprietary algorithms or anything specific that we have used explicitly for your project only.

What is your project development methodology?

We follow Agile and Scrum methodology. Where the team does a daily standup, meeting called "daily scrum." Preferably, the meeting is held in the morning and it lasts 10 to 15 minutes. During the daily standup, each team member is required to answer the following questions:

1) What did you do yesterday?
2) What will you do today?
3) Are there any blockers or impediments in your way?

The developer is required to mention what he/she accomplished yesterday and will he/she work on today. It helps the entire team to understand what work has been done so far and what work has remained to achieve the milestone. This is how you can have full transparency and control over your project and developers.

How can I choose a developer of my choice?

After careful consideration of your project requirement, we assign a skilled and seasoned programmer to work on your project under a well-established IT set-up.

If you prefer, you can conduct as many interviews as you want, before you hire a developer of your choice. If in-case, the expertise of a hired developer does not deliver the desired output or if you want to add more developers with the diverse skill-set, then we will help you in both situations right away. We are offering peace of mind with 100% success guaranteed.

What is the cost and engagement options available at Bacancy Technology?

We provide three types of hiring engagement models.

Dedicated Developer - Monthly basis 160 Hours a Month. 8 hours a day, 5 days a week Hourly Basis – Hours/ Month We use time tracking tools like time doctor, hub stuff for time tracking Time and Material Base You can share your requirements with our team. Our team will evaluate your requirements and then get back to you with the detailed estimation of your project along with time and cost as well as the roadmap of the project.

What's your pricing model?

Dedicated Hiring: - For dedicated resources hiring, you are required to pay one-month upfront payment and when the next invoice will be generated once the cycle of one month is completed. Hourly Basis: - -In an hourly basis, you are required to pay one week of the advance payment, and the remaining amount can then be paid in weekly, fortnightly or monthly payments as per the pre-agreed contract with you.Fixed Time and Cost Model: - For the time and material base hiring, you will be required to pay 20 to 30% cost of the project as upfront payment and the remaining amount will be based on the milestone so upon completion of milestone you will be releasing next % of payment.

How absolute is my ownership?

You will have complete ownership of your entire project. It includes the NDA, copyright, source code, intellectual property rights, etc.

Do you have service level agreement in place?

Why should I hire a dedicated development team?

There are a couple of benefits of hiring dedicated and skilled developers

An opportunity to work with dedicated and skilled developers
Total control over the development process
Hiring a dedicated team guarantees a Quality Assurance and risk minimization
We will provide a dedicated Scrum Master (Project Manager) to manage your project and team, without any additional charges. At a free of cost
A shared QA will be provided to assure quality without any cost
And at last, but not least is the fact that developers work as a part of your team

Either Party to this agreement may terminate the agreement, with or without cause, by providing at least 14 days (2) weeks written notice to the other Party. Upon termination of this agreement, the Bacancy Technology shall deliver a termination Invoice for work completed to date, which shall be paid by the the client (in 3 business days). The Termination Invoice shall specify all unpaid work and the remaining amount of the work done till termination date. On termination all work completed to date shall be delivered to the client in a usable electronic format.
Still have questions? let's talk