Hire Dedicated React Native Developers to Build Performance Obsessed Cross-platform Applications
Mobile app development using React Native is highly recommended to help you save your valuable time and hard-earned money. Our dedicated React Native developers can help you bring your app to market sooner than the traditional route of building iOS and Android applications separately.
Our skilled designers and well-versed developers work closely to create custom React Native mobile applications. The best thing about React Native is that you are not required to develop an application for individual platforms like iOS and Android, one application developed in React Native works simultaneously on both the platforms. React Native is an ideal choice for building highly efficient, scalable, and user-friendly applications.
For iOS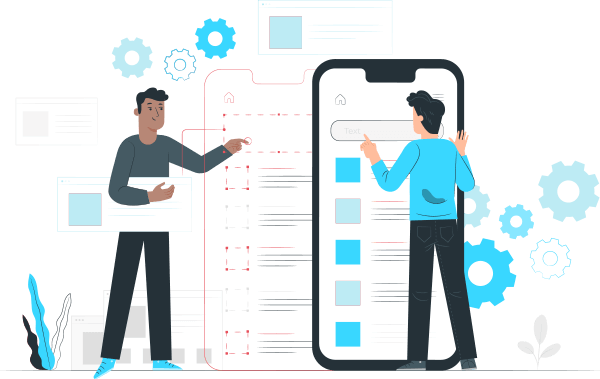 React Native offers all the essential integrations that are required for developing a kick-ass iOS application. Being a customer-centric React Native Development Company, we ensure that your app excels in all the dimensions, be it the scalability, robustness, or UI/UX, technology stack. We own expertise in brining native functionalities and developing integrations with definite nave modules for seamless user experience.
For Android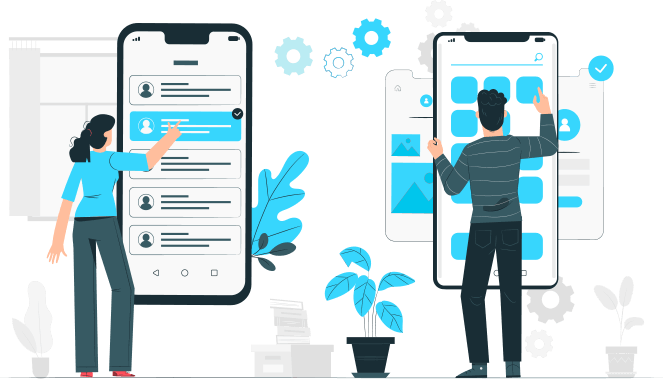 A huge number of people across the globe are using Android devices. Android devices' access is not limited to only smartphones, but it is widely used in watches and tablets along with smartphones. The various device sizes and resolutions seem challenging at once, but with React Native, it is actually convenient. We develop top-of-the-line React Native applications that look so amazing on Android devices. We also ensure that the Android app user experience is consistent across all the devices and platforms.
React Native Development Services Where Cross-Platform Evolution Begins
We are proficient in building high-quality cross-platform apps that accommodate native functionalities and features. Hire dedicated React Native developers from us to get ahead of the curve and experience rapid cross-platform mobile app development that is rich in technology, scalability, and performance.
Full-cycle React Native Development
Right from designing an interactive UI to developing a cross-platform mobile app for iOS as well as Android, we can help you develop a high-performing app using cutting-edge technologies like AJAX, React JS, Redux, SQL, NPM, JSON, Android studio, Xcode and more.
React Native Consulting
Leverage our React Native consulting services, to build a cross-platform app with native look and feel. After precisely understanding your project requirements, we provide a comprehensive roadmap and layout to build a simple yet interactive application.
Code audit
Hire React Native developers from us to audit the code of your existing application. Our experts have top-of-the-line expertise in reviewing and analyzing code quality to find all weaknesses and bottlenecks to improve code performance, speed, and stability
App Migration to React Native
Whether you need assistance with an existing legacy mobile application or looking for React Native experts in migrating your existing app to React Native with improved capabilities and interactive UI/UX, then hire full-stack React Native developers from us modernize your app in all the aspects.
React Native for MVP Development
React Native is an ideal choice and a budget-friendly option to verify your idea and validate its viability. Hire dedicated React Native developers from us to build a measure-learn feedback loop and help your idea reach the market faster.
Server-side APIs for Mobile Apps
Do you have a serverless React Native application? Then we can help you extend the functionality by creating a server for the application and API as a backend feature for effective communication between the server and a mobile interface.
How We Drive Success for Client
(React Native Folder Structure)
Our proactive and enthusiastic react native developer have worked on broad range of products and possesses a vast skill set of developing front end having complex designs and effect. Our react native developer have extensive knowledge and using ideal structure of code to improve user experience for end user of your product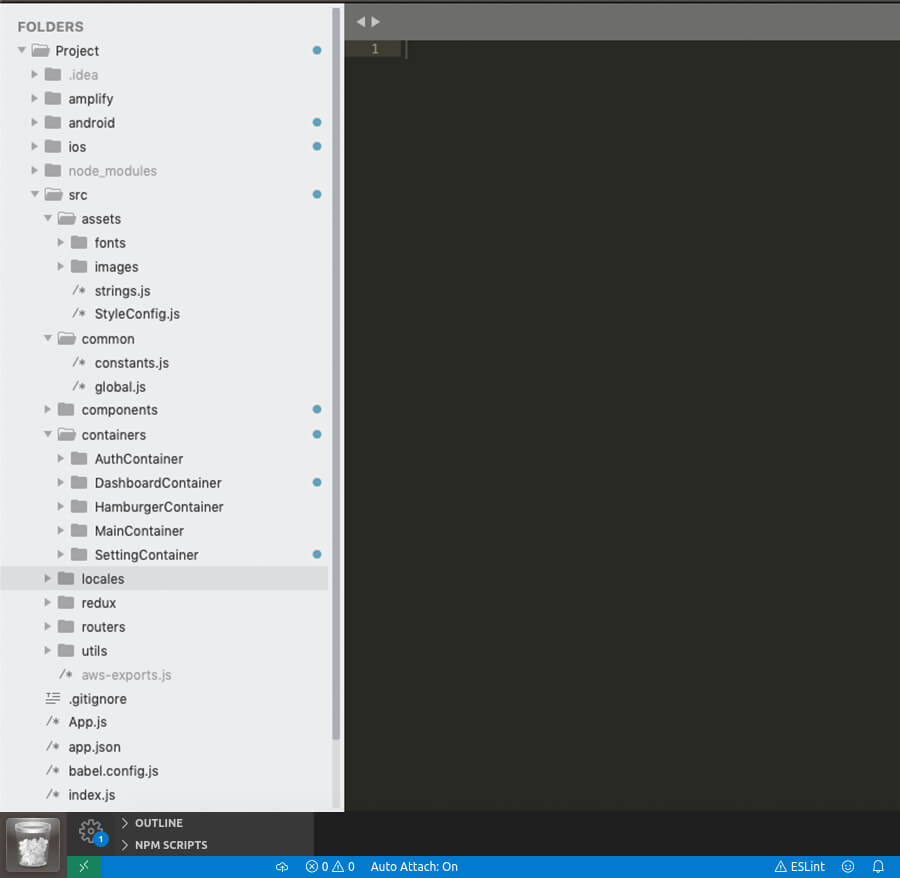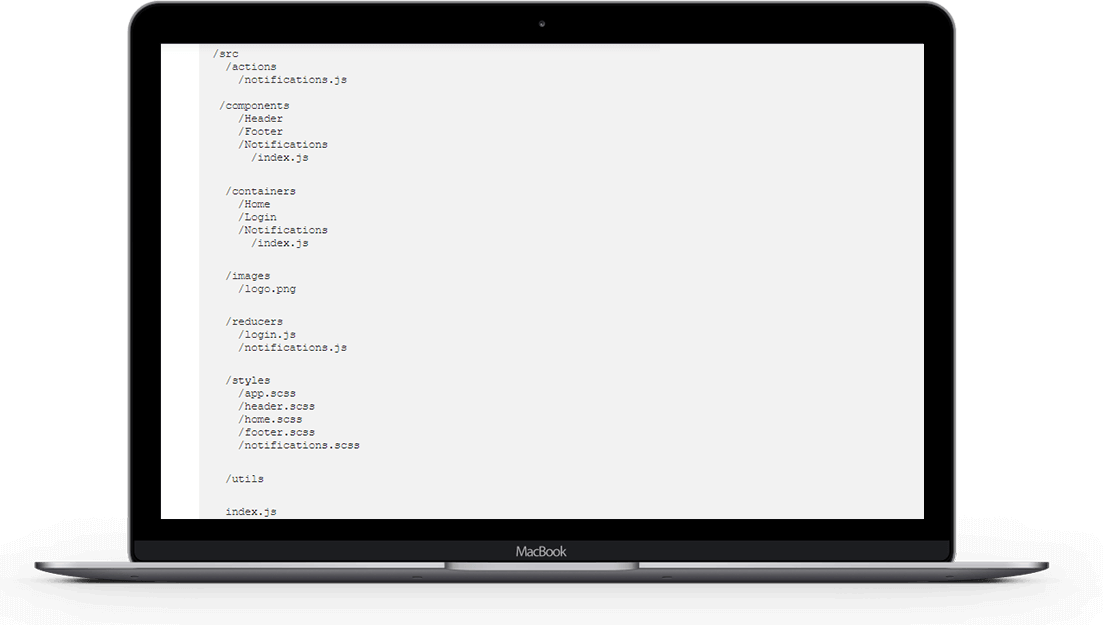 Experience with React Native Development Stacks
Framework:

React Native

Tools:

Visual Studio Code

ESLint

Redux

Reduxsauce And Redux-Saga

Unit Testing:

Jest enzyme testing

UX Designing:

Invision

zeplin

adobe XD

Code Review:
The Runners-Up:

Jest Code Coverage

Snapshot Testing

Linting




Codecov

Flow

Deployment:
The Runners-Up:

Bitrise

Fastlane

Testflight

Anroid alphabet test




Bitrise's Own Build Steps And Custom Workflows

BuildKite

Testflight

Analytics:
The Runners-Up:

firebase analytics




Sentry

Google Analytics

Crash Reporting:

Firebase crashlytics
Talk To Our Expert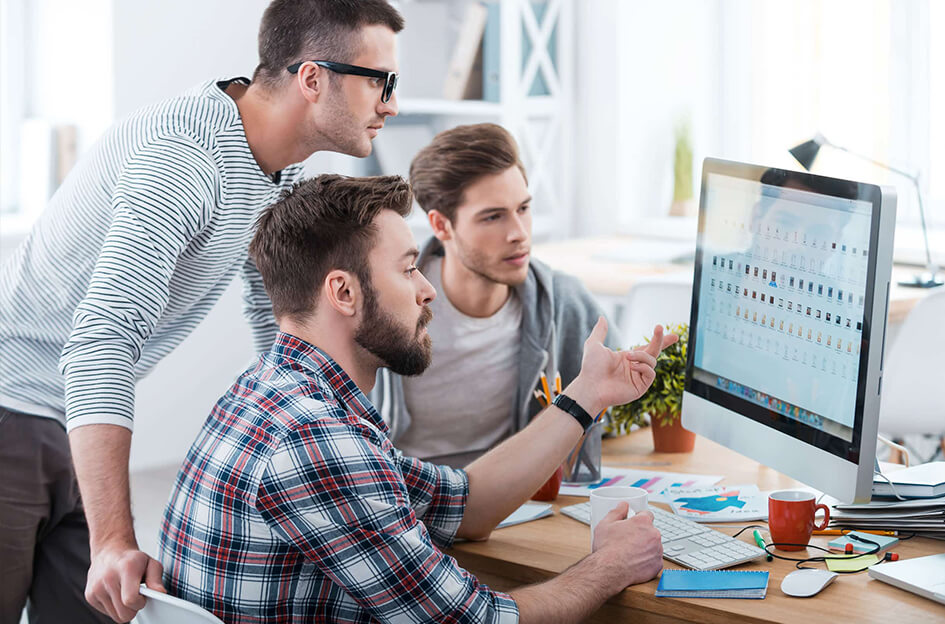 React Native Team Augmentation Model
If you are looking for an extended arm to augment your existing team of React Native developers as per the evolving project needs, then we can be your one-stop solution. Whether you want to hire a single developer or planning to set up a cross-functional dynamic React Native team - our React Native Team Augmentation is flexible enough to fulfill your unique business requirements. We let you outsource React Native Developers from us at your ease.
We let you conduct as many interviews as you want before you hire React Native developer of your choice. Once you give the nod, our React Native developers will start working as your dedicated resources from our state-of-the-art-development center. You have all the rights to manage the resource directly, while we take care of developer retention, administrative support as well as infrastructure. We sign NDA to ensure your idea and project both are secure with us.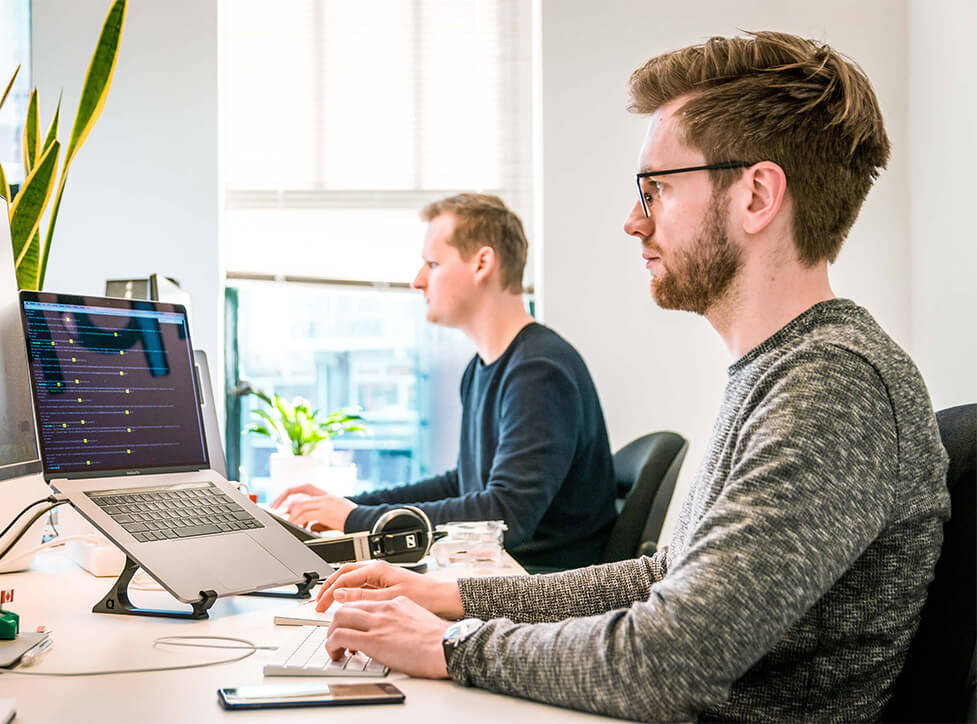 React Native App Development Company Who Knows Thy Customers
At Bacancy Technology, we're early adopters, and now veterans of react native development services and have seen it grown massively since its initial public release in 2015. We have successfully developed a number of React Native mobile applications. Our team of skilled React Native developers has written widely recognized cross-platform apps with speed, accuracy, and quality.
We are globally renowned as one of the best React Native app development company. Making use of this incredible rapidly growing framework, we bring your application on Android as well as iOS both simultaneously. Our seasoned React Native app developers are highly experienced in building complex applications within a mentioned timeframe and with 100% guaranteed satisfaction. Hire React Native developers from us to gain competitive advantage and knowledge-insights that fulfill your varied business objective and complement your business idea.
Hire React Native Developer
Frequently Asked Questions
Is 15 days risk-free trial period completely free?

Yes, It's completely free. We allow this free time period to evaluate the code quality, communication, on-time delivery, Agile software development process, and more of the hired trial resource. If you get satisfactory work, then you can continue with the engagement, and if not, then you can right-away cancel it.

Is it possible to get my existing app migrate to React Native?

Yes, it is possible. We have skilled and experienced React Native developers who have years of experience in building and migrating your existing app into React Native within a specific period.

Is React Native good for mobile app development?

Yes, React Native is the future of mobile app development Because it is lightweight, fast, cost-effective, and fun to code. With the help of React Native, we can help you build the most scalable native application.

Which language do you use to develop React-native App?

We make use of React.js. A popular JavaScript library for building interactive user interfaces to develop react-native apps.

Can I build a Native Android and iOS app with the help of React Native?

Yes, you can build native Android and iOS applications using React Native with a single codebase. Because Google, as well as Apple support, React Native in launching your product on both the platforms.

May I know the expertise of your React Native developers with industry experience?

We have incredibly talented and seasoned React native developers who have in-depth knowledge and extensive experience in building the next-generation solution with desired features and seamless performance. React native developers at Bacancy Technology have an average experience of 4+ years. Hire certified React native developers from us for top-grade react native development services to achieve desired business results.

What is your dedicated developer hiring model?

We provide three types of hiring engagement models.Dedicated Developer - Monthly basis 160 Hours a Month. 8 hours a day, 5 days a week Hourly Basis Hours/ Month We use time tracking tools like time doctor, hub stuff for time tracking Time and Material Base You can share your requirements with our team. Our team will evaluate your project requirements and then will get back to you with the detailed estimation of your project along with time and cost as well as the roadmap of the project

How soon you build a mobile app with React Native?

Well, it depends upon your requirements; however, mobile apps can be developed faster using react native because the same code can be used for both the platforms, which ultimately helps us to save development time. It indirectly enables you to save a good amount of money.

Do you have full-stack React Native developers?

Yes, we do have. At Bacancy Technology, we have skilled and experienced full-stack React Native developers who have successfully delivered numbers of React-Native applications and have extensive experience in working with React Native.

Do your React native developers follow SEO friendly design and development practices to develop my website search engine friendly?

Yes, our experts do! Be assured; our React native developers and designers are well-versed with developing search engine friendly websites keeping all the SEO aspects into consideration that includes, Server-side rendering, interactive and emerging UI/UX trends, utilizing schema mark-ups for rich snippets, creating crawlable site structures along with URLs to make your website more SEO-friendly.

Will you work according to my time zone preference?

100% Yes! You can hire dedicated React Native developers from us to work according to your time zone (EST/PST/CST/MST), deadline, and milestone. To know more, get in touch with us at [email protected] or Skype "Bacancy."

What project management tools do you use?

We use industry-standard project management tools like Jira, Trello, Pivotal Tracker, Asana, etc. Where you will be able to track the productivity of developers and monitor the daily progress of your project. You can create the task, assign the work, and follow the development progress.

Do you provide any document to secure the authority of my project?

Yes, we do. You will have 100% ownership of your project. It includes NDA, copyright, source code, intellectual property rights, etc.

What if I am not satisfied with your work and would like to exit?

Be assured. That won't be the case ever. Client satisfaction is our highest priority.

Either Party to this agreement may terminate the contract, with or without cause, by providing at least 14 days (2) weeks written notice to the other Party. Upon termination of this agreement, the Bacancy Technology shall deliver a termination invoice for work completed to date, which shall be paid by the client (in 3 business days). The Termination invoice shall specify all unpaid work and the remaining amount of the work done till the termination date. On termination, all work completed to time shall be delivered to the client in a usable electronic format.