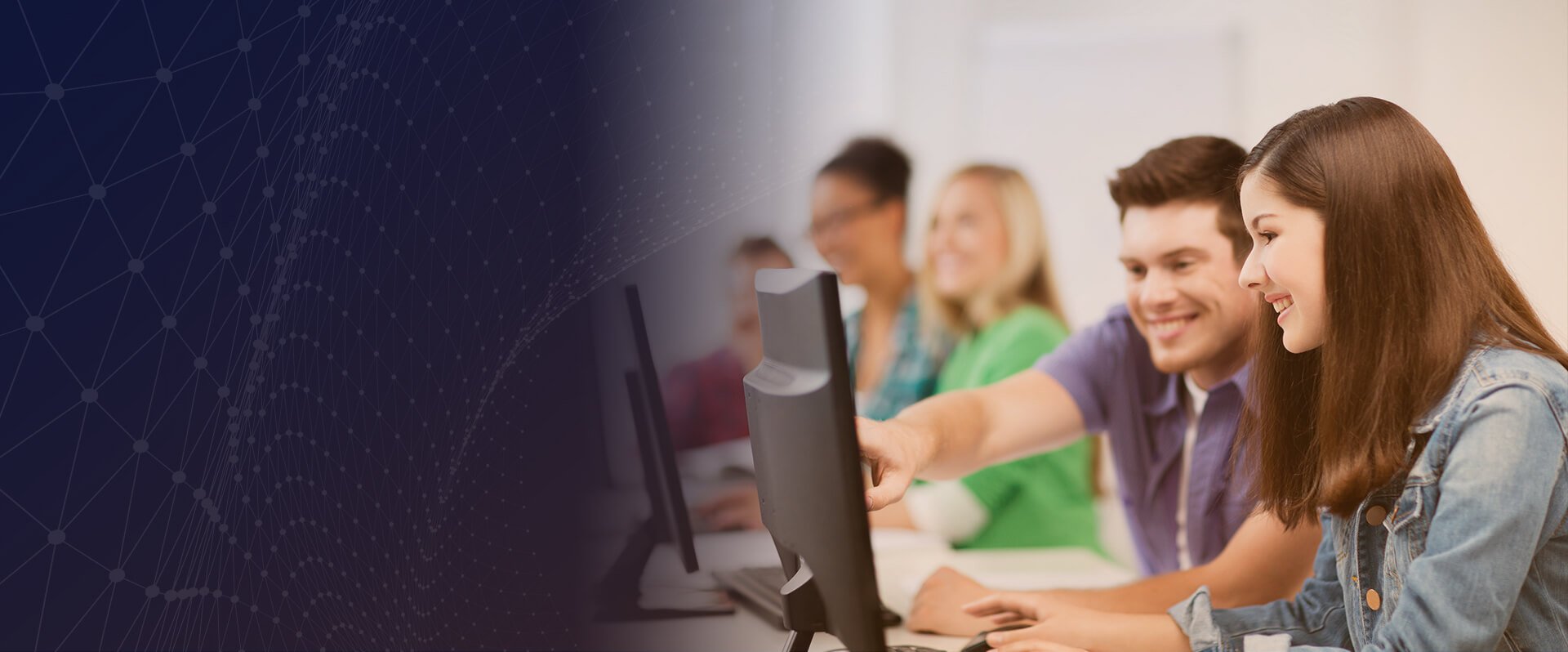 Hire Moodle Developer
Leverage our end to end Moodle development services to craft competent, comprehensive and competitive web and mobile eLearning solutions to meet your specific business needs and synchronize the workflow with your existing learning system
Hire Moodle Developer
Moodle Development Services
Moodle is abbreviated as "Modular Object-Oriented Dynamic Learning Environment" is an open-source learning management system. Moodle is highly advanced and one of the most popular eLearning systems. Like every other industry, the education system is greatly affected by digitalization, and with Moodle's high functionality and interactivity, the traditional learning methods have been supplanted with interactive eLearning systems and intelligent LMS. With the access to technology, Moodle has not only made it convenient to study online, but it has created fantastic opportunities for the educators to design custom courses that will benefit to the students in the long term.
Moodle Learning Management System is built on a PHP framework, and we have top-notch Moodle developers who have in-depth knowledge and extensive experience in Moodle LMS. Being a globally renowned Moodle development company, we have hands-on experience in developing web and mobile eLearning solutions. Our skilled Moodle developers are well-versed in crafting personalized Moodle solutions to help your business grow and generate a high return on investment.
Our Moodle Development Expertise
Moodle Consultation Service
We are connoisseurs in offering Moodle consulting services with over a half-decade of experience to clients from different industry verticals.
Moodle Plug-in Development
With exclusive business requirements, Moodel offers various modules and plug-ins plugins such as database plugins, activity modules, assignment plugins, plagiarism plugins, workshop plugins, and more to offer you top-of-the-line Moodle plugin development service.
Moodle Customization Services
Our qualified Moodle developers are focused on providing highly customized and perfectly designed solutions so that you can integrate any plugin in a quicker, easier, and simpler way.
Moodle theme design and integration
Our designers have the creativity to engage your learners with a user-friendly and eye appealing application. We have expertise in designing personalized themes as it reflects your company's branding.
Moodle payment gateway integration
We are unceasingly involved in offering payment integration services that are related to Moodle payment gateway integration. We are proficient at providing such services at a much affordable cost.
Moodle Website Maintenance and Support
Leverage our end to end continuous maintenance and support services to ensure the best use of your website without any hindrance.
Schedule A Developer Interview / Get A Free Consultation
What Else We Can Do
Moodle Framework development
Moodle eCommerce solutions
Websites development with multilingual support
Moodle eLearning Portal with custom course development
Moodle implementation and set up
Moodle custom report development
Moodle advanced analytics
Moodle multi-tenancy systems
Customize Payment gateway integration
Enhancements, customization, and support
Moodle Mobile App Development and Customization
Moodle Design and Development company
We are a globally renowned Moodle design and development company. Offering end to end Moodle development solutions to help educators, learners, and administrators with secure and flexible solutions. With the major focus on building eLearning portals and personalized learning environment, we deliver secure, reliable, and robust solutions to meet your specific business needs. We firmly believe in crafting comprehensive, competent, and competitive digital solutions.
At Bacancy Technology, we offer resourceful Moodle module development services to make a real difference to your unique business needs. We can help you plan and execute personalized Moodle processes for delivering content and evaluate the performance by creating new Moodle plugins or tailoring existing plugins to ensure the success of your business. Hire Moodle developers from us to design and develop phenomenal Moodle solutions generate a high return on investment.
Rezeel

An experience platform that allows users to earn money while providing support to business consumers and community efforts while being able to connect with others

Rezeel is a Q&A platform that allows users to raise their query and get the solution from the experts available. Here users/clients can discuss their specific questions with the expert through direct chat, and earners will assist them in resolving their queries and will be appreciated with rewards for the solution they are offering.

Case Study

Domain

eLearning

Time Frame

1 Year
Our Business Model
Full-Time Hiring
Duration
8/hours per day, 5 days/week
---
Communication
Email, skype, Phone
---
Billing
Monthly
---
Hiring Period
Minimum 1 Month
---
Part-Time Hiring
Duration
4/hours per day, 5 days/week
---
Communication
Email, Skype, Phone
---
Billing
Monthly
---
Hiring Period
Minimum 1 Month
---
Hourly Hiring
Communication
Email, Skype, Phone
---
Billing
Monthly
---
Hiring Period
Minimum 25 Hours
---

10+
Moodle Developer
Client Speak
We love to hear what they say about our services
"I would like to express my deepest appreciation for the work Bacancy has done to help me bring my project to the life. There was a real sense of IT development partnership. Reliable, professional and a friendly team of Bacancy, daily updated me with the detailing of the progress. I appreciate the dedications and efforts of the Bacancy Technology team."

Paul Stiles

Entrepreneur

"You can find a web developer anywhere. But, if you are looking for a strategic partner,who will learn about your organization and help you develop & grow your Web presence long-term,then chose Bacancy Technology as your one stop solution partner."

Gerry Dunne

Retail CP, Inc.

"We have used Bacancy on a couple occasions for iOS, Android, and Ruby on Rails development. Overall, we have been happy with them and will likely use them again. For our project, they didn't appear to adhere to any agile workflow, but they did have a good management structure of engineers and project managers. As with many offshore groups, there are senior and junior developers, so the quality of the specific engineer on your project does vary. This being said, they do a pretty good job using the senior guys to manage the junior guys."

David Carta

CEO/President at Telaeris, Inc.
Frequently Asked Questions
Where is Bacancy Technology based in? What is the team-strength?

We are based in the USA, Canada, and India. We have 250+ in-house skilled developers with an average experience of 7+ years.

I am not tech savvy; will I still be able to work with your team?

Absolutely, you can. Choosing us gives you peace of mind, and we are here to help you fill the technology gap on your behalf.

May I know your developer's core expertise and industry experience?

We have extremely talented Agile software developers who have in-depth knowledge and extensive experience in all the top-notch technologies.

Do you work according to my time zone preference?

Hire Dedicated Developers from us to work according to your time zone (EST/PST/CST/MST), deadline and milestone. To know more get in touch with us at [email protected] or skype "Bacancy."

Will I have complete control over the hired developers?

Yes, the developers your hire from us will dedicatedly work on your project as your employees only. You will have the total access and complete control on them through your convenient communication platform.

Do you use any project management tools?

Yes, we use industry-standard project management tools like Jira, Trello, Pivotal Tracker, Asana, etc. Where you will be able to track the productivity of developers and monitor the daily progress of your project. You can create the task, assign the work and monitor the development progress.

How do you manage the code?

For source code management and version control, we use Github / Bitbucket. Our developers will regularly push the code so you can review all the commits and manage it easily.

No, not at all. We ensure not to re-use your license keys, patented processes, trademarks or proprietary algorithms or anything specific that we have used explicitly for your project only.

What is your project development methodology?

We follow Agile and Scrum methodology. Where the team does a daily standup, meeting called "daily scrum." Preferably, the meeting is held in the morning and it lasts 10 to 15 minutes. During the daily standup, each team member is required to answer the following questions:

1) What did you do yesterday?
2) What will you do today?
3) Are there any blockers or impediments in your way?

The developer is required to mention what he/she accomplished yesterday and will he/she work on today. It helps the entire team to understand what work has been done so far and what work has remained to achieve the milestone. This is how you can have full transparency and control over your project and developers.

How can I choose a developer of my choice?

After careful consideration of your project requirement, we assign a skilled and seasoned programmer to work on your project under a well-established IT set-up.

If you prefer, you can conduct as many interviews as you want, before you hire a developer of your choice. If in-case, the expertise of a hired developer does not deliver the desired output or if you want to add more developers with the diverse skill-set, then we will help you in both situations right away. We are offering peace of mind with 100% success guaranteed.

What is the cost and engagement options available at Bacancy Technology?

We provide three types of hiring engagement models.

Dedicated Developer - Monthly basis 160 Hours a Month. 8 hours a day, 5 days a week Hourly Basis – Hours/ Month We use time tracking tools like time doctor, hub stuff for time tracking Time and Material Base You can share your requirements with our team. Our team will evaluate your requirements and then get back to you with the detailed estimation of your project along with time and cost as well as the roadmap of the project.

What's your pricing model?

Dedicated Hiring: - For dedicated resources hiring, you are required to pay one-month upfront payment and when the next invoice will be generated once the cycle of one month is completed. Hourly Basis: - -In an hourly basis, you are required to pay one week of the advance payment, and the remaining amount can then be paid in weekly, fortnightly or monthly payments as per the pre-agreed contract with you.Fixed Time and Cost Model: - For the time and material base hiring, you will be required to pay 20 to 30% cost of the project as upfront payment and the remaining amount will be based on the milestone so upon completion of milestone you will be releasing next % of payment.

How absolute is my ownership?

You will have complete ownership of your entire project. It includes the NDA, copyright, source code, intellectual property rights, etc.

Do you have service level agreement in place?

Why should I hire a dedicated development team?

There are a couple of benefits of hiring dedicated and skilled developers

An opportunity to work with dedicated and skilled developers
Total control over the development process
Hiring a dedicated team guarantees a Quality Assurance and risk minimization
We will provide a dedicated Scrum Master (Project Manager) to manage your project and team, without any additional charges. At a free of cost
A shared QA will be provided to assure quality without any cost
And at last, but not least is the fact that developers work as a part of your team