January 24, 2020
5
min read
Last Updated on April 24, 2020
I have received hundreds of emails from my readers and friends who have been reading my blogs. Many of those emails asked me to write about technology and there is a common question that every other reader mentions – " what makes Node.js a go-to technology for enterprise-level applications." So, the other day when I met one of my colleagues, we went into an outstretched talk regarding the same matter. We grabbed a cup of coffee and discussed- What makes Node.js the first and foremost choice for enterprise-level organizations?
I must appreciate him for the in-depth explanation he gave me. I thought to convey the significant highlights of our discussion in the form of a blog post.
I have come up with a handful of Node.js features that make it stand over any other programming language for building enterprise-apps. And after reading this blog post, I hope it will make sense to you as well.
Why You Should Build Enterprise Applications Using NodeJS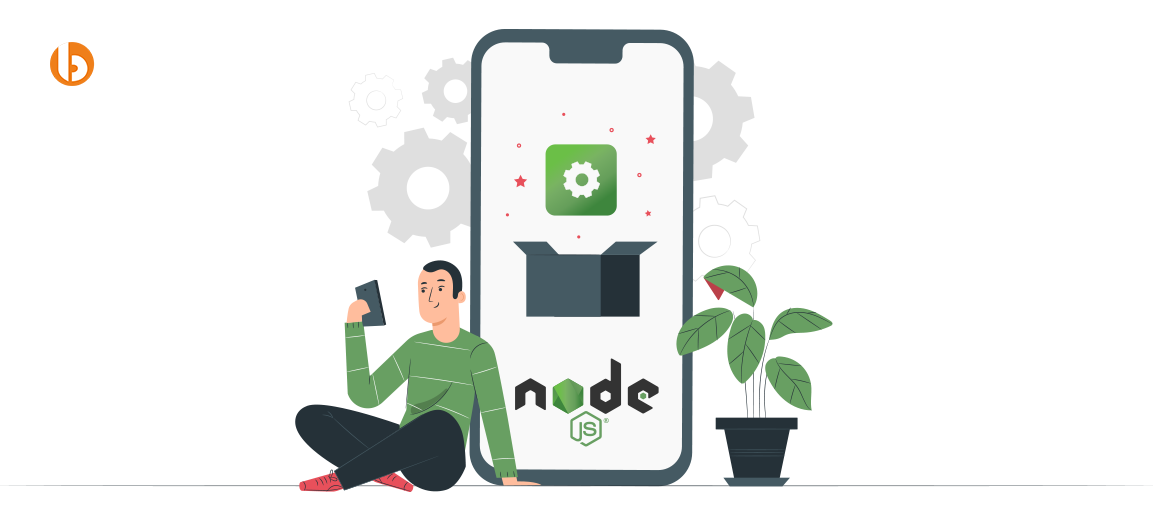 p>Every programming language has its own benefits for development, but choosing Node.js over other programming languages has some additional benefits. Before we dive into the powerful features of Node.js, let's have a look at why Node.js has become standard for enterprise-level organizations.
Globally Renowned Organizations Built on Node.js
Some globally renowned organizations have chosen Node.js as their primary backend technology for building applications. Some of those are:
LinkedIn
Development
Amazon
PayPal
Medium
eBay
NASA
Groupon
Walmart
Netflix
Trello
Uber
You might be amazed by looking at this renowned app list. Read ahead to know why they chose Node.js.
There are several advanced tools available for complex application development that make node.js the standard technology as well as the foremost preference. So, let's get started!
Here are some features that make Node.js ideal for developing Enterprise-level Applications:
1. Accessibility and Performance
Node.js is an event-driven server-side environment based on a Chrome V8 engine that helps to create fast and reliable backend applications. It is a single-threaded metachronous structure that enhances the accessibility and performance of your application. It works like this:
All the functions (or callbacks) are executed asynchronously by multiple threads running in the background. Credit goes to the Node.js runtime that handles this. Thus, Node.js is a non-blocking environment that enhances the performance of the web-app. This is known as the 'Single-Threaded Event Loop' architecture of Node.js.
The benefits of this Javascript based callback mechanism is that Node.js can easily handle numerous parallel client requests without creating multiple threads and hence utilizing less memory and resources. Your app's performance increases incredibly because of this mechanism.
2. Scalability with Microservices
Hundreds of large-scale organizations have adopted and benefited from the scalability offered by Node.js as it is the most popular framework loved by entrepreneurs. The reason being the Microservices architecture followed by Node.js.
With this architecture, applications can be independently developed, handled, operated, and tested, which saves you of the infrastructure risks. Also, it reduces the time and cost of development because you need only to consider new services introduced or updated. Not only that, but it also allows code-reusability between client-side and server-side.
This way, one can add up additional services on top of the existing ones and make their app exceptionally scalable when needed.
3. Build Real-time Applications
As mentioned in one of our previous blogs, real-time application development. Node.js is widely used to create real-time data-intensive apps that run across distributed devices. Node.js suits best when it comes to building real-time applications for client-side to communicate and share information freely as well as to handle copious real-time users.
Distinctive features are provided by node.js when it comes to developing real-time applications. Primarily because javascript execution occurs speedily due to the single-threaded event loop, and the I/O bound tasks are tackled well by Node.js. Along with this, Node.js is an event-based server that hinders blocking and can accommodate a large number of real-time users.
The best examples of apps that are build using node.js are:
video-conferencing
messaging apps
online gaming
collaboration tools
data streaming apps
eCommerce websites
financial dashboards for stock traders
interactive apps
marketplaces
online games
social networking apps
real-time tracking apps
video and text chat engines, and more.
4. Handling Data Streams
Like strings and arrays, streams are the collection of data and the primary concepts of Node.js for managing the available information. The main benefit it provides is that it takes less time compared to other data processing methods for processing data. Node.js developers can even transform the data carried in the stream before it reaches the destination.
Node.js streams help simplify the I/O tasks tremendously. There are four types of streams used by node.js- Writable, Readable, Duplex, and Transform, along with the Pipe method to handle data. The most significant advantage of node js using streams is reducing memory consumption drastically. It enables apps dealing with a massive amount of data to function faster that too with minimal memory usage.
5. Data Buffering
Node.js uses the Transfer Control Protocol streams; hence the developers have to deal with binary data. Node.js uses the Buffer class to handle long streams of such binary data. The language uses Buffers when the incoming data is more than the outgoing data, and the stream processors can not digest all the data.
Asynchronous request handling and event-driven modules, based on Node.js, never fail to buffer any data. It only chunks the output. For enterprise app developers, this feature of node.js turns out to be an essential one for developing a smooth functioning app.
6. Availability of various modules
All the JavaScript files are reusable by the application of node.js as it can implement the conventional modules. When you install Node.js, it automatically installs the programs of NPM (Node JavaScript Programs) that places all the modules before any severe issue occurs. These NPM packages are by default installed to C:\Users\ [Username]\AppData\Roaming\npm.
It is an open-source platform where you find a shared repository of dynamic tools and more than 60000 modules and is still growing. This way, you get reliability and an active community at your doorstep.
7. Works out Database Concerns
As you use new databases like Mongo and Couch along with Node.js, you should not worry about modifying the syntax to match with your web development. These NoSQL databases use the javascript framework for querying, and Node.js executes it flawlessly.
Real-time apps built with node.js execute the database queries efficiently because they have the data saved in JSON format, making it easily convertible. You are no longer required to worry about code translation because the data streams as it does not demand to have knowledge proficiency.
Wrapping Up
For developing applications with faster and better accessibility, Node.js is an excellent choice for building enterprise-level applications. At Bacancy Technology, Node.js is our core area of expertise. If you are looking for an innovative and qualified team of Node.js developers to build a next-generation enterprise application, then get in touch with us today. Choosing Bacancy Technology and hiring Node.js developers ensures you have access to skillful experts and adroit specialists. We assure you that you will never be disappointed about hiring our Node.js development services.
Kiran is a content associate at Bacancy Technology. Kiran Bhatt has an astounding affinity for reading and writing about trending technologies that allow her to be creative. She is a social aficionado. When Kiran is not scrolling down her Instagram feed, she can be found reading novels of Jhumpa Lahiri, Stephenie Meyer, Harper Lee and more.