Quick Summary:
Change is inevitable, and so is the process. A traditional approach, when it turns out to be time-consuming, requires a modern way to replace it. Robotic Process Automation is a new approach that ensures accomplishing tasks in minutes and not hours.
Table of Contents
Introduction
Every mundane or repetitive task acts like a crab, pulling the organization back. And the solution to this challenge is implementing Robotic Process Automation (RPA). From automating manual tasks to freeing manpower and saving resources to keeping your business ahead of the competition, RPA is a sure-shot solution. And not only us but the acceptance of RPA by different industries are real-life testimonials.
This blog discusses those RPA use cases that ensure fast-paced business processes with minimal investment. Go through the blog and know the business process that you can automate and allow your creative human brains to contribute to the strategic part of the business.
Evolution to Robotic Process Automation
Robotic Process Automation means using software robots to execute the same manual tasks without manpower and in half the time. The RPA software robots are built using Machine Learning and Artificial Intelligence to perform tasks, such as interpreting data, making informed decisions, and data entry.
The first software robot was built in the 2000s to automate the simplest tasks, i.e., file transfer and data entry. Back then, the use of RPA was limited to the IT industry, but with the evolution, the scope of Robotic Process Automation widened across industries.
According to the webinarcare, 61% of participants expected cost reduction after implementing RPA, which they say is actually met and exceeded.
Besides reducing costs, RPA has contributed to scaling efficiency, removing errors, maintaining consistency, and promoting processing time. How do the organizations achieve this? Let's understand the use cases of RPA.
RPA Use Cases - Industry Wise
Industries have won lucrative rewards by implementing RPA in business processes. We have listed down use cases of RPA that have automated repetitive tasks in the business. Read them because you will know why you should consider RPA for your business, what drastic changes businesses/sectors have gained, and whether the already implemented businesses are satisfied with RPA.
RPA Use Case in Finance
Finance is one of the sectors that have optimally leveraged Robotic Process Automation, and the need for automation surged due to the high involvement of humans and high chances of human errors. According to the report, 80% of finance leaders plan to bank on software robots. It also means they believe in the potential of new-age technology.
We have picked three RPA use cases in finance, which could be yours too. So, watch the automated processes and see how they reward the sector.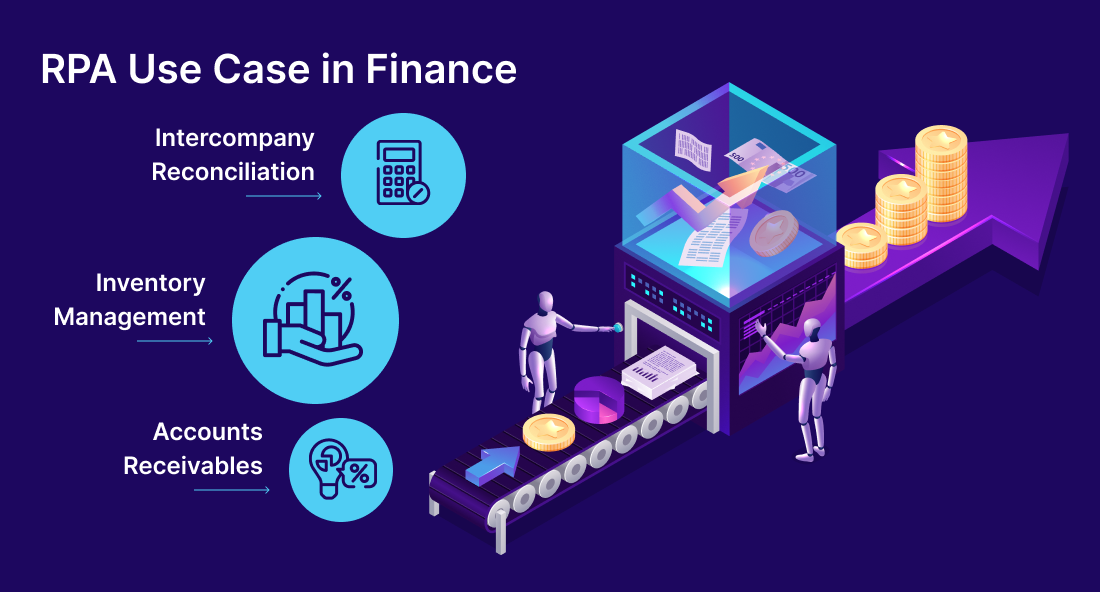 Intercompany Reconciliation
Intercompany Reconciliation is one of the RPA use case examples involving manual data entry, extraction, and cross-checking. On top of this, if there is an identification of uncalculated transactions or invoicing errors, there are chances of a department wreck. Happening such event may put the employee under stress and has to face challenging situations.
But with implementing RPA in finance department, manual intervention was eliminated, and tasks were performed without hassle. A single bot can execute what a group of thousands of men cannot.
So, which manual processes are automated?
Data extraction and retrieval from the existing files
Finding out statements from the ERP systems
Making balance comparisons for decision making
Sending emails and finding out unrecorded invoices
Highlighting discrepancies
Making journal entries
Reporting to the business controller
Inventory Management
A constant supply of the end product is maintained if there is a regular check on the inventory. Now if there is manual intervention, then there can never be an exact check on what stock is outdated or what is required for production. Inventory management is one of the RPA use cases in finance that needs to be automated to eliminate the hassle.
A software robot can streamline the dead stock counting process and let you know how much stock is required for production. It also improves lead times and enhances storage costing. For inventory management, software robots can automate several tasks listed below:
Tracking stock
Placing orders when required
Notifying concerned person about low stock levels
Predicting the maximum inventory level required
Monitoring shipment
Reporting and following-up
Accounts Receivable
Days Sales Outstanding involves human intervention from both parties, i.e., payee and receiver. And any error like sending emails from either party can impact cash flow and liquidity. With RPA in place, issuing invoicing and sending it becomes automated, and doing so will eliminate cash flow deficiency. Besides, RPA in finance, especially account receivables, will even automate information adding. It will eventually gather all the information without any hassle.
What benefits can you reap with RPA in accounts receivables? Here is the list:
Quotation for sales and generating entries
Placing cash applications
Resolving disputes
Gather customer information from different sources
Following up and sending reminders
Managing credit risks
RPA Use Case in Banking
Banks deal with voluminous data, which, if not structured appropriately, can lead to fraud, theft, or money laundering.
Now if these data are managed through RPA robots, the task of hours will be executed in seconds with the help of software robots. With the automation of all banking-related manual tasks, there is around a 30-70% reduction in manual tasks.
Let's look at some RPA use cases in banking: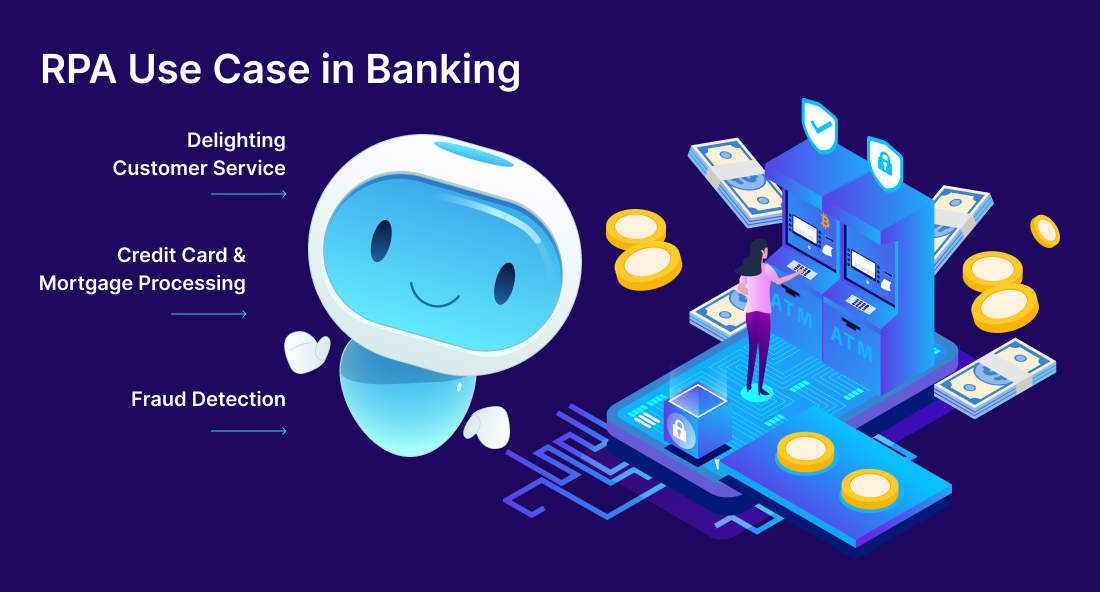 Delighting Customer Service
Customers reach banks for all queries, including account opening to application process and load inquiries to balance information. Managing all such queries requires a lot of manpower and time. And chatbots are also not a favorable option for customers since they don't get satisfactory responses.
RPA in banking seems to produce quite favorable results, which is why it has been popular. The customer-friendliness of Robotic Process Automation has been amazing since it happens to reduce turnaround time. This also results in freeing manpower and reducing costs. Besides, RPA helps make informed decisions, ensuring enhanced customer service and experience.
Credit Card & Mortgage Processing
The average time for processing a mortgage loan in the United States is 50-60 days. Evaluating the risk factor involved in approving the loan takes this time. Besides, there is a strict-background screening of the loan applicant to check for payment history. Also, the banks check whether the loan applicant's employment is fixed and for the long term. A delay of even a day can slow down the entire loan approval process in all these manual processes. Credit card and mortgage processing is an RPA use case that requires automation to shorten the days span of approval.
With RPA in banking, most of the tasks are automated. And the time it previously took to approve a mortgage loan also happens to be half. RPA accelerates the process and removes the bottlenecks that slow down the process.
Fraud Detection
Fraud remains at the top with digital transformation because fraudsters know the digital system's loopholes. Even if they don't know, they will find and breach it. And for banks with a manual workforce, it becomes a daunting task to red-flag all the malicious transactions.
But what seems difficult for men is quite easily possible for machines. A robotic process automation can raise the flag for any activity it finds to be malicious and potentially threatening. With this, neither the activity will be successful, nor there will be financial loss.
Unleash the potential of Robotic Process Automation!
Elevate your business with a skilled RPA Developer. Streamline processes, drive productivity, and soar to new heights. Act now and hire your automation expert!
RPA Use Case in Healthcare
According to the reports, around 32% of healthcare providers have started investing in modernizing solutions to manage and reduce administrative costs. Everything from scheduling appointments to processing claims to handling patient records is a manual task requiring automation to free up ample manpower and save time.
With RPA in the healthcare industry, there can be several changes, which are as follows:
Hospitals implement RPA to eliminate manual tasks like appointments, recording patient data, and claim processing.
Pharmacies implement RPA to ensure the filling of prescriptions, payment processing, and managing medicine stocks.
Besides, there are various areas healthcare industry relies on RPA solutions. Here are the use cases of RPA in healthcare: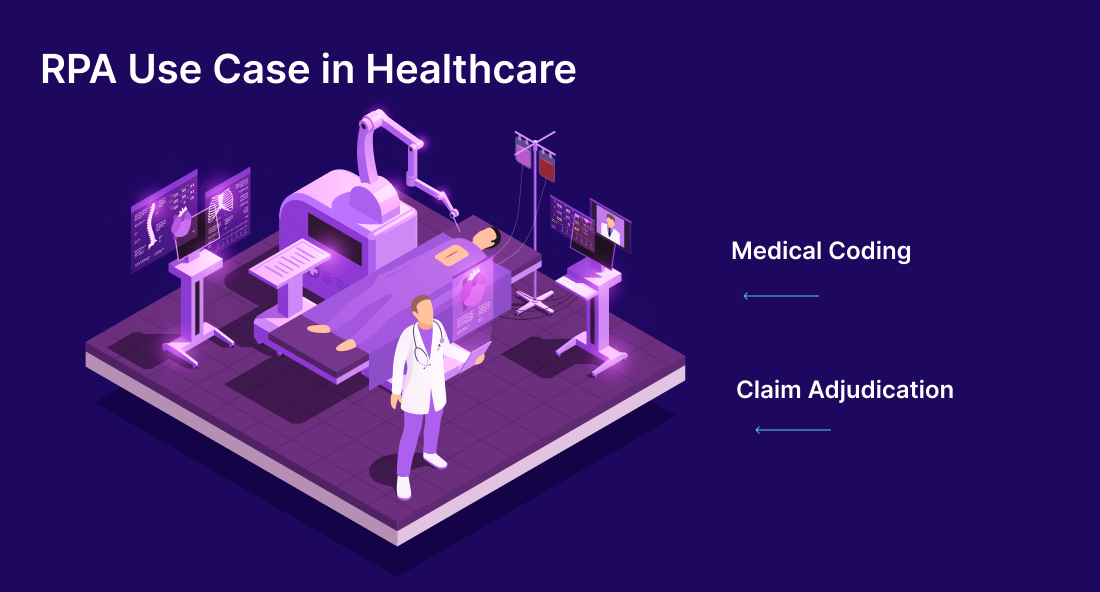 Medical Coding
RPA in healthcare means allocating standardized codes to procedures, treatments, and diagnoses. The software robots read medical documentation, fetch relevant information, and then allocate the code. Besides, RPA even ensures consistent coding to medical procedures for swift claim approvals and revenue generation. Medical Coding is considered RPA use case because simpligying and making it swifter delivers high productive results.
Claim Adjudication
RPA can automate claim adjudication by reviewing claims and ensuring they meet pre-defined rules and policies. Software robots can run eligibility checks, coverage, medical requirement, and compliance. Since these are automated processes, you can expect agile claim approvals, fewer manual efforts, and consistent claim adjudication.
RPA Use Case in IT Operations
Like other industries, even the IT industry has several repetitive tasks that demand automation because doing those tasks manually will waste manpower and time. So, which areas in IT operations have been automated using Robotic Process Automation?
Let's check some RPA use cases in IT operations: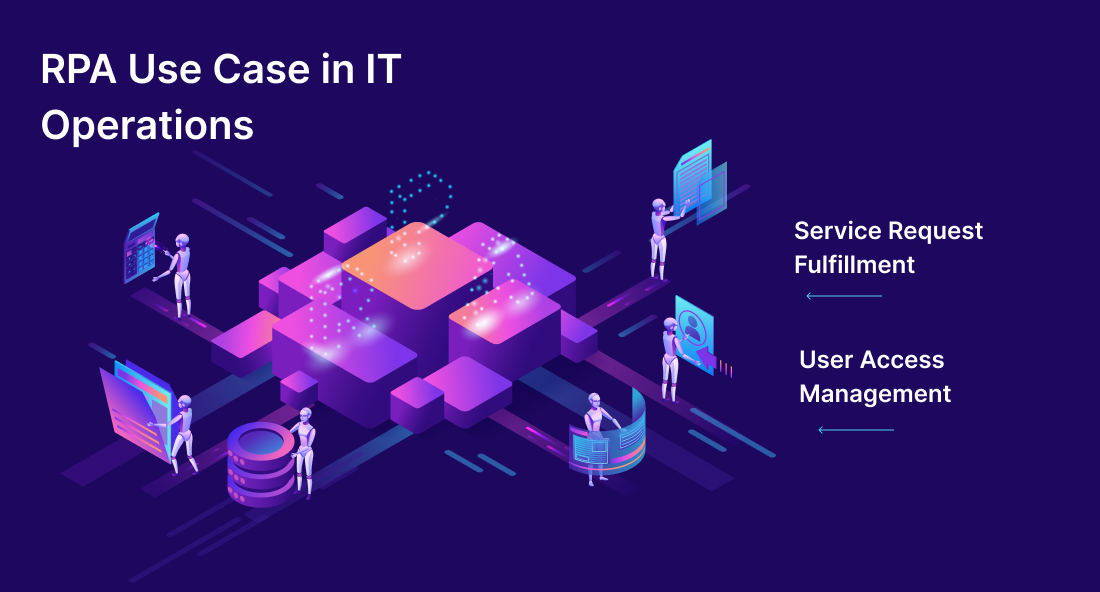 Service Request Fulfillment
This is one of the use cases of RPA where IT operation time-consuming tasks like receiving service requests across channels, such as customer portals, emails, and web forms. Here robots will perform tasks like fetching information from requests, evaluating the data, and filling the data into the systems. Doing so will eliminate the dependency on humans and executes the tasks rapidly.
User Access Management
From user account creation to providing access to even revocating access and password reset to communicating and notifying users, every manually-performed activity is automated by leveraging Robotic Proces Automation.
RPA can create new user accounts by fetching information from onboarding forms. Besides, it can add required fields and fill them with appropriate entries.
Once the account is created, RPA allows the user to access the account depending on predefined rules and regulations.
Besides granting access, RPA can even revoke requests whenever any employee resigns. Moreover, RPA can even remove the account to free space.
RPA Use Case in Insurance
According to the report, it has been estimated that the United States predicts 46% of insurance claims processing jobs to be automated. It also means that this industry strongly believes in the potential of Robotic Process Automation. What RPA insurance use cases are? Let's discuss this.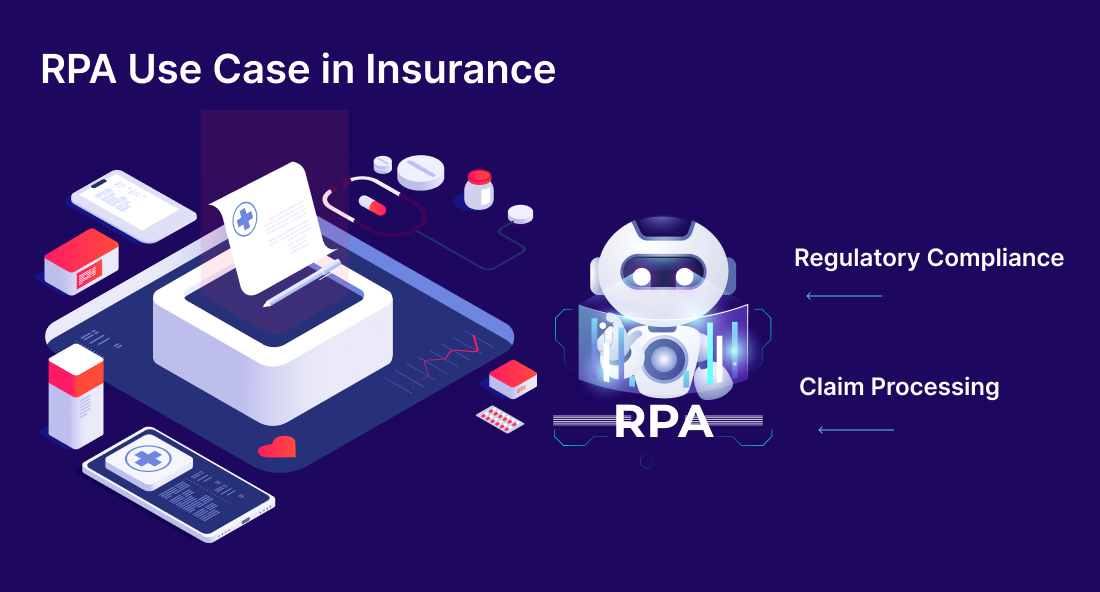 Regulatory Compliance
The risk increases in the insurance sector because it requires abiding by strict guidelines related to documenting and auditing trials. Previously, many loopholes have created issues, making the process tedious and error-prone.
With RPA, there is no need to employ manpower to execute tasks like generating reports, evaluating customer information, and processing account closure.
Claims Processing
Firstly, it requires manual data entry, document verification, claim validation, fraud detection, and claim settlement. All these tasks were previously performed manually, which obviously takes time.
But with RPA in the insurance industry, things are not like before. All the processes that were once man-powered are now automated. This is one of the RPA use cases that has observed serious attention because of its delivering fruitful results.
Conclusion
These RPA use cases covers most industries. It also means that any labor-intensive tasks can benefit from process automation. And most human creativity can be shifted to the fundamental and technical parts of the business. It doesn't mean human intervention will be eliminated; there will be, but to a certain extent, to understand RPA and how to operate it.
Planning to implement RPA in your business; wait no more because your competitor might have already started implementing it. Partner with one of the top-notch RPA Consulting firms! Streamline workflows, maximize ROI, and stay ahead of the competition. Connect with the award-winning and high client-retention ratio software development company and get a quote.
Frequently Asked Questions (FAQs)