April 25, 2019
7
min read
We all might have heard before: "I have a revenue-generating business idea and I am all set to bring the idea into life".
This sounds so simple. Isn't it? But, there are a lot of things that matter the most.
The astounding growth of mobile app development since last few years has motivated many developers to bring in life powerful yet functional and alluring apps so as to attract more customer base and to stay competitive in the market. But there are times when companies don't have an adequate resource and so they either hire a freelancer or a dedicated developer from an outsourcing company as per their needs. Though both have their own plus and minuses, it all depends on many factors and considerations.
Earlier, development managers and technical leads have an option to hire dedicated developers from an outsourcing company so as to reap all the benefits they used to get from freelancers. Still, there are lots of questions entangled with this model:
1. Can we start with few developers: let's say 1 or 2?
2. Will I have the same level of control as I used to have earlier over freelancers?
3. Will the project be delivered on time?
And so on.
In this article, you'll find answers to the above and many more questions.
So, What Exactly Is A Dedicated Development Team?
Dedicated development team or dedicated developers is the outsourcing model that is specifically hired to help companies fix the issues with the freelancers in accordance with their time and approach.
This article will speak you the below table content:
| | |
| --- | --- |
| 1. | The Current Industry Dilemma |
| 2. | Why Startups And Big Shot Businesses Are Still Working With Freelancers? |
| 3. | Why Companies Are Shaking Hands With Dedicated Developers From An Outsourcing Company? |
| 4. | Hire Freelancer Or Dedicated Developers: What's Your Call? |
| 5. | How Does Bacancy Technologies Solve These Risks? |
| 6. | Final Thoughts |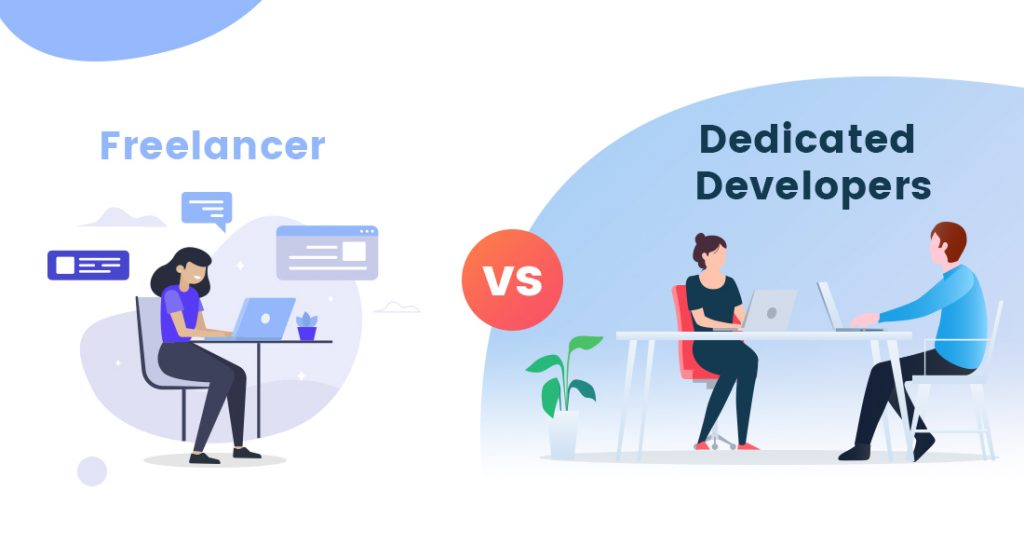 The Current Industry Dilemma
Today, hiring a software development team is one of the toughest jobs especially when you're a startup company, things get even more complicated. The reason is simple: Financial boundaries and timeframe. But, fortunately, we are living in an era where the location is no more considered as a boundary or hindrance, especially for the IT sector.
Business is accessing the global talent pool in order to find people that best fit their needs and requirements in terms of quality, price, and experience globally. Though they might face some communication issues, still if you continue your search, you'll definitely find a vendor having mindset just like you.
Also, there are times when some vital and important information is not to be vocally shared among the colleagues and there is no other way out. In such a case, the implementation of project management tools proves to be fruitful. Just imagine all your fellow managers and developers are collaboratively sharing all the information and documents on single platforms like JIRA or Slack, where everything is fixed. Sounds like a dream, isn't it?
Why Startups And Big Shot Businesses Are Still Working With Freelancers?
The reason is simple: They don't want to lose control over their development processes.
And so in order to overcome this scenario, the dedicated development model came into existence. Indeed, when we speak about the fixed cost model, the client will have restricted access to project development.
Having outsourced the entire project through the dedicated model, the entire communication flow would be managed by the outsourcing company's project manager in order to avoid blunders and to streamline the development process.
Apart from that, the client won't be able to decide the project manpower. Because the team composition is totally in the hands of the outsourcing company. But why? It's quite simple. Because they share the project risk with the client and so they have all the rights to manage the project the way they want in order to confirm topmost project delivery that meets client expectations on time and within the budget.
To sum up the entire scenario, those in charge of project development in the company refuse to work with the outsourcing company and prefer working with freelancers so as to get the control over the team and development cycle.
Why Companies Are Shaking Hands With Dedicated Developers From An Outsourcing Company?
A dedicated development team is lightweight outsourcing model specially designed to manage offshore developers directly just as in they are part of an in-house team. It's quite suitable for those who have their own companies but unable to keep salaried and experienced employees on their premises. Also, this model is quite suitable when you need extra manpower for a time being period or for some particular project basis. But then, you won't be able to keep them on jobs. And, firing a team of let's say 3 to 5 developers will create a massive impact on your brand reputation. So, what to do in such cases? Well, people do see hiring freelancer as an option but actually, it's not.
Hire Freelancer Or Dedicated Developers: What's Your Call?
Whether you hire dedicated developers or you pay freelancer, before making the final call, you need to get deep insights regarding their work methods. So, before moving ahead let's evaluate some parameters that are surely going to help you take an appropriate decision.
1. Dedication:
As freelancers are habituated to handle multiple clients from different industries, you can expect a prompt response from that. However, if you hire dedicated developers from an outsourcing company, they will work only on your project. So, it's the company's sole responsibility to handle your project. If under circumstances, the dedicated developer left the job, it's the company's responsibility to deliver the project on time and in a hassle-free manner. You can't expect such services from a freelancer.
2. Expertise or proficiency:
This is another factor which cannot be ignored. A professional developer is much more experienced and tech-oriented as compared to freelancer as he has handled an array of client base form multiple niches. Regardless to say that freelancers are equally capable ad skillful, still, the professional developers have a professional attitude that freelancers lack. And, so they're more preferred by the industries.
3. Availability:
Since the dedicated developers are assigned for your projects, they're easily available. But the availability of the freelancers is limited as they are well-equipped with multiple tasks. If you need to amend changes on an urgent basis, getting done with dedicated developers is far easy as compared to freelancers.
4. Security:
It is one of the biggest game changer points when you're thinking to outsource your project. Your business secrets, data, and ideas everything is there in a project and is more secured with a dedicated developer as he is working with an established company. On the contrary, you may not get such service from a freelancer.
5. Resources:
Since the dedicated developer is working with the pre-established company, he is liable to get all the pre-requisite support for the project which a freelancer may not get.
So, from the above-mentioned points, we can say hiring dedicated developers is far better than a freelancer. If budget is not your concern, then hiring a dedicated developer is the best alternative to go with.
How Does Bacancy Technologies Solve These Risks?
Being an expert in outsourcing the web and mobile app development projects, we know what pros and cons come along in the way to get the work done. We strive hard each day so as to minimize the risk you face while outsourcing your business needs. Our main aim is to minimize the risk and involve more efforts to build robust and secured end product that benefit you till the maximum extent and boost your business sales.
For instance:
Whenever you shoot us your requirements, we assign you the team of developers and designers who can meet your deadlines within a given timeframe. We also assign a project manager with each team that acts as a mediator that review work, check milestones and deliveries and also keeps a clear communication bridge between both the parties.
We believe in your privacy. For further assistance, you can even opt to sign a non-disclosure agreement with us so as to protect your application ideas legally in all manners.
Final Thoughts
If it's still a tough choice for you guys to make to meet your requirements, then hiring dedicated development team or a full-time dedicated developer would surely work and is obviously a far better option than hiring a freelancer. Though the cheap rates offered by the freelancer seems to be an eye-candy at first glance still, working with the leading and experienced mobile and web app development company can surely add on more value to your project.

Chandresh Patel is a founder & CEO at Bacancy Technology. He is a founder of vision and mission of Bacancy Technology and constructed work ethics
@bacancytech
to achieve that vision and mission. He oversees Business development, day to day execution of strategic planning and also looks after customer service & delivery. He's an avid blogger and writes on the publications like
Dzone
,
e27.co
,
Marketo
,
Smart Insights
and featured in
Insightssuccess
.