January 27, 2015
4
min read

Before jumping into the exact depth to find the reason for why should you choose a Single Page structure for your next website or web application, it is necessary to know about the origin and nature of a single page application and why smart people go for it instead of traditional web design and applications.
What is a Single Page Application?
A single page application (SPA) in general language is a type of web application/website where all the calls and interactions are handled by client side instead of server, once it is loaded. This means when someone is on a single page application he/she will get all the details required, within a single page instead of getting directed onto a new page having different URL generated as a result of new http call.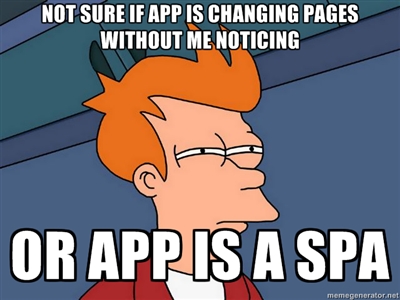 For instance you are on a single page application and you start browsing for details such as about the company, services provided by the company, etc., you will experience that whenever you click a button you are getting scrolled upwards/downwards on the same page instead of getting redirected to a new page.
For Example: Bullet Pr
What Compelled Single Page Applications to Jump into the Trends?
The term SPA was put forward by Steve Yen in 2005, however was into the talks before 2003 possibly.
Single page application carry an amazing feature that lets you feel a web application as a desktop based application. Desktop based applications do not take time to load, neither do they jump onto versatile pages, nor do they require loading time and complexities such as http calls, etc.
These features (most adoptable ones) propelled SPA to hit the markets and get adopted by many:
Loading Time– Loading time in SPAs is dramatically less. As it heaves reliance on client side, the load on server reduces to a great extent.
Runs Faster– as the loading time is reduced to minimal, SPA runs faster as compared to many other web applications or websites.
Works Offline– as we stated above SPA gives a desktop app like feeling, it works offline too!
Caching- Caching gets a lot comfortable, easier, and more beneficial
What benefits can you get from opting for SPA?
SPA comes with a responsive nature and hence you need not to worry about the compatibility factor for mobile, tablet, etc.
As the calls are client side and loading time is reduced, it runs faster. This leads to benefit of user friendly contrary attracting more visitors
UI becomes more interactive and UX becomes better as well as flexible
Single page applications have the characteristic to run offline, thus making it more user friendly and easy to access
There are some demerits but what matters the most is the number of merits it should have in order to dominate its demerits and this will force a person to opt for it though there are some relinquish drawbacks.
Some demerits one may find in Single Page Applications:
One of the most prevalently known drawback of SPA is its compatibility with browsers and the history segment it leaves on browsers. Single page applications rely heavily on modern browsers attuned with HTML5
As there are no new pages in SPA, indexing problem in Search Engines arise. Search Engine will index the web application URL as a whole and will give it back to queries put forward for only that particular URL or Keyword or Service linked to the type of industry
Possibly, the loading time of the first page (initial loading) in SPA is found to be slower than other web applications. But there are possible solutions to this such as heavy approach to caching and many more
Single page applications are treated as inefficient in regards to bandwidth and computing power both when it comes to page based development tactic
SPA is Beneficial For:
Single page applications are of great use in developing web applications or websites for those indulged in providing singular service as well as for people who are in need of website/application as an identity.
It is of great importance for people who are in need of some interactive, flexible and creative UI design to attract visitors
It can be used by those who need a faster loading web application/website
Wrapping Up:
Single page applications are interactive and cool from the view point of UI design, and if you are fascinated by such applications to get an amazing UI developed for you, simple ping us at [email protected] and get cutting edge UI/UX development services.

Storyteller, Marketer, Developer, Writer, Thinker, Enabler, Rescuer, Wordsmith. I see myself as a Content Strategist. I love to write about anything and everything that pertains to the digital world, as I believe it's an ever evolving space creative in its own way. I love facing challenges, Blogging and sharing technologies