Last Updated on April 7, 2023 | Written By: Vandna Parasar
Quick Summary- Salesforce launched Vaccine Cloud platform on January 21, 2021, to assist governments, healthcare organizations, and charities worldwide. This platform is mainly designed to ensure managing inventory, engaging patients, distribution of vaccines effectively, and training medical staff more efficiently to fight back against this pandemic.
Know about the Salesforce Vaccine Cloud concept, its valuable features, and how it functions for healthcare professionals. And do let us know if we missed something, we would love to hear from you.
Introduction
One of the biggest challenges the world is facing currently is the distribution of COVID-19 vaccination doses. Considering the existing viruses and new unknown COVID strains, Salesforce, the global leader in CRM, has made a big announcement of the Salesforce Vaccine Cloud in Jan 2021. This Vaccine cloud platform has entirely a new cloud designed to help healthcare professionals distribute vaccines more efficiently.
Despite vaccine doses arriving from all significant drug manufacturers, the delivery of vaccines has become the most challenging task for governments worldwide. Salesforce is assisting with the rebound from the devastating disease outbreak. Salesforce Vaccine Cloud is currently being used by various public health agencies, healthcare organizations, and nonprofit organizations.
Nevertheless, the advantages of Vaccine Cloud extend well beyond the apparent contributions it makes to the battle against COVID-19. We have come up with the salesforce vaccine cloud guide that helps you to understand what it is and how it functions for healthcare professionals.
So, let's get started!
What is Salesforce Vaccine Cloud?
Salesforce's Vaccine Cloud 2021 is an emerging healthcare technology designed for making vaccine distribution faster and data-driven. It provides an end-to-end vaccine management platform that helps health authorities manage and plan vaccination and reach more people quickly. From inventory management, vaccine administration to training medical staff, the Salesforce Vaccine Cloud is a complete package that the world needs right now to fight vigorously against COVID-19.
Salesforce Vaccine Cloud is not limited to this only; it also aids front-line staff, such as health workers, plans and implements vaccination strategies and to engage and meet people in a wide range of location sites.
Moving on,
What are the features of Salesforce Vaccine Cloud?
Below we have mentioned some of the significant Salesforce Vaccine Cloud features that aids in better mobilizing and managing vaccine distribution initiatives.
Inventory Management –
Inventory Management assists organizations in predicting and managing the supply of syringes, vaccine doses, and personal protective equipment (PPE) stock levels. The salesforce vaccine cloud comes with AI-enhanced dashboards that make accurate inventory forecasts, evaluate waste reduction, and avoid excess supplies.
Appointment Scheduling –
Stop community gathering is the most required demand of the current time. Therefore remote appointments are considered as one of the best practices to avoid community spread of the virus. Salesforce Vaccine Cloud offers remote scheduling features that help people to schedule vaccine appointments from their homes. To streamline this process, the platform has introduced web-based forms which require a few essential details of the person to complete the appointment process.
Telehealth Administration-
Again to avoid community spread, the platform enables telehealth to connect with their doctors and screened from their comfort places.
Clinical Administration –
Clinical Vaccine Administration will ensure that hospital staff is qualified in vaccination programs before delivery, and pre-arrival testing will help prevent onsite inefficiencies. Healthcare institutions may also use AI and data collection software to evaluate readiness, maintain community health records, document vaccine administration, and review community-wide vaccine outcomes.
Community Engagement-
Keeping people engaging with the latest information on vaccines and other health issues is crucial. The Salesforce vaccine cloud platform enables vaccine follow-ups and tracking health outcomes to monitor efficacy across populations.
Push Notification –
It's impossible to alert the public about anything directly. Public health alerts will make it easier for public health officials to notify people about the changes or updates. This will help them in better executing their awareness and outreach campaigns. Staff workload can be reduced by automating alerts such as second dose alerts, to-dos before vaccination, safeguards, and so forth. The notification feature will also inform site managers when it's time to stock up based on upcoming appointments.
Challenges and Solutions in Vaccine Management
The predictions made by the country's governments and top officials go in vain when their vaccination goal is missed. The world is witnessing dark days due to the pandemic; lives are lost in millions globally. Yet, we have positive news that effective and secure vaccines are rolling out all around the globe. According to Statista, as of May 11, 2021, over 1.3 billion COVID-19 vaccine doses had been administered worldwide, with the United States accounting for around 263 million of this total.
Still, some critical challenges affect vaccination drives. In this section, we have discussed some of the key challenges the healthcare industry has faced, and along with it, we have come up with solutions on how healthcare IT tools help overcome these challenges.
#1 Operational Challenges:
▣ Staffing-
Shortage of medical staff due to the surge in COVID-19 cases is one of the critical challenges the healthcare industry has faced, impacting vaccination drives worldwide.
💡 Solution-
To meet staff demand for immunizations, transferring staff to other places or recruits plays a significant role. To streamline this process, workload forecasting can be the best solution that helps to get the right resource at the right place at the right time. By automating these clinically driven data, these solutions help in managing the workforce.
▣ Storage and Management-
Storing vaccines and managing the inventory is another critical challenge of vaccination management. To avoid vaccine waste and patient security, it is essential to maintain the vaccines at a preferred temperature. For Instance- The Remdesivir vaccines must be kept to room temperature (20°C to 25°C [68°F to. 77°F]. And sealed vials need to be stored for up to 12 hours at refrigerated temperature.
💡 Solution-
Salesforce Vaccine Management solutions help professionals to scan vials with their mobile devices. The scanning transfers the complete data into the system and keeps the concerned person updated with the latest information.
#2 People Outreach and Engagement:
Educating people about the importance, safety, availability, and effectiveness of the COVID-19 vaccination has become a crucial challenge for health officials. According to various surveys, in the first initial months of the vaccination drive, people were interested in taking vaccines, but later the number decreased. To make the vaccination drive successful, it is essential for healthcare professionals to make people aware of its importance and benefits. But it is impossible for them to outreach to a large number of people.
💡 Solution-
Salesforce Vaccine Cloud platform helps to create a culture of learning with the pre-built eLearning templates. It also helps in communicating essential information to the patients proactively about recalls and trace adverse events.
You May Also Like to Read: The Significance of Salesforce Consulting Services for Attaining Business Goals
Now let's take a quick view of –
How is Salesforce Vaccine Cloud helpful for Healthcare Authorities?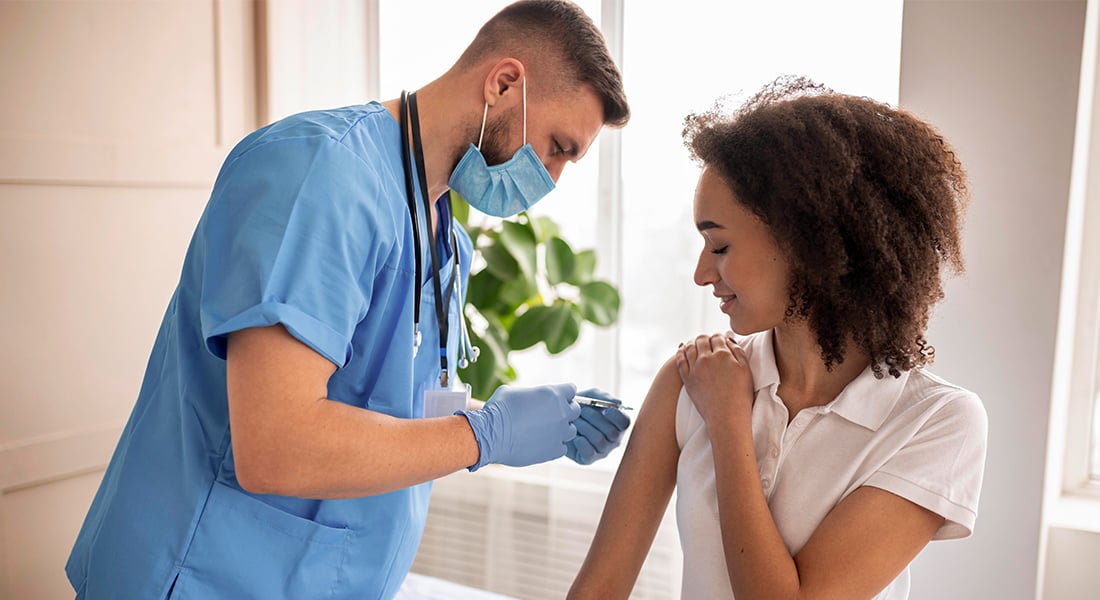 Salesforce Vaccine Cloud brings a lot of benefits to the healthcare authorities. In this section, we have mentioned the best benefits of Vaccines Cloud-
Healthcare authorities can plan, manage and launch the community vaccination effectively and quickly.
The Vaccine cloud helps in reducing the time of implementing digital vaccination solutions from months to weeks.
The platform automates data with a holistic view that enables professionals to get updates about vaccination campaigns quickly.
The Salesforce Vaccine Cloud enhances the reach of healthcare professionals to a broad community of people.
It assists them in training their staff with advanced health solutions, keeping a close eye on the inventory, managing it, administering vaccine doses, etc.
It streamlines the workflows for faster vaccine administration and creating a safer in-person experience for workers, customers, and partners.
How will Salesforce Vaccine Cloud help Government Authorities?
Millions of Californians have turned to Salesforce's "My Turn" a Vaccine Cloud for Covid-19 vaccinations that allows our fellow residents to learn when they are eligible & find a place to make appointments. It has provided a way to track vaccination data. https://t.co/TORRIVrUhO

— Marc Benioff (@Benioff) March 18, 2021
To execute the vaccine programs efficiently, government agencies need a lot of data and information, including making doses, monitoring vaccination rates, and visualizing data. Salesforce vaccine cloud data model helps Governments to keep track of their vaccination targets for their populations. This involves receiving sufficient doses, tracking patient care, and making informed judgments based on public healthcare needs and health conditions. These organizations may also use Vaccine Cloud's integration capabilities to bring data from all related systems into the network, meaning vaccine data is handled and monitored in one location.
What is the Price of Developing a Vaccine Cloud?
Well, the salesforce vaccine cloud pricing depends on various factors. Vaccine Cloud cost varies by application and is determined by the mix of services you choose. Get a personalized quote from Bacancy's Salesforce Consultant based on the particular Vaccine Administration approach your company needs.
Bacancy as your Salesforce Vaccine Cloud Provider-
At Bacancy, our Salesforce developers have in-depth knowledge and extensive experience in providing a robust portal for government departments, groups, and patients to manage vaccine delivery at scale, simplify vaccine management, and conveniently arrange vaccination visits. With our Salesforce Vaccine Cloud Implementation Services, you can quickly speed up vaccine delivery for a safer tomorrow.
What Bacancy offers you?
We have extensive experience with Salesforce Solution to assist Government and Healthcare Entities in managing vaccine administration quickly and successfully. We can offer Salesforce Healthcare solutions;
For Healthcare providers – Vaccine Cloud can assist government departments in managing their vaccine program, data reporting, inventory tracking, and public communication. Gather all of the data on a centralized platform and observe it closely to execute the Vaccination Distribution process.
Patients can conveniently schedule vaccination schedules, receive personalized follow-up communications, and display their health data in one platform with Salesforce Vaccine Cloud.
Why is Bacancy the best choice For Salesforce Vaccine Cloud?
We don't just help you benefit your market performance; we also help you improve your business.
Through asking pertinent questions, we link you with our Salesforce certified developers who seek to understand your operational requirements and problems with your present state.
We offer the best approach to your complicated business problems by focusing on what is best for the company and its clients rather than what we believe is best. For us, this is a genuine concept of digitalization.
We love working with a team rather than operating for individuals because we all know that when we work together, we will accomplish more. As a result, we serve as your allies, responsible for ensuring you and your company's progress through implementation.
Rather than aiming for perfection, we aim for quality improvement. As a result, we pay attention to your feedback and strive to progress constantly within each achievement, sprint, and launch.
Final words:
Salesforce's Vaccine Cloud is a clever invention designed to assist states, healthcare professionals, and companies in successfully delivering approved vaccines to thousands of people worldwide. As a result, Salesforce is constantly working to make daily health easier with its creative solutions. It was this time about a new feature in Salesforce Vaccine Cloud. As a result, this clever approach will aid in reducing the virus's penetration in our environments.
Furthermore, Bacancy, being a leading Salesforce Consulting Company, offers Marketing automation solutions for all businesses. You can reach out to us to leverage our Salesforce Development Services. We hold industry's best Salesforce developers who have the necessary expertise, abilities, and experience to help you with best Salesforce solutions that take your company to greater heights.
Schedule a free consulting call with our Salesforce consultant today and explore other possibilities of what we can offer.
Frequently Asked Questions
Who can use the Vaccine Cloud?

Government, healthcare providers and businesses can use salesforce Vaccine Cloud.
⦿ Government can use it for monitoring their goals of vaccination.
⦿ Healthcare providers can use it to train their staff, managing inventory and administering their vaccines doses.
⦿ Businesses can use it to create safer environments for their workers and customers.

How does Salesforce help in Vaccine Management?

From Vaccine Inventory Management, Appointment Scheduling, Clinical Vaccine Administration to Public Health Command Centre, Salesforce provides a fast and adaptable approach for handling, delivering, and managing vaccine programs.

How much does Vaccine Cloud cost?

Salesforce Vaccine Cloud pricing fluctuates by solution and depends upon what combination of products you select. Talk to a salesforce consultant today to get a customized quote based on your business needs for a Vaccine Administration solution.

Connect with us for a detailed discussion on how to get started with Salesforce Vaccine Cloud?