December 3, 2018
7
min read
Node.js and Go have always been the main battlefields in the Internet war. Although it is based on common indicators, then this war may be difficult to win for a long time, but we decided to try to do both.
Go, or Golang is a free and open source programming language that Google created in 2007. It is designed to be fast and simple. Go is compiled directly into machine code, which is the source of its speed. Debugging with a compiled language is fairly easy because you can catch a lot of errors early on. Go is also a strongly typed language that helps with data integrity and can find type errors at compile time.
Go can write most of the software using only the standard library. When using Node.js, we almost have to introduce an external library, which increases the time of deployment and increases the potential for hidden dangers from third-party software. Using only standard libraries allows us to write code faster and safer.
Node is better at relying on processing. The NPM manages dependent versions (go's dependencies can't specify versions, but also requires unofficial tools). The Node community is more active than Go.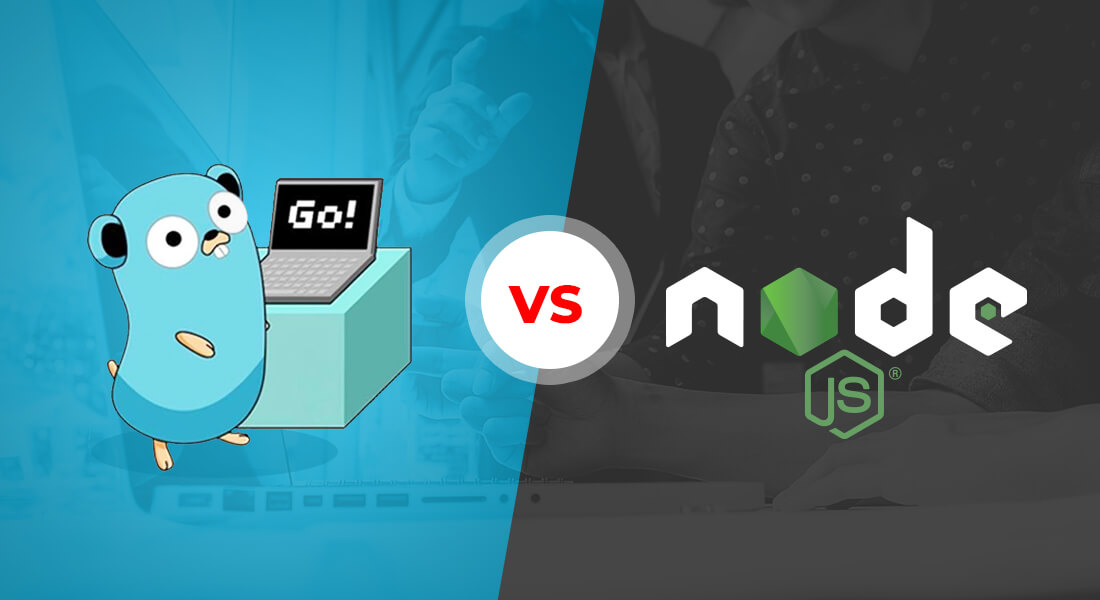 It is also worth mentioning that when the node code runs across platforms it sometimes encounters various unexpected problems while the code of the go language can be perfectly compatible only by configuring the go path when running across platforms.
Below is some research to make more accurate judgments:
Package Management:
Go must have its own understanding of package management. For the acquisition of the package, use the go get command to pull from the remote code base (GitHub, Bitbucket, Google Code, Launchpad). And it supports recursive pull based on import package analysis. The advantage of this is that it directly skips the constraints of the package management central library so that the code pull is directly based on the version control library and everyone's collaborative management is based on this version of the dependency library to interact.
In detail, the benefits of this design are found to remove redundancy and directly reuse the most basic code infrastructure. Go so much has greatly reduced the developer's understanding of the complex concept of package management, and the design is very clever.
But this also creates a series of problems:
Lack of a clearly displayed version:

Teams developing different projects can easily import different versions, each time getting the latest code. In particular, our company is very strict with open source software management, and open source applications are almost impossible to implement.

The third-party package does not have a content security audit:

It is easy to introduce new bugs in the code by obtaining the latest code. The bugs need to be solved in the subsequent operation, and the version tracking management cannot be performed.

The integrity of the dependencies cannot be verified:

Domain-based package names, domain name changes, or sub-path changes can cause download dependencies to fail. We are using the process and found that there are still many indirect dependencies whose names have expired (does not exist, or fork into new projects, the old ones have no maintenance updates).
Go's official advice for such problems is to copy the externally dependent code into your source repository for management. Introducing third-party code into your own code base is still a compromise.
So the market has created a variety of Go package management tools, such as glide, dev and so on. The biggest benefit of using third-party package management is that each project uses its own separate package and has good control over the version of the package, which is especially important in team development.
Type System:
Node is a dynamic language and weakly typed language that uses JavaScript. The benefits are self-evident and flexible by ignoring the extra burden of verifying the type and true value of the data. But JavaScript is interpreted at runtime, which can lead to problems with error handling and debugging.
Go is a static language and a strongly typed language. Although there is no dynamic language flexibility and it helps the data to be complete and can be typed incorrectly at compile time. Go is compiled directly into machine code which is the source of its speed. Debugging with a compiled language is fairly easy because you can catch a lot of errors early on.
Concurrent Processing:
Node
The node is only suitable for IO intensive as it does not provide too many concurrent primitives. The only ones that can run at the same time are I/O programs and timers, etc., which are not suitable for CPU intensive. More understanding comes when you hire Node.js developer to discuss I/O operations.
Node running mechanism: Node running mechanism is event loop mechanism, each time take a function from the event queue and so on, and then run it, if I/O events occur in the process, such as using FS module to write a file or go to the database to query information Wait. Node will add this I/O operation to a thread pool to execute, the event loop continues to execute in the main thread, when the event in the thread pool is executed, the result will be put into the main thread. However, if you encounter computationally intensive tasks, because node is single-threaded, it will block the main thread until the task is executed, so node is not suitable for CPU-intensive.
Go
Go for IO-intensive is also suitable for CPU-intensive where you can create goruntine to achieve concurrency at any stage of the program run, and go provides a channel to achieve inter-process communication, which is very good.
On top of the kernel threads provided by the operating system, Go built a unique two-level threading model. The goroutine is an entity that is actually executed concurrently. Each entity exchanges data through channel communication.
Error Handling:
Go recommends catching errors where they occur, instead of bubbling the error in a callback like Node does. Make sure this is taken care off when you Hire Golang Developers.
The error handling in Go is divided into error and exception. Errors and exceptions from the language mechanism above is the difference between error and exception.
Golang introduces two built-in functions panic and recover to trigger and terminate the exception handling process and introduces the keyword defer to delay the execution of functions behind defer.
When using Go's error handling, you should pay attention to the following points:
There is only one reason for failure, no error.
Does not return error when there is no failure.
Error should be placed at the end of the list of return value types.
The wrong value is defined uniformly.
When the error is thrown up layer by layer then the layers are added with logs to facilitate positioning errors.
Don't return an error immediately when you try to avoid failure several times.
When the upper function does not care about the error then it is recommended not to return error.
The error handling in Node is mainly divided into the following three cases.
In asynchronous functions, use throw. The user can try to catch the error using try…catch.
In asynchronous functions, the more common way is to use the callback (err, result) method.
In more complex scenarios you can return an EventEmitter object instead of using a callback. The user can listen to the error event of the emitter object.
So, using throw or callbacks, EventEmitter depends on:
Is the error an operation error or a coding error?
Is the function synchronous or asynchronous?
Test:
Unit testing in node requires a third-party testing framework to enter mocha and a third-party assertion library into should.js, related article Node.js unit test: I want to write a test.
In Go, all test packages are built in. If you need to write a new test suite then you have to do it by adding the (filename) test.go file to the same package of the software you are testing. It will run every time you run the go test.
When it comes to unit testing you have to mention the coverage problem of the test. The test coverage in go has a little bit to pay attention to. The unit test coverage in go is not including the module without _test.go. Only the unit test coverage of the _test.go module has been defined.
Deploy:
Go deployment is really very simple and the binary generated after the go build is directly dropped to the server. There is no need for any locale, like java programs need to install java on the server, php need to install Apache, PHP, etc. The operating environment of go does not need anything except the Linux system.
The deployment of node deployment requires npm to be installed on the server, or with pm2 the project code is pulled down the server and run.
Conclusion
Node and Go are similar in age, and the community is relatively complete. If the background of the website you are doing is a simple CRUD application or a prototype or you want to balance the front end then Node will be a better choice. But if your background is complex, you need to distinguish between various services – Data analysis, distributed clustering, etc., that is definitely chosen go.

Chandresh Patel is a founder & CEO at Bacancy Technology. He is a founder of vision and mission of Bacancy Technology and constructed work ethics
@bacancytech
to achieve that vision and mission. He oversees Business development, day to day execution of strategic planning and also looks after customer service & delivery. He's an avid blogger and writes on the publications like
Dzone
,
e27.co
,
Marketo
,
Smart Insights
and featured in
Insightssuccess
.