Taylor Otwell, the founder of Laravel, Tweets that "Laravel could take the top spot of web-application frameworks on GitHub pretty soon."
Laravel could take the top spot of web application frameworks on GitHub pretty soon. 🔥😍 pic.twitter.com/1coDZZAnb1

— Taylor Otwell 🏄‍♂️ (@taylorotwell) January 20, 2018
And we can only agree with that by looking at the 4.7K followers, and 59.1k starts for Laravel on GitHub. Today, as per BuiltWith, 1149940 websites are using Laravel, which is more than enough to prove my point of saying that Laravel is the most trusted PHP framework around the world of programming.
Along with the fact that Laravel being so popular, developers mostly lag behind while keeping their Laravel website secure. In this blog, we have brought you the best practices to keep your Website safe and tips to follow to boost your website performance.
How to Ensure the Security of your Laravel Website?
You have a brilliant business idea; you know that you should contact the Best Laravel development company to build your idea into a successful website. And accompanying the fact that you choose to go with Laravel, here we have for you some best practices to keep your plan winning.
These Laravel website security best practices will ensure that you are safe from any threat.
Choose a secure server for hosting
You should keep a regular backup of your Website, use strong passwords, and complete authorization. Your Website contains sensitive information of your users; hence you should not use shared servers. Before choosing your web server, you should check with your provider if they provide a secure connection, use SSH protocol and authentication, FTPS, SSL, private networks, and VPNs.
Update your Website with the latest versions
Do not miss on any improvements that the latest Laravel version brings out. Make sure that you use the most updated version of Laravel for your Website. With each new Laravel version, there is a fix on bugs, security improvisations, and the addition of new features.
If you don't upgrade to the latest Laravel version, you might lack the essential features for your Laravel website.
Update modules, packages, and plugins
One thing is that you should use only the modules, plugins, and packages that your project requires and discard the others. Well, just updating your Laravel website to the latest version is not enough. You need to update all your project modules, packages, and plugins.
Check firewall settings
Your Laravel website should very importantly have a web application firewall that works as a filter and monitor for your HTTP application. Your web application firewall should be either a cloud-based solution or installed one on your system.
You shall attain numerous benefits by having a firewall, such as protection from brute-force attacks, spambots, backdoor, SQL injection, DDOS, and other protections.
Make use of HTTPS
When your web application is using HTTP, all your website information transmits in the form of plain text, which is vulnerable to hackers and attacks. Hence, you should make use of HTTPS over HTTP, which will ensure your website information security.
To easily transfer your Website from HTTP to HTTPS, hire Laravel developer who will set up an SSL certificate on your Website. Alternatively, filer to redirect your users to a secure route.
Use In-built Laravel Security Features
Why search outside, when you've got it inside? Well yes, Laravel comes with the in-built authentication system to keep your Website information secure. The Laravel framework takes care of the user authentication and gives only the needed access to each user.
This way, your Website's sensitive information remains confined to the users and does not go public.
Secure it from SQL Injections
User inputs like server variables, cookies, input values like 'GET' and 'POST' can raise the vulnerability of SQL query injection. To overcome, you should use the Eloquent ORM of Laravel, which uses PDO binding to stay away from SQL injection.
Validate and Filter Data
Before sending user data to your system in the form of queries, you must always filter and validate the data to prevent SQL injections on the first hand.
Take Precautions during Mass Assignments
Mass assignments is a very convenient feature when you want to enter a long list of variables. However, we do not recommend it because cyber attackers can alter the data from the client-side, which is extremely vulnerable.
You can either use $fillable or $guarded property but very cautiously without forgetting to add new fields to your model.
Reduce Laravel Vulnerabilities from CSRF Cross-Site Request Forgery
Laravel uses the CSRF tokens to assure that there are no fake requests, and there is no intrusion. Each user has their own CSRF token, and when the user makes any request, the Laravel system matches it with the previous user session token.
Hence, you must add a hidden CSRF field while writing your HTML application.
To see all the above and some additional Laravel security tips in real-action, check out this video from WebDevMatics, you will thoroughly enjoy it.
Laravel Performance Optimization Tips
Amongst all the PHP frameworks, Laravel is the most popular one. All the credit goes to its incredible features with robust security. Learn how you can outsource Laravel development services to build modern web applications.
However, along with keeping your Laravel website secure, you need to ensure that it is performing optimally. Here are some of the best optimization techniques to boost your Laravel Website:
★ Use the latest version of PHP along with the newest version of Laravel.
★ Make sure that you wisely use the Laravel packages in a controlled number.
★ Limit the usage of plugins because they take a vast amount of time in loading, making your Website slow.
★ Use Eager loading over Eloquent ORM for faster retrieval of object models.
★ Make use of Artisan config: cache command during app deployment.
★ Start using Content Delivery Network CDN for static files to improve the speed of your Website.
★ Use the profiler packages like Debugar on all your queries to continually check their performance.
★ You can use the JIT compiler named HHVM to compile your Website once and run every time.
★ Optimize your database and use Artisan commands.
★ Make use of HTTP2 along with SSL to secure your Website.
★ Use new Relic, minify your CSS/JS, and optimize images.
You may find out more from this video:
Conclusion
By choosing Laravel for your website or app development, you have already taken the first step towards its success. We are lucky that the Laravel ecosystem comes with security packages that help us build secure applications that are feature-rich.
To ensure you have developed the best performing website, get in touch with the experts, and hire Laravel developers as we are a globally renowned Laravel development company.
Frequently Asked Questions FAQs?
How much time does it take to build a website with Laravel?

It depends on your project size, the number of features you want to implement, and the complexity of the application. Along with your specific requirements, your business niche also matters. Our skilled Laravel developers follow the first-time-right coding methodology and ensure to deliver the result ASAP.

Can you build scalable apps using Laravel?

Laravel helps to build a scalable app as it offers built-in support for caching, cloud storage, and session drivers; However, it depends upon the availability of infrastructure and architecture to build scalable apps. Our skilled and seasoned developers have top-of-the-line expertise in building scalable Laravel apps. They have served many clients across the globe to build scalable apps.

Do your Laravel developers follow SEO-friendly design?

Yes, our Laravel Developers are well-versed with developing SEO friendly web applications keeping all the SEO aspects into consideration that includes Server-side rendering, interactive and emerging UI/UX trends, utilizing schema mark-ups for rich snippets, creating crawlable site structures along with URLs to make your Website more SEO-friendly.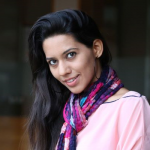 A Vivacious soul with an Idealistic mindset. I am an originator who specializes in content writing, social media marketing, and everything that lies in the vicinity. Writing about trending technologies and emerging domains is my core expertise, and I write to ignite, illustrate, and substantiate. I often submerge into spirituality, cooking, or talking without warning.