Quick Summary:
The world of IT has touched new dimensions, especially in the post-COVID era. With the constant flux of new technologies, software outsourcing has become one of the most significant business strategies to manage new trends and achieve desired business goals.
In this blog, IT Staff Augmentation vs outsourcing, we have covered the software industry's two most preferred outsourcing models. Find out which one is ideal for your organization.
Table of Contents
IT Staff Augmentation vs Outsourcing: Overview
This part of the blog post is an introductory section that provides an overview of IT Staff Augmentation vs Outsourcing.
IT Staff Augmentation is an outsourcing strategy to upskill and upscale your software development team to augment your development team's capacity to respond to the business objectives. You can add more dedicated resources in your development team for the short-term and long-term contract basis without the liabilities of contracting employees.
Outsourcing is similar to hiring a team of dedicated developers from the software development vendor for a certain period. These outsourced developers are responsible for delivering all the IT functions required by a business. Outsourcing is more focused on processes and services than technology services, application development, and technical support.
IT Staff Augmentation vs Outsourcing: Market Trends
The IT Staff Augmentation services have registered incredible growth at a CAGR of 3.53%. According to a survey, worldwide spent on IT staff Augmentation is around 81.87 Billion USD.
In 2021, the IT Outsourcing market was valued at around 526.6 Billion USD, and it is expected to go upto 682.3 Billion USD by 2027. IT outsourcing will see a growth of 4.13% CAGR.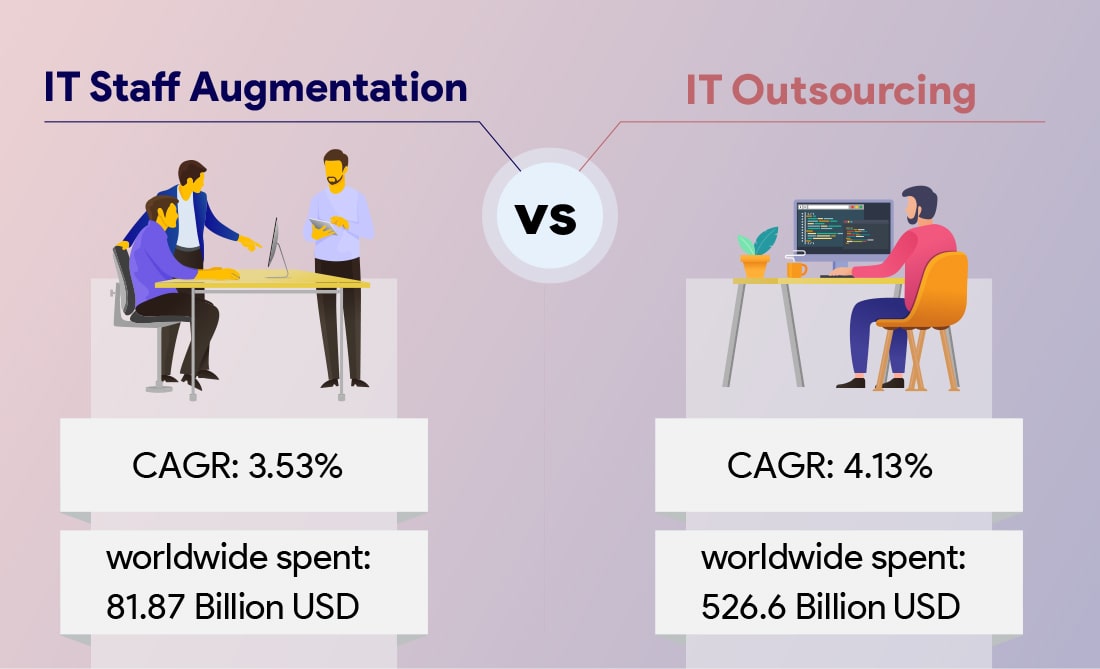 According to Statista and Globe Newswire, the global IT outsourcing market will be worth $425.19 billion by 2026, and India's IT outsourcing market is expected to be worth ₹8,830.14 billion ($120.67 billion) by 2025.
Citing Deloitte's outsourcing statistics graphs, Capital Counselor writes that for the 70% of respondents in the survey, the top reason for outsourcing was a decrease in cost. 40% of the businesses outsourced to have flexibility. And for 20%, speed to market was the reason for outsourcing, while for 15%, it was tools, processes, and agility that drove them to outsource.
In the light of these statistics, it is crystal clear that the rationale of software outsourcing is to realize the highest business potential and build sustainable employee and customer relationships.
The software outsourcing industry came up with two models— autonomous Delivery Teams Vs Staff Augmentation to meet these expectations.
IT Staff Augmentation vs Outsourcing: Benefits
After getting an overview of the project development model, let's look at the benefits of choosing IT staff augmentation vs outsourcing for the software development process.
C-level executives are always in a dilemma when choosing between Staff augmentation and outsourcing. So, here's the clear justification. Outsourcing needs to be hired for the entire project, whereas staff augmentation is about adding specialized experts to an existing team. In this sense, an enterprise does not have to worry about finding an experienced team for the entire project. It only has to hire specialized experts that are efficient enough to complement the existing team.
For example, suppose an organization is working on a real-time DevOps project; in that case, it needs to hire an entire team to execute the project if it opts for the delivery team model for software outsourcing.
But, in this software outsourcing model of staff augmentation, an enterprise can hire specialized DevOps who can make a real difference in the existing team's roles and responsibilities.
This eliminates the need to hunt for a group of individuals to execute the project seamlessly. The project is better served by the services of a couple of specialized experts in this software outsourcing model of staff augmentation.
Key Benefits of IT Staff Augmentation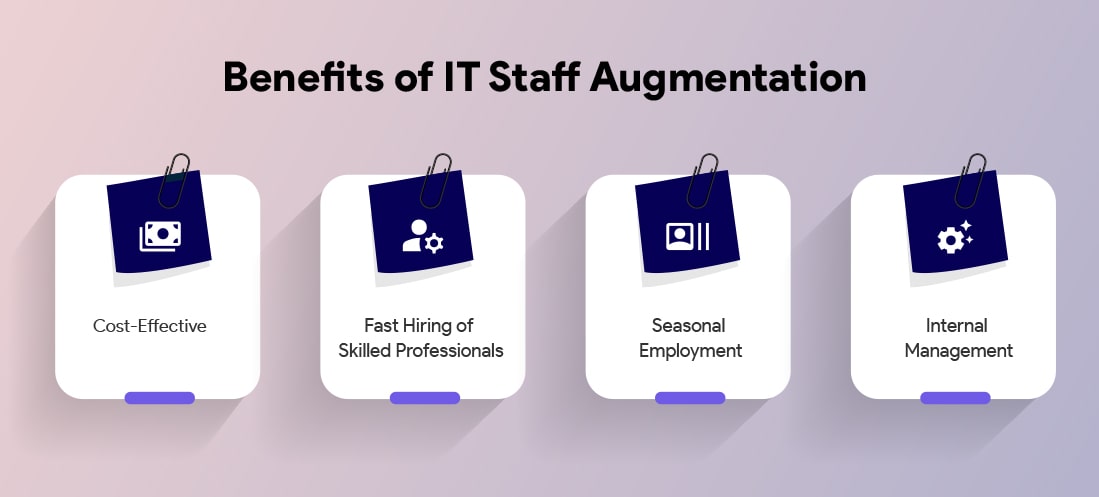 Cost-Effective
As staff augmentation is about hiring specialized individuals for specific needs of the ongoing project, it gives an outsourcing company access to niche talent across the world without any inhibition of border, race, or gender.
Fast Hiring of Skilled Professionals
In the IT industry, it is very common to have a shortage of skilled professionals to fullfill the business requirements. IT Staff Augmentation services provide skilled and experienced IT professionals to complete challenging project tasks within a minimal time.
Seasonal Employment
It also gives the outsourcing partner tremendous scope to upscale or downscale their teams based on market trends or demands.
Internal Management
In the process of staff augmentation, the hired professional directly works with the organization's in-house team for project development. The professional follows the working pattern offered by the organization so that the management can easily assign the work accordingly to cover the gap for work completion.
Looking to hire skilled, motivated, and on-demand IT resources immediately on your terms and conditions?
Partner with us to avail the best IT staff augmentation services, as our proficient developers will bridge the gap and take your project aspiration to the next level.
Key Benefits of IT Outsourcing
In this resource outsourcing model, your hired dedicated software development team comprises a seasoned manager, specific skillset software engineers, and testers. The main task of these hired resources is to follow the product owners' command and control to perform tasks and handle the pre-defined operations.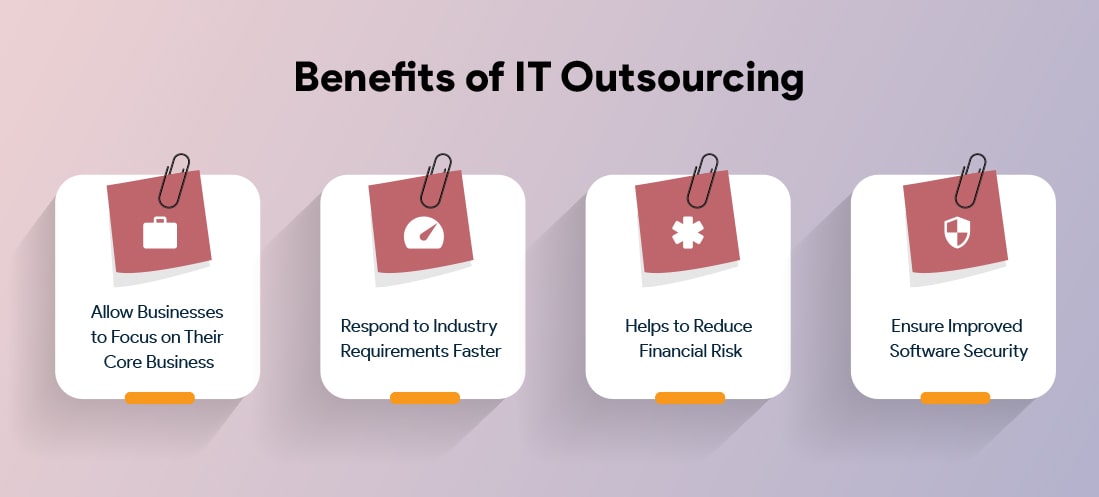 Outsourcing Team Allow Businesses to Focus on Their Core Business
One major reason businesses choose IT outsourcing services is that it lets them focus on their core business. Delivery teams primarily engage in tedious software development processes. It frees executives, project managers, and owners from participating in daily project management responsibilities, including supervising and monitoring the entire project and its people.
This freedom allows the executives to focus on the main software product. It also lets them maintain customer relations, brainstorm next projects, and build sustainable business strategies that help grow the business.
Respond to Industry Requirements Faster
The best part of hiring autonomous IT teams is that they are ready to start the project immediately. This saves a lot of time that is usually involved in hiring an in-house team. Also, to hire an in-house team, businesses first need to have a clear concept of the product as hiring would be done keeping in mind the requirements of the stipulated project and other future products.
When businesses go for IT outsourcing, they don't have to have the entire plan ready as these teams are so very experienced and accessible that they can start working immediately. Also, their adaptability to constantly evolving market trends makes them create a product that satiates customer needs quite well and faster.
IT Outsourcing Helps to Reduce Financial Risk
The creation of any customized software involves a lot of time and money. It is a huge investment in human resources and other logistics required to complete the project. The huge scale obviously involves huge financial risk, especially if the expected software fails.
The autonomous outsourcing team plays a significant role in reducing this financial burden in two ways:
1. The hired teams include specialized engineers with vast work experience. This aspect means they are super efficient in overcoming any challenge during the software development process.
2. This outsourcing model of delivery teams often involves payment after successfully completing the project. This means it does not require a huge investment at the project's outset. And this means that the financial risk is divided between the outsourcing company and the delivery teams. Hence, it gives much relief to all the stakeholders involved in the project.
Ensure Improved Software Security
At a time when the whole world is going digital, there are many instances in which sensitive data gets compromised. When a business creates a customized software product, it cannot afford to let this happen to its customers. One of the goals of hiring efficient delivery teams is to ensure robust software security.
These teams have experienced engineers who are specialized in the matters of cyber security and data protection. These teams appoint qualified and efficient engineers to take care of an outsourcing company's cyber security and data protection needs whenever it needs.
IT Staff Augmentation vs Outsourcing Vs Managed Services
One of the common differences between staff augmentation vs outsourcing vs managed services is that the client handles staff augmentation, and the service provider handles outsourcing. At the same time, Managed services are the hybrid form of both IT staff augmentation and outsourcing.
Staff augmentation and outsourcing have predictable and fixed pricing, but when it comes to managed services, hire includes the management cost. In Staff augmentation, business owners can custom select IT professionals based on their business requirements. Outsourcing and Managed services provide resources based on budget and requirements.
When To Choose IT Staff Augmentation & Outsourcing?
IT Staff Augmentation
When you require tech talent in your existing project for the time being.
When you want to add tech specific talent in your in-house development team.
Staff augmentation can be used when there is a short-term requirement for professionals to avoid the hassle of the hiring process.
IT Outsourcing
When you need a dedicated team to complete your project.
When you are constantly battling to provide IT services.
When it is impossible to keep up with the market demand and want to have successful fast product development.
Key TakeAway
Choosing the right product delivery model between IT staff augmentation and IT Outsourcing is not easy. Various factors need to be considered before choosing digital product development. A few common factors include an adequate budget that fits best for software development, project requirements, and deadline to make the product market-ready. Therefore, it is required to have clarity. If you want to hire software developers and an IT professional for an existing project, then choose Staff Augmentation, and if you want to have full project development and don't have skilled resources, outsourcing will be the right choice.
Frequently Asked Questions (FAQs)
The major difference between staff augmentation and outsourcing is hiring an external IT professional (developer, designer, QA) from a development company known as staff augmentation. Business owners that outsource development teams for full project development are known as outsourcing.
The various types of outsourcing include:
IT Outsourcing
Manufacturing Outsourcing
Project Outsourcing
Professional Outsourcing
Operational Outsourcing
Staff augmentation is important to manage and control the project development with the help of external IT professionals to work according to complete the project development successfully.