July 13, 2020
10
min read
Last Updated on November 10, 2021
Introduction
A Dedicated Development Team can be defined as a business model that refers to a contract between the service provider and vendor on a pre-defined term basis. It is a recruitment service rendered to a client and presupposing software developers' process in a particular outsourcing location provided by a staffing vendor.
If you need to carry out various development tasks that you can't do in-house, the option I would suggest is you should work with a dedicated team and hire professionals you need to accomplish the tasks. Choose the team as per your convenience with the required skill sets and experience that usually works from the service provider office.
When you hire a web development team offshore, you can save up to 60-70% on your development budget.
Hiring a dedicated team has numerous choices, and the best way to deal with it is to cooperate with an outsourcing vendor. The pricing system depends on the team size composed of members' salaries + service provider's fee (which also includes administrative overheads).
Usually, the dedicated software development team includes:
DevOps
Front-end and back-end engineers
Business Analysts
UX/UI designers
Quality assurance engineers
Agile Scrum Masters
Dedicated Team areas of responsibility
In this quickly evolving technological sector, it is common to work with external vendors to process various business activities and get started with operational things such as content development, payroll, and inventory management for business processes management. It allows companies to grow their business without significant risk and investment when it's done correctly.
According to Gartner, "Digitalization, globalization and rapidly evolving customer expectations demand a shift in how leaders responsible for logistics approach outsourcing strategy."
Advantages of Outsourcing
Reduce costs and risk
Be attractive to investors
Gain team flexibility
Access expertise and technology
Increase efficiency
Get a competitive advantage
You may also like to read: Why Should You Outsource ReactJS Development Services? (Top 10 Benefits)
Before moving further, have a quick look at some new Stats;
Gartner's research says over USD 3.80 trillion are invested for IT projects in 2019.
According to Statista, the outsourced services reached $85 billion in 2018.
Financial services companies use 72% outsourced services for some of the other reasons.
More than 60% of the companies continued to outsource in 2018- Source Outsourced Insight.
The outsourcing market contract value is expected to grow to over USD 410 billion by 2022, according to Technavio.
Worldwide more than 70% of enterprise-level companies feel positive about their outsourcing partners.
Dedicated Team vs. Fixed-Price vs. Time and Material Model
There are three main types of outsourcing models Dedicated Team, Fixed-price, and the last is the Time and Material Model. You are already familiar with the advantages of IT outsourcing. Here are the three business models of outsourcing you must be aware of:
Dedicated Team
A dedicated team model applies for long-term plans, where the business requirements are not clear, and the client's team does not have skills in certain areas. It is used when the requirements are not precise and varies with changes in the scope.
Features of a Dedicated Team Model:
The customer manages the overall development process and the team.
The customer needs to determine the number of employees required for the project.
The team leader manages the planned work according to the work schedule.
IT outsourcing providers search for a software development team that meets the project requirements and manages this team's work processes.
All the project related conditions are coordinated between the client and the team.
Fixed-Price
The fixed budget model, as the name suggests it is most significant for the client who has the opportunity to defer payment.
Fixed-price models is a software development vendor you're connecting with and have agreed on the scope, and the name suggests the price of the project. It doesn't allow the product requirements to change much that have to move the deadline and pay extra.
Advantages of the Fixed-price model
Low risk of losing funds.
The working cost is agreed before singing the software development agreement.
A project manager coordinates the development team, so the involvement of the client isn't necessary.
The client's practical terms are clearly defined and approved, so the project is likely to be delivered before the deadline.
Time and Material Model
The time and material model refers to the payment and the effort invested in developing the project- that is, for the actual time spent for implementation of project functionality. It is one of the most important models in outsourcing that is capable of adapting to any changes.
Advantages of time and material model:
Cost-effective and budget flexibility
It is a flexible process for development that manages the scope of work
Time management
Rapid adaptation to market requirements offers flexibility to modify the project
It is suitable for small companies and startups to define project priorities and work accordingly clearly
Client's practical involvement in the project to manage the performance of specific work tasks according to the expected results
Why is a Dedicated Development Team Model Popular Among Software Companies?
When you hire Dedicated Team, it consists of a client, employees, and outsourcing company as the middleman to complete the app development project and meet your requirements fully.
Faster Development Cycle
Speed is one of the most significant improvements over the other models of corporations. There are many hands-on approaches from the client towards the development team at a higher level than Time and Materials. The extended squad should coordinate among the parts of the organization. If you are planning to implement a DevOps approach, the majority to automate the workflow gives more time to work out its gist.
Transparent management and communication
A dedicated team is an in-house team working in a separate group. It allows you to manage them directly and includes daily communication. There are no intermediaries in the development process in some cases, and you are less likely to misunderstand something.
Promotes Collaboration
Narrowing of the perspective is one of the biggest challenges with the long-term project. A dedicated team allows you to promote collaboration and the team of developers between the client and the team for long-term planning.
Dedicated Team Brings More Control
A dedicated team provides full control over the management of team members, motivation, and selection. You can also manage highly qualified experts, project managers, and resources based on project requirements.
How to Hire a Dedicated Development Team?
You may also like to read: Hire Dedicated Offshore Development Team Just Like Your In-House Team
Finding the best-dedicated team of software developers is a tough job for most enterprises as there are number of challenges to deal with. It is an important task; there is no need to turn it into a problem. Hopefully, numerous methods will help you in hiring remote dedicated developers. These methods include browsing through Google search and B2B portals to search partners through offshore and outsourcing that become a perfect solution to hire remote developers.
Where to Find a Dedicated Tech Team?
A dedicated offshore development team is a contract between the service provider and the client that hires specialized professionals to perform several tasks for a long-term basis. It is a way businesses can make sure that the team you hire is in the right place and doing the right thing that they need to do.
Businesses worldwide strive to have the best remote management team to complete some of their crucial tasks.
I hope now you are positive about why and when you should hire a dedicated development team to build your project and level up your business—but still, wondering where to start looking for a managed service provider?
Try narrowing down your search, and carry out your tech project, go through:
Google top 10 result
Freelance workplaces (Upwork)
B2B portal (Clutch)
GitHub
StackOverflow
Read More: The Ultimate Guide to Hire a Dedicated Developer for Your Project
Process of Building A Team of Dedicated Developers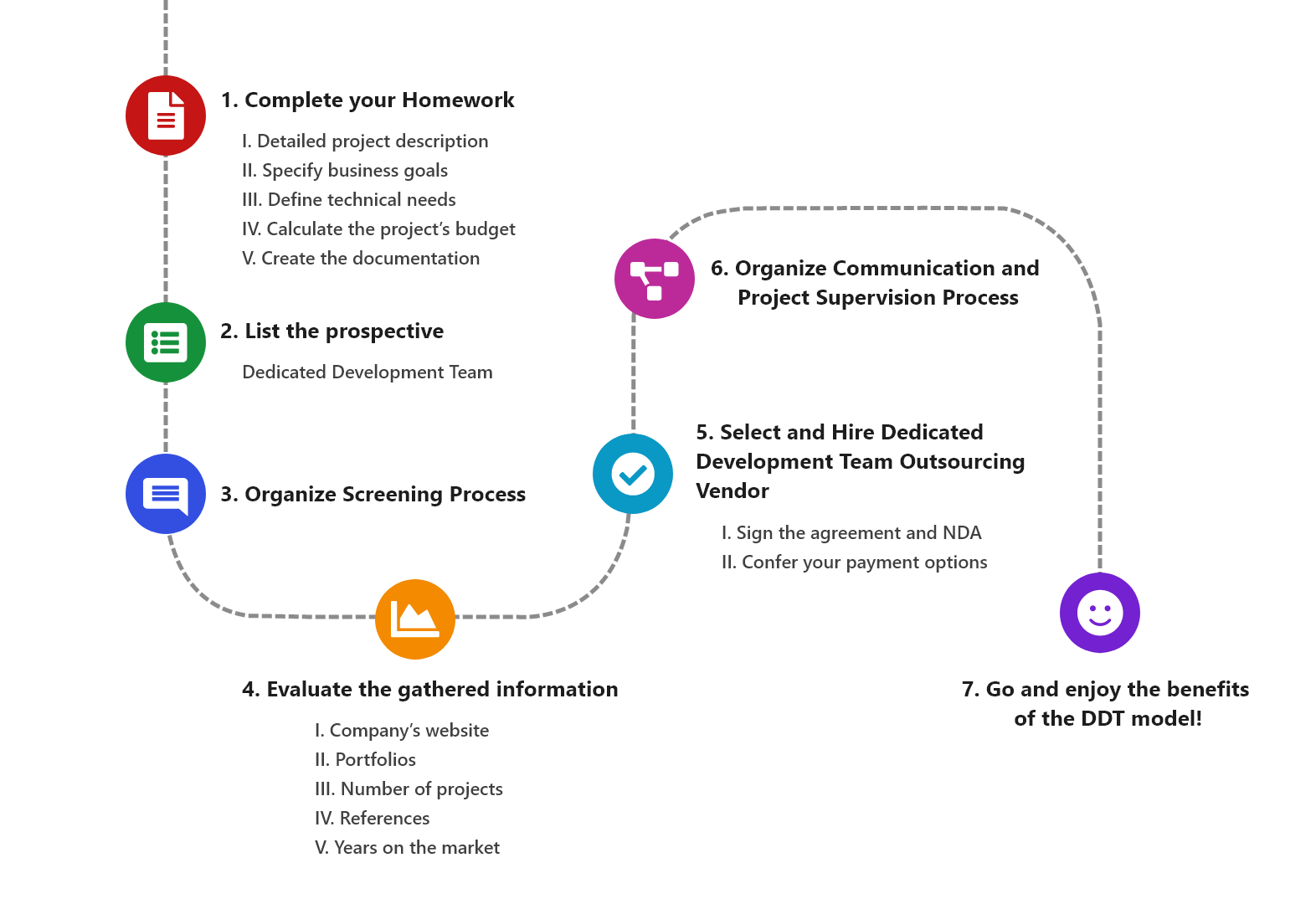 When the Dedicated Team Model is a Good Choice?
A dedicated team is a good idea for:
Projects that are looking to grow and expand quickly
If you need to expand the development team and increase your course of work
Your project is committed to a long-term basis with your service provider
Long-term projects with multiple tasks
If you do not have enough time to hire a team
If your project is on a long-term basis that needs to be handed over to a professional development team with certain expertise
Projects with a fixed and considerable workflow
If your project requirements change often
Companies that plan to expand
Criteria to keep in mind while Hiring an Offshore Team:
You can hire a development team and work with just like your in-house developer. If you are planning to develop a product for your business, it is essential to find the right developer and team that can handle your project.
There are few criteria to choose developers for your project that can manage the overall development process and protect yourself from possible errors.
Portfolio: Make sure that the team has a proven portfolio before hiring.
Reviews: It is essential to have customer feedback.
Skillset: Checking the team's expertise is essential.
Language: Make sure the development team has good communication skills.
Cost: Go for the hourly rates.
The number of members: Check how many people are there in the development team and what their roles and expertise.
The team should have skilled developers in top-notch technologies
The development cost should be considerable
Give an Agile software development process a special preference
Regions to hire a team of Dedicated Developers
How to manage a Dedicated Development Team?
Once you accomplish the initial step towards your project of selecting the right dedicated developers from a reputed software development outsourcing company, the second step towards it is to contribute effectively to the development process.
Project management is one of the common challenges that every company faces while working with remote employees. The outsourcing company performs certain tasks and manages dedicated developers that you should ensure before getting started with the project.
Make sure modern technology-based tools for communication are used amongst the team members to collaborate effectively
Make sure to add project management tools and web applications that can add value to the entire process.
Schedule management tools for creating bridges between your in-house teams and dedicated developers.
Successful Companies that Leverage Dedicated Teams
Here are some examples of top brands working with a remote team that cooperates with them effectively.
Zapier
Wade Foster, the co-founder of Zapier, quotes that the distributed development model is the best way to work. Zapier works from 13 countries and allows hiring smart people around the world.
Slack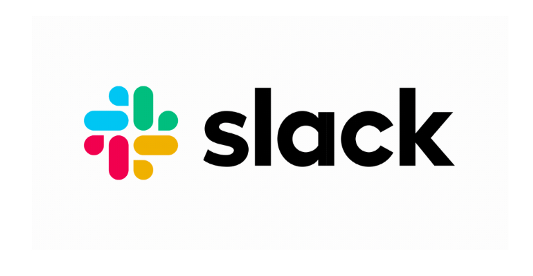 Slack values around more than $2 billion, and its application consists of over 8 million daily active users. An outsourced team developed mobile apps and web interfaces.
GitLab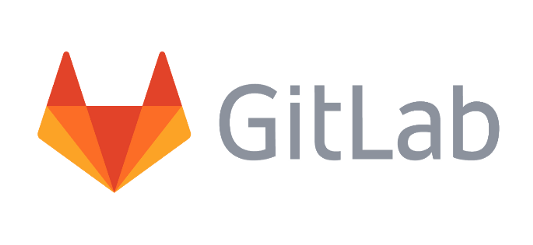 GitLab is a company with a team distributed across the globe. The project manager at GitLab says that working with a remote dedicated team is a clear business having multiple benefits.
Wrapping Up
How to choose the best business outsourcing partner that suits your project? Start from the initial step and understand the actual requirements of your project and implement it. Depending on your project's specifications, you can easily decide what risks you are willing to pay your outsourcing team and for which part of the project they will be responsible.
Working with dedicated developers with a minimum viable product can help you grab a perfect vector for project development and improve it according to the market trends and customer requirements.
If you still can't choose, our experts at Bacancy Technology can guide you and your project to gain success on the market. Our development team is eagerly waiting to help you, so Hire Dedicated Developers today to achieve incredible results and overall success.