Last Updated on May 2, 2023
January 22, 2021
11
min read
Quick Summary: This blog is a budding friend for startups to boast them battle the initial challenges while hiring software developers for the startup. When you hire developers for startup, the entire process is quite demanding, and here we tell you how to find developers for the startup, where to find them, and why a professional outsourcing agency is the best option to hire dedicated development team for your startup.
If you are one of the potential startups looking for developers for your app development, this article will benefit you.
Introduction
We live in the entrepreneurship era where there is a new startup launching every day with its unique ideas and goals. Such a hike in startups' growth is because of various support factors like affordable open-source software, improving financial services, availability of professionals in multiple sectors, and better data analysis.
The three things that majorly play a crucial role in succeeding a startup are a product needed by the client, good people, and minimum spending cost. Here, without the support of your startup team, the people, there is no beginning. You cannot build the desired client-product efficiently unless you find a good team.
The starting phase of a startup is vital, and that is not possible without a strong team. The startup development team builds the minimum viable product and prototype, which lay your business's foundation. A study reveals that 23% of startups fail because they are unable to select the right team. You might not understand the importance of a great team at this stage, but this article will help you recognize the value and need of a potential startup development team.
As an early startup, you might anticipate answers to questions like when should I hire a developer for my startup, How to hire Developers for Startup ,how many developers do I need for a startup, where can I find startup developers and the list goes on.
In the last decade, 47% of tech startups have grown in the United States, and you have read numerous articles on their success stories. These statistics will make you believe that entrepreneurship is straightforward, but we need to bring something to your light. Know about the hurdles that startups face and overcome to lead their path to success.
Challenges Of Growing Startup Teams
Being a young entrepreneur we understand that the first query you type on Google is "How do I hire a startup developer?" or "how to hire developers for a startup" or "How do I find team members for my startup?" It is not a simple stride. You might be facing tremendous challenges and struggles when you find web developers for your startup. Startups looking for web developers face the below-mentioned challenges.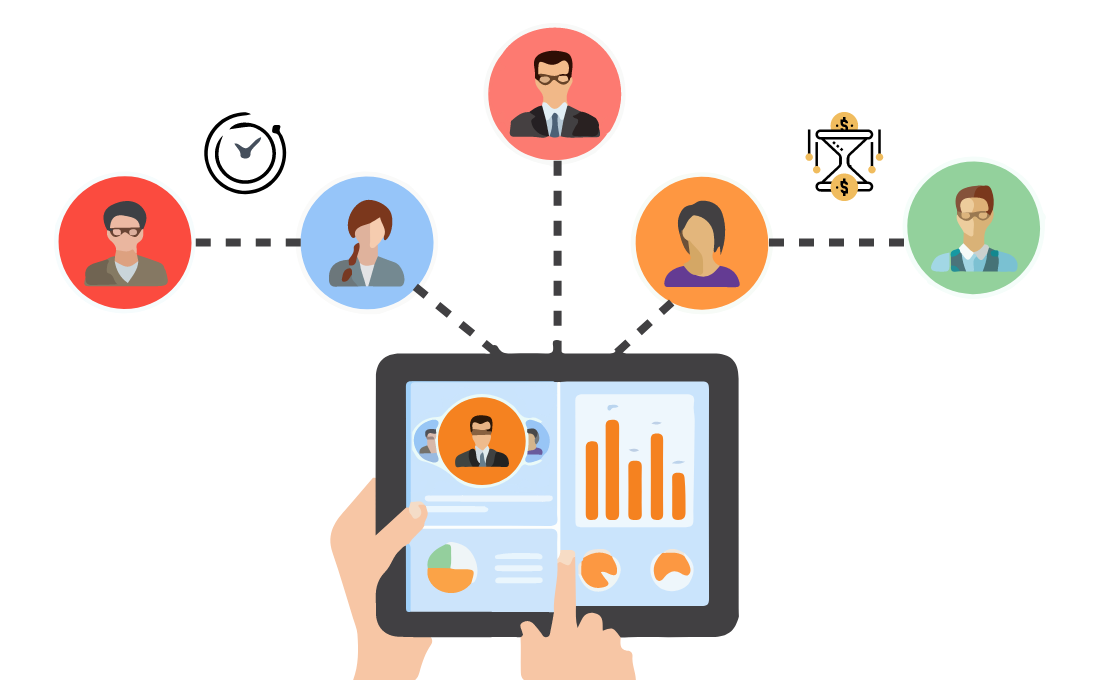 1. Lack of expertise in hiring
When you are naive in the market and entrepreneurship feels like a heavy crown to adorn, you are bound to varied responsibilities and attainments. Generally, startups do not have the time to hire, and more importantly, the expertise to hire. They are short of an in-house recruiter who can play the master, and hence startups find it difficult to find and select the right talent for varied positions in their company.
2. No Brand-name
Every established company is prone to attract top-level talent but startups. Startups, because they are new and haven't yet developed their reputation, people would hesitate to trust them easily. Especially in the mature software development markets, talented programmers get offers from large organizations with mesmerizing offers. Hence, startups face a hard time to draw talented developers to their team.
3. Unaffordable salaries
Even if a startup manages to find developers of top-level, it is impossible to satisfy their quench for lavishing salaries because being a startup, you are financially bound. What you offer to the developers will in no-case match what competitors are offering them. Thus, an established developer will not come and join your league so quickly.
4. Startup hiring issues
All companies battle something or the other. As a startup, you will soon realize that it is difficult to find and build your team. Also, when you decide to hire offshore developers, the path is full of struggles.
5. Role-distribution within team
Building the complete team for your startup is time-consuming. So, till the time you find every member for a specific position and requirement, your employees will be juggling roles and even doing tasks beyond their job description.
6. Finance management
The trickiest aspect to handle for a startup is the finance department. Whether you are self-investing or engaging with investors, finance management is the most challenging aspect for a startup. This is the reason that most startups take assistance and consultation from a financial consultancy.
7. Security threats
Modern tech businesses play it all on the internet giant. There is no other way but to be universal, and hence this brings a security threat. Your projects are prone to security breaches and threats; as big the project, the greater the risk.
Dedicated Developers: The Solution To All Startup Challenges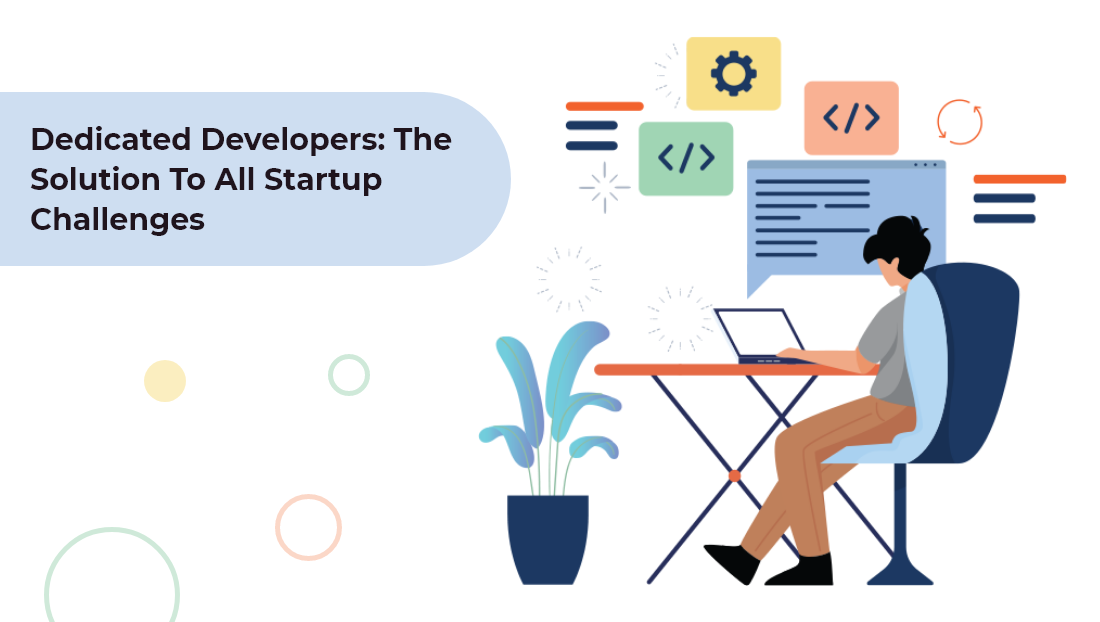 All the challenges you read above for a startup are a single solution to combat everything: Hire dedicated development team. Here's why. Find out the five reasons that prove that dedicated developers are the perfect solution when you want to hire developers for startup.
◆ Access to a large talent pool
A piece of strange but factual information is that there are more opportunities and openings in the tech industry across the USA than developers' availability. This imbalance leads to over a quarter million unfulfilled opportunities for IT experts across the nation.
When you start looking for dedicated developers in the East, you can bridge the gap between your openings and talented developers. Then, you might need to spend time and money on searching for additional staff members and hiring developers.
Particularly in India, there are more than 3 million software developers and within two years, the number will cross 5.2 million as per a survey. Western countries should leverage the vast pool of talent available on the eastern side in place of the dedicated development model.
The dedicated development model gives you access to diversity; you find talent unavailable in your geography.
◆ Faster time-to-hire and time-to-market
Time is the most valuable resource for startups. Finding an engineer for your startup is a tedious process involving application sorting, screening, conducting interviews, and onboarding new hires. With the dedicated developers model, you readily get developers who can manage themselves and their work. This saves you an enormous amount of time and faster development of your project.
Also, when you hire offshore development team, you tremendously cut-down your time-to-market. This transformation is due to the cutting of decision making time and reaching the project commencement speedily. You ultimately launch your project early, which begins the marketing process before time.
◆ Focus on core product development
As we mentioned earlier, in a startup, the in-house team has to often take up roles beyond their responsibilities to meet the organization's gaping demands. Such a situation makes them focus less on their core technical duties, which slows down the project development process.
When you hire a dedicated development team for your IT services like QA, DevOps, data science, and so on, you can easily let the core team focus on product development. You get to benefit from the relevant offshore software development expertise in varied technologies and trends.
◆ Regular knowledge sharing
When working with a dedicated team, you have complete control over their activities, and hence you must regularly conduct meetings with them to get updates. You have the right to ask for sharing project-code and information regularly.
Many tools can help you seamlessly collaborate on projects with your client- Slack, Skype, Jira, Basecamp, and more.
◆ Cost-saving
When a startup hires a dedicated development team, it needs not to bother about the operational costs, saving capital funds, and cutting IT expenses because there is no need to save as you are not spending much. Companies save upto 50% costs when choosing the dedicated development model because they do not incur a fixed price, preferably a variable one. They only have to pay the dedicated developers when needed, and not always and regularly.
Looking for Dedicated Software developers for your Startup?
Work with the industry's top IT talent to execute your project faster.
Hire Software Developers
How To Hire Developers For Startup?
We are presenting to you some powerful tips to hire developers for startup. Follow the steps below to hire dedicated developers productively. You might be wondering where to begin from? Here's where you should look for finding top dedicated developers for your startup:
1. Outsourcing Companies
Offshore software development companies are the right hub to fetch the right talent for your startup. Hire dedicated developers from outsourcing companies that have vast experience in software development. These companies host talented experts verified for you, and by hiring them, you can cut your development costs and time.
2. Search Engines
Another common medium to search for dedicated developers is Google or any other search engine that you rely on. Consider the search engines' reviews and ratings and then choose the right dedicated developers for your startup.
3. References
Approach the companies that recently hired dedicated developers for their project development and ask for their recommendations and experiences. Also, find out which kind of project they were developing and then choose for yourself because your needs and requirements may vary from theirs.
Now that you know where to look for talented developers, you also need to know what exactly you are looking for. We have jotted-down certain aspects that you must inquire about before hiring dedicated developers.
◈ Portfolio
Study your candidate company's profile acutely by going through what type of projects they have developed in the past, what kind of clients they have worked with, and more. Reach out to their previous clients and know about their work and professional attitude.
◈ Expertise
Find out the outsourcing company is good at serving which technologies. Inquire if their developers have sound knowledge and experience with the latest technologies, databases, and languages.
◈ Compatibility
There are high chances that your offshore development partners will be from varied geographies, and hence it is your responsibility to inquire about their working hours and work patterns for compatibility.
◈ Communication
You should decide on strong communication mediums, channels, and tools with your offshore development company partner before beginning your project development.
Why Hire Outsourcing Firm For Startup?
If you want to find a reliable partner company that can enable you to grow your startup, then hiring a professional agency is the ultimate solution. Here are reasons you should hire offshore developers from a professional agency that allows you to find dedicated developers for your project development.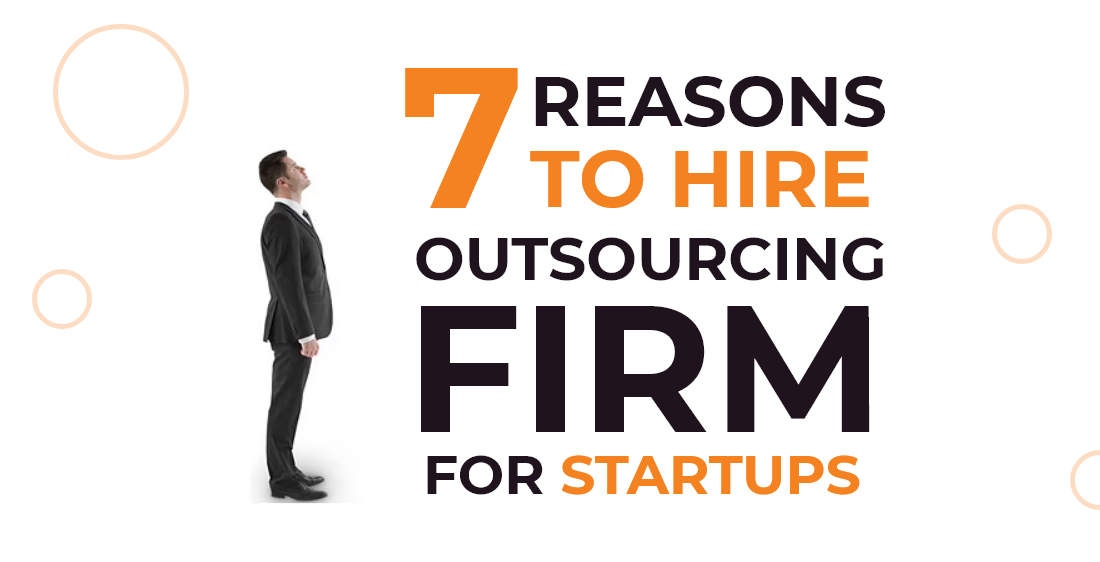 ❖ Experience
An outsourcing company will have a portfolio encompassing varied projects undertaken in the past, which adds to their valuable experience. The most significant advantage of working with an outsourcing agency is that it will help you ease your process to attain your targets speedily.
A top-level company will host knowledgeable and skilled tech-experts under one roof to take control in chaotic situations. When you partner with such an experienced company, you are sure to benefit and expand your startup briskly.
❖ Save Money and Avail Time
Entrepreneurship is not child's play, especially if you are a startup, you have a lot to look after, like making marketing decisions, making calls, conducting meetings, and much more. However, when you hire a professional agency, most of your burdens will tame down because the agency will do all the management and make your life straightforward.
Under their expert guidance, you ought to save time and money.
❖ Updated Strategy
As you partner with a professional agency, their developers are fully aware of the latest technology trends, and their working patterns are in sync with the market. They will enable you to imply the updated strategies for your project development because they have a clear vision for all domains.
The professional agency has worked with varied clients from different industries and served the right technical solutions to meet clients' expectations. Thus, they know how to go ahead with your startup idea.
❖ Best ROI
The end-goal of any startup is getting the maximum return on their investment, which is impossible without a knowledgeable team. A professional agency knows the right decision for your company and the appropriate strategies to apply so that your efforts meet your goals.
❖ Achieve fast results
Being a naive entrepreneur, as you make decisions for your startup, you have no grounds and are just risking with your guessing. Continuing like this may turn to be vulnerable for your startup.
A professional agency has the specialization that your startup needs in digital technologies, creative designs, database management, influencer relations, and more. They know the market trends and how to keep your startup in business at all times.
The tech-industry is beyond understanding; it continually keeps changing trends. Hence, a professional agency marks updated knowledge of the market and guides you to take the right steps to succeed faster.
You May Also Like To Read: Dedicated development team hiring model for CEO and CTOs
❖ Custom and exclusive support
A startup requires outstanding business acumen and business operations in the process. However, when you do not have the time or skills to undertake the business process, hiring a professional agency will help you need professional support.
The outsourcing company will have well-versed professionals who can provide you exclusive support, work according to the market trends, and meet clients' requirements. The company works rigorously to aid you with the finest solutions complying with the specialized techniques.
❖ Effective process
It is quite challenging to build a startup without the right process. As you hire developers for startup, then they are sure to follow the strategic approach for project management. The process goes like this: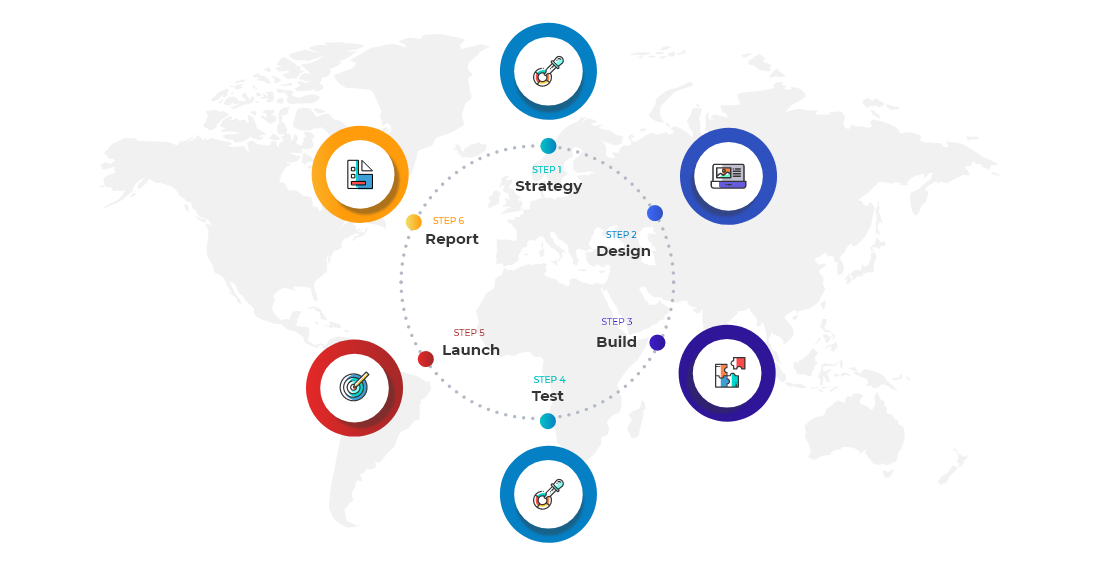 Conclusion
We understand that finding software developers for startups is an uphill task. Hire dedicated developers for your startup from Bacancy Technology as we understand your goals and ambition. We follow the Agile methodology for your startup project development and we host talented agile developers onboard who offer dedicated services. Some of the benefits that you get by partnering with us are complete control on the team and full participation in meetings, a cost-effective and flexible hiring model, 100% authorization on source-code, and adherence to the project timeline.