Quick Summary:
With the advancements in the enterprise software industry, a wealth of opportunities have been unlocked for businesses and companies interested in taking a step toward success. Staying updated with the evolving future trends of enterprise software will help your business make informed decisions, identify new opportunities for innovation, and stay ahead of the curve. Being aware of enterprise application trends will benefit business owners in aligning their strategic and investment decisions with the ever-changing user and market demands. In this blog post, we will go through some of the crucial Enterprise Software Trends and try to understand the future of enterprise software, so you can get insights into the emerging trends of enterprise applications and align your business strategies accordingly.
Table of Contents
Introduction
The enterprise software industry has grown tremendously in the last few years, with many companies shifting to the cloud and Software as a Service (SaaS) model. Adopting Microservices, Application Programming Interfaces (APIs), and Artificial Intelligence models makes deploying new technologies and making informed decisions easy and quick. As technology continues to advance at an unprecedented pace, it is essential to recognize the future opportunities of enterprise application for the overall success of the business or organization.
As a cornerstone of modern business organizations, enterprise apps helps businesses streamline complex processes, boost productivity, and drive growth. According to Statista, the enterprise software market generated a notable global revenue of $212.58 billion in 2020 and is expected to reach $271.80 billion in 2023. With an estimated growth rate of 6.73%, the revenue is expected to reach a market volume of $376.40 billion by 2028. As the enterprise software market has been growing in demand, it is a better opportunity for business owners to modernize their business software or invest in building scalable enterprise solutions by following the radical enterprise software trends.
10 Futuristic Enterprise Software Trends To Elevate Your Business
As you know, rapid advancements in technology are transforming the enterprise software landscape, due to which it is necessary for business owners to stay informed about the latest enterprise software trends. Comparing enterprise application development in the pre-COVID and post-COVID eras can give you an insight into why staying updated with the latest trends is essential. Before the pandemic, businesses were gradually shifting to cloud computing and cloud-based solutions for enhanced scalability, flexibility, and cost-efficiency. However, you can see accelerated growth in enterprise solutions as more and more businesses seek remote working flexibility, collaborative software solutions, and efficient operations. Consequently, advanced technologies such as virtual collaboration tools, video conferencing platforms, and project management solutions came into the limelight.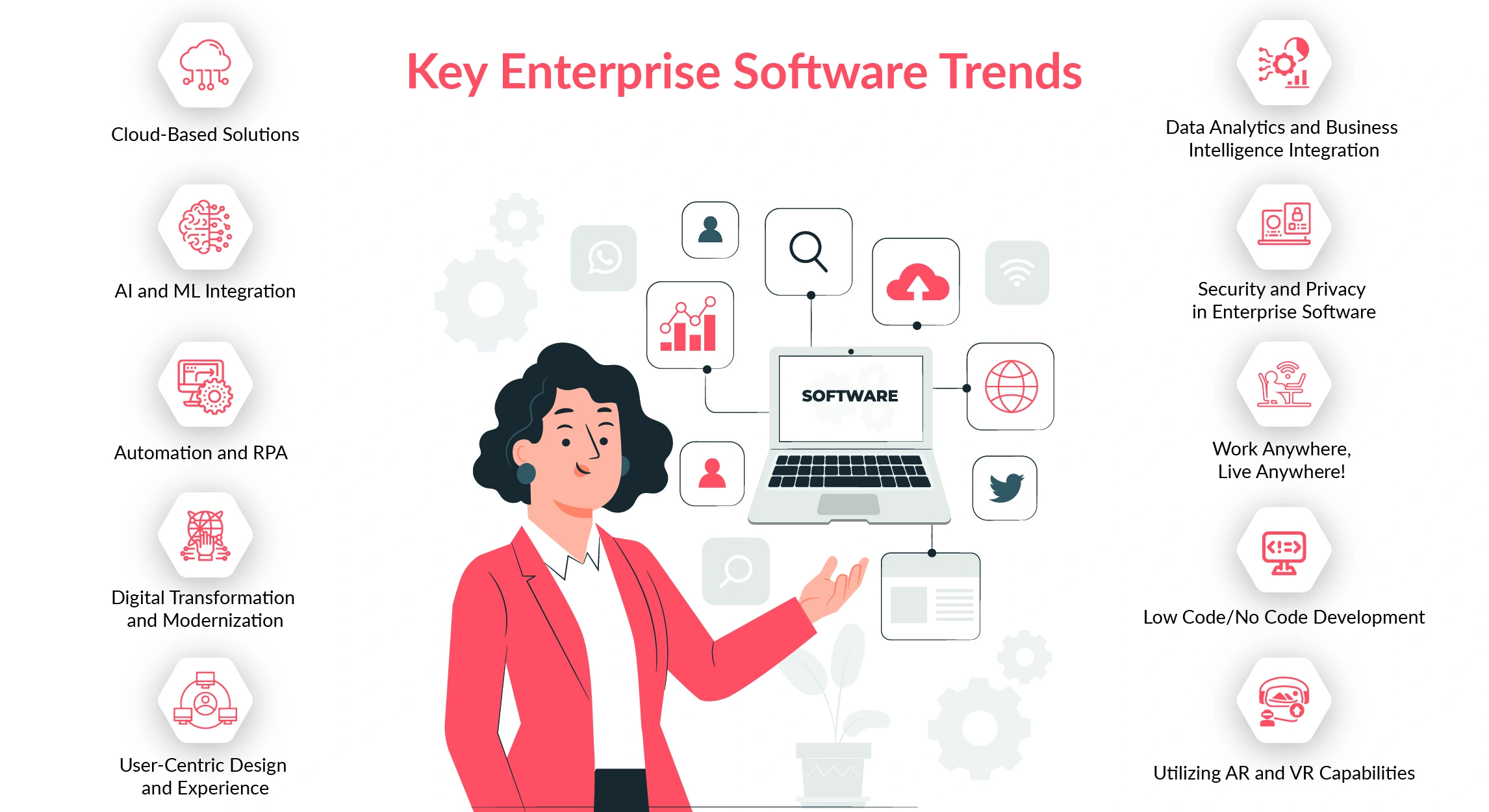 Nowadays, emerging trends like Artificial Intelligence (AI), Machine Learning (ML), and Robotic Process Automation (RPA) are becoming more and more popular. These technologies help optimize enterprise applications to meet evolving business requirements by adhering to automation and data-driven solutions. We have enlisted some crucial enterprise software trends below to help decision-makers drive modernization, enhance productivity, and optimize business processes. Let's review them one by one.
1. Cloud-Based Solutions for Scalability and Flexibility
Cloud computing keeps revolutionizing enterprise software, offering businesses the flexibility to store, manage, and work on data and information stored on cloud servers. Utilizing cloud-based solutions, businesses can obtain greater mobility to carry on operations and work with the team from anywhere. Many organizations have already adopted cloud-based solutions, improving the scalability, accessibility, and cost-efficiency of enterprise applications.
Opting for cloud service models gives enterprises the flexibility to scale up and down as per their needs and market demands. Along with seamless collaboration between teams, businesses can also leverage the benefits of enhancing productivity and remote work capabilities by availing of cloud-based ERP solutions.
2. Artificial Intelligence (AI) and Machine Learning (ML) Integration
The influence of Artificial Intelligence (AI) and Machine Learning (ML) is modernizing business operations by automating complex processes, filtering crucial values from large databases, and improving decision-making capability. Leveraging the potential of AI and ML, you can facilitate the development of data-driven applications and build compelling user experiences. With machine learning, the algorithms will continuously learn, adapt, and improvise over time based on the data and information received from the users.
Integrating Artificial Intelligence and Machine Learning models in enterprise software enables intelligent chatbots for instant interactions, AI-based recommendations to provide personalized user experience, and market trends forecasting. AI and ML integration will make it possible to smoothen operations, automate repetitive tasks, and boost innovation.
Recently, Open AI, a trailblazer in AI research, has swept the globe with its amazing capabilities and revolutionary products. Different organizations and SaaS vendors are tapping into opportunities of leveraging OpenAI for SaaS to enhance the productivity, efficiency, and capability of their SaaS and enterprise solutions.
3. Automation and Robotic Process Automation (RPA)
Robotic Process Automation (RPA) is one of the key trends you should know when it comes to modernizing enterprise applications. RPA tools can be used to automate rule-based and monotonous tasks by mimicking human interactions with software systems. Robotic process automation can be proven beneficial to obtain higher efficiency in business operations. Due to automated processes, there will be less chance of human errors, which results in saving overall time for employees.
Utilizing RPA for data entry, invoice processing, report generation, workflow automation, and data extraction will be advantageous. Moreover, RPA use cases and adoption will continue to grow in the upcoming years as more and more businesses need are focused on streamlining time-consuming business processes.
Unlock The Full Potential Of Your Business!
Modernize your business processes with the help of our enterprise software development services. Hire our well-versed and experienced developers to build custom enterprise solutions.
4. Digital Transformation and Modernization of Enterprise Software
Organizations are inclined to modernize their legacy enterprise software systems in order to remain competitive and meet the evolving market trends. Considered a significant barrier in digital transformation, legacy systems can lead to inefficient workflow, time-consuming processes, and unsupportive of the latest technologies and integrations. Businesses are opting for the digital transformation of their enterprise applications with the help of cloud-based architectures, agile methodologies, and shifting toward microservices. Nevertheless, by following the cutting edge digital transformation examples, you get a definitive idea about what processes must be digitalized and the ongoing trends in digital transformation that you must follow.
Modernizing enterprise solutions by following the latest enterprise software trends can help you easily and quickly develop and deploy applications. Also, organizations will utilize the power of APIs to integrate different tools and technologies with the software, leading to seamless data exchange and collaboration. Choose digital transformation of the software and increase the agility and productivity of the team while offering compelling custom experiences.
5. User-Centric Design and Experience
It is a fact that catering to the needs and preferences of users and customers can impact the overall success of any enterprise software. User-centered design and interface of the enterprise solution have become of utmost importance for businesses that want to align their software with user expectations. Creating an intuitive and engaging user experience in the software will certainly result in improving customer engagement ratio and productivity.
Additionally, building simple and appealing interfaces will facilitate seamless interactions and ease of use, enhancing user satisfaction and recurrence. Focussing on what your user actually wants in an enterprise application will help improve the user experience and gradually lead your business to success.
6. Data Analytics and Business Intelligence Integration
Harnessing the power of data analytics and integrating enterprise business intelligence software like Power BI can be beneficial for businesses to make informed and success-driven decisions. Utilizing the capabilities of business intelligence and data analytics in enterprise software, you can obtain precise and accurate insights from large datasets and identify helpful patterns, trends, and correlations that can help in business strategies and planning. In fact, you can build a data-driven organization by harnessing the power of data analytics.
Businesses can easily get a deeper understanding of customer behavior, market trends, user interest, and performance metrics with the help of data analytics and business intelligence integration. Among other enterprise software trends, this one can help your enterprise application stay ahead in today's data-driven landscape by quickly responding to current market changes, identifying emerging trends, and boosting innovation.
7. Security and Privacy in Enterprise Software
Businesses are moving to cloud-based solutions to enhance the scalability and flexibility of their enterprise software. However, this can lead to data security and privacy concerns as data exchange and communication will take place between the user, enterprise solution, and cloud servers. With the increasing cyber threats globally, organizations must implement powerful security measures for enterprise solutions to protect sensitive data and information.
Organizations can utilize various data authentication and encryption techniques and conduct regular security audits to safeguard user data and prevent unauthorized access. Businesses can also implement best practices and deploy advanced security solutions for securing enterprise applications to mitigate the risk of data breaches and protect sensitive data.
8. Work Anywhere, Live Anywhere!
Businesses have now shifted to remote working and distributed teams, due to which the development of enterprise software solutions focuses on flexible working environments. Employees and employers can access data and information over the internet conveniently and comfortably. Working remotely facilitates hassle-free team collaboration and communication by utilizing virtual conferencing applications and collaboration tools.
Leveraging cloud-based file storage and sharing platforms in enterprise software makes it easy and flexible for employees to access documents and resources, allowing seamless remote work. Businesses can meet the changing work dynamics and keep up with the trends by designing enterprise solutions while focusing on remote work. It can further benefit businesses with respect to finance and time management, as there is no need to build on-premise network servers and infrastructure.
9. Low Code/No Code Development
Low code or no code development is becoming popular among businesses, as it allows even non-technical users to build customized applications with minimal coding knowledge. Hence, while designing or improving enterprise systems, businesses should ensure to offer users minimal or no-code development features. This helps users or customers to create personalized functions and operations based on their unique requirements.
Due to the low code or no code development approach, business owners or subject-matter experts can easily experiment with new ideas and innovations without investing the time and effort of an experienced developer. Businesses can provide customers with the accessibility to modify the user interface and software components, resulting in enhanced personalizations.
10. Utilizing AR and VR Capabilities
Augmented Reality (AR) and Virtual Reality (VR) platforms are gaining traction as many businesses integrate them with enterprise software applications. Manufacturing, Healthcare, Retail, and other industries are leveraging the capabilities of AR and VR to provide efficient training, practical sessions, and immersive experiences. As every industry is focused to bring change by adopting futuristic technologies, you can use AR technology to grow your business beyond flat screens and personalized notifications.
Businesses can utilize AR/VR platforms to create virtual training environments, simulate real-world scenarios, and enable teams to work together in an immersive and engaging way. Harnessing the capabilities of enterprise software trends like Augmented Reality and Virtual Reality, businesses can not only offer interactive features and experiences to the users, but also they can make wise decisions by exploring different outcomes.
Conclusion
In conclusion, the key enterprise software trends that we have mentioned above will play a vital role in shaping the future of enterprise software. These enterprise software trends hold immense potential for businesses to modernize, transform, and thrive. From cloud-based ERP solutions to enhance scalability and flexibility to integrating AI and ML to improve decision-making, businesses can explore tons of opportunities for enhanced enterprise software efficiency and overall growth. By embracing these evolving trends, organizations can excel in serving their customers and pave the way toward success in this digital age.
At Bacancy, we offer enterprise software development services aligned with the latest trends and considering the future of enterprise software. Partner with us to take your existing enterprise solutions to the next level.
Frequently Asked Questions (FAQs)