Last Updated on August 30, 2022
September 27, 2016
4
min read
Are you on the quest to develop your own successful messaging application like Google Allo? Has the success of another messaging application like Whatsapp, Facebook, Viber, WeChat and much more has affected your decision? So, do you have some unique features in your mind that you want to add along with the basic functionality of other popular messaging applications? Great! You are in good fortune and you have landed on the right page, as here at Bacancy Technology we are happily ready to serve you to help you navigate through these muddy waters.
So, let's say you want to develop your own instant messaging application like Google Allo and you might be for sure wondering how much does it cost and much time period does it actually takes to develop an instant messenger app similar to Allo. So stay with me and let me dive you through the rabbit hole to discover your answer.
A bit of introduction
In the middle of August, Google introduced Duo a video chat application and now it'sAllo's turn. In the week or so since Allo has been out and this app is Google's attempt to create a "smart" messaging app that uses Google Assistant's subscription feature for getting daily weather and NFL reports. It is a lot more than a messaging application as along with keeping you updated with your contacts it can also help you to find information from Google. It is supposed to "keep your conversation going as well as letting you "say more and do more right within your chats." Example: If your friend sends you photo of Ice cream then, you may see the smart Reply responding suggestions like "yumm" or "Wow! Delicious Ice Cream! More Allo usage will create more suggestions for users. In other words, Google wants this application to grow as a platform rather than limited to a messaging app.
A list of Allo features includes:
Google Assistant, directly attached to your cart
Language pattern recognition
Incognito mode for the private message
Smart Reply to inbox without writing a single word
Trend of Messaging application Market share
Before we start, let`s take a quick view of the market and at your potential competitors: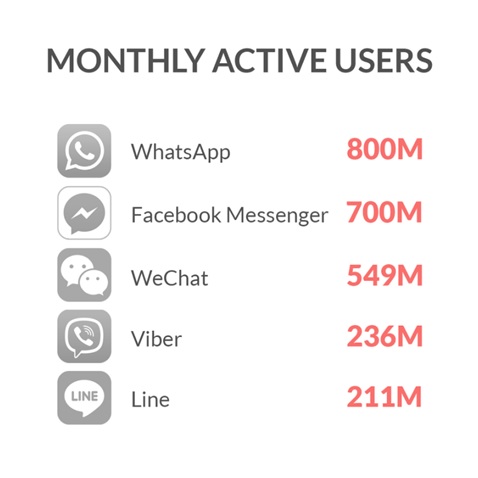 As you can have a look at the above chart, WhatsApp, Facebook Messenger, WeChat, Viberand Line altogether have about 2.4+ billion active global users per month. The significant takeaway is that all these audiences consist of mobile users. Put together all these 5 social networks and you will see the same 2.4+ billion benchmark. The only difference here is that computer users are in million and mobile messenger users are in the billions.
Major Factors
The cost to develop an application like Google Allo depends on following two major factors:
App Platform (Android, iOS (iPhone)
Platform is the first and most significant thing that you will have to take into consideration when developing a mobile app. The cost is different for different platforms.
App Design
UI and UX is the sole of an application, user-friendliness of the app plays an important role in the app success, which requires increased cost.
App Size
It depends on total number of features and functionalities.
Considering all the function and functionalities I have make developed a ball park figure for the cost of clone similar to aloe– one of the most late messenger out there. Here is an estimate for both iOS and Android versions thatincludes design and backend.
Timeline
iOS App Design Timeline
iOS App Development Timeline
Android App Design Timeline
Android App Development Timeline
Backend Timeline
Team
1 Project Manager
2-3 Android Developer
2-3 IOS Developer
1 – 2 UX/UI Designer
1-2 Backend Developer
1 QA Engineer
App Features
User Profile
Contact List
Calls
Chat – Attachments, Image Preview, Audio Preview
Group Chat
Push Notifications
Most Time Consuming Features
Smart Reply
Incognito Mode
Google Assistant
Whisper/Shout, Emoticons, and fresh Stickers
Total timeline of developing an app like Allo
iOS – 500 to 609 Hours
iOS Design – 140 to 200 Hours
Android – 500 to 690 Hours
Android Design – 90 to 140 Hours
Backend Development – 540 to 740 Hours
Total 1770 – 2460 Hours
Cost to build an app like Allowill be approximately
1770 Hours, Hour per rate $12 = $21240
2460 Hours– Hour per rate $12 = $29520
Takeaway
The instant messaging marketis continuous showing evolution and there is still a chance to create a your own app clone that will get a decent market share. And I can assure you that if we will put our whole heart into your product, so it won't let you down.
Hope I have satisfied your desire to know how much aninstant messaging app like Allo costs. So it's time to draw an inspiration from other successful messengers and lets build together something great! Hire mobile app developers from us to develop something unique & innovative.