Last Updated on May 27, 2022 | Written By: Paridhi Wadhwani
March 17, 2020
6
min read
In this time of Pandemic, let us not be misguided by the rumours and myths regarding the Novel Corona Virus COVID-19 that are spreading more rapidly than the virus itself.
Leveraging the advantage of people's curiosity, so many businesses are promoting their products or content for getting more attention. However, most of such information is not valid. Instead, it would be best if you spoke to health officials, doctors, or seek information from a reliable source to get accurate information.
Also, in this changing season climate, most people are indeed suffering from cold or influenza. Hence, you must not worry if you get a runny nose, cough, or fever, thinking that you are affected by #COVID2019.
To address your concerns and queries as well as to help you prevent this disease, I am writing this informative piece of content to spread social awareness. We are here with some novel advice concerning your queries and anxiety about your health conditions.
Let's catch up with a brief history on Coronavirus
As stated by the World Health Organization (WHO), coronaviruses are a family of viruses that cause illness ranging from the common cold to more severe diseases such as the Middle East Respiratory Syndrome (MERS-CoV) and Severe Acute Respiratory Syndrome (SARS-CoV).
Coronavirus disease (COVID-19) is a newly found virus that was discovered in 2019 and has not been previously identified in humans.
WHO recommends preventing the spread of the infection by frequently washing hands, covering mouth and nose when coughing or sneezing, and thoroughly cooking eggs and meat before eating because coronaviruses are zoonotic-transmitted between animals and people.
Symptoms that DO NOT indicate Corona disease:
Coughing with phlegm
Sneezing
Fever
Body pain
Or any combination of above
If you have any of the above symptoms, you might be affected by a common cold or influenza. You should not panic and seek medical assistance.
Symptoms that MAY signify Corona:
Dry Cough with high fever, difficulty in breathing, and body ache.
As per WHO, What are symptoms of COVID-19?
The most common symptoms of COVID-19 are fever, tiredness, and dry cough. Some patients may have aches and pains, nasal congestion, runny nose, sore throat or diarrhoea. These symptoms are usually mild and begin gradually. Some people become infected but don't develop any symptoms and don't feel unwell. Most people (about 80%) recover from the disease without needing special treatment. Around 1 out of every 6 people who get COVID-19 becomes seriously ill and develops difficulty breathing. Older people, and those with underlying medical problems like high blood pressure, heart problems or diabetes, are more likely to develop serious illness. People with fever, cough and difficulty breathing should seek medical attention.
Also, there are many myths prevalent because of the widespread nuisance created regarding #CoronavirusOutbreak. Here we are breaking all the myths and presenting the facts as directed by the WHO guidelines.
Myth: Remaining in Sunny areas or climate will prevent COVID2019 spread
Fact: Corona Virus can transmit in hot or humid climates. Hence, regardless of the environment, you must adopt preventive measures for fighting COVID-19.
Myth: Wearing Masks will protect us from CoronavirusOutbreak
Fact: If you are healthy, wearing lightweight disposable surgical masks cannot prevent you from being affected by the virus because they don't fit tightly. It can only suffocate and perspire you. Masks are for the patients suffering from cough, cold, or flu, and for the medical representatives coming close to such patients. Thus, you must not wear a mask unnecessarily; rather avoid public gatherings and getting close to people having any signs of cold or cough.
There has been a worldwide shortage of masks, and by sparing those masks for the once who need it, you will only help the world.
Most importantly, if you are wearing a mask, make sure that you dispose it properly in a closed bin.
Myth: Spraying alcohol or chlorine all over the body will kill the Coronavirus
Fact: No. Spraying alcohol or chlorine all over your body will not kill viruses that have already entered your body. Using such substances can be harmful to clothes or mucous membranes (i.e. eyes, mouth). You should be aware that both alcohol and chlorine can be useful to disinfect surfaces, but they need to be used under appropriate recommendations.
Myth: Home remedies can protect against COVID2019
Fact: No home remedies can protect against COVID-19, including vitamin C, essential oils, silver colloid, sesame oil, garlic, and sipping water every 15 minutes.
The best approach is to adopt a good handwashing regimen and to avoid places where there may be unwell people.
Myth: The Virus was deliberately created and released in a laboratory
Fact: There is no evidence that the COVID-19 is man-made. The Coronavirus 2019 was caused by severe acute respiratory syndrome coronavirus 2 (SARS-CoV-2) and first detected in China in December 2019. The COVID2019 resembles two other coronaviruses that outbroke earlier in the decade- SARS-CoV and MARS-CoV, and all three viruses seem to have originated in bats.
So, there have been other coronaviruses in the past that have occurred naturally and made the jump from animals to people.
Myth: Parcels from China can spread COVID-19
Fact: According to the Centres for Disease Control and Prevention, there is poor survivability of coronavirus on surfaces. Hence, there is a low risk of spread from products or packagings that are shipped over a period of time at ambient temperatures.
How to Prevent Corona Virus? #HowToPreventCorona
The Coronavirus is transmitted in air through water droplets from sneezing, coughing, spitting, close-proximity with an infected person, or by touching an object or surface contaminated with the virus. You should take these precautions to stay safe from the permeating virus.
I came across this informational tweet by a healthcare leader, Peater WT Pisters, which educates us about the high-touch objects around us that we frequently use everyday.
We can each take steps to protect ourselves and those around us from #COVID2019.

Remember to take extra precautions and disinfect the "high touch" objects around you at work or within your household to prevent the spread of infection. pic.twitter.com/PbEbU7IH2o

— Peter WT Pisters, MD (@ppisters) March 16, 2020
Cellphones, light-switches, computer keyboard & mouse, door-knobs, steering wheel, remote controls, toilet handles, refrigerator, etc. are our day-to-day touch-points. We can take steps like disinfecting/sterilizing them and washing our hands after contact with such high-touch objects.
More than everything else, we need to take care of our mental health in the current stressful situation around us.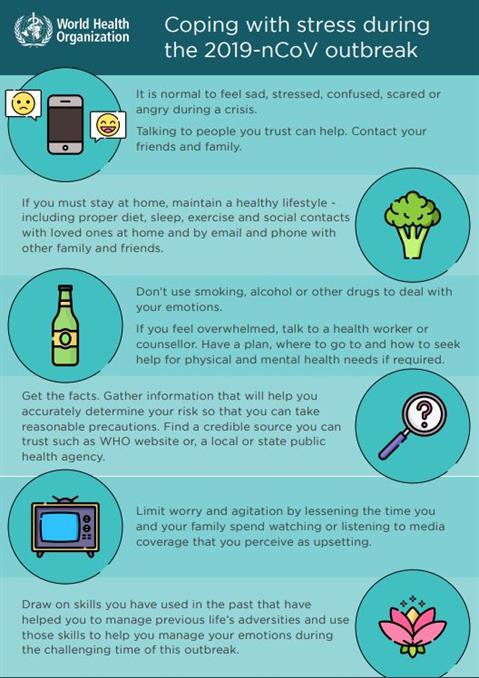 Prevention is better than Cure,
And because we have no cure discovered yet,
Prevention is the Only Cure in case of COVID2019!
P.S. Wash your hands with soap frequently, and it is advisable to avoid public gatherings.