Quick Summary:
Today, Salesforce is widely adopted by all the shapes and sizes of businesses globally. And why not? Salesforce comes as a blessing for the companies, helping them improve their business revenues, productivity, and user engagement. But along with immense benefits, this platform has its own challenges, which cannot be ignored. Do you know what they are? And, How important is Salesforce for businesses to solve those challenges?
To unlock the complete benefits of Salesforce, a business needs to learn and resolve its challenges. This can be achieved with the help of Salesforce professionals. Yes, salesforce consulting services play a vital role in the success of your Salesforce platform. These professionals help to implement Salesforce properly so that businesses can relish the complete potential of this amazing CRM software.
This blog post will guide you through the critical Salesforce challenges your business faces while implementing Salesforce. Let me walk you through how to implement Salesforce. Simultaneously, we will also look at how Salesforce consulting services can help you resolve the most common business problems with salesforce CRM.
Introduction
Salesforce has become the leading CRM software widely used by all sizes of businesses globally. The U.S bank, Toyota, Spotify, American Express, and the New York Post are some of the popular names among them using Salesforce. Today this innovative CRM has more than 150,000 customers worldwide. However, Salesforce offers out-of-the-box solutions to businesses, but still, it has its own challenges and issues. The salesforce challenges are one of the critical factors that usually hinder businesses from investing in it. So how to resolve these challenges?
Here Salesforce consulting services come into the picture. The salesforce consultant providers will help companies to overcome all the issues and offer them the best-in-class solutions that let them relish the full potential of the Salesforce.
This post will discuss the common challenges faced in Salesforce project and how Salesforce consulting services will help businesses resolve those challenges.
So let's get started with Salesforce challenges and solutions
What are the most common challenges faced in Salesforce Project?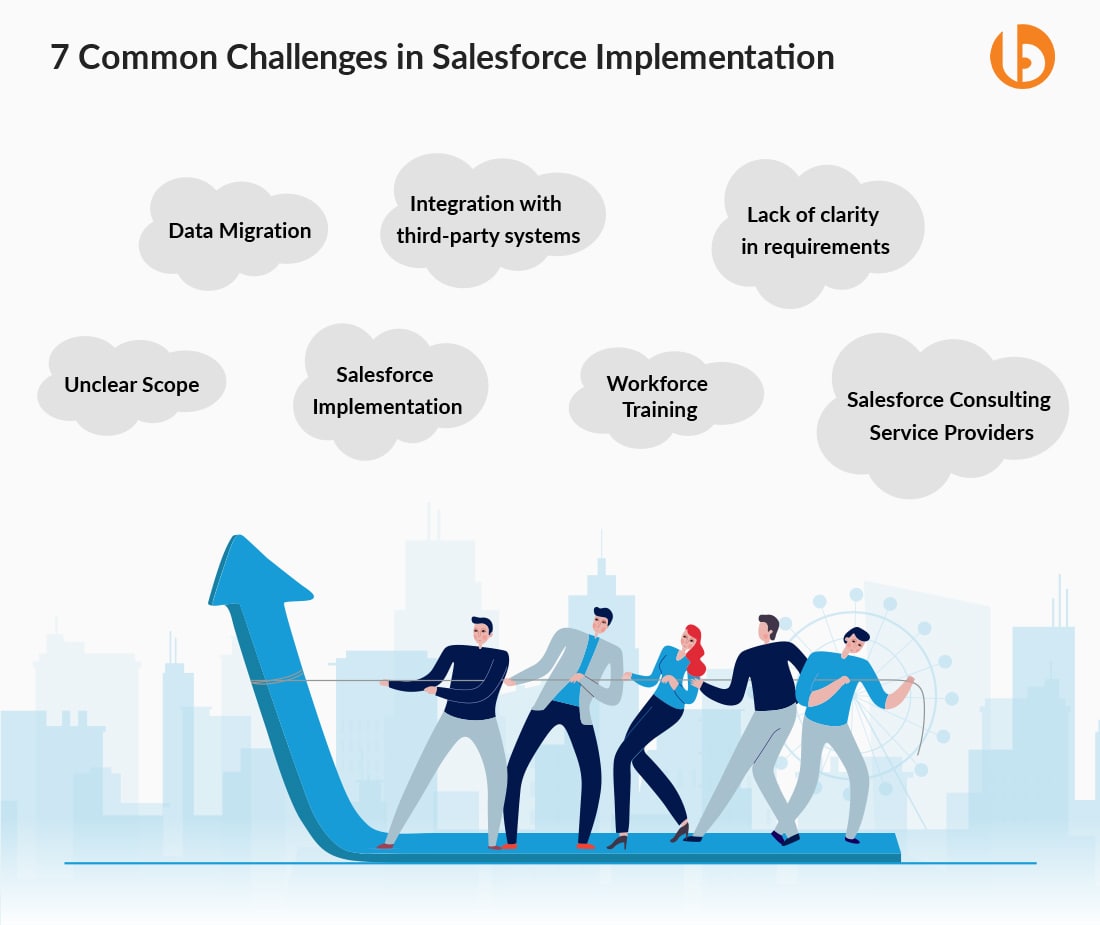 1. Unclear Scope
The first and the most critical challenge in salesforce development is unidentified scope. Many businesses do not know how and where to start, which leads to creating confusion and issues. The unclear scope only results in holding the project back, huge investments, and spoils the broth.
2. Data Migration
Data is always considered the most critical aspect for every organization. And when it comes to Salesforce, businesses have more concerns regarding their data transfer. Many businesses still think that Salesforce is not secure for data migration. Moreover, data migration is a time-consuming process, but overall it is essential. In the data migration process, the organization is required to deal with multiple activities, including user mapping, custom fields, duplicate data, cleaning up cache, security, managing access control, and more. This makes this process time-consuming and costly. Hence, data migration from one place to another with complete accuracy and confidentiality has become a major challenge for most organizations.
3. Integration with third-party systems
Many businesses have their own mobile and web applications. To leverage the complete benefits of Salesforce, businesses must integrate it with all the other applications and cloud apps.
But integrating third-party apps with Salesforce is not as easy as it looks; it requires expertise. Hence Integration of third-party apps with Salesforce is another challenging task for businesses.
4. Salesforce Implementation
Before implementing Salesforce in the business systems, organizations must thoroughly comprehend the requirements. This is because Salesforce comes up with a wide range of services and features, and not every feature needs to offer benefits to your business. Some features might not be useful or matched as per your requirements. Therefore, implementing those additional features would not provide you any benefits but enhance the costs. This negligence makes the salesforce implementation process quite complicated, which is another significant challenge in the salesforce development project.
5. Lack of clarity in requirements
One of the biggest reasons behind project failures is insufficient clarity with requirements. Clear and transparent requirements help stakeholders understand the project, its working, and how it will offer benefits in the end. Transparent goals and visions help both businesses and stakeholders to get a clear picture of the project. But if the project scope is unclear, the details are incomplete and obsolete, the communication is broken, and changes are not in control, then that project will surely go in vain.
6. Workforce Training
The training part is another salesforce major issue that significantly impacts the complete development process. As we said, Salesforce has a massive range of services and solutions for businesses to improve their productivity and revenues. But if the workforce is not trained for the particular service or solution, it will not be useful for anyone. Technology that is not understood or grasped by your team is already useless. Hence training the workforce has become essential for the organizations to achieve complete success with the Salesforce.
7. Salesforce Consulting Service Providers
This is the last but the most important challenge in the salesforce development that impacts the complete process to a great extent. Selection of the right salesforce partners is highly essential for the businesses because Salesforce is not a common investment like other mobile or web applications. It is one of the huge investments with high risk. Therefore the right partner is required by the organizations that can help them with the prosper salesforce implementation and the costs incurred in the process. A wrong choice of salesforce consultants can cause massive losses; hence analyzing the companies thoroughly on all the significant parameters is always considered the best practice.
So, these are a few critical challenges that organizations usually face in the salesforce development process. Moving on, let's discuss how hiring Salesforce consultants will help organizations overcome these challenges and help them implement Salesforce in their business systems effectively?
Moving on, let's discuss- what are the most common salesforce problems and their solutions.
How Salesforce Consulting Services helps businesses solve critical challenges in Salesforce?
Today, every organization wants a great start in their respective industry; they want to enhance their business operations, resulting in higher ROI. To achieve the business goals with expected ROI and productivity, Salesforce brings immense services and solutions for businesses that not only offer them great benefits but also help them improve their business challenges through visibility, user engagement, workforce productivity, and eventually business revenues.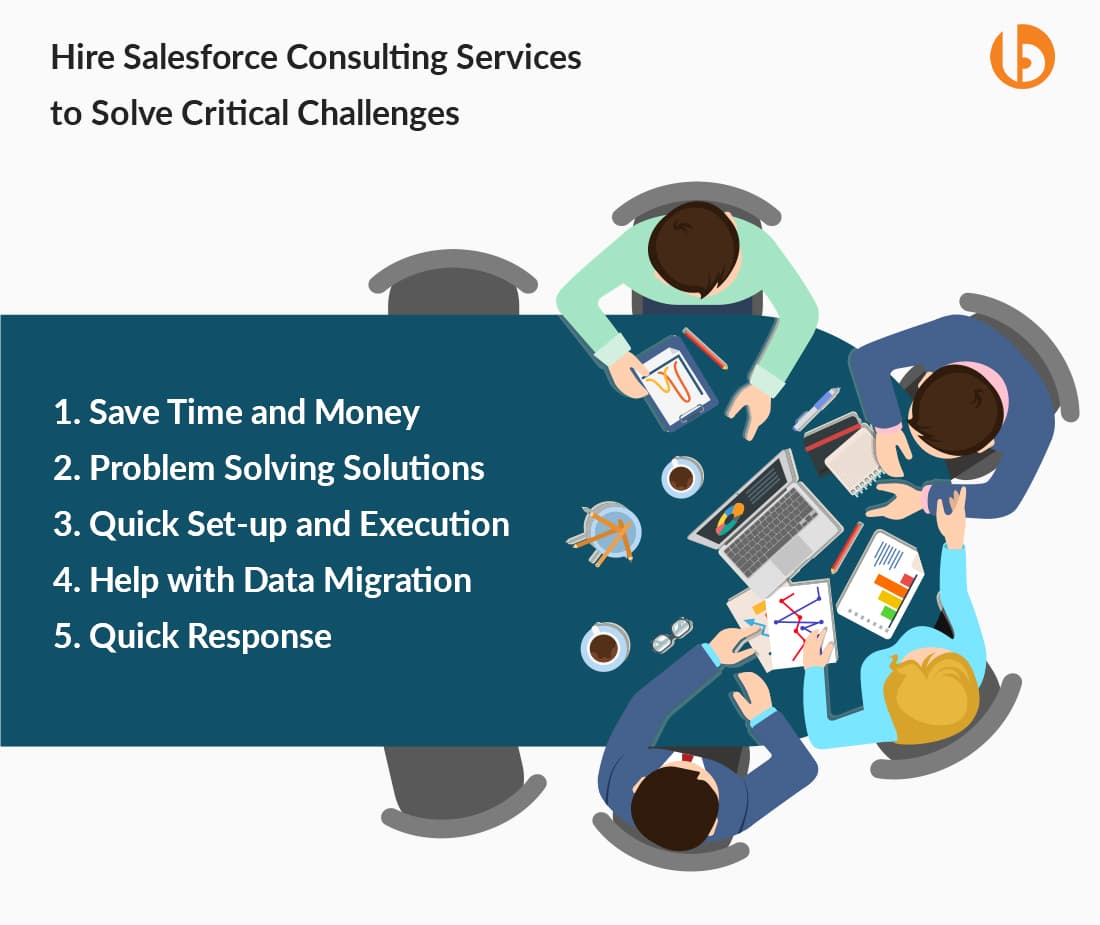 But implementing Salesforce is not an easy task because it has a wide range of services that come with individual challenges. An in-house team or non-tech professionals can't understand it and integrate it without any issues. Then how can you do it? Here salesforce consulting services turn out to be your best partner that will help you with the complete Salesforce Implementation process.
Many businesses still question why they need to hire a Salesforce consulting services provider? To help them out, this section involves a few critical benefits that give a clear understanding of why hiring professional salesforce consulting services is beneficial for your business?
1. Save Time and Money Considerably
One of the most significant benefits of hiring salesforce consulting services is it saves your time and money to a great extent. If you have decided to implement Salesforce with your in-house team, you will probably require them to give high-level training. This is because Salesforce is not a one-day task; it requires proper management and maintenance. The training decision will surely cost you higher. Or, if you plan for recruits, it will still cost you a lot.
On the other end, if you go with hiring salesforce professionals, it will save you from additional expenditure, as the salesforce consultants are masters in their field. They are well-versed with all the technical expertise that is required to implement Salesforce.
The consultants know the complete process, including establishing milestones, tracking the progress, features, and functionalities that suit your business requirements the best, etc. Therefore, salesforce consulting services will ultimately help your organization be more productive, engaging, and close deals more efficiently.
2. Problem Solving
Salesforce comes with various challenges that organizations' experts themselves might not resolve. Here Salesforce consulting services offer a great value; no matter how complicated the issue is, the professionals are well-aware of all the necessary steps to resolve that particular issue.
The dedicated salesforce professionals analyze the problems thoroughly and strategize them to resolve the problems. The consultants always offer you several alternatives to solve an issue to make the right decision easily.
3. Quick Set-up and Execution
Setting up Salesforce and its configuration is complex, but a professional can make it easy and hassle-free. The salesforce consulting services provider has in-depth knowledge about every required setting, including security settings, configuration settings, visibility settings, and others.
Many businesses think that after setting up the Salesforce, they do not require much help from professionals. But it is completely wrong, Salesforce is a product that comes with various updates and features every time, and its updates are not like just normal software updates. Every new update comes with new designs, features, functionalities, tools, dashboards, and more, which again requires expertise to set it up.
Always remember, if the Salesforce implementation is not done in the right way, then it isn't very worthy for your business. Hence taking help from professionals to set it up in the right way is recommended by the industry experts.
4. Help with Data Migration
If you have decided to migrate your data from your business system to Salesforce or vice versa on your own or by the in-house team, you will be at a loss. This is because data migration includes a separate strategy, budget, and other essential factors that your team might not be aware of. Hence, if you go with the in-house team, chances of failure increase, which ultimately leads to a loss in customer's data and money.
Here a professional aid from Salesforce consulting services will save you from such losses. When it comes to data and its transfer, the consultants become highly dedicated as they understand what role data play for an organization. The professionals will help you with the secure data migration process without affecting your data's confidentiality and accuracy.
5. Quick Response
The response rate of Salesforce consulting services is much faster than others, giving you a competitive edge over the competitors. Whenever your salesforce project requires any new changes and updates, the professionals will respond to your query quickly. They will handle the complete process with ease; you do not require any extra effort and time.
Hence, if you have hired salesforce professionals, you just need to sit back and relax; the rest can be taken forward by the consultants themselves.
Benefits of Salesforce Consulting Services
1. Get one-on-one coaching
Salesforce is not everyone's cup of tea. To get the most out of this CRM solution, you will need experts. The salesforce consultants will help you with it; they provide focused coaching sessions, including Salesforce pros and cons. This will help you understand Salesforce from every aspect. Whether role, budget, or cloud, the consultants will help you with detailed sessions that let you achieve specific business objectives.
2. Extending your dev team
Hiring Salesforce consulting services will offload the burden on your in-house development team. Certain tasks are important but time-consuming; here, consultants will help you handle those tasks properly. It will allow your development team to focus on other important projects.
3. Lightning services
The team of dedicated salesforce consultants lets you harness the power of lightning. Whether you are looking to migrate to lightning or planning to get better benefits from its excellent features, the consultants will help you with it. So, transform your business with the guidance of certified Salesforce consultants and get a complete understanding of this robust CRM platform and tools to reach your business goals.
Final Words
So, these are a few critical advantages of hiring Salesforce consulting services for your business. We hope now you are also in favor of hiring professionals instead of taking on projects independently. Salesforce is the most innovative CRM platform that will offer you immense benefits if you use it right. And it will be possible with the help of experts only. We never said that your in-house team is incompetent, but you are also aware that everyone is not a master in everything. And to become a master, you require training which ultimately overburdens your budget.
Hence, hiring salesforce consulting services will not only be beneficial for you in terms of productivity, ROI, or cost-cutting. It will help you to establish robust relationships with the professionals, which might help you in the future with some more innovative ideas.
If you plan to implement Salesforce in your business system, feel free to reach out to us. We are a leading Salesforce consulting services provider that holds 9+ years of robust experience in CRM solutions. We have helped many clients globally with out-of-the-box Salesforce solutions, and we can help you too. So, drop us a mail today, connect with our experts, discuss your requirements and let's get started.
Till then, Happy reading…
Frequently Asked Questions (FAQs)