Last Updated on December 19, 2022 | Written By: Riken Solanki
Quick Summary:
You might be thinking of expanding your team because your targets are big and have little time to attain the same. Curious about how IT Staff Augmentation works? Instead of outsourcing your project tasks to remote teams, you can hire remote teams to dedicatedly work for you for time being such that they work in conjugation with your in-house team, hence your augmented staff.
I hope this blog clears up your queries and brings your closer to attaining your targets. Share feedback and share with friends.
Table of Index
Introduction
I was surfing on the internet, and I come across research conducted by Korn Ferry – a global management consulting firm predicting the challenges and more difficult times for technology companies. A study was conducted back in 2018 for the specific US region; it stated that telecommunications, media, and technology are to be shorted with 1.1 Million skilled resources, and the gap will have a significant rise to 4.3 million by 2030.
Due to COVID 19 Pandemic, who would have thought that outsourcing software development and IT team augmentation will have a significant rise all of a sudden? If you are weighing options, whether to hire a dedicated offshore development team or should go onshore?
Then to help you answer your questions, I am writing this blog post exploring some significant considerations that will help you make viable decision-taking realist business goals.
Onshore vs. Offshore Software Development:
Restricting your software development outsourcing to your region might require you to spend a considerable budget, mostly when it belongs to the US or European region. That's the reason the offshore model is highly preferable then onshore. My personal preference if offshore software development and the reasons are apparently visible. The offshore engagement model is not only a cost-effective approach, but it also saves your valuable time as well as money. Upscale, upskill, and flexibility of the developers and development are added advantages of the offshore software model.
What I mean by flexibility is you can hire dedicated offshore software development team just like your in-house team. So you don't have to worry about different time zones and communication hurdles. The offshore developers are streamlined, well-versed, and efficient, be it offshore software development services or IT staff augmentation services.
You may like to read:
Staff Augmentation: An Effective Way To Add Extra IT Talent To Your Team.
Expanding your search to the global market has a much broader range of talented individuals. For the ideal preferred IT outsourcing, you can consider India and Ukraine as these countries are the most preferred and top IT outsourcing destinations.
As per a report, the US staff augmentation market is expected to grow at a compound annual growth rate CAGR of 3.66% from 2021 to 2026.
All you are required to take into consideration is the Agile software development approach and the right set of skills and technologies as it makes the team productive and project development enjoyable.
IT Staff Augmentation: Technology, Tools and Techniques Matters a Lot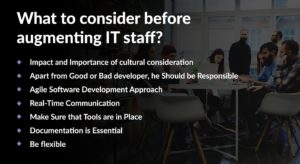 There are numbers of IT outsourcing models; however, not all of them are created equally.
While working with an offshore development company, engagement models matter the most. You will work with offshore developers, so equal trust and vision are very crucial to bring your product to the market faster than you have imagined.
Some basic yet significant elements that are hard to quantify is soft skill – communication, skillset, out of the box approach, initiative, and project management matters a lot.
Are you running short of time and resources?
Partner with us and go for IT staff augmentation as our proficient developers will bridge the gap and take you to your project goals.
Contact Us Now!
So for the on-time, on-budget, and goal-oriented development, here are a few key considerations you should take into consideration before jumping in.
1. Impact and Importance of cultural consideration
When it comes to leveraging team augmentation services, you would need to make sure that the hired resource(s) is ideal for your company culture. Here's an ultimate guide that you should take into consideration when it comes to hiring dedicated developer for your project.
2. Apart from Good or Bad developer, He Should be Responsible
The skillful expertise of a developer measures the success of your product or application. But, what I mean by the responsible developer is a growth mindset. Choose a developer with more than basic abilities, who can work proactively and independently, should be a regular contributor to the tech community. Here I would like to clear one thing that responsible doesn't mean experienced.
3. Agile Software Development Approach
Agile software development has significant benefits to the developers who can stay deft to the latest development practices. Software programmers can also save lots of time, costs, and efforts that would be beneficial in changing the rigid and unadaptable software development process. It means incorporating the Agile process also makes changes in software development. Agile software development process has widely implemented two frameworks – Scrum and Kanban.
Hire Agile developers and makes them have certified Agile scrum master to take care of your project.
4. Real-Time Communication
The ubiquity of real-time communication syncs the teams to exchange information regardless of local time. Skype, Zoom, Google meeting, as well as project management tools like Slack and Jira, engage team members to communicate hassle-free irrespective of their physical presence and location.
5. Make Sure that Tools are in Place
Once the software development methodology is identified, you will be required to identify a convenient tool so your team can frequently and regularly update you. It won't make sense if the software developers using their system, where you don't have access and control to it. Before the developers are on-board, make sure you have covered the tools.
The longer you work with an outsourced software development partner, the convenient, natural, and easy the development process becomes. The right developer, process, and perspective helps to establish a strong foundation as it's more significant than the developer's physical presence.
6. Documentation is Essential
Document plays a significant role, so don't overlook the Importance of up to date documentation. In future, if you or any of your team member is required to go back and review the details, this is where documenting the code makes it essential to fix the bugs reliably and very much crucial when you need to make significant updates.
7. Be flexible
Be it an individual developer or a team – encouraging feedback always motivates developers to work better and willing to listen and give valuable suggestions. I would like to suggest you to not rigid in your approach because it will help you to stay nimble and responsible for the changing project requirements.
Partnering For Success
Whether you are an independent consultant, a CEO/CTO, incredible new startup or a mobile app development company when you partner with an offshore software development company or leverage IT staff augmentation services, you will be able to quickly revolve to changing market dynamics to effectively launch your product faster to the market and most importantly on-time and on-budget.
The success of team augmentation depends on finding the right offshore development partner that understands your business goals and objectives as well as aligned to make your project successful.
FAQs
Why should I choose the staff augmentation model?

You can integrate the following apps with Salesforce: WordPress, Marketo, Drupal, SAP Business Suit, InsideView, Microsoft Dynamics, etc.

How does Staff Augmentation work?

Staff augmentation is an outsourcing strategy where you find out that your existing team is lacking resources to attain your project goals and hence you outsource staff from remote locations and they work along with your existing team to give your desired results.

What kind of support can I expect from Bacancy Technology?

We can fulfill your staffing needs; either you hire dedicated developer or outsource project development from us, or we can offer you staff augmentation services as per your requirement.