Quick Summary:
This blog is about understanding every aspect of the Team as a Service (TaaS) model. The wealth of information is the answer to how it benefits your business and whether you should consider it for your project development. Besides, how to opt for the TaaS model and whether the hiring process is similar to outsourcing one are crucial points for you. So, don't go away: unravel the insights on getting the best talent pool for your project.
Table of Contents
Introduction to Team as a Service (TaaS)
Tech talent crisis is a serious issue.
According to Bridgeteams.com, only 65 potential candidates apply for 100 job openings. Almost 44% of organizations will face a tech talent crunch in the coming years. And hiring the available tech resource will require huge capital, leading to a massive increase in cost to the company. Besides, you can only hire some of the required resources. Hence, you have to outsource a particular project segment; for instance, designing, development, or testing.
But what if you get an entire team as a service (TaaS), including a developer, a project manager (PM), a UI/UX designer, and a QA analyst? Isn't this a fair deal? A dedicated software development team with less cost, zero infrastructure reserve, and much high ROI than the traditional method.
Team as a Service (TaaS) business model might be a new term for you, but don't worry; we have left no stone unturned to unveil the nitty-gritty about the topic. So, let's get started.
What is Team as a Service (TaaS)?
Team as a Service (TaaS) means a dedicated, highly-skilled group of professionals that are experts in software development, designing, and maintaining quality. You might have heard of outsourcing (distributed teams); TaaS is the same concept, but considerably modified.
This extended team model is relatively cost-effective and brings in a wide variety of global talent. Plus, it is a new term that has become famous quickly. Businesses do not need to spend a hefty overhead hiring in-house professionals; they select the best TaaS provider with experience delivering seamless products on time.
You can hire a full-time team to a partial and fractional team as a service for your project development. And this extended team model helps you with software development from scratch to existing platform maintenance.
Questions You Might Have About Team as a Service Model
When we are looking to hire an extended team for your next software development project for the first time, it is evident that we will be overwhelmed with so many questions about the Team as a Service model. This section covers some of those questions, ensuring each is answered satisfactorily, so you do not have to worry about it.
🟠 What type of extended team can you hire through a team as a service?
TaaS providers can offer developers, designers, quality assurance, and project managers. Besides, it allows you to hire tech professionals per your requirements.
🟠 What support should you expect from a TaaS provider?
You can expect technical support for project development and quality control to monitor and maintain your software development project from TaaS providers. Additionally, you get access to tools and resources like software development environments or support platforms from a reliable TaaS vendor.
🟠 How long does onboarding professionals under the extended team model take?
Unlike the in-house hiring model that takes weeks or sometimes months to find the right text talent, onboarding an extended team through TaaS takes a maximum of a few days. It starts with the discovery phase and then moves to understand project requirements, followed by team selection. All this is a matter of a few days.
🟠 How to determine the pricing structure for TaaS?
TaaS pricing structure depends on several factors, such as team size, complexity, experience level, and engagement period. Some pricing models include fixed hourly, monthly, or project-based.
🟠 Can we scale up or downsize the TaaS team?
Yes, scaling up and down is one of the most significant flexibility of the TaaS model. As per your project requirement, TaaS providers allow you to scale up or downsize the team.
🟠 What does a TaaS provider do if a developer leaves a company or falls sick?
It becomes the TaaS provider's duty to provide you with the replacement of the hired professional in case the developer leaves or falls sick. Also, you get a say in hiring the replacement, so the extended team member matches your exact requirements.
The following section has many solutions to the challenges that TaaS has overcome. So, keep reading it.
Challenges You Can Overcome with TaaS
Team as a Service is a new-age concept that eliminates dependency on in-house hiring and brings flexible workspace solutions to challenges. Let's evaluate those challenges and see how does TaaS solve them? Let's check it out.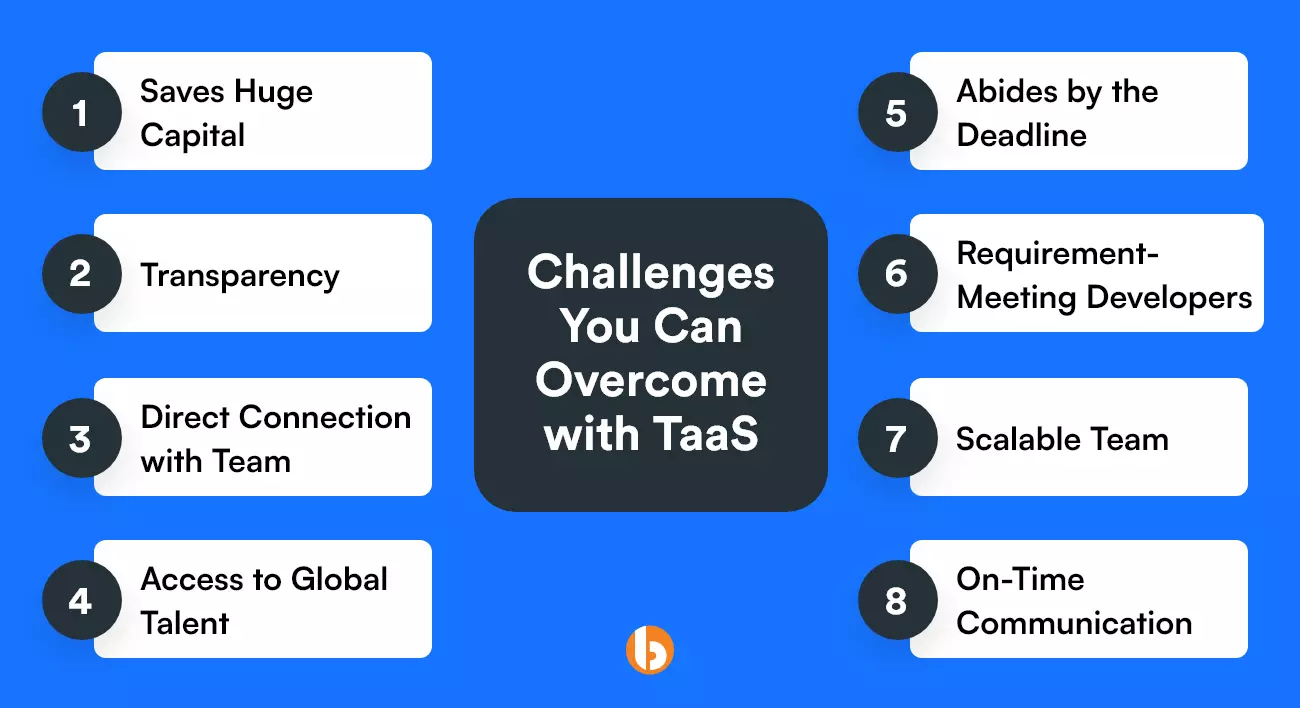 🟠 Saves Huge Capital
The overhead expense (recruitment, onboarding, training cost, and benefits) can shoot up to an unbearable number. According to Quora, the average hiring of tech talent takes almost a couple of weeks. Besides, hiring a full-time, in-house talent is undoubtedly not a fair deal if you are a startup or a large enterprise.
So, how will you overcome this challenge?
Adopting an on-demand dedicated team as a service model eliminates overhead expenses and gets your team quickly. Whether you are a startup, a smaller business, or a conglomerate, a dedicated software development team will significantly reduce costs and increase ROI.
🟠 Transparency
In the in-house hiring process, you will have a hierarchy through which you get regular updates about the project. But what if we tell you that hiring a dedicated team will allow you to communicate directly? No intermediary hassle means no misunderstandings or miscommunication.
🟠 Direct Connection with Team
Along with the transparency discussed above, your involvement with your high-performance remote teams starts from day one and lasts until the team successfully delivers the project. Also, don't worry about the administrative part since it is managed by the TaaS service provider (Bacancy will take care of it)
🟠 Access to Global Talent
What in-house hiring cannot do, hiring TaaS will enable it; access to global talent, innovative ideas, broader perspectives, and detailed knowledge about the market & customer preferences. It will boost the team's capabilities, enhancing creativity and desired outcomes.
🟠 Abides by the Deadline
One of the biggest challenges is to meet the deadlines and make the product available for the target audience on time. Now any freelancer will not stand up to the expectation nor the in-house team for obvious reasons. But when you opt for the extended Team model, you stay assured about meeting deadlines and delivery. The dedicated software development team is highly professional and abides by the deadline. If you enroll in Bacancy's TaaS model, you can count on every tech professional.
🟠 Requirement-Meeting Developers
An in-house software developer will have limited skills, but hiring a dedicated team allows you to pick the developer that suits your requirement. No matter which technology specialist you are looking for, TaaS serves it.
🟠 Scalable Team
When you hire an in-house team, you cannot simply fire any professional, but with TaaS, you can downsize or upgrade your extended team as per requirement. TaaS is a business model that allows you to scale up or down depending on project requirements. Having a scalable team ensures maximum utilization of resources.
🟠 On-Time Communication
Communication becomes mandatory when working remotely, and TaaS providers ensure it remains seamless. You will regularly receive updates for your project on the go, just as you do with your in-house team. Doing so eliminates miscommunication and streamlines development.
How Does a Team as a Service Work?
Though Team as a Service sounds similar to outsourcing, it still has a different working pattern. Let's understand how a TaaS works.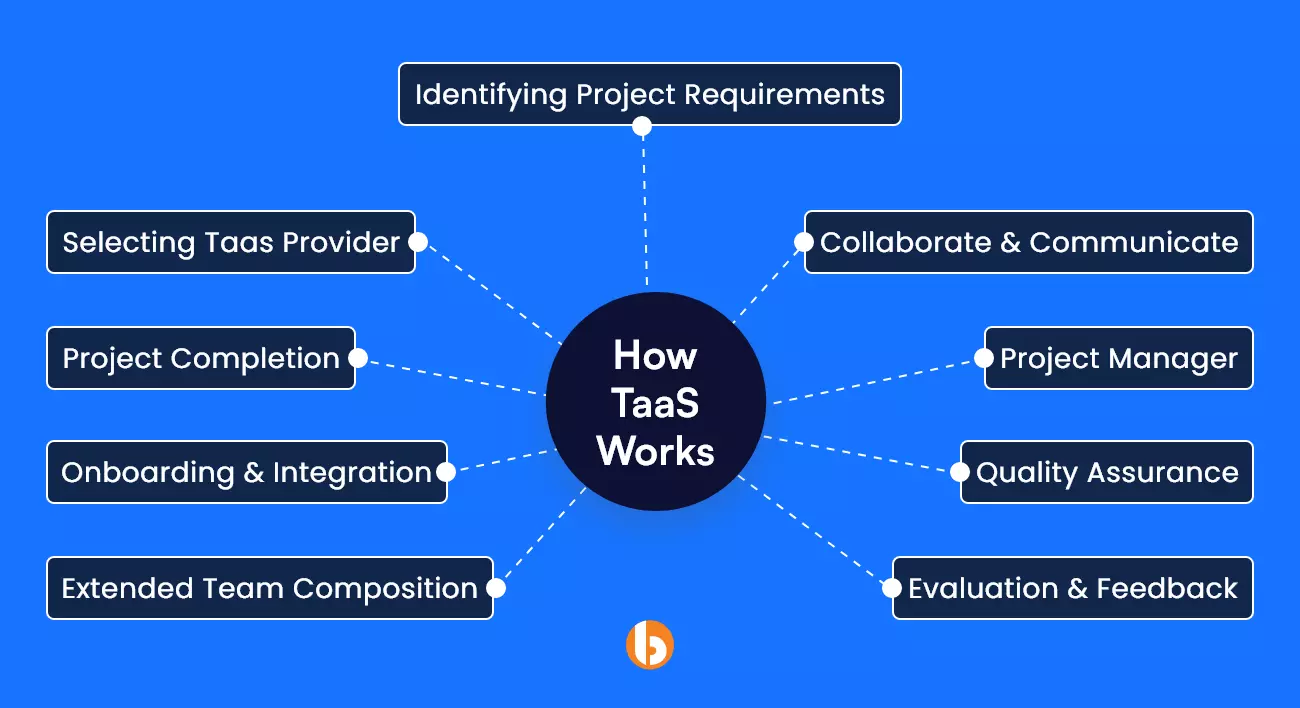 🟠 Identifying Project Requirements
Initially, it is mandatory to determine the project requirements, including scope, skill set required, and deadlines. It also involves particular tasks, goals, and project timelines.
🟠 Selecting Taas Provider
Now that you know how much workforce is required, it's time to select the right team-as-a-service provider. Look for a TaaS provider with years of flawless development and deployment experience. With this, the team as a service provider should also have positive client reviews, a track record of on-time deliveries, and a quality assurance team.
🟠 Define Extended Team Composition
Connect with the selected TaaS provider to define the team composition. How much staffing is required, including developers, designers, and QAs? Along with them, you also have to determine roles and responsibilities, and skill sets.
🟠 Onboarding & Integration
Now that you have hired the team, onboarding and integrating them with your project development is time. TaaS provider (Bacancy) will ensure the smooth onboarding of your hired resources. Besides, there will be seamless document sharing, access to tools and software, and an understanding of the project's requirements.
🟠 Collaborate & Communicate
Communication is the key to the successful execution of a project, and that is why every TaaS provider offers tools to communicate regularly with the hired extended team as a service -the communication channel benefits in multiple ways, such as regular updates, check-ins, and feedback sessions.
🟠 Project Manager
The TaaS provider will also provide a project manager, who will communicate with you to give updates about the project. The task of a project manager (assigned by the TaaS provider) is to look at the team's work, track the development, ensure meeting deadlines, and execute seamless project development.
🟠 Quality Assurance
TaaS providers are strict about adhering to quality and deadlines. For the same purpose, TaaS providers regularly review, test, and take feedback to ensure the quality is maintained and not downgraded.
🟠 Project Completion
Upon project completion, the team-as-a-service provider ensures a smooth project transition, including knowledge transfer, training, and documentation.
🟠 Evaluation & Feedback
Last, the TaaS provider will require evaluation and feedback for your project completion. It helps understand the engagement success and areas of improvement.
Guidelines to Opt for a Team as a Service
Now that you know the benefits of TaaS, let's also know how seamless it is to opt for TaaS.
🟠 Evaluate Development Scope
To opt for an extended team as a service, you must clearly define the scope, objective, and desired result. After that, you must identify your required skills to execute the task.
🟠 Research for TaaS Providers
Now that you are prepared with the project requirement start looking for a TaaS provider. The service provider should be highly professional with years of hands-on experience in flawless software development. Plus, it should have a good client retention ratio and reputable clients. Besides, the team should be well-versed with the latest technologies and trends to execute projects successfully.
🟠 Evaluate Expertise & Experience
Now that you have finalized a TaaS provider; start looking for the evidence of the services they mentioned, their expertise in a particular niche, their human resource, total years of experience, their ability to scale, and their flexibility of engagement models.
🟠 Ask for Quotes or Proposals
Once satisfied with the team and their capabilities to execute your project, ask for detailed quotes, such as hiring models and expertise. Also, provide your TaaS company with the necessary wealth of information related to project development.
🟠 Finalize
Now is the time to shake hands with one of the TaaS providers from the potential list. Just make sure the shortlisted TaaS provider's team composition, approach towards managing the project, communication channel, pricing, and what additional benefits it offers.
🟠 Interview The Team
And once you become a partner, it's time to interview the hired TaaS provider to understand further the team dynamics, project management tactics, and capabilities.
🟠 Sign The Contract
Sign the contract by ensuring the project deadline, deliverables, pricing models, NDA, IPRs, and other special contractual terms and conditions. With this, you and the TaaS provider are legally partners and bound to receive projects against the fixed hiring model.
How Would Bacancy Help You With TaaS?
Bacancy is a leading, reliable, and dedicated software development company with a pool of talents: all well-acquainted with emerging and futuristic technologies. UI/UX designers with detailed creativeness and quality assurance professionals for rectifying bugs and delivering flawless applications.
Bacancy is also proud to have many Fortune 500 companies on its clientele list. The company never runs out of tech professionals; you name the technology and developer required, and you will get it.
Bacancy has previously been a TaaS provider with big companies and helped them elevate their business by delivering projects on time. Bacancy has eyes on the qualities an ideal TaaS provider should have, which is why it always satisfies its clients.
From Java to Python to React to Golang and ML/AI to Salesforce to a dedicated software development team, we are always ready to take up challenges and execute what's next to impossible.
Frequently Asked Questions (FAQs)
TaaS is an extended team model wherein a provider offers a group of tech professionals, which differs from outsourcing/freelancing. Regarding freelancers or strategic outsourcing, there comes dependency with risk, which is why TaaS is reliable and affordable.
TaaS providers allow you to interview and perform background checks and personality tests to ensure the extended team matches the culture. Besides, you can give your company access to TaaS providers so that they can closely understand your company culture and strive to meet them.
TaaS teams are seamlessly manageable and operate remotely. The provider is well-equipped with flawless data-sharing channels, management tools, and video conferencing. Besides, the TaaS provider also ensures swift communication to ensure you get regular updates.