Quick Summary:
In this blog, we have covered everything about Ruby on Rails Staff Augmentation. We will tell you why you should consider RoR staff augmentation over hiring in-house developers, what you should inquire before augmenting your team, and in which scenarios will Ruby on Rails staff augmentation be ideal for your project success.
Table of Contents
Introduction
eCommerce, Healthcare, Cloud Service, Web, Mobile, Desktop, or you name it; Ruby on Rails has covered all industries and domains. You know the worth of this classic prevalent programming language. Now, you want to develop your visionary business idea into a fantastic reality using Ruby on Rails but have a scarcity of resources.
It is time to look into Hiring Ruby on Rails resources for fostering your business goals. You have 3 options:
Hire RoR Developer In-house (hire more talent in your development team), or
Outsource RoR development project (outsource your project to an offshore software development company), or
RoR Staff Augmentation (you can opt to go for staff augmentation for your Ruby on Rails development project).
In the 3rd option, along with your in-house development team, a team of skilled and experienced Ruby on Rails developers will work with your team to attain your goals. Here, we are going to tell you about Staff Augmentation in-depth. We'll begin by sharing our experience and journey with Ruby on Rails Staff Augmentation.
As per the Staffingindustry, USA's staffing revenue is expected to grow by 16% in 2022 as compared to 2021. The amount records a total of $157.4 billion.
Why Opt Staff Augmentation For RoR Project Development?
Ruby on Rails (RoR) has proven to solve every complex issue with its fantastic framework. Here are a few advantages attached to the Ruby on Rails Staff Augmentation method that are worth glancing at. Check them out!
Accelerate Your Development Pace (Time & Cost)
Bring in a phenomenal team of software engineers in your organization to elevate your project's success rate and capability. With this, you cut short your development time. Means- you get to develop your project with speed, more resources, and at a quick pace.
The most essential benefit of staff augmentation is cost savings. Compared to hiring an in-house RoR developer, you save big-time by hiring Ruby on Rails staff augmentation services. Use and implement the experience and knowledge of the extended team to bring down all your project interruptions and delays.
For instance, if you wish to hire Ruby on Rails developer from the US, one who is 5-7 years experienced, it will cost you $10000 to $15000 per month. Whereas, if you go for Ruby on Rails Staff Augmentation, you can hire 3 experienced developers on the same budget. Additionally, you can choose those developers by interviewing them first. Fantastic, isn't it?
Agile Methodology
Forget about the hustle to manage your team of developers. With Staff Augmentation, you need not regulate any functionality or operations. Offshore development partners offer Agile Software Development methodology where your feedback and opinions are constantly in-sync with the development followed.
The Ruby on Rails development team augmented by offshore development partners executes SCRUM practices such as daily standups (meetings). Here, you can train the team to work as per your expectations and goals.
Sustained Control & Management
With a staff augmentation team, you need not worry about managing your hired employees or team. The trouble of settling up an environment for your staff is no more on your shoulders. Additionally, you can anytime reach out to the augmented staff and function in a planned matrix.
You might be still not very sure about staff augmentation. One query keeps haunting you. You might address it as a Con to Staff Augmentation. We're here to clear that as well.
Time-Zone Difference Clashes
We know that it is not easy to work with a development team that works for your project from a different timezone than yours. But, it is not impossible. It is manageable. With Agile methodologies such as daily standups and iterative development, you can flawlessly aim your Ruby on Rails project development partnered with an outsourcing ruby on rails development.

When To Choose RoR For Staff Augmentation?
Ruby on Rails Staff Augmentation is wise in the following scenarios and situations. Below are 5 instances when you will need RoR Staff Augmentation to help your business application development fast and better. Give it a read.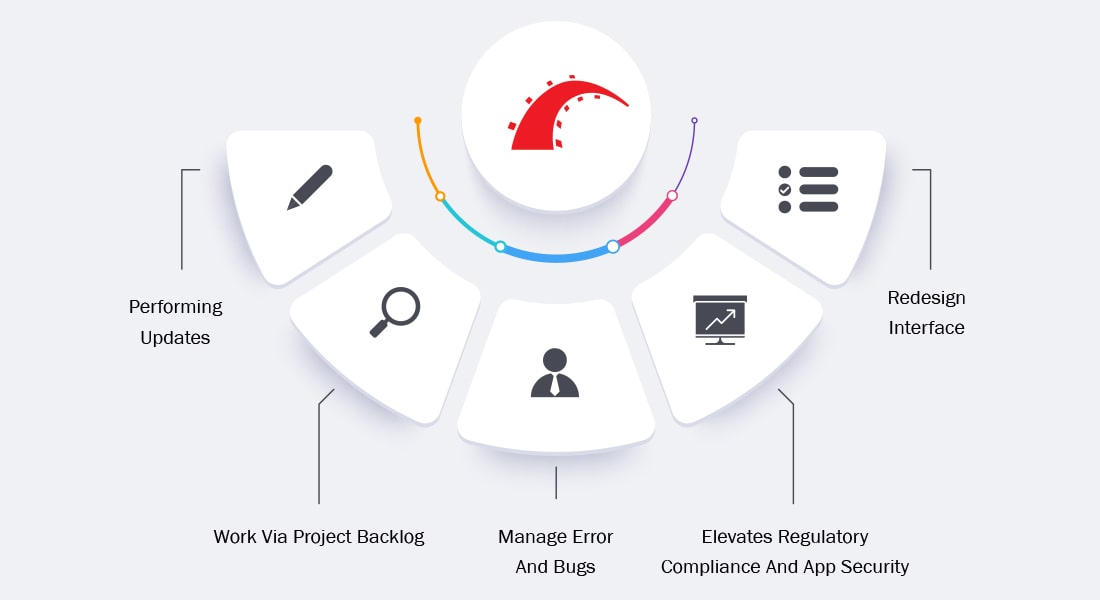 Performing Updates
Keeping a Rails app updated is not a child's play, though. You will need to lay hands with your development team to plan all the updates. It is easy to push updates that can turn into money-making brand new features. However, tiny updates can keep piling up to form bigger ones with time. Hence, to prevent sliding into pricey technical debts, you need development partners that can fit tiny updates in your schedule.
Now, your in-house developers might not be constantly available to keep up with your previous project; hence, at this stage, Ruby on Rails staff augmentation is a wise choice.
However, when you connect with an RoR development team, you need to budget the money and time for them to perform these updates.
Work Via Project Backlog
An ideal Staff Augmentation agency can assist you in working through your current product backlog at a particular pace. Whether your backlog is a mere Google Doc or any organized to-do list, the development partner will collaborate and work with you. Their objective is to prioritize it so that the outcome is nothing but fantastic. One brilliant benefit of working with a Ruby on Rails development company includes inheriting a tried and tested procedure to manage your backlog.
Manage Error And Bugs
The urgency of the issue in your app entirely depends on your application privacy. If it is something that your customer has access to 24*7, you will need someone who fixes your application on off days as well.
You can hire a dedicated Ruby on Rails development team and augment it with your existing RoR development team.
If your app is not business centered and critical, a tiny bit might not be the end of the world. Hence, ensure that you know your development partner's process to handle bugs and errors. This gives you a clear idea of what to expect when a potential bug breaks in, even after rigorous testing and quality assurance.
Elevates Regulatory Compliance And App Security
Your RoR development team can help you with your application security. It is a good start when you keep your app on its recent version. This way, you will get security patches when your app is released to the community.
Your offshore development partner must assist you in complying with all the regulatory updates. They can do HIPAA compliant, PCI compliant, and GDPR compliant regulations. Although this may take time, the entire investment in the development hours is worth it. Who doesn't want to avoid unnecessary lawsuits and fines besides risking your app that isn't compliant?
Redesign Interface
As per the team you select for project development, you might also take their help for updating your interface design or user experience. If your RoR app has been here for quite a time, it might give an outdated user experience. Typically, older apps have sections that are not easy to work with.
Hence, if you think your Rails app has parts that can perform better, make sure you discuss the same with your Ruby on Rails development partner. You can talk about the available potential redesign options and look at how excellent and smooth your application can turn out to be.
Still wondering why Ruby is the best programming language for your enterprise?
Hire Ruby on Rails developer from us and they will help you verify the project scope and obtain a valuation.

Investigate the Company That Can Help You With Ruby on Rails Staff Augmentation
The next step is to investigate the agency helping you in Ruby on Rails Staff Augmentation. After completing your research, you must go through a procurement procedure to qualify these agencies, selecting the best partner. Hence, you schedule a call or a meeting to know about their work. However, what do you ask them? Here's what you need to ask!
• How soon your Ruby on Rails developers can start working on my project?
You must have internal deadlines that need to be met already. Hence, you must select an RoR development partner to help you meet the requirements/deadline. If you have a tight deadline, ask the agency how early they can start to get the job done within the time frame.
• How do you keep the project progress transparent on a daily basis with the resource I outsource?
Well, transparency is the key. Lack of communication or transparency can hamper both your time, energy, and resources. In fact, many companies keep exploring due to a lack of transparency in agencies. When you spend thousands in an agency, you must know the track of progress. You need to know the outcome of your money and time.
That said, several agencies charge hourly while some charge weekly. All you need to do is select an agency that fits your business budget. Hence, it is imperative to discuss money beforehand instead of wasting it on a team you cannot afford or is not worth.
In terms of communication, ask the agency how they communicate. If they need to/wish to demonstrate the project progress to the rest of the stakeholders in your firm, how would the team cope with that?
• How can I ensure the resources are an ideal fit for my project?
Not every agency works on similar projects. Agencies that specialize in RoR projects too hold distinct preferences and opinions. Hence, it is better to have a grip on why they are fit for your project.
• Can I have the portfolio of the clients you have served under this business model?
Never hesitate while asking for references from clients. Any experienced agency will have references so that you can connect with them. The objective is to understand better how the team works and has collaborated in the past with its clients.
Bacancy's Ruby on Rails Staff Augmentation Case Studies
It is a proud achievement to share some of our successful case studies from varied industries where the popular companies extended their team with Bcancy's Ruby on Rails Staff Augmentation model.
We use communication, collaboration, and project management tools such as Slack, Jira, Confluence, HubSpot, Cloud66, Azure, and more to keep the interactions.
Check out how did the process begin and turned into a reliable and trustworthy bond.
Swiggy – India's leading Food Channel got Rails Staff Augmentation support from Bacancy
TechStack: Ruby on Rails, Golang, Node Js, React Js, PSQL, MySQL, DynamoDB, Kubernetes, Docker, Redis Labs, Elasticache, AWS
• Initially, the company demanded to have one Ruby on Rails developer work remotely along with their in-house team of developers.
• Soon, within a month, they needed 5 more developers, and they augmented a team of RoR developers from Bacancy.
• Our NDA policy, scrum project management techniques, agile methodologies, and daily standups made them develop a liking for our services and partnership.
Eventually, we developed a rapport with the company. In no time, there were Scrum Project Manager, DevOps, and a team of Ruby on Rails developers assigned to Swiggy by Bacancy.
• Our partnership was fruitful, and the rest will be history to be cherished.
Data Center – Leading Cloud Service provider – leveraged our services
TechStack: ReactJS, Redux, ReasonML, Ruby on Rails, PostgreSQL
• A unique idea of becoming the connecting portal for data center providers and companies that need to hire data centers. This company of Colorado partnered with us and is glad for choosing us.
• A team of 9 developers from Bacancy worked for DataCenters and the project's success is undeniable since then.
• 3 RoR developers, 2 React developers, 3 QA testers, and a project manager worked for them.
• Currently, we provide them maintenance and support.

Edumaster – Education Portal

TeckStack: Ruby on Rails, HTML, CSS, JavaScript, jQuery, AJAX

• A publishing company demanded an interactive and multimedia-rich digital solution that can render speedy and unique assignments for hundreds of students. Their in-house team of developers was unable to meet their expectations and hence they opt for Staff Augmentation with us.
• As they started working with our elite staff augmentation team, they found astonishing views and suggestions. Our smart and vivid resources enabled them to look out for more perspectives from the student-side and hence helped the client make their product user-friendly.

CityFALCON – FinTech Master Tool

TechStack: Ruby On Rails, Grape, React JS, Angular JS, Zurb Foundation, MySQL, PostgreSQL

• client from Ukraine was building a Financial News Aggregator website. The portal was crucial assistance for Traders and Investors.
• They demanded a staff augmentation team of 9 where there were 2 RoR developers, a storage administrator, a financial advisor, a QA tester, a business analyst, and a digital marketer.
• Our team helped them resolve all the intricacies and they are super satisfied with our partnership.

Conclusion

Ruby on Rails is an ideal framework for all startups. While it saves time and money both (during the development procedure), RoR renders an easy programming paradigm besides giving brilliant flexibility to engineers/developers. To stay ahead of your competitors, you can use outstaffing or Outsource Ruby on Rails Development. Additionally, don't forget to ask your development partner if their developers are remote, on-site, or offshore. This helps if you have a tight budget, time frame, and limited space.

Frequently Asked Questions (FAQs)