Quick Summary:
You already know Ruby on Rails is the ideal technology for building your next product success. However, you still want to figure out how to achieve your success at the earliest and by investing minimal and strong efforts.
This blog guides you through the right time to outsource and what things you should take into consideration when it comes to outsource Ruby on Rails development. We have also covered how you can choose the right and ideal offshore Ruby on Rails development company to partner with.
Introduction
We know that it is not easy to rely upon your senses without meeting, seeing, and knowing your outsourced development partner. But, technology and trust are the vital elements that build your business ethically strong and successful.
When we talk about outsourcing, entrepreneurs put their faith and risk in their vendors and thus expect exceptional results and outcomes.
In this blog, we have prepared a comprehensive guide that you should check and go through before outsourcing Ruby on Rails developers for your business. We begin with a checklist that your ideal offshore RoR developers must include in their resumes. Thereafter, there is a list of scenarios when outsourcing RoR development seems the right path and Why.
Let's explore the steps to outsource ruby on rails development and the do's and don'ts to consider.
Why Should You Outsource Ruby on Rails Development?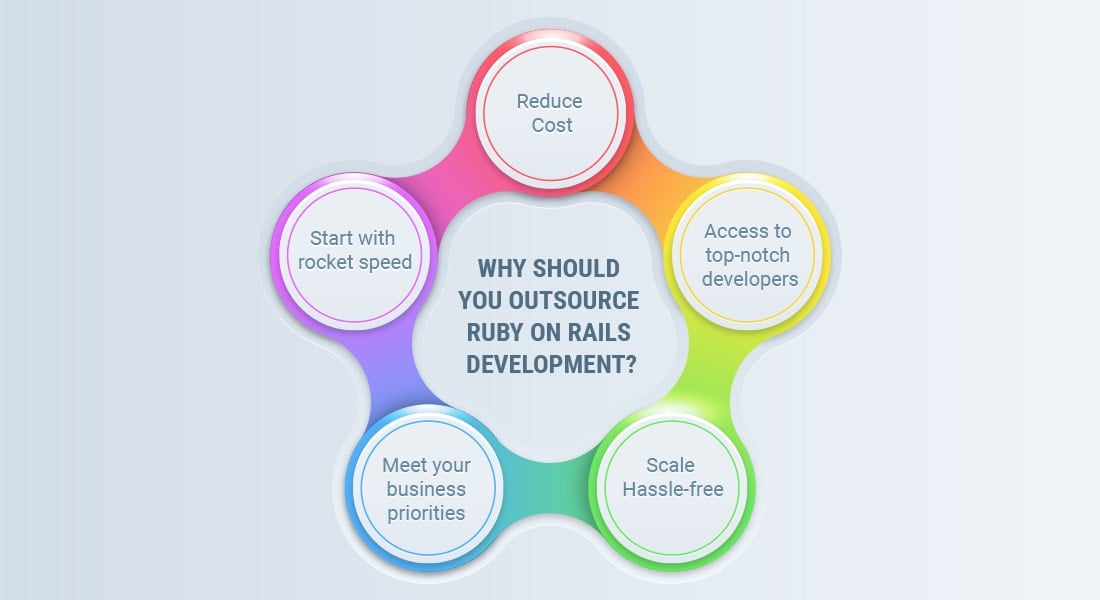 Reduce Cost
Working for outsourced developers denotes that you only pay for what you require, as opposed to full-time salaries. Based on where the staff is set, you may be eligible for lowering housing fees. Bear in mind that the company with which you collaborate must pay employees above or at market salaries in your area. Otherwise, your project's success may be jeopardized by high turnover or underqualified staff. What can be worse is, it could be a violation of human rights, which, aside from being unethical, could lead to customers abandoning ships and publicly criticizing you.
Access to Top-Notch Developers
The most obvious advantage of outsourcing complex technology tasks is that you are no longer restricted to candidates within the same region or within the same region.
Scale Hassle-free
In addition, access to talent will be increasing "on-demand." For firms that only want a VR developer for a single project, it makes no sense to hire a full-time professional or invest in a bevy of innovative tools.
Meet your Business Priorities
As you outsource ruby on rails development services to a remote offshore development partner, you get more time to invest in your business goals. You no more need to fury over developmental issues or management hassles.
Start with Rocket Speed
The partnered ruby on rails development company takes all your development burden on their shoulders and leaves you to focus on your business outcomes. They hit the ground running with their RoR expertise and hence resulting in faster development and better results.
Is it now time to aim for the bull's eye?
Outsource ruby on rails development services from us and build the next transformational web application for the world!
When Should You Consider Outsourcing RoR Development?
It is ideal to outsource RoR development project in the following cases.
Startups
Searching and employing technical experts may be a costly and time procedure. Because of its rapid development, RoR has become popular among startups. This methodology for building the Minimum Viable Product (MVP) allows you to swiftly release a product, onboard the first users, and begin iterating. Furthermore, the framework's library makes it suited for huge projects with complicated backends and large databases.
RoR is ideal because of its quickness and flexibility:
Meeting a tight timeline by delivering an MVP quickly
Managing a tight budget
Dealing with complex reasoning and writing fewer codes
MVPs (minimum viable products)
Ruby is the recommended language for developing MVPs that are both cost-effective and quick. Before constructing completely working apps, this language was frequently used to generate prototypes, propose changes, and verify numerous software iterations. Both RoR and Ruby were created with the goal of making development easier and faster. They're great for short MVPs or proofs-of-concept.
eCommerce Platforms
Many e-commerce websites use Ruby as their primary programming language. Because it can handle multiple transactions at once, Ruby's speed of expansion, adaptability, and price make it perfect for the job. For example, the RoR framework was used to create Shopify and Spree. RoR continues to be a common choice for eCommerce applications, notwithstanding Shopify's later transition to pure Ruby development.
Social Networking Apps
Due to its capacity to sustain traffic-heavy apps, Ruby is suitable for social networking applications. Twitter was formerly a RoR project. Currently, RoR is an excellent foundation for organizations to examine their ideas without committing to lengthy and costly development.
Platforms that Support Complex Databases
The world's greatest database websites, including analytical portals, and multi-platform portals utilize RoR. Two perfect examples are Bloomberg and GitHub.
Steps To Consider When You Outsource RoR Web Development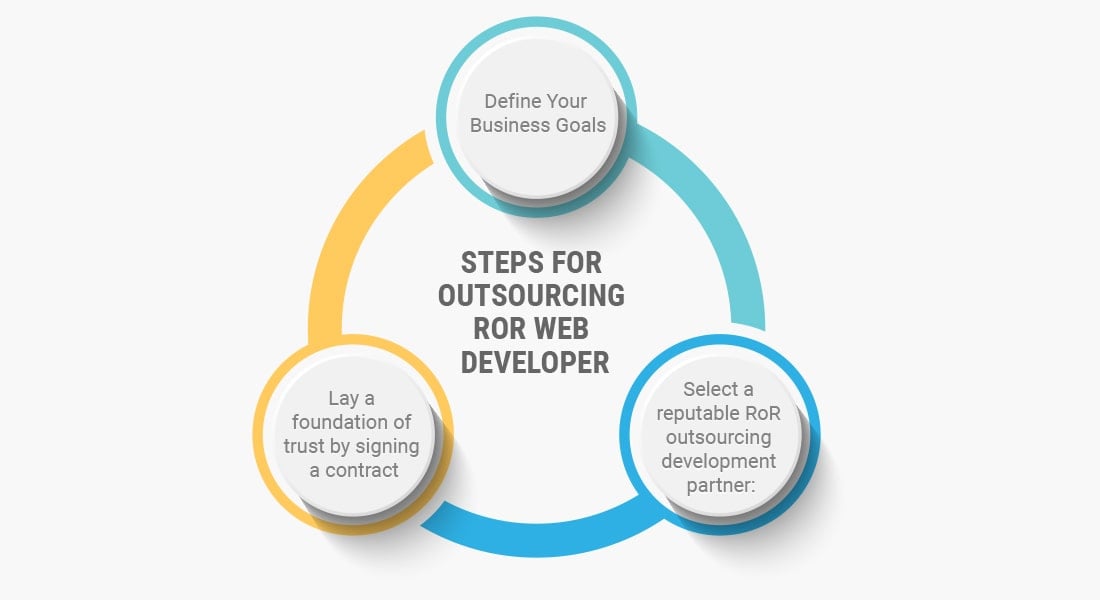 Define Your Business Goals
Firstly, you must comprehend the task ahead. It will assist you in selecting the proper vendor and collaboration approach. Ask yourself:
Do you have a problem but don't know how to solve it? Look for organizations that specialize in developing custom software.
Do you have a product vision and need to verify it, but aren't sure how to make it work? Look for vendors who provide a discovery phase.
Do you require additional engineering personnel? Consider outsourcing your IT.
Gather information and determine the scope of the task.
Every impactful project starts with meticulous preparation, clear goals, and feedback from all stakeholders. Collect needs, talk about timelines, the system's estimated expansion potential, and scaling capabilities. If possible, try to foresee future interaction with third-party software and company systems.
Select a Reputable RoR Outsourcing Development Partner
Here are some criteria that you should check before you outsource Ruby on Rails development to an offshore partner:
See that the prospect Development vendor holds rich experience, certifications, accreditations, and a wide portfolio of varied projects.
Have a look at their previous case studies to ensure their authenticity and trustability.
Read their testimonials and clutch reviews.
Ensure that they follow systematic procedures, Agile methodology is preferable.
Lay a Foundation of Trust by Signing a Contract
See that your partnered outsourcing Ruby on Rails development company signs a non-disclosure agreement (NDA) so that your authentication and privacy are protected.
The Do's & Don'ts of Managing an Outsourced Ruby on Rails Development Team
There are certain criteria that you should take care and take into consideration when hiring offshore Ruby on Rails developers.
The Do's of Outsourcing Ruby on Rails Development Team
1. You must have a clear vision
It's critical to have a clear picture of what you want to achieve before speaking with the software house (or houses) you choose to acquire a quote from. This will cut down on the time it takes to find relevant development teams and allow you to anticipate what they might not comprehend. It's not about the technicalities at this point, but about the project's business side.
2. Experiment with new approaches
Attempt to be open to working with the most up-to-date project management approaches. We understand that you're used to emails, but there are technologies that make controlling an outsourced Ruby on Rails development team much easier. Allow yourself to experiment with them to see what works best for you and your outsourced crew. You must also decide on an engagement framework to ensure you obtain the optimum results from both parties.
3. Do your homework
To acquire an estimate of how much your project will cost, look at similar projects. It will be difficult to create "the next Facebook" on a shoestring budget. Sure, you could start with an MVP, but it'll become evident quickly what you can get for your money and how much it'll Cost To Hire Ruby On Rails Developer.
4. Notify the Project Manager of any modifications
If your clients want you to provide something that is outside of the agreed-upon timeframes or project scope, you should consult with the Project Manager prior to coming to a decision. Because Ruby on Rails is a Model-View-Controller (MVC) framework, there will be no obstacles to overcome if you need to add new features or business logic to your program. However, only if you notify the development team/manager as soon as any change occurs.
5. Have faith in your project manager and technical team
Give the Project Manager and the team a vote of confidence in the development process. These are the individuals that will be in charge of completing the project and attempting to resolve issues as they arise. They always have your best interests at heart since they recognize that a successful partnership built on mutual understanding and trust benefits both parties.
The same may be said for the IT lead. They will never completely comprehend the commercial side of the firm. The best method to collaborate efficiently and effectively is to trust each other's abilities.
Want to ensure reliability and trust for your project?
Partner with us to turbocharge your entrepreneurial journey. The ideal Ruby on Rails Development Company Awaits you!
The Don'ts of Outsourcing Ruby on Rails Development Team
1. Never put the team's intellect in jeopardy
Even if you're having trouble with the team, don't try to minimize or downplay their intelligence. We are after all humans having feelings. Personal attacks, on the other hand, will not get you very far. Instead, take a deep breath, step away from the computer screen, and react after you've given the problem some thought and are ready to respond in peace.
2. Do not attempt to hasten the development process
Make sure to be patient while the development process is on. As is customary, the crew will deliver everything on time. If this is not the case, the Project Manager will assume responsibility and seek a solution to the issues that resulted in minor project timeline modifications.
3. Don't be too harsh on Ruby on Rails' expenditures
There are considerably more expensive tools/technologies on the market than Ruby on Rails. Traditional web development tools, for example, can cost a substantial fortune to get the same results, and your organization would be responsible for licensing charges. Rails is an excellent choice in this circumstance because it is free to use for both businesses and people. Furthermore, combining the framework with other open-source databases and servers, other tools, and operating systems, will result in a powerful development bundle, allowing your company's framework to adapt to it more quickly.
4. Don't expect more on a limited budget
If you're working with a limited budget, don't try to cut shortcuts because this will only add to your problems. In fact, this is one of the most common causes of project failure. To fit as many capabilities as possible into their restricted budget, business owners prefer to save money on testing, design, and security of their app, but this often leads to failure. It is usually preferable, to begin with, something less complex and gradually advanced.
5. Don't ask for more than you have time for
Don't constantly push the development team to their limits. Developers are people who put in a lot of mental effort to create and deliver what you want. Their work is both creative and taxing. Hence, even though what they created on the front end of the app appears simple, trust us when we say that the actual magic happened on the back end. also need to update your Ruby on Rails Mobile app development.
Roles & Responsibilities to Look For In an Offshore Ruby on Rails Developer
When you are planning to hire offshore Ruby on Rails developer, here are some of the characteristics that you should look into:
Should be well-versed with COC (Convention over Configuration) and DRY (Don't repeat yourself) development methodology.
Hands-on experience with TDD (test-driven development) and BDD (behavior-driven development)
Sound knowledge of cloud technologies such as Heroku, AWS, Engineyard, etc.
Expertise with AJAX and REST designs
Should be skilled at common libraries such as RSpec and Resque
Strong know-how of data structures, algorithms, and system designs
Exposure to databases- MySQL, MongoDB, PostgreSQL, SQLlite, and more
Good understanding of server-side templating languages such as Liquid and Slim
Familiarity with concepts of Mocking ,MVC, ORM, and RESTful
Interview Questions When Outsourcing RoR Developer of Your Choice
Here is a list of Q/A that you might want to test your offshore Ruby on rails developers before hiring them.
What are the Advantages of Using Rails?
Rails employ meta-programming to perform heavy lifting.
Active Record Framework allows you to store objects in the database. Using metaprogramming, the Rails version can detect the column in patterns and automatically tie them to your domain objects.
Ruby includes three default environments: testing, development, and production.
Rails may generate scaffolding or interim code automatically.
Rails rely on convention rather than configuration.
Built-in testing: This framework offers a type of code called harness and fixtures that makes writing and executing test cases easier.
What is the Difference Between Symbols and Variables?
A symbol resembles a string more than a variable.
String is mutable in Ruby, while Symbol is immutable.
Only one copy of the symbol is required.
In Ruby, Symbols frequently correlate to enums.
What is the Difference Between a Gem and a Plugin in Ruby?
A Gem is typically a piece of Ruby code that is installed on a computer. Any ruby programs running on the same machine can use it. Whereas, a Plugin is another type of Ruby code that is put in the application folder. Furthermore, it is only available for that particular application.
What is a Rails migration, and how do you make one?
Because of a version control system that keeps objects synced with the running code, Ruby can modify the database schema using Rails Migration.
To create a migration, use the following command:
C:\ruby\application>ruby script/generate migration table_name
How is String different from Symbol?
In general, Symbols are immutable objects, whereas Strings are mutable objects. Both String and Symbol have the same effect. However, they act in the other way. When you use them together, the main difference is in the memory, object id, and process tuning.
Describe how Rails implements Ajax?
The web page is retrieved from the server through Ajax. Ajax operation is implemented in Rails in the ways noted below:
Some trigger fires
The server is contacted by the web client
Clients will get a response/server starts processing
What is the Distinction Between Procedures and Blocks?
A block can occur in an argument list and is part of the method's syntax. Proc is similar to Proc, however, it is an object that can be saved in a variable.
Conclusion
With this, we come to the end of this informative guideline when you want to hire offshore Ruby on Rails developers. Go ahead and leverage the unprecedented benefits to outsource ruby on rails development.
Frequently Asked Questions (FAQs)
Netflix, Dribble, Twitch, Hulu, Airbnb, Shopify, and more companies are using Ruby on Rails in their tech-stack.
Rail is a mature framework, uses convention over configuration, it is best used when working in a strict timeline, has a variety of gems available, and is built on CRUD for massive databases.
The best part of outsourcing Ruby on Rails development is that you get under-budget development in the quickest time and at ideal rates.