Quick Summary:
Nowadays, enterprises utilize HRMS in several ways that include expansion of candidate reach, sticking to data regulations, enabling employer branding, etc. However, in this hunt to get hold of a perfect HRMS, it is likely to get lost in the vast ocean of accessible products. To get rid of this trap, it is important to get precise and in-depth knowledge about the HRMS market.
On that note, here's a guide that states the basics of HRMS along with several other vital features. Without more ado, let's get straight off to the topic!
Introduction to HRMS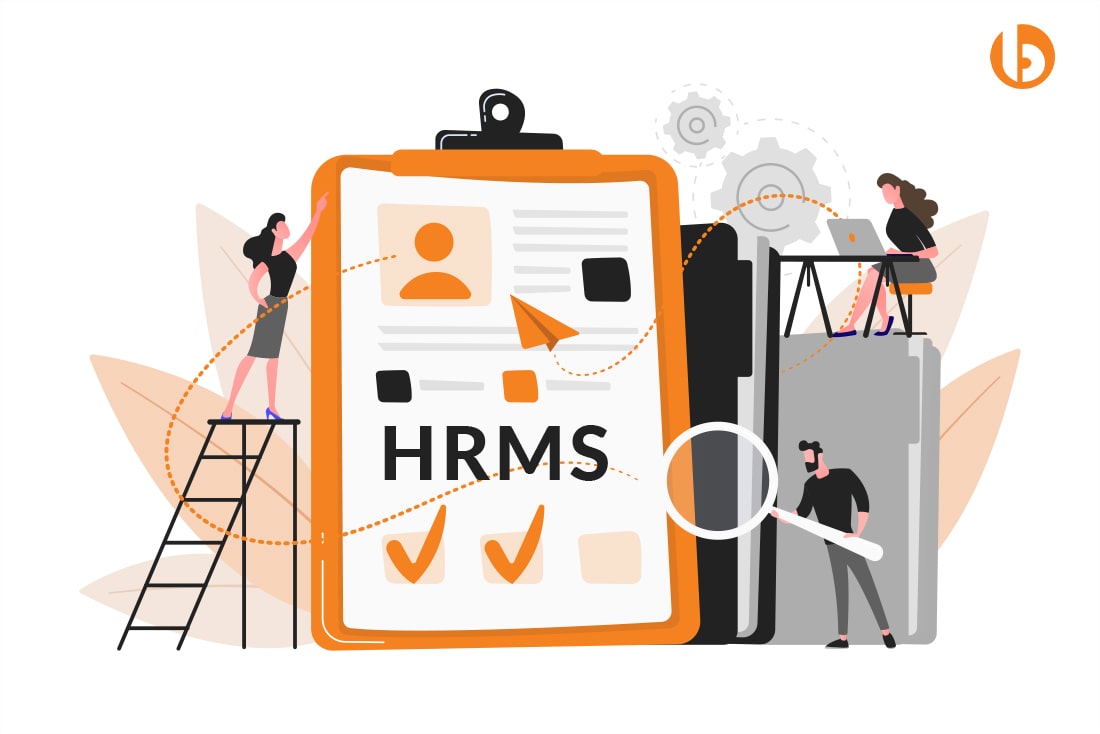 Considering the evolution of the digital world, HR professionals realized the need to indulge more in employee onboarding. With the team getting bigger, management becomes difficult and the struggle to get employee data becomes real which in turn drops the HR processes drastically. To eliminate this, HRMS was introduced. HRMS automates the monotonous HR workflows and allows them to focus on strategic tasks.
In the current era, Human Resource Management System (HRMS) is considered a vital component of any modern HR department. The hassle of recruiting, cultivating, and hiring employees is highly extensive to manage manually by several enterprises. On that note, here comes the HRMS.
HRMS is a robust cloud-based solution devised to render support to the HR department by reducing unproductive activities and time-consuming tasks by replacing them with automated solutions/software.
Gartner forecasts that around 46% of employees stay discontented and dissatisfied due to poor employee experience. To elevate employee satisfaction, enterprises are required to start fixating on how employees feel. To be more precise, usually, the life of HR involves posting jobs, tons of paperwork, calculating KPIs, etc., which can be automated.
Having said that, right from engaging new employees to retaining them, a robust HRMS helps enhance employee experience by allowing HRs to automate repetitive processes and concentrate on human and paperless work. This includes everything from scheduling interviews to interacting and engaging with employees, effective communication, e-signing documents, sending welcome gifts, etc.
On that note, here's a guide that states the basics of HRMS along with several other vital features. Without more ado, let's get straight off to the topic!
Explain Human Resource Management System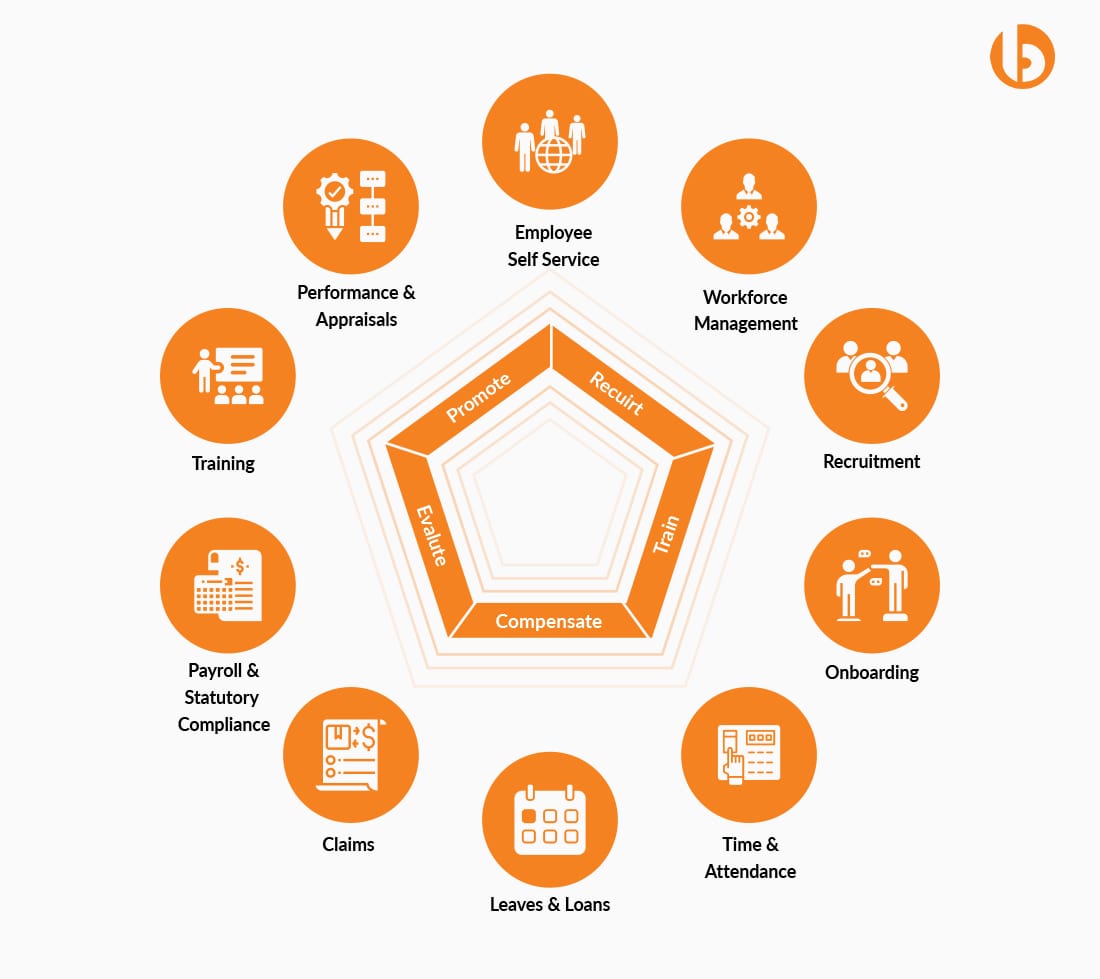 Also referred to as Human Resource Management System or Human Resource Management Software, HRMS is an excellent technology that allows you to concentrate on the employee relationships, activities, and satisfaction throughout the work-cycle. HRMS has several HR functions such as payroll activities, employee management, recruiting, and Statutory compliance connected with software technology.
Human resource management information systems hrmis assists HR professionals in automating the repetitive tasks included in HR workflows like parsing resumes, gathering and saving resumes, automating job postings, storing candidates to the talent pool, and offering an employee self-service portal, thereby elevating efficiency and business productivity. HRMS can also be described as a tool for engaging, appealing, and delighting employees throughout the employee life-cycle, thereby assisting HR in making fast, successful, intelligent, and effective decisions to focus on strategic business tasks.
When repetitive and time-consuming tasks are automated with HRMS, it frees up several employees of the organization. It enables HR to shift to retention, company culture, and high impactful fields.
What is the difference between HRMS and HRIS?
Synonymous with HRMS(Human Resource management system), another system is HRIS(Human Resource Information System). Although there are no exclusive differences between the two, it is the branding that distinguishes.
Few notable variations among both are,
HRMS
HRMS is considerably strong and comprises both HR and IT management technology.
Dealing with similar information as HCM and HRIS, HRMS additionally deals with non-quantitative information regarding applicants and employees.
Few of the unique HRMS features involve employee satisfaction, profitability, onboarding, analytics, job performance, etc.
HRIS
HRIS is destined to track employee information and numerical data like employee SSN or schedule.
HRIS assists HR departments to direct their policies, people, and procedures.
HRIS tasks involve training, workflow automation, reporting, compensation, data tracking, recruiting, accounting functions, and benefiting administration.
Why does your Organization need HRMS Software?
There are certain essential aspects that are generally unnoticed in an organization. Go through the following concepts to understand why your organization needs a human resource management system software.
1. Data security and Smooth accessibility:
Your organization becomes vulnerable to experiencing leaked data and resources with file cabinets. Implementing HRMS helps you store employee data digitally, thereby making it secure.
2. Efficient tracking of leave and attendance:
Cuts off the manual tracking and welcomes error-less and accurate tracking of employee attendance.
3. Run error-free payroll:
With the HRMS payroll module, gone are the days when incorrect attendance and payouts could expose you to heavy fines.
4. Enhanced Experience:
Improve employee experience with user-friendly HRMS.
5. Savings:
Save tons of money invested in staffing costs and redeploy your staff on better strategic projects.
6. Robust Decisions:
Make better and timely decisions to increase the credibility of HR.
7.Utility:
Better use of HR team and time by cutting down on time-consuming tasks.
8. Automation:
Improve your employee experience with automated tasks.
9. Futuristic:
Analyze the present scenario, generate reports of paid taxes, employee performance, payout disbursed, and take positive and impactful decisions.
Read our Human Resource Management Case Study With Solution and then decide to make a similar solution for your business.
Read Now
Common Functions of HRMS Systems
Generally, the common functions of the HR department include tracking skills, abilities, employee histories, accomplishments, and salaries. Restoring certain processes with several levels of HRMS systems can split information management responsibilities designated strictly to the HR. When employees are allowed to perform several tasks and update personal information, HR professionals don't sink in the bulk load. The information updated remains more accurate.
Every module in the HRMS presents disparate functions. This helps in tracking and collecting information. To be more precise, suppose the hiring process is performed by the recruitment and onboarding module, and employee performance/growth is evaluated by the performance evaluation and management module.
These HRMS modules facilitate:
★ Recruitment and onboarding
★ Managing payroll
★ Beneficial for administration
★ Employee scheduling
★ Evaluating performance
★ Analytics and knowledgeable decision making
★ Learning management
★ Keeping a record of attendance(present and absent)
★ Collecting, storing, and retrieving employee information
★ Employee self-service
Benefits of Human Resource Management System
If we talk about the advantages of human resource management system, there are plenty of advantages to your organization. Let's have a look at a few:
Possessing HRMS Software manages HR activities and creates room for success.
It can assist startups, small-scale, as well as large-scale organizations in multiplying their productivity and growth.
Employees can manage several desk tasks related to the input of their distinctive information.
It has rendered assistance in breaking down bureaucracy thereby flattening several organizations.
It tags in-built security along with authentication measures that limit access to the authorized users and safeguards the company data.
Through a human resource management system software, organizational heads can organize automated emails and reminders.
Maximum HRMS platforms enable users to personalize the workflow to the requirements of their business thereby achieving the best user experience.
How to select good HRMS?
If you wish to save yourself time, money, and headaches, consider these tips before selecting any HRMS. Keeping these tips in mind will help you select a good HRMS.
Study the HRMS market precisely. Ensure keeping your business needs in mind while purchasing. Evaluate each available software, analyze your needs, and select the ideal one that best suits your requirements.
Introduce the system to your IT specialists. Allow your IT experts to evaluate the systems. As they note down the merits and demerits, you can proceed with purchasing by shortlisting the software vendors according to your expert's feedback.
Ask for a demonstration of the software to the vendor. By demonstration, make sure the vendor illustrates the performance of the software along with offering you a trial version to get firsthand experience. For best practice, request your HR staff to operate the software and give a precise review.
You will find a complete split for HR functions along with project-wise solutions. Assess them for a complete and project-wise solution. Regardless of what you want, make sure to research the features present in those systems with a time-sheet module.
Go for the HRMS that fits your budget. Although there are tons of HRM software, it is best to stick to your budgetary planning.
On that note, another excellent factor to consider is to check if the software you have selected owns a longstanding and robust business profile in the HRMS market. Alongside, check-in with their existing clients for honest and accurate reviews.
Conclusion
Human Resource Software can be a profuse topic for the HR team. Hence, the combination of processes and systems that link HRM and IT management through HR software introduces a robust HRMS solution. The future enhancement of the human resource management system is bright. The ideal objective of HRMS is to focus on providing a better and quality experience/work environment to employees, thereby retaining and offering them a long-term employment opportunity.
If you wish to go for Human Resources Management System Development for your organization, then Bacancy Technology is the best Custom Software Development Company for your consideration.
Frequently Asked Questions (FAQs)
Name the types of HRMS
Here are the different types of HRMS software based on your specific necessity:
Payroll
Personnel Tracking
Applicant Tracking
Time & attendance
Compensation Management
Performance Management
Onboarding
Benefits Administration
Learning Management