Quick Summary:
"Today the majority of businesses struggle to unleash the power of their key assets – data and people. Besides, data continues to increase in size and richness. For instance, 95% of the world's data was created in the last two years. Thank God! We have Tableau – otherwise, there would be 'Lots of Data and No Insights'. If you are planning to hire a Tableau Consultant, this blog is specifically for you. Understand what Tableau is, what skills are needed in a Tableau consultant, how to hire, and what it costs to hire a Tableau consultant."
Table of Contents
Introduction
We foresee the struggle to unify disparate data sources. We feel the pain of data failing to tell a story.
Do you think the same?
You should try hiring a Tableau consultant! They can help you grow, beat the competition, and plan to achieve your desired goals.
Do you want to know how they can help your business?
Below is a detailed guide you can follow to hire a Tableau consultant and make your data impactful. But first, let's enhance your knowledge of Tableau and why it dominates the business intelligence industry.
Tableau is a Data Visualization Tool
For almost two decades Tableau has been helping businesses to see and understand data in every aspect. In fact, with every new release, Tableau brings something innovative and exciting to the horizon of business intelligence. It is because Tableau made everyone speak about actionable data, analytics advantages, and data visualization.
What is Tableau?
Tableau is the most efficient, scalable, and powerful data visualization tool in the business intelligence domain. It offers the safest and most innovative way to simplify raw data. Due to its easy user interface, people with no technical expertise or programming skills can efficiently operate it. Tableau has an incredible capability to generate dashboards and visually represent data insights in the most appealing and easily understandable manner. Besides, it gives the flexibility to create personalized dashboards aligned with companies goals.
Skip to :-
Skills to Look For While Hiring a Tableau Consultant
How to Hire a Tableau Consultant in 2022-23?
Cost of Hiring a Tableau Consultant
Salesforce, a market-leading Customer Relationship Management platform, acquired Tableau In 2019.
Tableau Products
Tableau offers many products under its umbrella, categorized based on their capabilities and functionalities.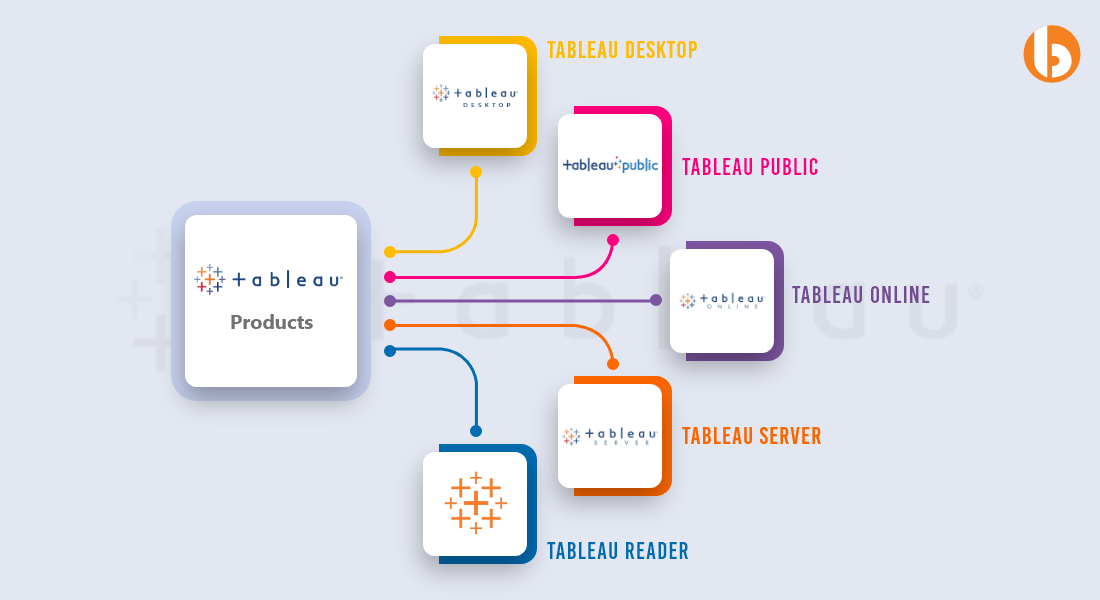 Tableau Desktop
Tableau Desktop is one of the top preferred Tableau products due to its rich features and functionalities in designing and coding a customized report. It is used for everything, from creating charts and reports to blending them in the dashboards. Tableau Desktop is further classified into a paid version – Tableau Desktop Professional and a free version Tableau Desktop Personal.
Tableau Public
Tableau Public is the most cost-effective version made available by the public for the public. It restricts users from storing dashboards locally. All reports and dashboards need to be uploaded to the Tableau Public Server. The Tableau Public Server gives free access to these dashboards to anyone and everyone. It is the best version for people interested to learn Tableau or interested in sharing their work with others
Tableau Online
Tableau Online is an online version of the tool offering similar functionality to that of the Tableau Server. However, the data published by Tableau Online users get saved in cloud-hosted servers maintained by Tableau. It does not have any storage space restrictions.
Tableau Server
Tableau Server is used by licensed and free Tableau Desktop and Tableau online users to publish and share their work. Publishing your work on Tableau Desktop before sharing it in Tableau Server is mandatory for all its users. The work published in Tableau Server is accessible to licensed users only.
Tableau Reader
Tableau Reader is a free tool. Anyone interested in enhancing their data visualization skills can use it to view and download dashboards and reports published by other users on Tableau Server. Tableau Reader allows filtering of the available data for easy search but restricts editing or modification in the published work.
The following section discusses the skills and expertise to look for while hiring a Tableau consultant. If you are confident about the requirement. You can skip the section and go directly to the next section – the cost of hiring a Tableau consultant.
Skills to Look For While Hiring a Tableau Consultant
Now is the right time to explain the skills possessed by a seasoned Tableau consultant. But before we start, you must know that Tableau skills are categorized into two parts – Technical and Non-technical.
Technical Skills Required in a Tableau Consultant
You must focus on some technical skills before hiring a Tableau consultant.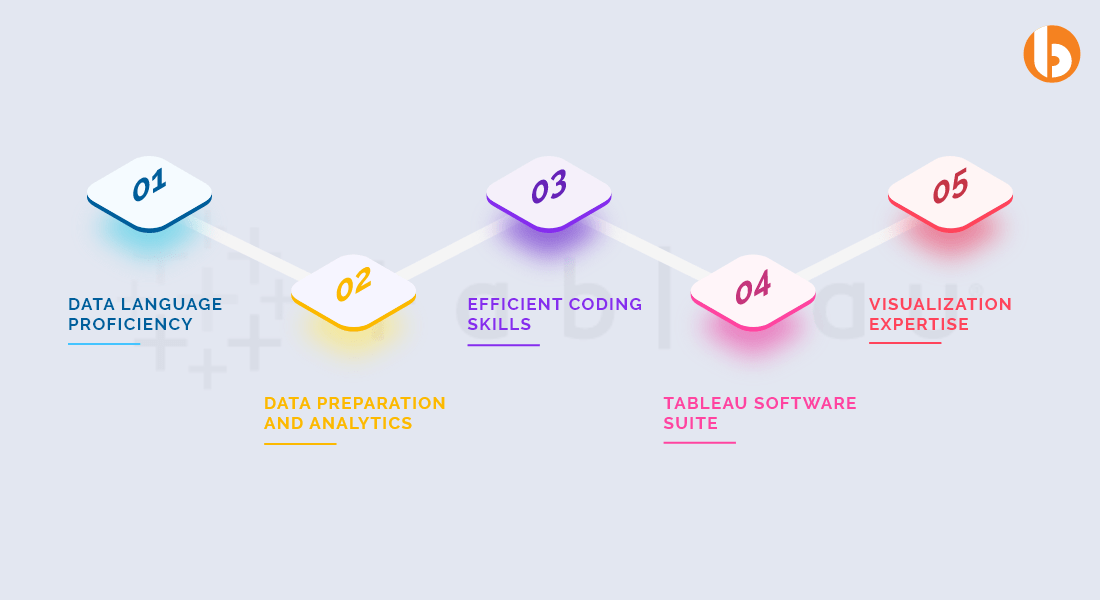 Data Language Proficiency
Speaking Data Language is the primary skill possessed by Tableau consultants.
A Tableau consultant must be proficient in identifying different data sources to analyze the visual representation insights.
Ability to employ different data collection methods to unify multiple data sources and create a repository for data collection.
Knowledge of data lakes, data warehouses, data sets, and data aggregation.
Hands-on experience in data architecture, modeling, mapping, analysis, and data visualization.
Data Preparation and Analytics
Ability to identify the necessary data and all its associated repositories.
Skills to import structured and unstructured data into one repository for proper data validation.
Prefer a Tableau consultant proficient in data cleansing using manual and automated processes.
Data formatting is another must-have skill in a Tableau consultant. He should be able to overcome challenges such as inconsistent data types, and similar data variables so that cleansed data can be formatted.
A Tableau consultant must know about data warehousing to merge, split, and join cleansed and formatted data sets and lead them into the staging area.
Data Analysis using Tableau is another level of skill set that you must check before hiring a Tableau consultant.
Efficient Coding Skills
The Tableau Consultant should have good business intelligence and data analytics knowledge.
Sound knowledge and prior experience in working with Excel, PL/SQL, and ETL.
Working knowledge of RDBMS systems and a good understanding of SQL BI.
It is advantageous for a Tableau consultant to know other BI tools like PowerBI, SAP Analytics, and Ticketing Systems.
Prefer hiring a Tableau consultant competent in SSIS, SSRS, SSAS, and SQL Queries.
Visualization Expertise
Bespoke skills in designing and developing data visualizations or dashboards and reports.
Competency in using DHS Program datasets and APIs to transform data insights into intuitive dashboards and visualizations.
Ability to apply effective best practice design principles to data visualization to illustrate and highlight essential elements from actionable data insights.
Exceptional skills in visual analytics using charting, dates, table calculations, and mapping.
Ability to build a Viola Chart, develop advanced Hexbin Charts in Tableau., and implement Hamburger Menu functionality in Tableau.
Tableau Software Suite
The Tableau consultant must possess technical expertise in the Tableau environment.
Ability to efficiently implement, integrate, customize, and deploy all Tableau Products and versions, including Tableau Server, Tableau Public, Tableau Online, Tableau Desktop, etc.
Skilled to keep pace with the Tableau Cloud and Tableau Architecture.
Nontechnical Skills Required in a Tableau Consultant
Keep reading if you wonder whether a Tableau Consultant needs nontechnical skills. You will understand why it is necessary to gauge nontechnical skills before hiring a Tableau consultant.
Here are some of the nontechnical skills that must be present in a Tableau consultant.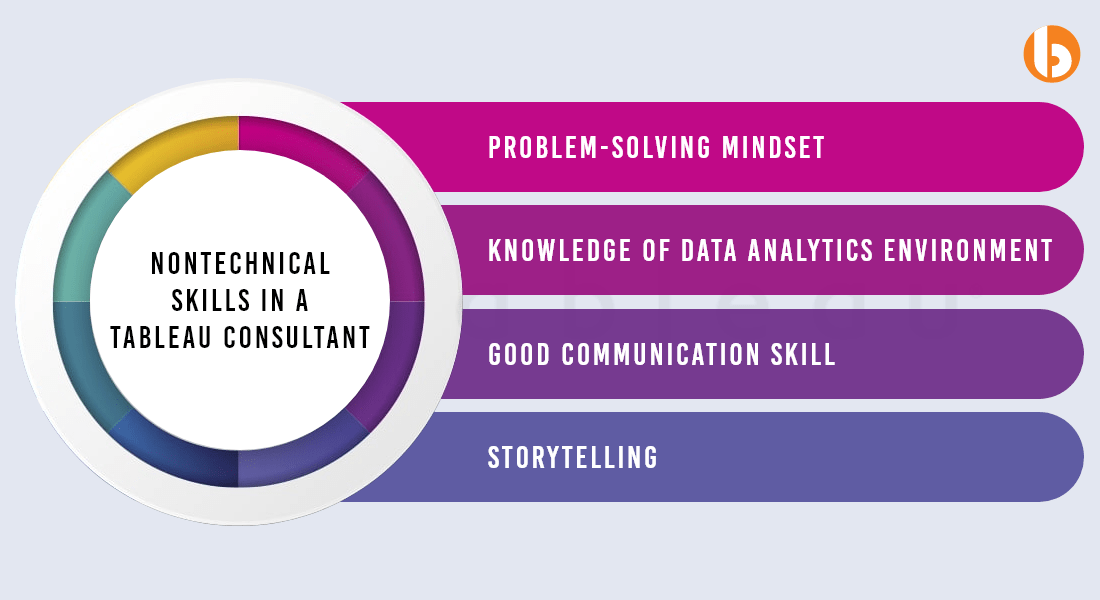 Problem-Solving Mindset
Problem-solving ability is one of the essential skills required by every organization in each job role. Tableau is easy to learn but complex to implement. Tableau consultants must be prepared to solve ingenious problems using the platform. Problem-solving mindset helps Tableau consultants from data collection and cleansing to data analysis and visualization.
Knowledge of Data Analytics Environment
Knowing how to unify data sources is not the ultimate skill, but the Tableau consultant needs to know different data types such as Floating point, Boolean, String, Enumerated type, character, date, etc. He should have clear data-handling concepts and must see the big picture in data sets.
Good Communication Skill
Data visualization is all about using data insights to make an impact. Although communication is crucial for every job role, a Tableau consultant can communicate data insights effectively only when he has good communication skills. Using their communication skills, they can understand the feedback and work on it to ask the right questions to the data.
Storytelling
When hiring a Tableau consultant, you want to uncover the stories hidden in your data. Tableau is primarily a data visualization tool, and a Tableau Developer must effectively communicate the story in every data. A Tableau data visualization expert must be capable of slicing, dicing, and drilling down into data insights for effective presentation and engaging data visualization.
How to Hire a Tableau Consultant in 2022-23?
Tableau has always been the top business intelligence tool. According to Slintel, Tableau has a 17.67% Tableau has a 17.67% market share, and about 6,5190 worldwide companies use Tableau for their BI and data visualization needs.
Hiring a Tableau consultant is often a complex task. An experienced Tableau consultant with fundamental skills is hard to find. If you want to know how to employ a Tableau consultant to strike a balance between an analytical and creative mindset, keep reading.
Full-Time or Part-Time
Your search for a Tableau Consultant often depends on what kind of project you have. If you want someone for a shorter period or if you think your project does not demand in-depth expertise or time, you can go for hiring a part-time Tableau consultant. Otherwise, if you want someone to manage your Tableau project and your team, you can hire a full-time Tableau consultant. Either way, you can opt for a freelancer or hire a Tableau consultant hourly.
There are too many freelance and consultant listing websites available online, using which you can hire the Tableau consultant to justify your needs.
Project-Based Resource
It would help if you had a specialized and well-skilled Tableau expert when you have specific deliverables. Hiring a project-based resource or augmenting a Tableau consultant to strengthen your team and finish your project is the best option for hiring a Tableau consultant. In this case, you either need to onboard a Tableau Consultant by fulfilling all candidate screening requirements or look for companies offering Tableau consultants on hire.
Some reputed companies have vetted and pre-screened Tableau consultants ready to work for you on a fixed cost or project basis.
On-Shore or Off-Shore
Hiring an offshore Tableau consultant benefits those with budget constraints but well-aligned project specifications. Most companies prefer offshore consultants due to dollar arbitrage, dedicated resources, and a fully legal Statement of Work. When you pick a near-shore consultant, the only leverage you get is that the hired consultant works in a similar time zone.
Again, there are many Tableau consulting firms offering dedicated Tableau consultants to work on your project. You can hire Tableau consultants from them for hourly, monthly, project-based, or offshore engagement models.
Now, we have discussed different ways of hiring a Tableau consultant. If you want to understand the costs of hiring a Tableau consultant, then keep reading.
Cost of Hiring a Tableau Consultant
Let's get acquainted with a fact, whenever we want to know how much it costs to hire a specialist – there is always a standard answer – "It depends."
Before considering the cost of hiring a Tableau consultant, we must presume that 'It depends.' It depends on the scope of the project, the expertise you need, the time duration, the complexity of the project, and so on. Yet we will present to you the researched and approximate costs for hiring a Tableau consultant.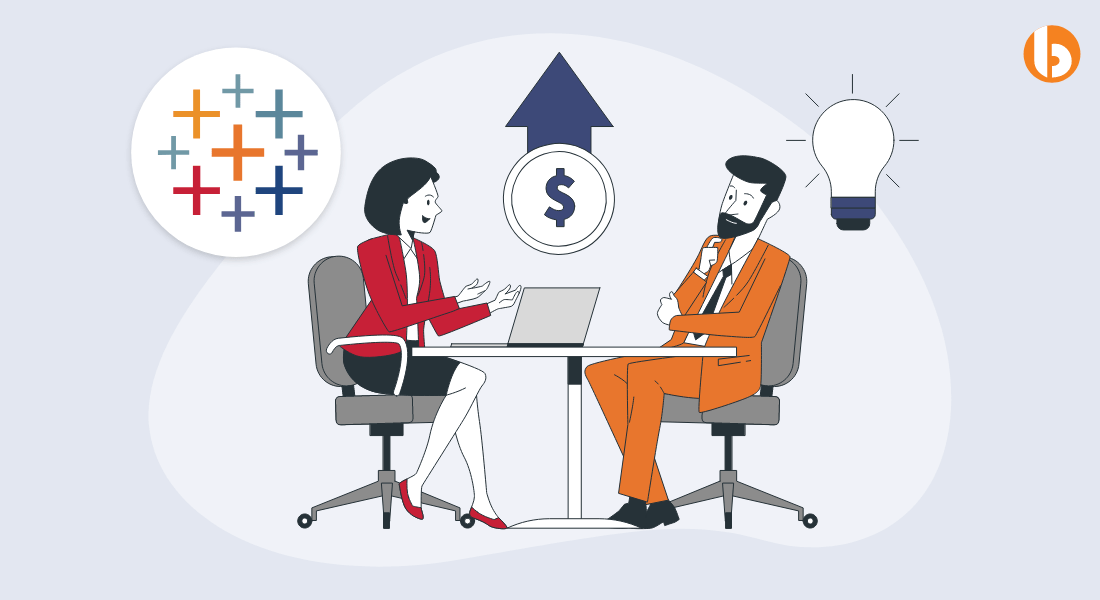 Let's start with a rough figure: A Tableau Consultant would cost you anywhere between $10 to $500 per hour.
Freelance Consultants
There are too many platforms from which you can hire freelance Tableau consultants. These freelance experts have varied skills and varied prices. It is hard to understand their technical expertise and complete dedication, yet you might find true gems if you are lucky.
The cost of hiring a freelance Tableau Consultant is anywhere between $30 to $65 per hour.
Contractual Consultant
You can hire a Tableau consultant on a contract basis to join your team and work for a specified time. These consultants will work with you until you need them and be a team player, just like other team members.
Hiring a Contractual Tableau Consultant costs $50 to $140 per hour.
Tableau Superheroes
If you want someone at the top of the Tableau platform, you can think of hiring Tableau Superheroes. These people are Tableau Zen Masters and possess almost all the above skills (in fact, more than that). A limited number of Tableau Superheroes in the world are ready to work for you at the highest dollar (sometimes 20 times more than your existing employees).
You can hire Tableau Superheroes for more than $200 per hour.
Consulting Firms
You have many options if you plan to hire a Tableau Consulting Company rather than an independent Tableau Consultant. A Tableau consulting company delivers exceptional expertise in data architecture, data analysis, data visualization, and Tableau.
The cost of hiring a Tableau Consulting Company is somewhere between $30 to $70 per hour.
NOTE – The costs mentioned above are approximate and based on our research of different online resources. The actual cost of hiring a Tableau Consultant depends on various factors and subject to change.
How Can Bacancy Help?
Bacancy is a leading Data Science consulting company having a team of vetted data scientists, data engineers, data analysts, and data visualization experts. Bacancy helps you find top Tableau consultants, data visualization experts, and developers. You can hire Tableau consultants from Bacancy for part-time, full-time, project-based, and offshore engagement.
Whether you have a short-term staffing need or a full-fledged Tableau project, Bacancy's diverse pool of remote, global, and in-house Tableau Consultants will match your requirements.
Contact us to hire faster and better Tableau Consultants.
Frequently Asked Questions (FAQs)