Last Updated on September 9, 2020
If you are planning to build a website using a Content Management Site, the biggest dilemma that might hinder you would be choosing the ideal CMS. Drupal Vs Joomla Vs WordPress are the most debated options for the title of best CMS.
You might want to know each one of these CMS's upfront details before you select the ultimate one. In this blog post, I will capture a brief about Drupal, WordPress, and Joomla, along with their similarities and differences. Next, I will also focus on the industries or types of businesses suitable for development using each CMS platform.
Table of Contents
1. Brief Introduction
2. Similarities between WordPress, Joomla, and Drupal
3. Table of Comparison
4. Comparison of the three CMS platforms
5. Business Suitability
6. Companies using CMS platforms
7. Wrap Up
Introduction
As we start with knowing these platforms one by one, we must first understand what kind of platform Drupal, WordPress, and Joomla are actually.
What is a CMS Content Management System?
With the help of a content management system CMS, you can create your website even if you have minimal HTML, CMS, and coding knowledge. You can add content to your website, modify it, edit the content's look and feel font & styling, and manage the content using such CMS.
Generally, an enterprise content management takes place using CMS, where multiple users manage the website's digital content collaboratively. Document management, record retention, and digital asset management, etc. comes under content management department.
The most common features in a CMS are:
Intuitive indexing
Search and retrieval
Revision control
Format management
Publishing
More advanced content management systems may include additional features for advanced level improvement if digital marketing like SEO-friendly URLs, discussion boards, integrated group-permissions, template support, multiple language support, wizard-based installation and versioning, content hierarchy, file management, audit logs, and much more.
What is Drupal?
Drupal is an online content management platform that is open-source and avails several plugins for root file editing. Dries Buytaert released Drupal in 2001, which is the first amongst the three. With the Drupal content management system, you can build a stable, performant, and customizable website.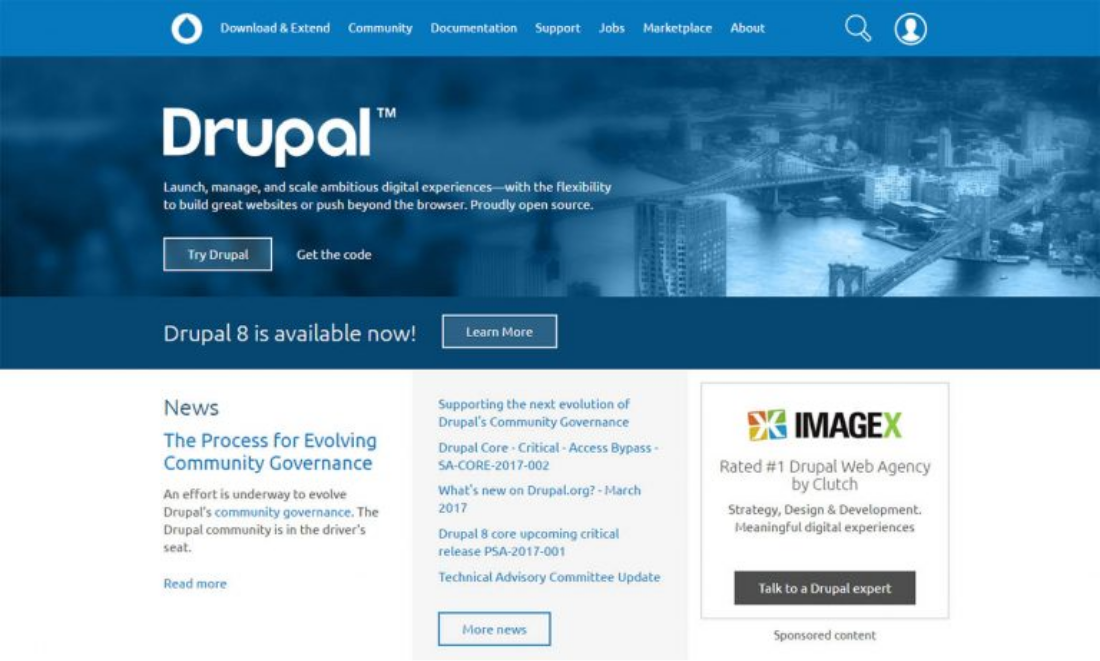 Key features of Drupal are:
Simple & secure webpage creation for forms, views, and panels.
Attractive customizations
Core code- easy and clean
Multi-domain management
Built-in site management
Themes and modules available
What is WordPress?
WordPress started as a blogging place and has now become the world's most renowned Content Management System. Matt Mullenweg introduced WordPress in 2003, and in a few months, it turned into a completed CMS.
Today, several non-coding professionals from across varied industries use WordPress for blogs, government websites, eCommerce platforms, etc.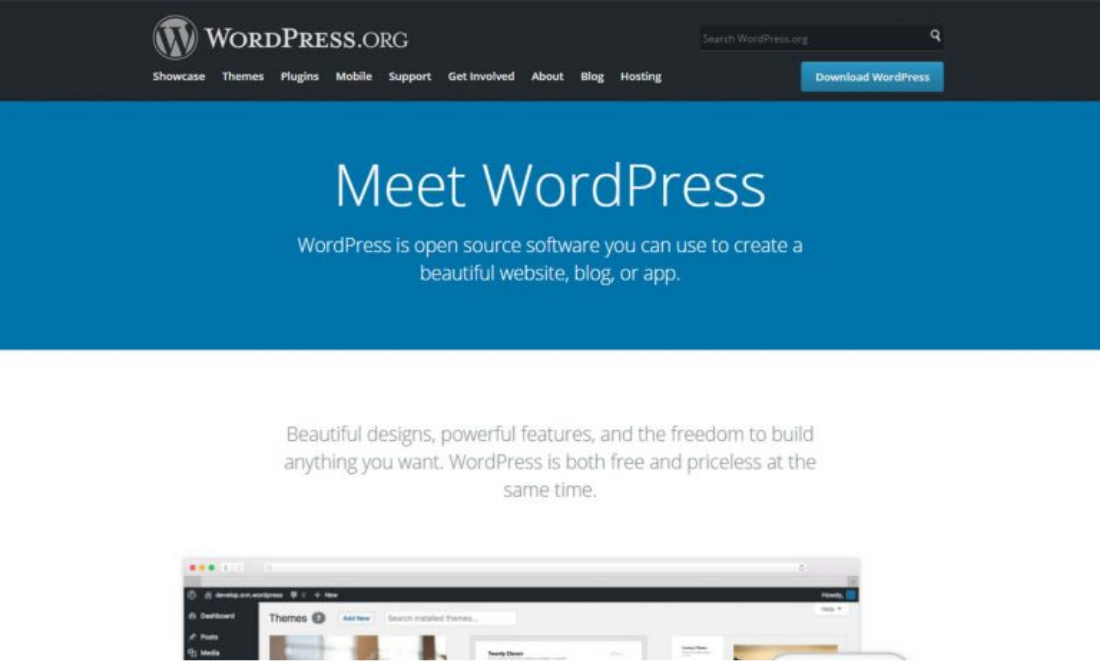 Key-features of WordPress:
Beginner-friendly CMS with no-coding skills requirement
Largest community with themes and plugins available
Fantastic plugin architecture
Easy availability of professional developers
WordPress hosting & self-hosting
Fast development cycle
Backward compatibility
Fast installation process
What is Joomla?
Joomla is yet another CMS that helps to build a business-oriented website and is free to use. An Australian company rebranded the Mambo CMS in 2005 as the first version of Joomla. Compared to the other two, Joomla is still new, and yet it is gathered immense community support.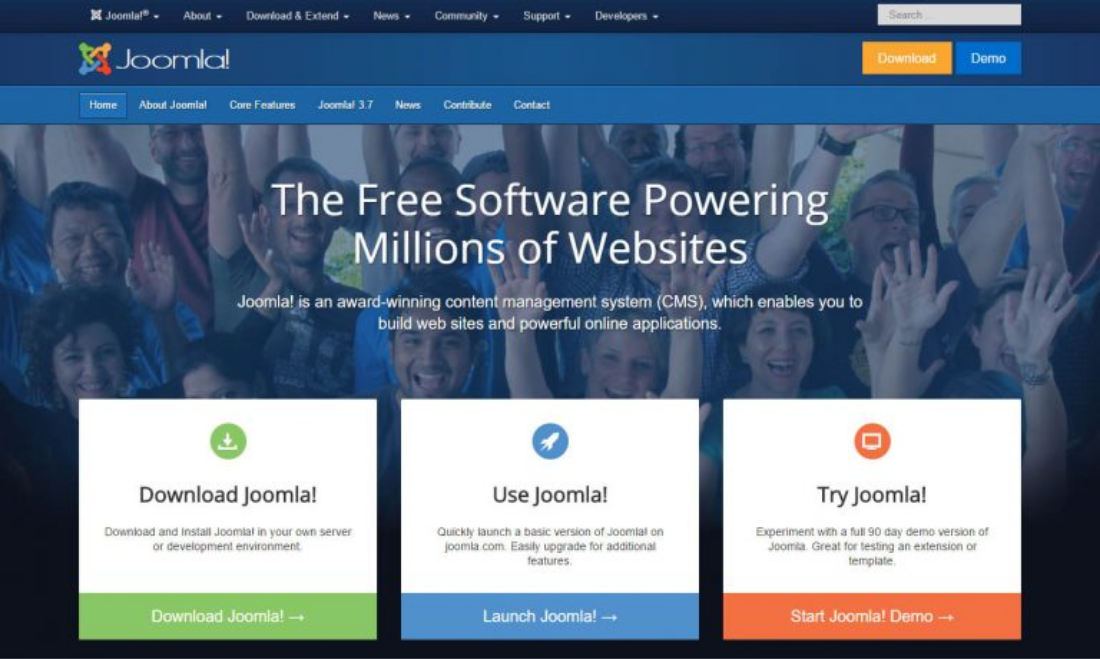 Key-features of Joomla:
Easy-to-use admin panel
Preview configuration pre-installation
C-panel installation needs no technical support
Complex functionality
Highly suitable for multi-user university sites
Reliable and user-friendly admin interface
What are the Similarities between Drupal, WordPress, and Joomla?
Before we start the comparison and distinction amongst the three CMSes today, let us find out the common factors that are similar in them.
Open-Source:
All these three content management systems that we are comparing- Drupal, Joomla, and WordPress are free and open-source. So you can willingly download these software applications, modify them as per your needs, and use for free. GPL has licensed them all.
Community:
The developers, designers, trainers, volunteers, and users using these content management systems make up the vibrant community for development and support. These communities help the CMS to grow and strengthen by sharing their knowledge, solving user-issues, and attending/organizing events.
Programming Language:
Drupal, WordPress, and Joomla, all three CMS are developed in PHP language.
Database:
All of them use the MySQL database management system. Drupal and Joomla do use other DBMS, but WordPress solely relies on MySQL.
Design:
To enhance websites' visual appearance, all these three CMS use templates and themes to create beautiful designs.
Functionality:
WordPress, Drupal, and Joomla use modules/plugins/ or extensions for additional features in building your website.
Now, let's move forth to the comparison table of the CMS.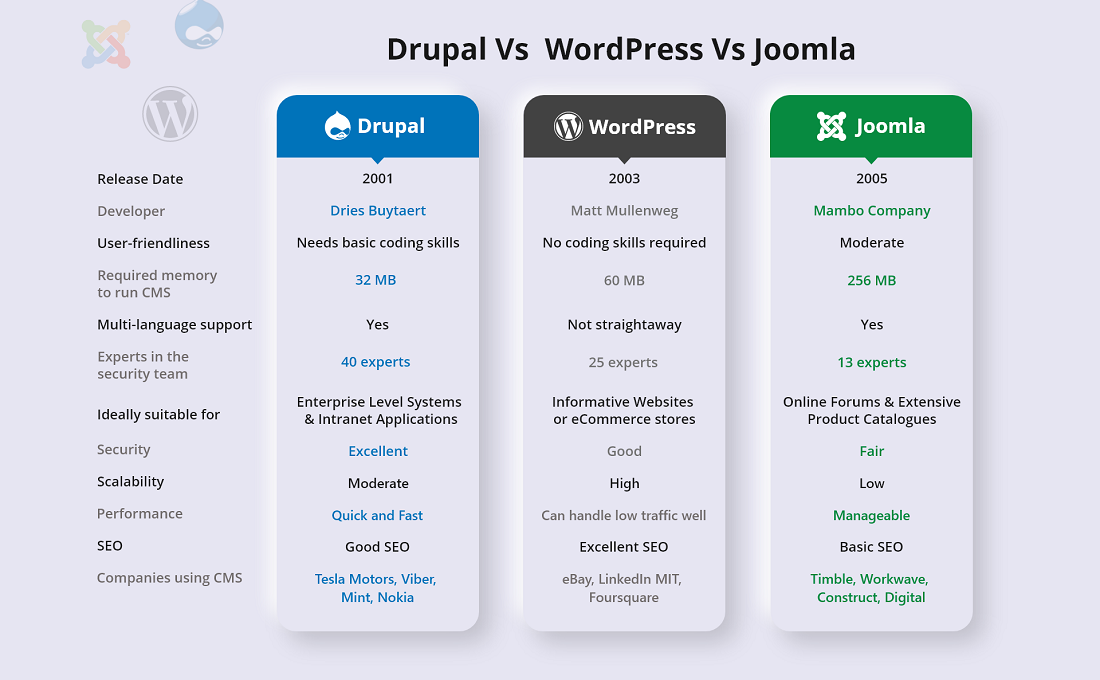 Points of Comparison for Drupal Vs Joomla Vs WordPress 1. Ease of Use
Every business belonging to any industry needs to have an online presence to sustain in the market. A content management system helps you in that manner without much hassle. You can easily build a website without coding skills.
Drupal: Drupal enables easy one-click installation and a clean dashboard with intricate functionality. The dashboard contains menus for content, structure, appearance, extend, configuration, people, reports, and help menu. Though it has limited features, the core of Drupal CMS ensures security and strength. However, the extensive flexibility of Drupal CMS targets developers and not beginners.
WordPress: With a single-click install option, WordPress provides a user-friendly dashboard. The significant sections available in the panel are updates, comments, appearance, plugins, users, tools, settings, collapse menu, posts, and pages. WordPress is the most suitable and ideal CMS platform for beginners.
Joomla: Like the other two, Joomla has even got the easy one-click install option and just needs your website's configuration. Joomla's control panel consists of structure, content, users, extensions, configurations, and maintenance sections. Other than these options, it avails sidebar menus, components, and banners for additional functionality. It can be complex and challenging to manage your website if you are a fresher.
Verdict: Drupal is the ideal choice of CMS for your website development if you have the necessary coding skills or developers.
2. Themes and Add-ons
All three CMS platforms use themes and templates for design, and modules, plugins, and extension for additional functionality.
Drupal: There are 2000+ themes in the Drupal repository. Apart from these, there are 450+ premium ThemeForest themes and 37000+ official Drupal modules.
WordPress: WordPress provides 4500+ Official themes available for free and 9500+ premium themes from ThemeForest. Moreover, there are 50000+ free plugins available and thousands of paid ones.
Joomla: There are quite lesser free theme options in Joomla CMS as compared to Drupal and WordPress. It has 950+ premium Joomla templates and 7500+ official extension, both free and paid ones.
Winner: In this case, WordPress is a clear winner with easy themes and add-ons available from its repository. However, if your website has custom design requirements, Drupal is the best CMS with coding skills.
3. Support options
The most influential advantage of having a CMS with reliable community support is that you an anytime get the help and support for your website development and further maintenance.
WordPress: The vibrant support group of WordPress is available on docs, codex, Slack channels, WPBeginner Facebook group, and Stack exchange. Entrepreneurs can easily find WordPress developers from UpWork, Fiverr, Codeable, etc.
Joomla: Joomla users get assistance by joining forums, mailing lists, support groups, and training workshops.
Drupal: Drupal has got extensive community support via its exclusive documentation, IRC chat rooms, user groups, mailing lists, and more.
Finale: Well in this section, WordPress wins the cup of having the most fantastic community.
4. Localization
With globalization, every business aims to network on the global markets, and multi-language support on your enterprise website is a non-negotiable must.
WordPress: WordPress supports 57+ languages and provides additional plugins for localization.
Joomla: Joomla avails out of the box language and translation assistance without any additional extensions.
Drupal: There is built-in language support in Drupal so that you can manage non-English languages.
Winner: In this case of language-support, all the three CMS platforms stand equal. There's a tie.
5. Security
Security is the core purpose that you should consider before selecting your content management system.
WordPress: There high chances of WordPress sites to get vulnerable to attacks because of its fame and popularity. However, it is built on a secure code with an auto-update mechanism whenever any security leak is observed.
Joomla: Same as WordPress, Joomla follows security practices at its best, but maintaining a website is still upto the user.
Drupal: Drupal is the best CMS platform for security constraints. It works on the security of your website and discovers and patches the flaw whenever required.
Finale: Drupal wins the title of the most secure content management system.
Which one to Choose?
As you saw in the above section of comparison, each CMS platform has its pros and cons. And still, which CMS platform is the best choice for your website development is solely dependent on your business and type of website.
Here, I have collected for you which CMS is well suitable for which kind of business.
WordPress CMS is suitable for which kind of business?
Start-up enterprises from any domain can choose to go with WordPress owing to its ease and user-friendliness. You can consider WordPress as an all-rounder.
Top-companies using WordPress:
PlayStation Blog
University of Washington
The White House
Joomla CMS is suitable for which kind of business?
Leading organizations that want to create an online website must choose Joomla for their 2-factor authentication and B-crypt algorithm security features.
Joomla is used by:
United Nations Regional Information Centre
RogerFederer.com
itwire
Drupal CMS is suitable for which kind of business?
Go for Drupal CMS if you want to create a robust and complex website with varied functionality. You shall need developer support to utilize the power of Drupal, but beyond any doubts, you will be satisfied.
Organizations using Drupal:
Harvard University
Nasa
Tesla
Wrap Up
Choose WordPress:
If you are a beginner
When you want to DIY a website
When you want the best design options
When you visualize of expanding your website in future
Choose Joomla:
When you have many users to work on your website
When you want to customize specific elements of your website
When you want a multilingual website with easy development
Go for Drupal:
When you want to develop a custom website with rich functionality
When security is your main concern
When you own reliable and expert Drupal developers onboard
Once you know the Future Scope of Drupal as a Technology in 2020 and Beyond, you will learn that Drupal is ideal for building your enterprise website development. At Bacancy, we have certified Drupal developers who can offer you integration, migration, and extension to your legacy business websites. We are the Drupal Web Development Company, which has helped various start-ups and SMEs build their complex, compelling, and robust web solutions.
Conclusion
If you want to build the next-generation solution or want to revamp your existing web portal, then leverage the expertise of your Drupal Developers as they will help you develop your desired functionality in your succeeding projects. Our developers follow a holistic approach while designing your solutions along with an Agile mindset.
Drupal e-Commerce development, Drupal Migration & Upgradation, Drupal Module Development, Drupal Performance Optimization, Drupal Support & Maintenance, Drupal Web Development Services, and Third-party Integration are some of our core Drupal Services at Bacancy Technology. We have experience working with varied industries from healthcare, media/entertainment, retail/eCommerce, banking/finance, to education & learning. Get in touch with our ardent Drupal Developers now.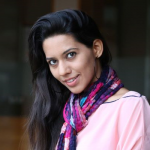 A Vivacious soul with an Idealistic mindset. I am an originator who specializes in content writing, social media marketing, and everything that lies in the vicinity. Writing about trending technologies and emerging domains is my core expertise, and I write to ignite, illustrate, and substantiate. I often submerge into spirituality, cooking, or talking without warning.