Last Updated on August 16, 2022
Will you believe, Airbnb gathered its initial capital from selling cereals?
Yes, this is very much true!
On the serious note, when for the first time Brian Chesky, joe Gebbia, Nathan Blecharczyk, and Laurence Tosi planned to implement the idea, it just didn't sound outrageous, but seemingly it was impossible. However, on a global scale, the travel booking website has become such a hit that people with some business instincts are now trying to build their own vacation rental business using Airbnb clone script.
Business model of Airbnb
So, if you are planning to delve into this core matter, let me get you through the brief business model of Airbnb.
To be brief, Airbnb is a virtual platform that connects boarders to hosters who have spare space for rental accommodation. It's a bridge and acts as a quick link between travelers who need a good yet cheap place to huddle in and property owners who fancy making some quick money from their well-maintained homes.
Owners who want to let out their space on rent for a short period of time like days, weeks can be listed in Airbnb.
Interested owners can add their property details, set rentals, fix check-in and checkout times, etc. On some level, you can compare it with a like a real-time hotel reservation system.
Hosts or property owners have rights to accept/reject their bookings after checking the profile of a social media profile of a traveler.
So, All you need to do is to register and fill up your profile. Then you can explore the options in the place where you want to go, and estimate how much your home can cost and then rent it out. That's right.
So, let's look at what it can cost you to develop each Airbnb-like feature. We've included the time for business logic, User Interface and testing to every figure.
How much does it cost to develop an application like Airbnb: In details
In this section, let me separate the app into components as well as consideration of how long does it take to develop each of them.
First of all you need to choose right technology platform
Airbnb has chosen Ruby on Rails for their web and app development and when it comes to Ruby on rails development (You can also check from Build with), we Bacancy Technology, are the industry leader and we have successfully proven our expertise. So, we can be your one stop solution, for Ruby on Rails based web and mobile app development. To read more Benefits of Ruby on Rails and Why Rails? – Part I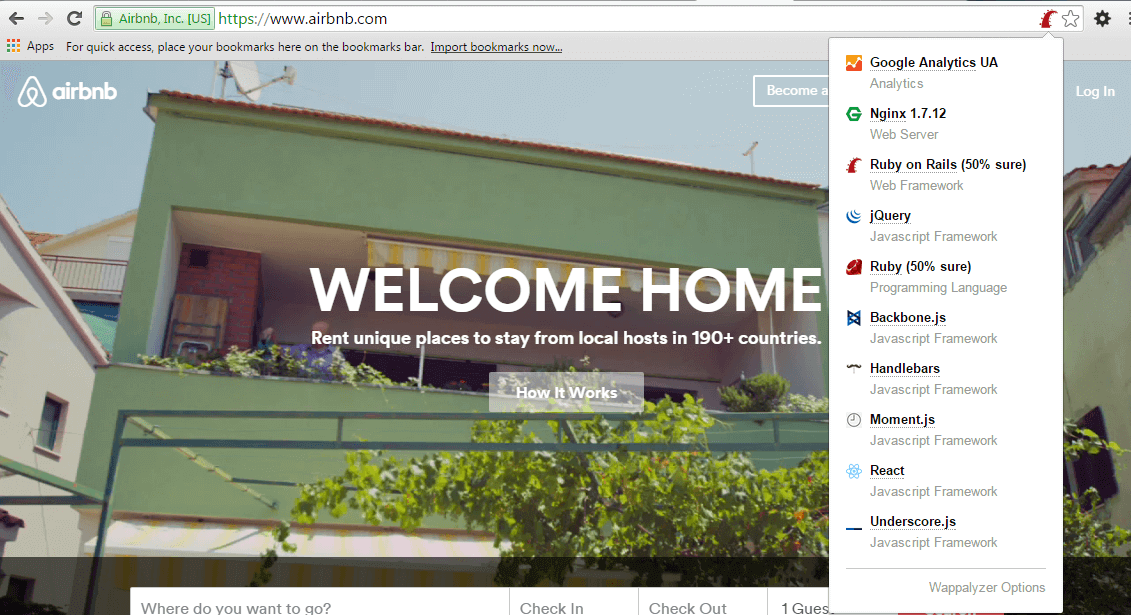 To determine the price, usually the development firm calculates and consider the time period, as how long it takes to create this application. The development time is calculated in hours. And each company has its own rate per hour.
In my review of developing an app like Airbnb, I am considering an average price of development. Lets, consider this figure is $30 per hour. Thus, we can easily calculate the approximate cost of each function. So, let's look at what it can cost you to develop each Airbnb-like feature. I've included the time for business logic, User Interface and testing to every figure.
Initial action steps
Every project starts with some initial action steps. Without them, a successful development of an application is somewhat impossible to begin. If we firmly consider the Airbnb, then this part will take about 50-52 hours, where;
15 hours – Project Setup
20 hours – API Implementation
10 hours – Database Model
13-17 hours – Implementation of Services and Libs
Estimation
So, if the above mentioned job is about 52 hours, then it might cost around $1560
General Registration
To start using the application, a user must be registered. By registering, you agree with the policy of use and confirm your registration information.
Estimation
Implementation of registration feature takes about 12 hours. This equates to $360
Personal User profile
Users create their personal profiles. There are two types of profiles:
User needs to their profile information:
Full Name
Gender
Date of Birth
Email Id
Contact Number
Permanent Address
Personal description
Also, there is some optional information they can add.
Estimation
Implementation of this feature takes about 16 hours so it will cost around $480.
Filters
Having registered, a user has two ways to choose. If he is a guest he can start searching for the suitable host. If he is a host he can add his house or room.
There are so many filters you can adjust. First of all, you choose:
The place you want to visit
Check in and check out dates
Number of guests
Then you can adjust some other filters to choose the most suitable room:
Type of room, entire home or apartment, private room, shared room
Range of Price
Size, how many bedrooms, bathrooms, beds are there
Options like Instant Book and Superhost
Neighborhoods
Amenities
Type of property
Host language
Estimation
It might take 24 hours to develop, which is equal to $720.
Variety of rooms to stay
After adjusting filters, a user sees search results – options that satisfy filters.
Photos
Rating
Reviews
Accommodations
Description
Map with the location
Price
Terms
With this information, the user can perfectly familiarize themselves with the chosen variant of accommodation and find answers to the maximum number of questions they are interested in.
Estimation
This part of phone application development process takes about 180 hours, where:
20 hours – Grid of variants
40 hours – Information about the room
16 hours – Host profile
16 hours – reviews
40 hours – booking feature
16 hours – check in and check out dates
16 hours – calendar of available dates
16 hours for "text the host" feature
It'll be $ 5400 for that part.
Invite friends to Join
With this app, a user can invite their friends to join.
Estimation
It takes about 24 hours to develop, which is equal to $720
Add to favorites
"The best of the best."
Estimation
Implementation of that feature takes about 11 hours. This equates to $330.
Translate feature
With this button, the user can translate every description of rooms into their mother tongue.
Estimation
Translate feature requires 4 hours of development. It'll be $120.
Guide
Here is a function of the guide. It means that there are some interesting places and sites on the map, which are worth a visit.
Estimation
This part of mobile phone application development takes about 10 hours. So, it'll cost you $300.
Maps
In addition to the text and filter search, guest can also search for the perfect place to stay with a map.
Estimation
It takes 16 hours to implement maps into services like Airbnb. Then, having multiplied this figure by $30, we get $480.
Messages
Messaging is a very useful feature inside the application. Thanks to it, you can contact the owner and discuss all the details of your booking directly from the application.
Estimation
To develop messaging a developer needs 30-40 hours working, which equals to $900 – $1200.
Settings
Using the settings menu, you can configure:
Push- and SMS-notifications
Your wish-list
Currency for payments
Paid-up method
Estimation
This part takes about 20 hours to develop. It is $600.
Backend
One of the most important components is the development of server-side part – backend. It is impossible to create any application that has a functional set a little bit more than the minimum without the back-end development.
Estimation
The back-end development of the app like this requires about 600 hours. It'll be $18,000.
So, how much does an app cost?
I want to draw your attention to the fact that it's just a rough estimate of the application. So it's an average cost to develop an app like airbnb. To find out the exact price in your particular case, you need to estimate how much the functions that you'll choose. They can be completely different in your particular application. In order not to get lost in those numbers, hours and calculations, contact us and we will help you understand the most complex and tricky questions.
With us, you will get a detailed estimate your ideas and you will have no questions about who to do business with.