Last Updated on July 31, 2023
August 21, 2015
4
min read
A short (maybe) introduction to our personally favorite eCommercedevelopment platform, PrestaShop.Addendum includes features, benefits, and a glimpse of PrestaShop admin (backend) to let those people who are looking for an eCommerce platform to choose, have a glimpse of how PrestaShopworks or may work for them. This can help them decide whether to choose PrestaShop, along with a hint of how PrestaShop can be useful for them (carrying its extensive features that may be extremely useful for small-midsized stores and certain embracing features that may turn extremely beneficial for large entities looking for an ecommerce solution).
PrestaShop as stated in Wikipedia is owned by 2,50,000 shop owners worldwide. Initially it was available in two languages, English and French. And by today it has been made available in 65 versatile languages. PrestaShop began its journey in the year 2007 from Paris, France.
Features Include
2000+ Professional Templates
Get the template that best fits your business easily. PrestaShop asserts having more than 2000 beautiful templates crafted for each and every business.
Mobile Friendly
Not only the UI, but also the admin can be run/managedvia mobile. Yes. PresShop offers easy to use backend management app and a fully responsive default template that best fits devices ranging from smart phones, to tablet, up to iPad, desktop, and more for smooth mcommerce experience.
Live Configuration
Customize your theme easily via the built-in Live Configurator. Do not want to switch to another theme? Wish to bring some color to your current template? PrestaShop has solution for everything an ecommerce owner looks for.
300+ Built-in Features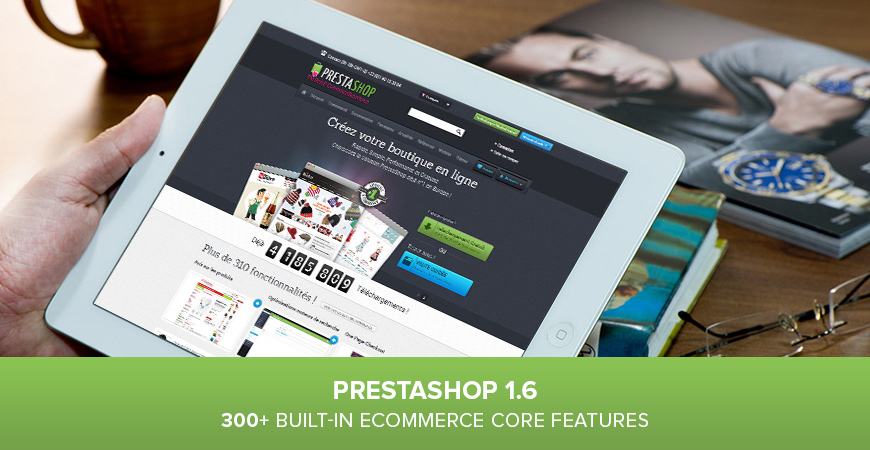 PrestaShop comes with more than 300 built-in features including product management, shipping management, supply management, marketing, customer management, and more.
Easy to Add New Features via Modules (Add-ons)
Modules in PrestaShop refer to extensions. These extensions resemble to additional feature one may wish to add in their ecommerce store. Add-on marketplace is one of the core sources of income in the PrestaShop business model. However, there are free modules available in the PrestShop store.
Benefits/Advantage One May Observe by Switching onto PrestaShop
Below are the advantages and visual backend features of PrestaShop. Unlike others, we have our hands on PrestaShop quite a few times (as we are one the leading PrestaShop Development Company based in India) and we will show you how PrestaShop is really a flexible and easy to customize ecommerce solution. The most gracious part of Presta is its admin that is fluidly flexible and easy to understand/operate. Operating PrestaShop backend doesn't require technical skills and thus can be managed by anyone not familiar to ecommerce stores, its management, process, and more. Heading forward:
Easy to Customize
PrestaShop is one of the most flexible and manipulative ecommerce software. Though it require technical skills to customize it, one may find a PrestaShop developer who can turn things positively hastily.
What we want to assert is that PrestaShop is easy to customize and this is one of the mostbeautiful/advantageous feature of it. This is beneficial to the store owner in a way that he/she can get itcustomized/built the way they wish it should be or should look.
Flexible and Simple to Manage Backend
The reason why 2,50,000 own a PrestaShop store, includes its flexible and easy to manage backend. PrestaShop has got one of the most logical and easy to manage backend from where a store owner can easily upload products, generate invoice, visualize sales stats, create coupon codes, visualize customer activity, search query, and more.
What else a store owner needs!
Available in 65 Languages-
PrestaShop is available in 65 languages. You can now create your Presta store no matter which country you live in. Just select your language and your store is ready to sell.
Develop IP Based eCommerce Store Easily
eCommerce is not limited to a country or a state. With globalization, there are some services/products that can be traded from one country to another.
This is where some ecommerce platforms fail to stand by. Given that you want to sell your product/service in some foreign country, you have to have that SEO advantage in order to drive organic sales.
IP based ecommerce is one of the sure shot solutions to this. Having anIP based ecommerce store will add up to the SEO advantage. We have our hands polished on one such project where we migrated PrestaShop into an IP based ecommerce store, showing price/language/etc. in a language relevant to the country it gets opened in.
For example, if you wish to show the customers from Europe,the price of XYZ product in Euros (local currency), the IP based changes will turn the price of the product into that format (i.e. format of the local currency).
We still have to have our hands on many other ecommerce regarding such twisted challenges,however, we have done it in Presta and found it pleasingly flexible.
Multiple Payment Gateway Options Available
Almost all the ecommerce solutions today come with this feature called multiple payment integration i.e. one can integrate/choose more than one payment gateway in order to receive payment from customer.
PrestaShop too has this option and one can flexibly integrate more than one payment gateway. Integrating payment may require technical skills, and thus you may need an expert PrestaShop developer to integrate payment gateway in your Presta store.
Wrapping Up
We have a lot more to add to this, however, for a beginner or someone who is looking for an ecommerce solution, we have provided basic and most useful details in the above article. If you still find it difficult to choose your ecommerce partner or you need to talk to an experienced PrestaShop/ecommerce developer, simply jump in- ecommerce development company and talk to us. We are friendly. 🙂