April 24, 2020
7
min read
Last Updated on January 24, 2022
Today, 1,141,462 websites are using Laravel, out of which 392,251 are live websites.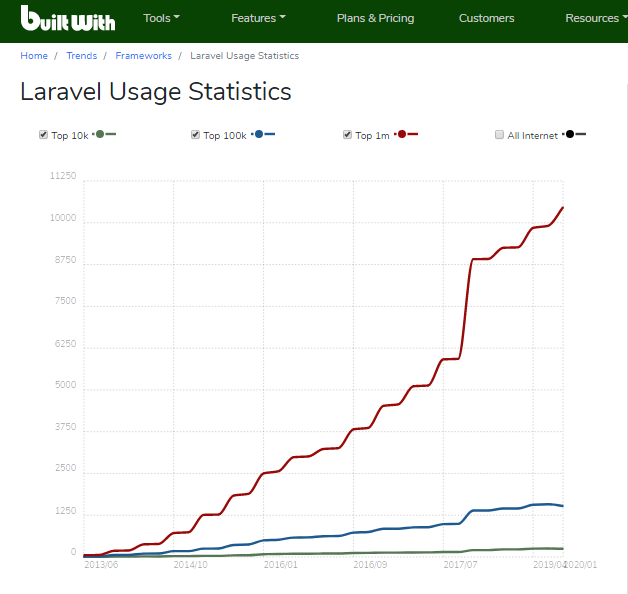 Taylor Otwell, the founder, has indeed coined Laravel as "The PHP Framework For Web Artisans." Since its inception, developers are talking about Laravel and have accepted it with open arms. The credit goes to the elegant and expressive syntax of Laravel.
The demand for Laravel App Development is at the peak today owing to its extraordinary features- Speed, Intuitiveness, Scalability, and Cost-effectiveness. Here's everything you need to know when answering Why to Choose PHP Laravel Framework From Top-Grade Laravel Development Company.
Let me tell you why Laravel and not any other PHP framework is so popular.
Why Laravel is the Best PHP Framework in 2021?
Web developers have a distinctive liking for Laravel, and that is the reason they choose it over many options available for building their web framework. Some significant features of improve Laravel application performance to stand out from the rest:
Developers are crazy for the in-build tool- Artisan that helps them write lengthy programming codes very briskly.
The Laravel framework has got a built-in Template Engine, which enables programmers to use intriguing layouts and widgets to develop solid web structures.
There are 20 pre-installed, built-in, Object-oriented libraries in Laravel that ease out everything from authentication, encryption, security, and CSRF protection.
Laravel supports MVC Architecture, which ensures accessible and compelling development and maintains large apps.
The development team can share the project database with the Database Migration functionality of Laravel. It makes easy and faster development of applications.
Developers can evaluate the explicit features of their web application by the Unit Testing feature of Laravel, which sets the PHPUnit.XML file by default.
Caching helps to store objects in a database or file by which you can boost the performance of your application. Laravel supports the basic Caching system and also allows developers to integrate other caching systems like APC, Memcached, and Redis.
Laravel supports Route Middleware, which enables developers to optimize communication between web servers and their applications without the use of third-party tools.
The Laravel Community is enormous and ever-growing, which gets you the opportunity of solving your queries by experts across the globe.
All these comprehensive features make Laravel a reliable choice for developers. We have got the top industry experts in our team of Offshore Laravel developers. The benefits that you earn when you hire Laravel Developer from Bacancy are:
On-time delivery
High-grade ROI with an imperative app/website development
In-depth knowledge of the Laravel framework
Expertise in integrating various components and plug-ins
Moving ahead, I've brought you a collection of the most widely used Laravel Ecosystems.

Top 05 Most Popular Laravel Ecosystems
The Laravel ecosystem is dynamic and growing exponentially.
Laravel Vapor
Vapor is a serverless framework that is powered by AWS. You can manage your entire Laravel application infrastructure from this robust platform.
Some unique features of Laravel Vapor are as under.
Collaboration: Build your teams and organize your project with others. The collaboration feature of Vapor makes it stand out from others.
Quick Rollbacks: Don't worry if you made a mistake. Developers can rollback their entire application if they wish. Moreover, you can also undo the environment variables. Isn't that great?
Pipeline friendly: You may install the Vapor CLI into your project, and deploy your app directly from the CI pipe when needed.
Databases: Vapor's intuitive dashboard enables you to create and manage your traditional serverless database. Developers are also allowed to rearrange and reallocate their databases.
Cloud Storage: Developers can stream their file uploads directly to the cloud using in-built Javascript utilities provided by Laravel Vapor.
Caches: You need not trouble to deal with ElastiCache Redis clusters as Vapor can scale your cache.
CloudFront CDN: Vapor hosts the fastest load-times. Laravel Vapor automatically uploads your data via cloud platforms like S3 or CloudFront during deployment.
Metrics: This one is the most efficient feature of Vapor. Developers can track their app's health by monitoring parameters of their database, app, cache, and more.
Laravel Nova
A sleek, single-page admin panel for Laravel that is built on Vue.js is Laravel Nova. Nova is customizable, and it looks trendy and impressive.
The top highlighting features of Laravel Nova are as mentioned below.
Resource Management: You can integrate your models to the dashboard using this feature of Nova. It backs up eloquent relations and pivot tables.
Metrics: Another novel feature of Nova is that you can track the metrics of your app, generate graphs, and get help for queries.
Actions: Nova handles all the extended operations in a queue. So, you need not worry about time, as your admin panel will remain clean.
Custom Tools: Your custom tools are staged well by the CLI generators of Laravel Nova.
Filters: Show segments of your data to your users by writing custom filters. Nova provides 'soft-deleted' resources and built-in filters.
Authorization: Nova integrates well with the existing Laravel authorization policies. It also protects your project's tools, relationships, actions, and fields.
Lenses: Developers can add lenses to their resources to take in-charge of the entire eloquent query.
Scout Search Integration: As you link your admin panel with Laravel Scout, it produces exhaustive speed. Cloud and Algolia empower the Scout Search integration with Nova.
Custom Fields: Developers can create their custom fields with Laravel Nova CLI and take full control over its implementation and design.
Laravel Forge
Forge is the best tool for server deployment and configuration. One can deploy limitless PHP applications automatically on Laravel Forge.
I have assembled the ardent features and functionalities of Laravel Forge.
Free SSL Certificates: You can obtain free SSL certificates for your Laravel Forge applications as you can integrate them with LetsEncrypt.
Secure: All the Forge servers use SSH key authentication compulsorily. Hence, your app gets all the security updates and installs by default.
Simple Queues: You no more need to configure and manage your App with manual supervision. With Laravel Forge, you get the supervised Queue workers,
Collaborate: Share your servers and dashboards with your co-workers with the Plus plan of Forge.
Push to Deploy: Code deployment on GitHub, Bitbucket, or Git repository is just a click away. Developers have the ease of implementation.
Laravel Lumen
Lumen is the fastest framework of Laravel as it is built for microservices. Developers yield lightning-fast APIs and microservices with Lumen.
We have described its extraordinary features here.
Speed: Lumen handles 1900 requests per second, which makes it the fastest of all micro-frameworks. The Laravel programmers can write superfast services effortlessly and attain support for their applications.
Convenience: Laravel Lumen has got everything for you in one place. It is a fair deal of satisfaction between power and speed. Developers can use queues, eloquent, middleware, caching, routing, validation, and service containers.
Laravel Horizon
Horizon has got a code-driven configuration and an impressive dashboard. Developers can quickly examine their queue matrix, monitor job failures, job throughput, and runtime using Horizon.
Metrics: Laravel Horizon comes with a dashboard to track your app metrics. Developers can get information about their queues, jobs, wait times, and throughput.
Tags: Developers get a useful feature of attaching tags to different jobs like notifications, event broadcasts, mailings, etc. Moreover, it sensibly tags most of the jobs based on your eloquent models.
You might be convinced by now and also would have chosen one of the above-mentioned Laravel ecosystems for your next project. But, you might be wondering where can you find a reliable developer in such difficult times.
Let me share with you how outsourcing your project to an Offshore Software Development company will be a clear advantage for you. Below is the list of benefits of outsourcing you Laravel Software Development:
➽ It will be cost-effective for you as development costs at an offshore location of the world are much less as compared to in your geolocation.
➽ You get access to a diverse talent pool that may not be present in your in-house staff.
➽ You don't have to invest time in employee training, advertising, interviewing, hiring, or on infrastructure.
➽ Outsourcing company ensures speedy upscaling of your work along with revenue and profit.
➽ Time-zones of your in-house team and your hired offshore laravel development team are different, which enable your project development around the clock 24*7.
Closing Thoughts
To attain maximum ROI and to meet your business goals, it is essential to know your project requirements. Next, you must choose the right Laravel Ecosystems Framework along with a reliable Outsourcing Laravel development company.