Table of Contents
Introduction
If you have landed on this blog, you know the purpose of SendGrid and the importance of sending mail! You might want to answer questions like What is SendGrid, and Why use SendGrid? Don't worry! We have this covered!
In this tutorial: How to Set Up and Send Mails using SendGrid in NodeJs App, we will answer your questions and discuss them thoroughly! Trust me and read the blog till the end to know SendGrid inside out!
Also, many developers use a package named NodeMailer to send emails. You can also visit the blog: How to Send Email using NodeMailer with Gmail & Mailtrap, to learn more about NodeMailer.
Let's move on then!
Tutorial Goal: Set Up and Send Mails Using SendGrid in NodeJs App
Here are your questions and queries! Let's have an overview of what our blog has for you, so you will continue reading till the end!
I'm new to SendGrid: What is SendGrid?
People appreciating SendGrid: Why use only SendGrid when you have different providers?
I'm a technical person. I want to set up and start using SendGrid with my Node App: Steps to set up and send emails using SendGrid in NodeJs app.
Voila! Let's go!
Our clients say Bacancy provides the best and highly-skilled developers!
Want the best? Get the best! Contact Bacancy and hire Node.js developer for your dream projects!
What is SendGrid?
SendGrid is a provider that allows SMTP (Simple Mail Transfer Protocol) service. I hope you're aware of SMTP. It reduces your time and efforts and provides flexibility when sending large volumes of emails.
Why use SendGrid in NodeJS to Send Emails?
Coming back to our next question, Why SendGrid with NodeJS? No beating around the bush, and here are the reasons why you should use SendGrid for sending emails.
Powerful email solution for sending bulk emails with high deliverability rates
Provides interactive and eye-catching built-in email templates and freedom to edit them as well
With the help of SendGrid, you can track the real-time performance of emails using various metrics like bounce rates, unsubscribers, delivered emails rate, unique reads/opens/clicks, and many more.
Exceptional customer support
Sendgrid has been integrated with so many tools that it lets you centralize the marketing efforts. The API integration with the various tools is very powerful.
Initial Project Setup
Create a NodeJs application using the below command.
Initialize Project
It will create a package.json file.
We will install the required dependencies in our project using the below command.
Open the root file of our project and name it as your will.
// app.js
Set Up SendGrid Account
Let's start with integrating Sendgrid.
For setting up the SendGrid account, follow these instructions-
Visit SendGrid.com
Create an account
Choose a plan according to your requirements
Generate API key
For sending emails from our NodeJS app, we need to configure the SendGrid API key in the application. The SendGrid gives you the freedom to set up an email as per your requirement. We can also add and modify HTML, images, documents, etc.
// email/account.js
Send Mails using SendGrid in NodeJs App
We can use the sendgrid function wherever we want to use it, for example, when a user is registering or leaving or for some other notifications.
// sendMail.js
For this example, we are sending mail for a specified route and call sendMail functions as per our requirement.
As for this example, we have manually set the email or other required parameters that we can send through postman.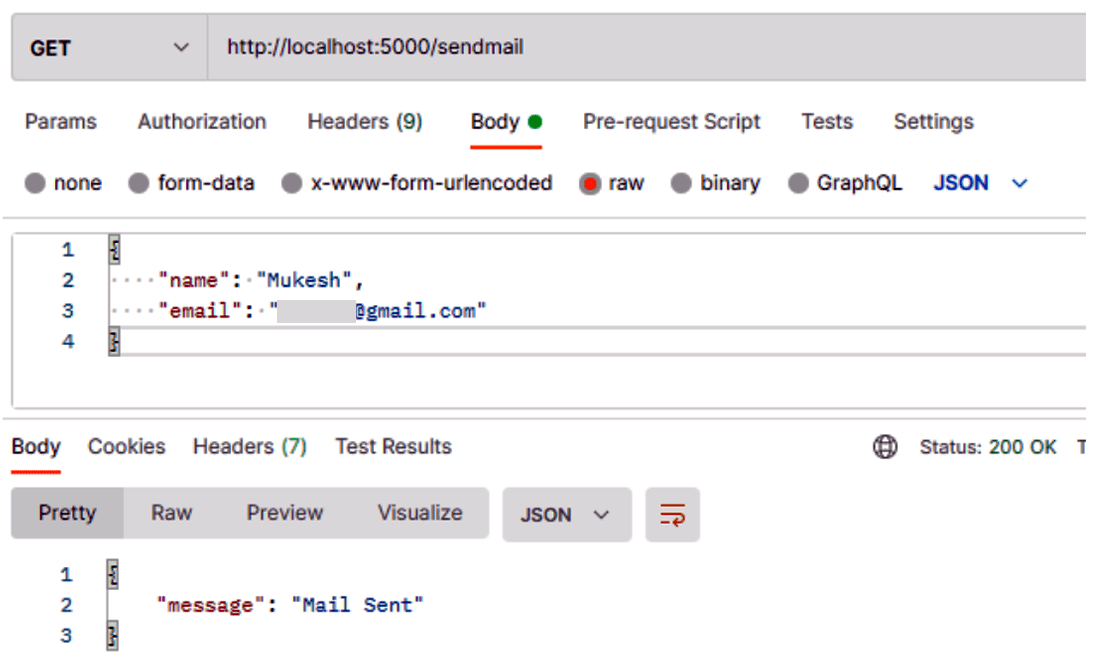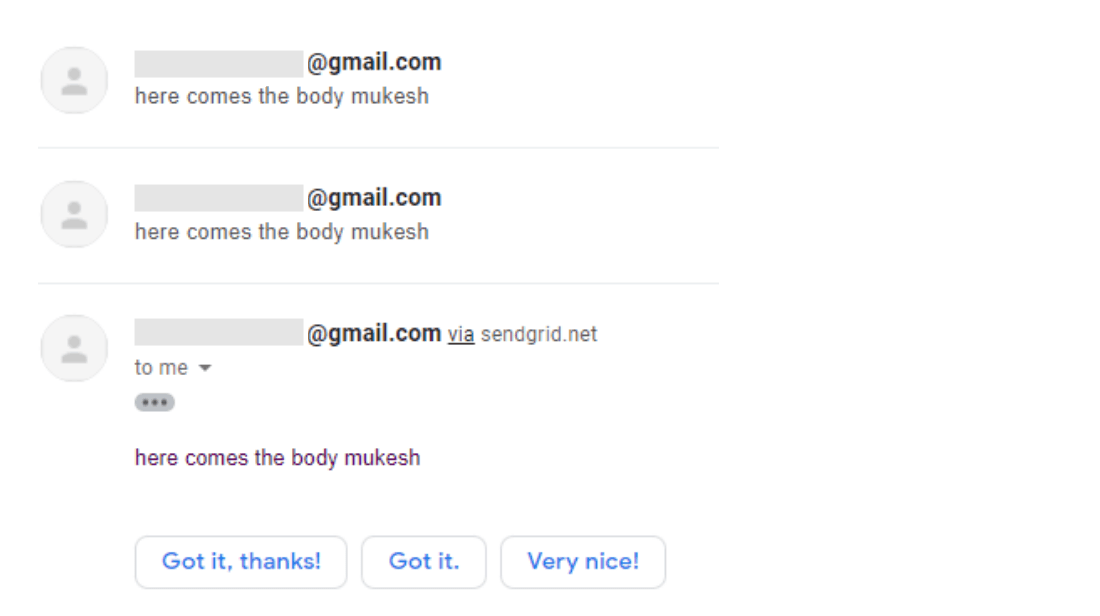 Bingo, we sent mail successfully!
Conclusion