Quick Summary:
This blog overviews how to achieve Power BI migration successfully. In this blog, you will learn the factors influencing migration, what considerations you need to follow, and the common mistakes you must avoid to achieve a successful Power BI migration.
Table of Contents
Introduction
Every organization wants to become 'data-driven.' Power BI migration is pivotal to becoming an insight-driven, data-informed, or data-driven organization.
Making strategic or tactical decisions based on data has perks, and every business wants to lay its hands on it. However, to become data-driven, more than gathering data is required; compiling and processing that data should be the primary objective – this is where data analytics and visualization tools like Power BI come into the picture.
Top Ten Factors Influencing Power BI Migration
The growing importance of data analytics and visualization cannot be overstated in today's digitized business landscape. Amongst a plethora of Business intelligence and data analytics tools, Microsoft Power BI has emerged as a leading software for Data analytics and visualization, with a market share in BI of 12.8% in 2022.
If you are still hesitant to adopt Power BI, here are the factors influencing Power BI migration,
1. Power BI has an Intuitive UI
Microsoft designed the Power BI user interface to ensure it is smooth to operate and easy to understand even by a novice. By removing the clutter, Power BI offers easy UI tweaks to customize it according to the user's preferences.
2. Seamless Integration With Microsoft Products
Power BI is an excellent BI, data analytics, and visualization tool that seamlessly connects with all Microsoft software and solutions. Apart from integration with Excel, Dynamics 365, Office 365, and Teams, Power BI integrates efficiently with Power Query and Power Apps to increase the productivity and efficiency of an organization.
3. Efficient Data Sharing
It takes hours to combine data from numerous sources, re-compile, and share it with colleagues and departments using links or emails. Power BI relieves you from all these challenges. You can easily schedule a time to refresh data for automatic updates and periodic refreshes, or real-time refreshes, helping you save time, effort, and unnecessary human hours.
4. Interactive Visual Dashboard
Power BI simplifies your data analytics and visualization efforts by drilling down the data to retrieve deeper and hidden insights. It allows you to access and analyze data from multiple sources and easily present insights in an appealing and engaging dashboard. Power BI has an easy UI to create customized visualization dashboards and present the data in a colorful, unique, and picturesque manner.
5. Create Reports and Share Easily
For any data analytics and visualization tool, report creation is a default capability. Although many BI tools offer the report-creation feature, Power BI is the only tool that makes report creation simple, intuitive, and engaging. Besides, users can share these reports with both; power BI users and non-users. It allows the flexibility to share the report links or dashboard.
6. Flexible Pricing Options
Microsoft has developed an adjustable Power BI pricing model, making it easily affordable to every company despite its size, shape, and domain. Power BI Desktop edition is offered at no cost ensuring SMBs and average businesses can make informed decisions. The Premium edition and free-day trial make it suitable for almost every company willing to achieve Power BI migration.
7. Comprehensive Data Security
One of the most significant reasons for Power BI migration is the data security guaranteed by Microsoft. Power BI scores above average in the security aspects. Power BI deploys optimum Azure security through a cloud environment and secures outbound connectivity using the Azure Vnet connectivity feature. Besides, the Azure Active directory pre-embedded in Power BI looks after securing and validating user authentication.
8. Native R integration
You can think of Power BI migration when you need advanced analytic outcomes. Microsoft designed a new gen Power BI to support the open-source programming language 'R' by default. Data scientists and engineers know its functionality and often use it for efficient data analytics and visualizations. You can hire Power BI consultant to help you with detailed R visualization integration in dashboards.
9. Compatibility with Third-Party Applications
Power BI, as we know, integrates with almost all Microsoft solutions, but it is also well-known to integrate with many third-party applications commonly used by many businesses. You can integrate Power BI with existing CMS and CRM solutions like Salesforce, Marketo, Hubspot, etc., to get astonishing results.
10. Language Queries
Power BI migration is necessary to leverage the embedded AI capability in this tool. The handy Q&A feature allows you to type a simple question related to data analytics and visualizations and get a visual representation of your answer. The voice-based queries will enable you to ask voice questions and the intuitive and robust natural language query engine in Power BI responds to you with appropriate visualization.
Key Obligations for Successful Power BI Migration
There might be different reasons for Power BI migration from the current legacy BI platform. However, for a successful Power BI migration, certain considerations cannot be overlooked.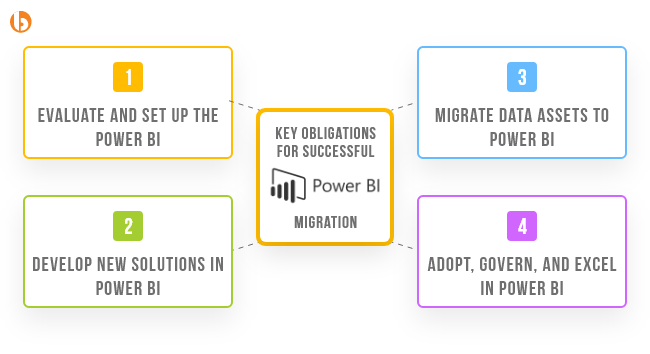 Evaluate and Set Up The Power BI:
For a successful Power BI migration, setting up effective and cluster-free Power BI architecture is very essential. Ensure to focus on governance and deployment measures while evaluating the Power BI environment. Besides, perform a cost-benefit analysis and calculate the ROI before initiating the Power BI migration.
Develop New Solutions in Power BI:
Your focus has to be on getting value out of Power BI migration if you intend to meet your business needs. Achieving agility and ensuring the organization adopts and excels in productivity through Power BI must be a key consideration; if possible, start developing Power BI solutions and modernizing Power BI environments to fulfill business objectives.
Migrate Data Assets to Power BI:
Power BI migration has to be done in stages. First, gather requirements, plan a deployment strategy, create proof-of-concept, create and validate content, and lastly, deploy, support, and monitor the Power BI migration process. Ensure there is no data loss and adequate data security, governance, and compliance measures are in place during and after the Power BI migration process.
Adopt, Govern, and Excel in Power BI:
With effective Power BI migration, you drive data culture in the organization. Make sure to adopt effective and industry-specific data governance and security policies. To get more benefits from Power BI migration, keep monitoring, updating, and modernizing the Power BI environment.
Mistakes to Avoid During Power BI Migration
Due to the increasing popularity and flexibility, most organizations are willing to migrate their legacy BI platforms to Power BI. After all, Power BI migration allows businesses to leverage modern, industry-leading cloud-native data analytics and visualizations platforms with powerful BI capabilities. Additionally, Power BI migration is cost-efficient and time-saving.
Although Power BI migration is a simple process, people often commit mistakes you could easily avoid. Remember, Power BI is not a mere "lift-and-shift" job. It needs planning, evaluation, support, and monitoring. If you want to achieve successful Power BI migration, take the expert advice of data visualization consultants who can guide you every step of the way. Moreover, you can avoid some common mistakes mentioned below.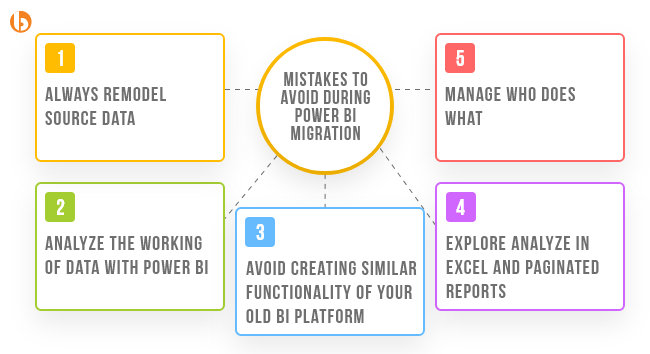 Mistake #1 - Always Remodel Source Data
Each report comes with a data source, and you must get source data in a suitable format for the Power BI platform. Every BI platform requires data in a specific format, and many BI platforms love to mung their data into one big source file; sometimes, data is at different granular levels but in the same source file.
On the contrary, Power BI likes its source data modeled in a star schema. If you fail to model your data in the star schema model, you might start to find inconsistencies and incorrect values in reports. It will make it difficult to read the error-prone data leading to diminished report productivity and eventually increasing the complexities of writing the much needed DAX calculations.
Mistake#2 - Analyze the Working of Data with Power BI
Even after modeling the data in a star schema, the approach of Power BI to work with data is different from your existing legacy BI tool. Therefore, it is necessary to create a semantic layer for Power BI to work with data understandably and efficiently.
Once you achieve this, you will find that working with Power BI and creating reports and calculations is much easier. Whenever possible, avoid writing a SQL query to get the data in the chart you are interested in building.
Mistake #3 - Avoid Creating Similar Functionality of your Old BI Platform
When you migrate to Power BI, you might be overwhelmed with creating reports that look, work, and appeal similar to the old BI platform. Creating reports or functionality just like the old one is impossible in Power BI. If you push Power BI to do something it is not meant to do, then you are increasing the complexity, reducing the speed, minimizing the agility, and decreasing the productivity of the Power BI tool.
Overcome your attachment to the old tool and start using Power BI to solve business problems. Understand the functionality, capability, and flexibility of Power BI. Get to know the USPs of Power BI, check out in-built elements, and start using Power BI as a new platform that does things differently, efficiently, and productively.
Mistake #4 - Explore Analyze in Excel and Paginated Reports
While dealing with data analytics and visualization tools or a new BI platform, users often change the measures and fields used in visuals. They are interested to know how to use PivotTable and PivotCharts. In such circumstances, introduce them to the Analyze in Excel feature available in Power BI that gives direct access to PivotTable connected to data stored in Power BI. Moreover, they can lay their hands on the Excel Cube Function to create complex report layouts.
In addition, Power BI paginated reports work more efficiently than actual Power BI reports. The Paginated Reports is excellent for users writing SQL queries manually to create printable reports having giant tables. The feature relates closely with SQL Server Reporting Service and has a different set of strengths as compared to regular Power BI.
Mistake #5 - Manage Who Does What
Power BI Migration means breaking old habits of data analytics and visualization. Power BI allows you to adopt new approaches, elements, and vision to collect, analyze, and visualize data. Besides, it also allows you to manage who does what and when.
Power BI is a self-service BI, data analytics, and visualization platform. It helps you overcome typical IT bottlenecks and limitations. It is affordable enough to make it available to whoever wants to use it and however wants to use it. It has a less learning curve and breaks the barriers created by data in excel. Centralized data, automatic refresh, security, compliance, data governance, and embedded AI empower everyone in the organization to use Power BI and get insights that matter. Power BI allows you to manage access, authenticate users, limit reach, and share.
Conclusion
Plenty of BI and data analytics tools are available in the market, and each has its unique set of features for wooing customers. However, Power BI gets a leading edge and remains the chosen data analytics and visualization platform. Organizations using other Microsoft products prefer Power BI due to its eloquent benefits.
Yet, organizations not using Microsoft solutions are also interested in Power BI migration due to its features, flexibility, scalability, and ability to integrate with third-party applications and tools. If you are still using Power BI, it's your chance to achieve growth, increase productivity, and make better decisions with Power BI migration.
Frequently Asked Questions (FAQs)