Quick Summary:
In recent years, we have seen a major boom in the adoption and usage of technologies in multiple business domains. Because of the technologies, businesses and clients can achieve their respective business goals in their respective genres.
Nowadays, two technologies stand way ahead of the curve in full-stack development. Vue and Laravel have provided tremendous benefits while working together for full-stack development. This blog post will help you understand more precisely how Laravel with Vue JS can be an ideal choice. But first, let's begin with the introduction to Vue Js and Laravel.
Introduction To Laravel And Vue Js
Laravel
Laravel is one of the prominent members of the new generation of web frameworks. It is an open-source PHP web framework created by Taylor Otwell in 2011, intending for the development of web applications following the Model View Controller (MVC) model. And, of course, it is free.
Why is Laravel Great for the Backend?
Most programmers will mention smooth performance and features when it comes to the benefits of a framework. When the combination of performance and features are perfect, the convenience of development and ongoing support and maintenance matters most. Laravel is known for making developers happy, which could be why users are passionate about Laravel. Let us get through some benefits of the why use Laravel Framework: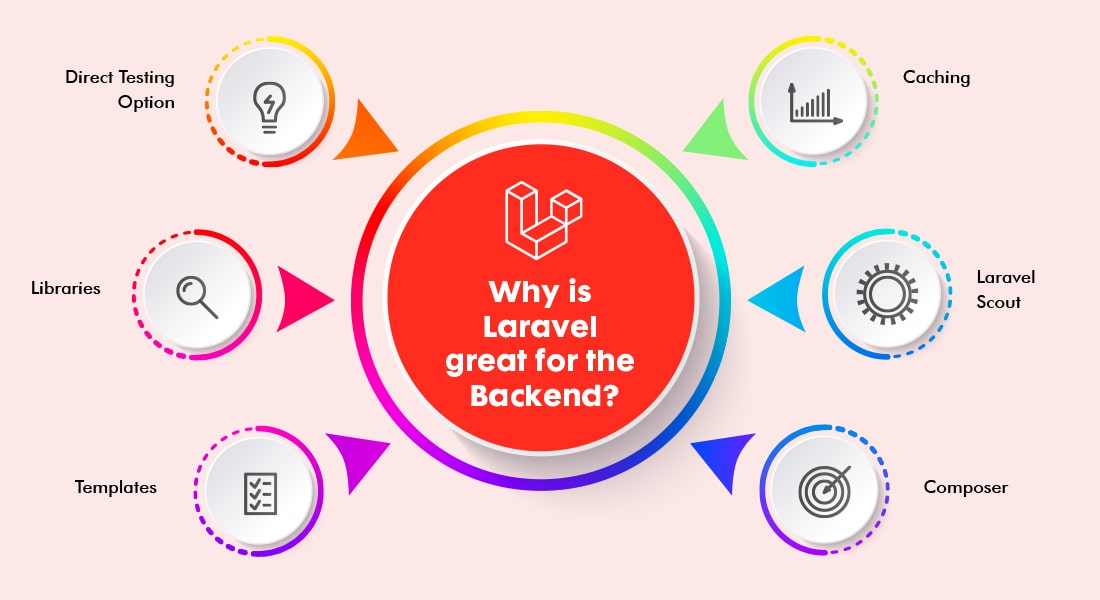 Caching
Laravel supports a variety of tools. It provides an expressive and unified API for various caching backends. With pre-installed support apps like Redis and Laravel, in turn, increase the memory cache.
Laravel Scout
It's an effective tool and provides a simple, driver-based solution for adding full-text search to your eloquent models.
Composer
It is used for updating and installation. It helps Laravel programmers to develop an application of any size to manage 3rd party packages.
Templates
A pre-installed template is called Blade, which aims to increase optimal performance.
Libraries
Varieties of libraries are already pre-installed, and the authentication Library is one of the most popular libraries of Laravel.
Direct Testing Option
A testing tool for programmers to validate that everything is right. It makes it easier for programmers to judge the application's performance.
Looking for a helping hand to create your full-stack app?
Hire full stack developer from us to build a feature-rich market-fit product implementing the latest front-end and back-end technologies.
Vue Js
It is a progressive JavaScript framework used to build the user interface. Unlike many of its monolithic counterparts, Vue is designed to be incrementally adoptable from scratch. The core library of the framework is focused on the application's view layer only, and it is extremely easy for a developer to pick up and integrate it with other libraries or existing projects. With modern tooling and supporting libraries, Vue is considered capable of powering sophisticated Single-Page Applications.
How is Vue Better Than Other Javascript Frameworks?
Vue is widely used to build web interfaces, and in the past few years, it has been emerging as one of the Javascript frameworks for replacing top-notch technologies like Angular and React in many cases. VueJS was initially launched in 2014, and this lightweight framework now has 197K stars on Github.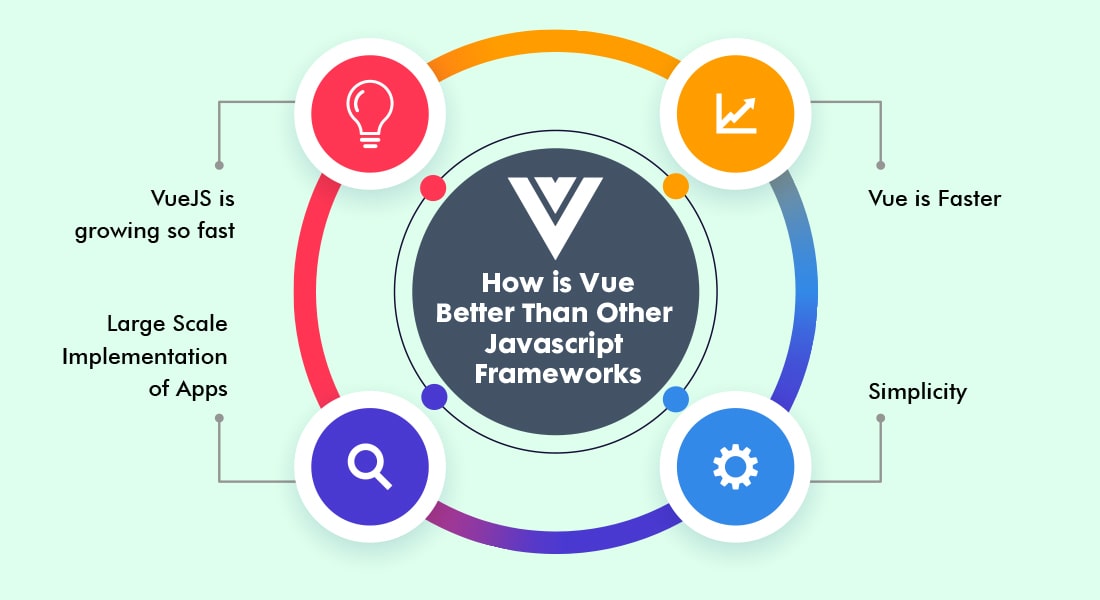 Vue is Faster
The rendering system of VUE is faster than other Javascript frameworks like React. Whether DOM size, library size, or page size, VUE leads in all these categories.
Simplicity
VUE is known for its simplicity. Vue can be directly run from a browser, and it is also possible to insert VUE into any line of code.
Large Scale Implementation of Apps
Vue is easier to understand and even faster to execute with rendering function. Vue system is more configurable and uses HTML templates as its core designing part, making it more testable when combined with Vue utilities.
VueJS is growing so fast
Vue is developed by a single programmer – Evan You. Vue has all the native elements that are suitable to fit all the circumstances. Vue is gradually becoming a popular Javascript framework as Vue gets 225k hits per month.
Looking for Full-stack Laravel Vue JS developers to develop flawless web applications?
Get benefit from this magical combination of Laravel with Vue JS with our proficient fullstack developers. Contact us today and Hire Laravel developer without a second thought.
What Makes Laravel with Vue JS Beautiful Combination?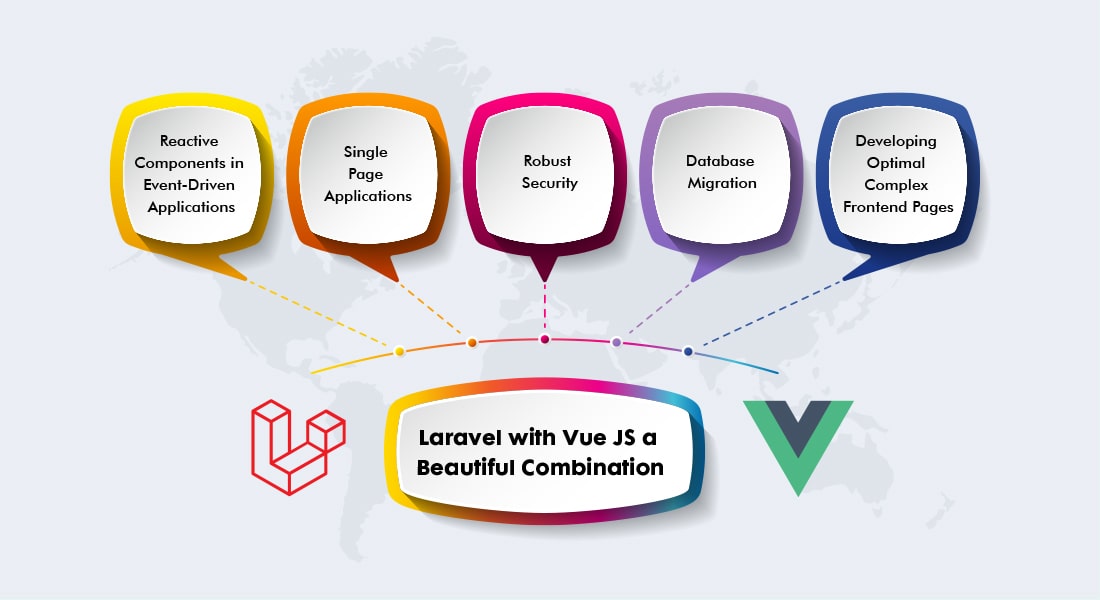 Reactive Components in Event-Driven Applications
Vue helps develop event-driven applications that can easily manage the front-end development. It also provides composable modules that can be used whichever way you want.
Moreover, the combination of Laravel with Vue JS will help you build great user interfaces in an application and allow you to avoid reloading pages while switching the components. Vue Js offers high speed and performance in this full-stack combination, whereas Laravel provides reliability and stability.
Single Page Applications
Single Page Applications are one of the greatest things that have happened to the internet in past years. Single Page Applications have provided a wide perspective and grabbed users' attention.
It has solved issues by providing a great web application experience in the specific locations where it was difficult to access the internet. With the combination of Vue and Laravel, it has become easy for developers to create Single Page Applications.
Robust Security
Laravel is a highly secure PHP framework as it avoids unwanted malware attacks and SQL injections with the help of Eloquent ORM. It makes sure that the application is safe from third-party malicious implementation. Therefore, the combination of Vue and Laravel can be a preferred choice for full-stack web development.
Database Migration
Regarding strong back-end development, Laravel easily manages the migration in the database by adding and dropping the field and avoiding deleting the existing records. It allows developers to efficiently plan the new ideas in the database with the Laravel migration. It also saves development time and helps develop robust applications with the combination of Laravel and Vue Js.
Developing Optimal Complex Frontend Pages
When the application is built with Vue, the dependency of every module is tracked automatically. It makes it easy for the system to understand when it is required to make changes in the data. Vue Js suits best in handling the data flow of complex applications as it has way data binding model that makes it easy and simple to manage in complex application development.
Companies Use Laravel with Vue Js For Full-Stack Development
According to Stack share, hundreds of organizations are using Laravel and Vue for their product development. The list of organizations includes 9GAG, Bitpanda, and Ao.com. Moreover, Vue Js has also been used as a front-end framework on Laravel's official website.
Laravel is so popular that it has been adapted by giant organizations like Tesco, Deloitte, and many others. At the same time, Vue Js helps in developing scalable front-end development. It is also highly preferred by Startups.
Conclusion
We hope that your purpose of landing on this blog post has served as this blog post has provided all the required information on how Laravel with Vue JS can be an ideal choice for development. However, business owners should always hire highly skilled developers from the best development company available, which requires scalable, reliable, and secure application development.
Frequently Asked Questions (FAQs)
Laravel works on Model View Controller (MVC) architecture pattern that is compatible with creating user interfaces. Laravel syntax is object-oriented, making Vue and Laravel a perfect match for development.
Laravel does not need to use any specific JavaScript library or framework for development. However, Laravel does use some basics to write modern JavaScript with the help of the Vue library.
Multiple advantages help in developing a smooth application with the help of Vuejs and Laravel. However, the key benefits are the learning curve, ease in developing complex front-end pages, Reactive modules for event-driven apps, and many others.