August 4, 2020
10
min read
Last Updated on October 27, 2020
Introduction
The Golang programming language is gradually hitting the chartbusters, being accused as the most popular programming language among the developer communities. Go's scalability, concurrency, and superior reliability are the reason for the language to be on GitHub's fastest-growing languages list for the last few years.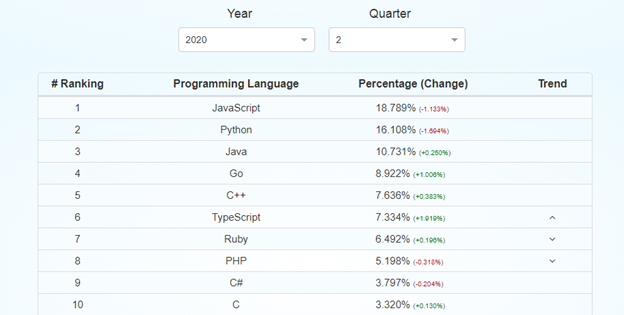 [Source: Madnight.github.io]
Web development, DevOps, and System Programming have found the Go programming language's most eccentric usage. Furthermore, Go is used in the famous containerization platform, Docker. Today, top-notch enterprises across several industry sectors are using Go for complex and scalable projects, which denotes the power of this modern-day amazement. Kubernetes, CoreOS, Hugo, and Lantern, etc. are some of the languages using Golang in their creation.
The experienced programmers at Google- Ken Thompson, Rob Pike, and Robert Griesemer wanted to create a simple programming language, and they created Go programming language in 2009. In the same year, the TIOBE programming community index ranked Go as the language of the year, and after that, the language has attained higher ranks for every consecutive year. The next year, TIOBE ranked it in the 13th position by beating an established programming language-Pascal. In the year 2013, the Go programming language dropped off in the list below 50 rank position, only to again get distinction as the language of the year 2016. In the upcoming years 2017 and 2018, Go scaled up at 10th and 12th place respectively as developers adopted the language.
Here is a complete view-frame for the TIOBE index Go ranking.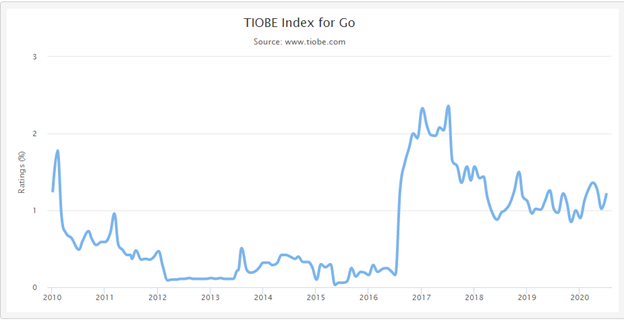 [Source: tiobe-index]
The StackOverflow survey was conducted in February 2020, just before the world was struck by the Covid-19 pandemic, where nearly 65000 developers responded with their votes and interests. In the list of most loved language, Golang takes the fifth position where developers using this language wish to continue with the same choice ahead.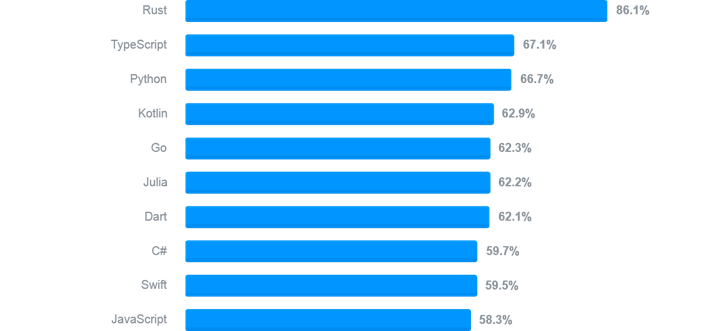 [Source: StackOverflow Survey]
The survey also showed that the developers who haven't yet worked on Go programming language are still keen to learn the language and use it.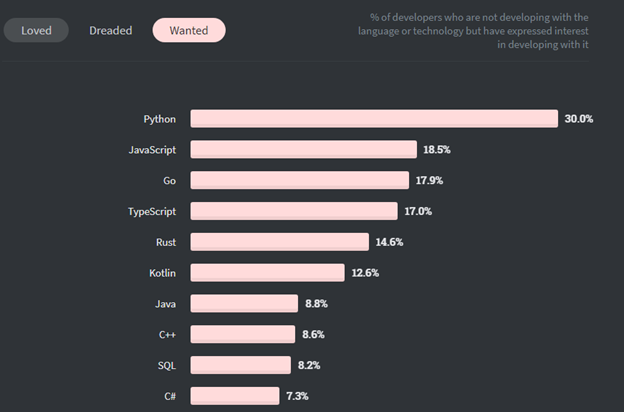 [Source: StackOverflow Insights]
Let us find out why there is a love for this language amongst the developers and why companies are using Golang? The advantages of choosing the Go programming language for your next-generation project idea.
Benefits of Golang
In this section, I've noted the Go programming language's prominent features that will make you proud of choosing it as your next project development language.
1. Simple and Easy
Programming in Go is easy compared to other languages because there are lesser rules and concepts to obey. Writing and reading code is utterly simple to understand and grasp. Developers using Go programming language find it to be a time-savior. Those who want to learn the Go language, there are numerous documentation and guides available to learn the language in a week. So, as you are looking for Golange developers for your next project, training them will be super-easy.
2. Open-source
Owing to Google's heartfulness, Go is an open-source language having a vast community of Googlers. The open-source character of a language encourages the support of new solutions via various forms and tutorials. You even get help when the language is struck by erroneous code.
3. Useful in Large projects
Choosing the right programming language for complex and substantial projects is critical because it can cause you years of development and the rework of errors and interruptions. Golang for enterprise application is a perfect fit because it ensures faster development times with reduced risk-factor. Also, the removal of bugs is speedy and accurate with the Go programming language.
4. Single solution for a problem
There are as many solutions to a problem as the number of programmers when it comes to any other programming languages. Each programmer has their way of solving errors and problems. However, with the Golang programming language, the ideology of mostly one solution to one problem is best definable. Hence, as you opt for Go development for your project, your development team finds it easy to cooperate.
5. Easily maintainable
Companies using the Golang programming language for their software development can use several automatic code maintenance tools, which makes it easy for programmers. The one problem-one solution concept of Go automates many of the tasks that other languages have to accomplish manually.
6. Same as C programming language
Those who are familiar with Go find it similar to C minus the inefficiencies because of its ease and clear coding structure. Go, and C have the same syntax, and hence programmers knowing C language, find it easy to learn the Go programming language.
7. Garbage Collection
Go very well handles all the memory objects that are no longer in use and occupying space. Golang has good support for concurrency and collects garbage well. Go is a lightweight programming language, and you might be wondering How Golang Is An Object-Oriented Language?
8. Ideal for multi-core processors
Being one of the modern programming languages, Go is multi-threaded, and it handles parallel processing, unlike Java, C, Python, Ruby, Javascript that are single-threaded. Earlier when those programming languages were developed, multi-core processors were not very famous. However, today most of the systems use multi-core processors for faster programming, and hence Golang is an ideal choice for developing modern applications.
9. Developed for the Internet
Like the above point, Go being a modern-day programming language was developed, keeping in mind the internet usage today's generation. Developers can make use of classified web services without the need for third-party libraries. Other programming languages such as Java, Python, Ruby, etc. have general network capabilities, whereas, with Go, you can facilitate your work faster and easier.
10. Quick Compilation
Go efficiently compiles coding for large projects, and because of this reason, the developer gets quick feedback on their work. Although Java and C++ have an excellent compilation speed, the fact that Go is specially built for developing large complex projects makes it the best option.
11. Small app size
The binary file made with Java is 10 times heavier than that developed with Go. It becomes prominent when you want to deploy your Go application on multiple servers; your loading time reduces drastically.
To know more, read Golang Web Development: Better Than Other Programming Languages in 2020.
9 Big Companies that use Golang for Business
We saw why Golang is the most trusted modern programming language for entrepreneurs and developers. To ensure your faith in Google's Golang language, here is a list of 9 big brand names that have implemented their websites using go programming language and developed the best-in-class Golang applications.
1. Google

Google is the creator of Golang, and they primarily launched it for their internal projects and developers' ease. The Googlers created Google Chrome and Google Earth using Go, and additionally, even YouTube and Google App Engine use the Go programming language natively. Several of Google's services were rewritten using Go, and many smaller internal projects at Google are using Go.
2. Uber

Uber is the Go programming language's ideal case study remarking more than hundreds of services written in Go. One of the recent examples of Go services in Uber is the geofence service, which matches the user and the driver's location. Golang is used in writing most of the high GPS services of Uber. Most of the developers at Uber being well acquainted with C++, Java, and Node can easily switch and learn Go without much hassle, which increases the performance at Uber.
To cope with the rise in resource utilization and latencies, Uber uses well-executed Go nodes to solve the issues. Uber refers to Go as a highly reliable programming language, and they have a positive experience of this modern-day language.
3. Dailymotion

Dailymotion is a video-streaming platform in France and is available across the world in more than 25 languages. The website improved the performance of its Application Performance Interface APIs using the Go programming language. Golang is helpful for end-to-end tests on the site, which otherwise causes heavy loading. However, Go makes it sturdy and fast.
Golang's static type checking, simplicity, and performance have favored the company well.
4. Medium

The famous content publishing platform- Medium uses Golang for its development. GoSocial- one of the Go services manages the Neo4j database. Other image processing and backend services are also taken care of by Go.
5. Twitch

Another live video-streaming service uses the Go programming language for its most loaded systems. Golang solves all user-chat-related issues and problems while live video streaming with its amazing features like efficiency, readability, simplicity, and security. One of the most desirable characteristics of Golang that helped Twitch is the garbage collection factor, which dynamically allocates memory.
6. SendGrid

A cloud-based email transaction service- SendGrid uses Go as its primary programming language. Thanks to Go, the company processes more than 500 million messages in a day with asynchronous programming, and it is by far one of the largest companies using Golang. SendGrid's developers have mentioned that Go solved all their concurrency-related problems and helps reduce maintenance costs.
7. Fabric

Fabric is a mobile application development platform that uses Go for its analytics engine. Users get real-time information about their application's health and performance on this platform. Golang serves the communication protocol of Fabric because it is a highly scalable language.
8. SoundCloud

Along with Ruby on Rails, SoundCloud engineers use the Go programming language for their real-time status analysis. As per these engineers, Go is a What-you-see-is-what-you-get language that makes their work easy and saves time because it's a one-solution language. Go has contributed to over 12 repositories of SoundCloud and 6 services.
9. DropBox

The cloud-computing major DropBox also uses Golang for its efficiency and scalability. Along with the Go in-built libraries, DropBox has built its custom libraries. Golang provides several advantages like improved caching, standard error interface, Memcache client libraries, and more.
Apart from the companies mentioned above, who uses golang? Netflix, Docker, and many other big brand names use Go for their internal or prime website development. As these companies use the flawless services of Golang for their business benefit attainment, it's time for your action of selection. What are you waiting for now? Hire Golang developers from the best Golang development company which provides the following Go services:
Bacancy's Top-Notch Go Development Services
• Golang AI Development
With the incredible potential of Golang with AI, we provide fantastic development services so that you can build your next-generation AI application with Go.
• Streamlined App Development
If you have a large project in mind, Go streamlined app development is ideal for you because that will assure concurrency amongst your multi-regional teams.
• Compatible Cloud App Development
Get your users on the cloud and provide excellent cloud-services with your Golang application that is exceptionally well suitable for the cloud.
• Concurrent Apps Development
Enable multi-threaded events on your enterprise app with our Golang concurrent app development service.
• Easy Cross-Platform Development
Build one app that is compatible with all the platforms with our Golang developers who speedily and easily develop your cross-platform application.
• Full-Stack Golang Development
We have experienced developers working on the Golang full-stack technologies, including Golang + React.js, Golang + Angular, and Golang + AWS. Avail scalable web architecture for your upcoming big project with us.
Leverage our best-in-class Golang development services for mobile and web application development and successfully attain your aspired business heights.
Conclusion
Golang is the perfect match for your business application being the modern-day programming language with one problem-one solution ideology. So hire Golang developers from us- the globally renowned Golang development company for cross-platform support, robust development, comprehensive knowledge, multi-threaded, and parallel processing.
You can start with a 15-day free trial to get assured, and then you can select one of our three hiring models- hourly, monthly, and a dedicated model. Enquire now.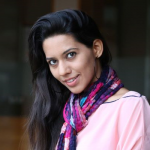 A Vivacious soul with an Idealistic mindset. I am an originator who specializes in content writing, social media marketing, and everything that lies in the vicinity. Writing about trending technologies and emerging domains is my core expertise, and I write to ignite, illustrate, and substantiate. I often submerge into spirituality, cooking, or talking without warning.