November 4, 2019
6
min read
With evolving algorithms every day, developers are heads over heel to compete with the steadfast changing processes. For software developers, it is essential to accept, adapt, and learn new technologies. Staying updated continuously can be challenging. However, it is significant to be consistent and coherently imbibe the massive paradigm shift.
The newest languages in the tech basket are Go language – Google based multi-paradigm system programming language and Rust – multi-paradigm system programming language. If you are in a thorough fix of which one is better, then I have written this blog.
Golang-

Developed and designed by Robert Griesemer, Rob Pike, and Ken Thompson at Google, Go language is also known as Golang. Motivated by the dislikes and inadequacy of other Google languages like C++, the developers wanted to develop a new language that enhances and augments coding experiences. The new Golang coding language also ensures programming productivity across large codebases and dynamic networked machines.
Golang, first launched in November 2009, is used across Organizations for open source projects. As a compiled programming language, Golang is a statically typed syntactically language similar to C. However, Golang is designed with the advantage of memory safety, structural typing, and garbage collection. An open-source programming language, Golang is a simple, effective, and reliable language to build efficient software.
Golang has been developed with a conscious effort to keep it simple for developers. Golang also supports tooling to offer external packages and publish its packages in a set of commands. It has packages distributed with powerful standard libraries. Just like JAVA, Golang platform is independent. In Golang, the code is compiled and converted into binary form to make it small as well as compact. Hence, the codes can be compiled and applied to any server application.
Further, Golang also avoids other problems faced by other dynamically typed languages. Developed as a statically typed language, Golang is a compiler that successfully compiles the code and also ensures type conversions and compatibility. Golang lets you write code parallel with your code, so it becomes easy and convenient to understand the code by your tests.
Further, as an added advantage, Golang has many beneficial features as an evolving and upcoming language:
It is concise and easily readable
Provides a rich standard library
It is quick and has a fast compiling ability
Validates interfaces and type embedding
Its concurrency features make it more convenient for developers.
However, every language, whether new or old, does have its shortcomings. Likewise, Golang also faces a few challenges in terms of:
It does not support generics
The packages distributed is useful but is not handy in conventional terms of object-oriented
It lacks a UI tool kit despite a rick library section.
Rust-

Speaking about the latest language for developers, we cannot avoid Rust. An original and upcoming language in the tech community, Rust, has been developed by Graydon Hoare at Mozilla research. Developed and designed as a multi-paradigm system programming language, Rust focusses of safety- safe concurrency. Rust compiler has been developed as a free and open-source programming language build to create efficient and robust software, designed to provide better memory safety and high-performance output.
Rust has been accredited as the most desired programming language in the Stack Overflow Developer Survey in 2016. Rust is developed to maintain and preserve large-system integrity. Rust language has been designed with an emphasis on control of memory layout, concurrency, and comparable idiomatic performance to C++.
As an empowering language, Rust is a fast and memory-efficient language. It can run on embedded services and can be easily integrated with other languages. With no runtime or garbage collector, Rust is efficient for performance-critical services.
Further, like a compiler, Rust is reliable and enables us to eliminate bugs during compilation. As a user-friendly compiler, it provides top-notch tooling ability, smart multi-editor support with auto-completion, and type inspections like an auto-format. Rust is an excellent platform for documentation and a friendly compiler with useful error messages.
Thus, a productive, reliable and high-performance programming language, Rust offer other added advantages like-
It is faster than C/C++ and also safer.
As a general-purpose language, Rust can be used for any purpose.
Rust is fabulous at concurrent programming.
It has excellent communities.
It has an inbuilt dependency and builds management called Cargo.
Rust is ideally memory safe.
However, developed with great benefits, Rust like any other languages has its limitations too-
Rust as a programming language cannot develop codes as fast as Python or Ruby.
Lack of efficient garbage collection, hence, making the functional data structures unusable.
It is slow when compared to other languages and can make compilation time longer.
Golang vs Rust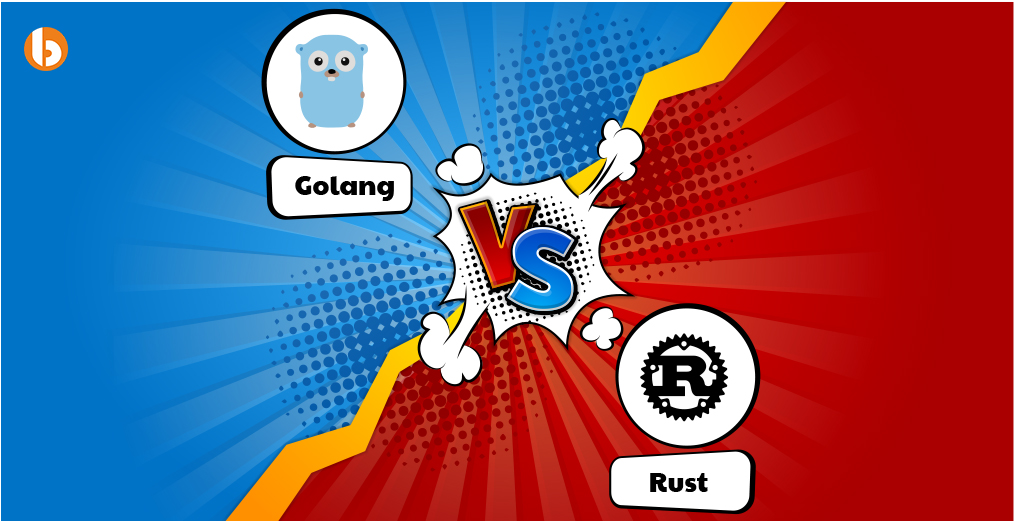 As we have discussed the origin and specifications of each language, the question that remains is which one is better? Are you wondering which one is preferable?
Well, go vs rust has been a hot topic of discussion because they were both launched approximately at the same time. However, both languages have their own pros and con; both Rust and Golang are competent languages that work well when you are designing a web application. Either of the languages is capable of handling high volume traffic and is also capable of scaling both vertically and horizontally. Neither Rust nor Golang languages tolerate unsafe memory access.
Contrariwise, industry experts suggest, Go is a superior language compared to Rust in every possible manner. It is entirely secure when compared to other programming languages. Both languages are on the rise and gaining popularity in the developer's community. Why is go more popular than rust? Because of its simplicity and ease of usability. It is also faster to learn, providing developers a more effortless programming experience. Thus, Go is a more preferred language by the developer's team. Go language focuses on simplicity and uniformity. It makes the team more efficient by providing a rigid application of simplicity.
Rust as a programming language provides developer teams with great controlling ability at a granular level, also controlling the threads and their behavior with the rest of the system. Yet, Rust is not widely preferred due to its complexity and difficulty in learning and adaptation. Furthermore, Rust is not readily adaptable with other languages like Python and is competing to find its significance with languages like C++ and D.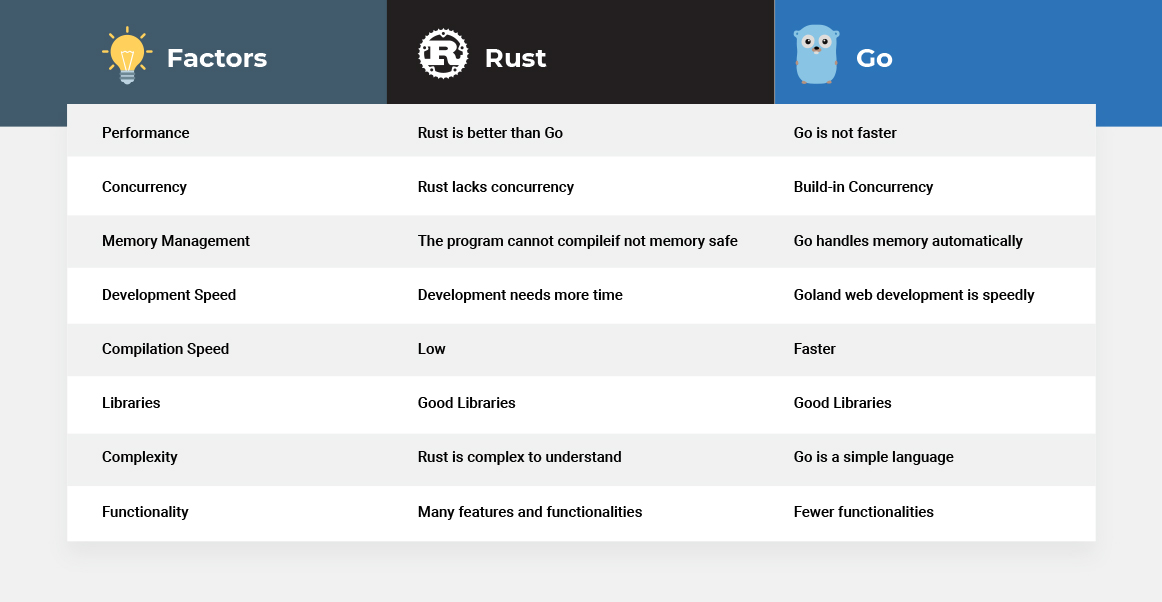 Go Vs Rust Web Development
Golang is suitable for enterprise software development. Whereas, Rust is not as great as Go web development.
Rust Vs. Golang Performance
Rust speed is similar to programs written in C or C++. Go is not as speedy as Rust. The performance of Rust is faster.
Go Vs. Rust Popularity
As per Google Trends and other metrics, Go is much more popular than Rust programming language. In the developers' community, it is advisable to follow the trend as one gets more support and solutions for queries.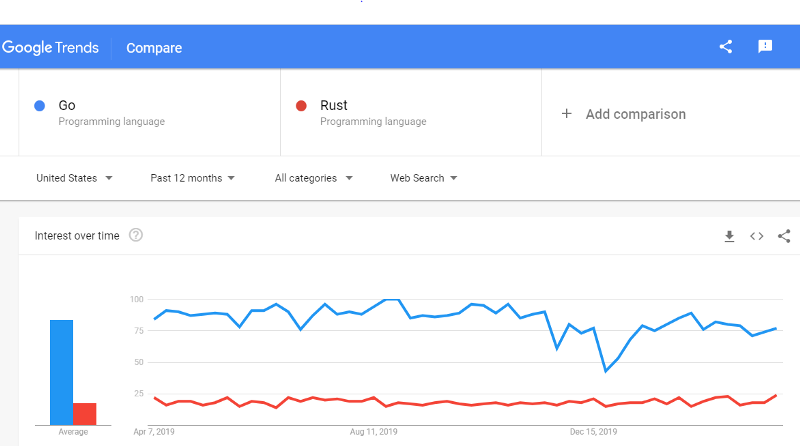 Conclusion: Go is worth a go
Even though the competition persists, each language has its own positive yet limited outcomes. I am sure that the future of Rust programming language is bright. But, as per my personal experience, Go is worth a go. However, the choice of programming language should be determined based on development and business goals. If you are wondering how Golang can add value in the performance savvy hardware systems and large-scale enterprise applications, then get in touch with our expert to discuss in detail. But if you have already made up your mind to use Go as a modern programming language for building robust analytical solutions, then hire Golang developer from us and leverage our top-of-the-line Golang development services.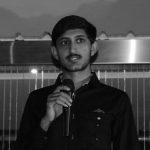 Ashvin is Node js superstar and javascript lover who always likes to do experiments. Apart from Nodejs, Golang is his personal choice of language. Open-source enthusiast and product-driven. Simplifying life using cutting edge technologies since 4 years. Gadgets adopter. Sports bike lover. He loves to watch documentaries related to the cosmos and mystery most of the time.