Last Updated on May 7, 2021
Quick Summary: This article is for Go enthusiasts who address themselves as the Gophers. It is a collection of applicable Go best practices that lead you to become a better Golang programmer by writing efficient code. Golang 2021 has a rising opportunity for developers, and these Golang tips and tricks are considered the golang style guide. I am writing this blogpost updating Golang best practices 2020, this blogpost is a collection of best practices for Go new developers who have just started using the Golang programming language.
Effective Go coding standards are not that difficult to handle, and by implementing the enlisted Golang best practices in 2021, you are sure to develop the best Go program. Do share your opinion on how did you find these Golang performance tips in the comments section.
Table of Contents
Introduction
It has just occurred recently that the developer community is inspired by the new and unique programming language- GO. With Google's exceptional action, Golang has provided extreme help in businesses of diverse applications. As this guide lists the best practices of Golang, you can now enhance the quality of your code effortlessly. The best part is, Golang best practices can contribute to a vast extent in shaping your software techniques and strategies along with delivery in the upcoming future.
1. Handling errors better by avoiding nesting
I know hierarchically nested structures look so appealing to a coder's eye but believe me, that loop is tuff to handle. I'd suggest we break down the nested if-else statements and use error-handling mechanisms to manage your Golang program better.
Check out an example below,
Instead of the above style, you can use,

When using an if-statement, the reader has a cognitive load to process, which demands more power to run your Go code.
However, in case your if-statement contains an initiation, like this:

Then, you can instead use it like this:

By following the error handling option and avoiding the nesting of if statements, you can turn your Golang code into better and effective Go best practices.
2. Do not repeat unless necessary
It will be a good idea to create a common file where you store your structures and later use those saved structures for controllers and models. Make sure to follow Go project structure best practices.

Find out from the below example:

Here, you can avoid the repetition by using binWriter,

3. Prioritize essential code
If you have crucial information such as build tags, package documentation, license information, describe it initially.
By black lines, we can divide the Import statements related groups.
The standard library packages exist in the first group.

The remaining code begins with the most important types and ends with helper function and types.
4. Take care of the documentation
Package name along with the related documentation initially.

In godoc, the exported identifiers appear. Make sure you document them accurately.

5. Keep it short
If shorter is not better, longer is not always better as well. Hence, try searching for a name that is short or relatively shortest and is self-explanatory.
Pick Marshallndent to MarshalWithIndentation.
Keep in mind that the name of the package appears before the identifier that you select.
In package encoding/JSON, we look for the type Encoder instead of JSONEncoder.
It is cited as JSON.Encoder.
Also Read: Golang Error Handling
6. Managing multiple files in the same package
Should you break a specific package into numerous files?
Standard library's net/http package comprises 15734 lines in 47 files.
net/http/cookie_test.go and net/http/cookie.go, both are parts of the http package.
Ideally, test code is only compiled at test time.
Divided package documentation
When the package has more than one file, it is an agreement to create a doc.go comprising the package documentation.
7. Pack your packages properly
While you can reuse few packages, you cannot use a few of them.
Hence, a package that defines some network protocol can be reused, but defining an executable command cannot be reused.

8. Clearly ask out what you need
Let us consider the Gopher type from above

We can define this go function as,

However, when a concrete type is used, the testing of the code becomes quite difficult. Therefore, an interface is used.

Eventually, when an interface is used, only the methods that are needed should be asked.

9. Maintain independence
So as the name suggests, you should keep a practice of keeping categorised packages.


Also Read: How to Improve the Performance of Your Golang Application?
10. Say No to concurrency in APIs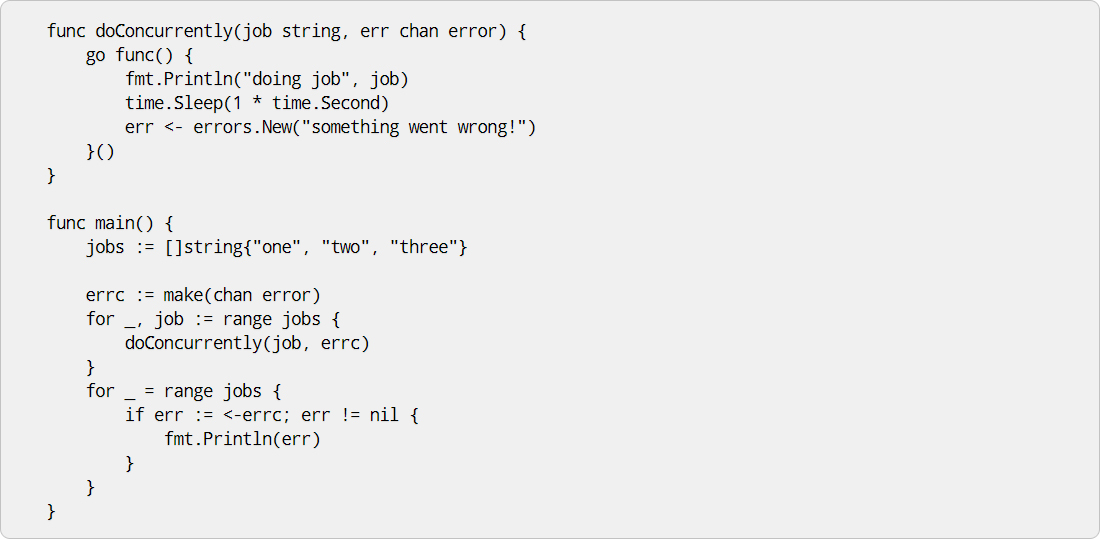 How to use it sequentially if needed?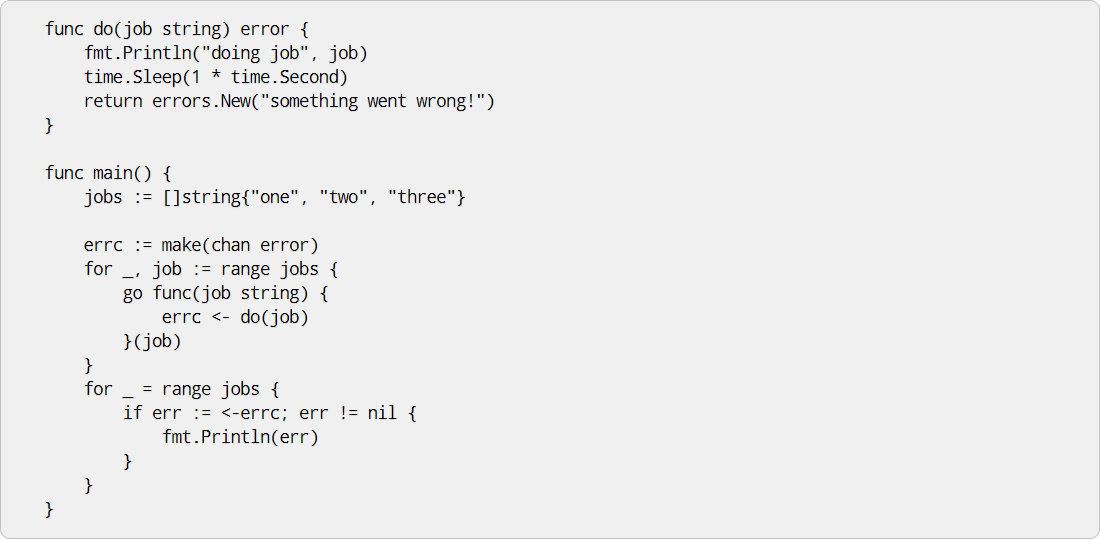 Reveal synchronous APIs as calling them simultaneously is reliable and easy.
11. State management with goroutines
When you're communicating or interacting with goroutines, make use of chan or a struct with a chan.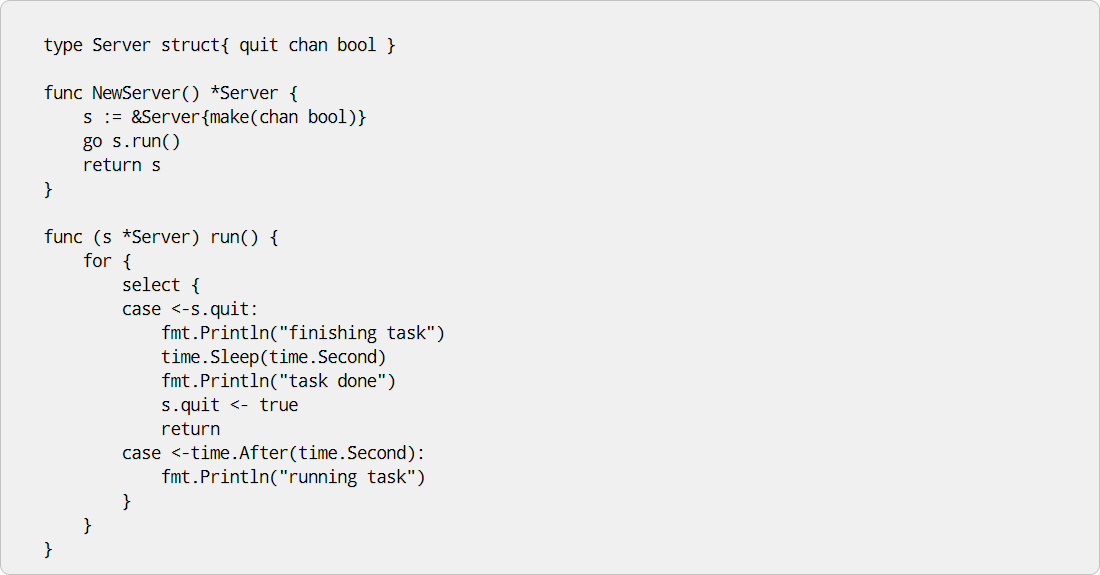 12. Avoid goroutine leaks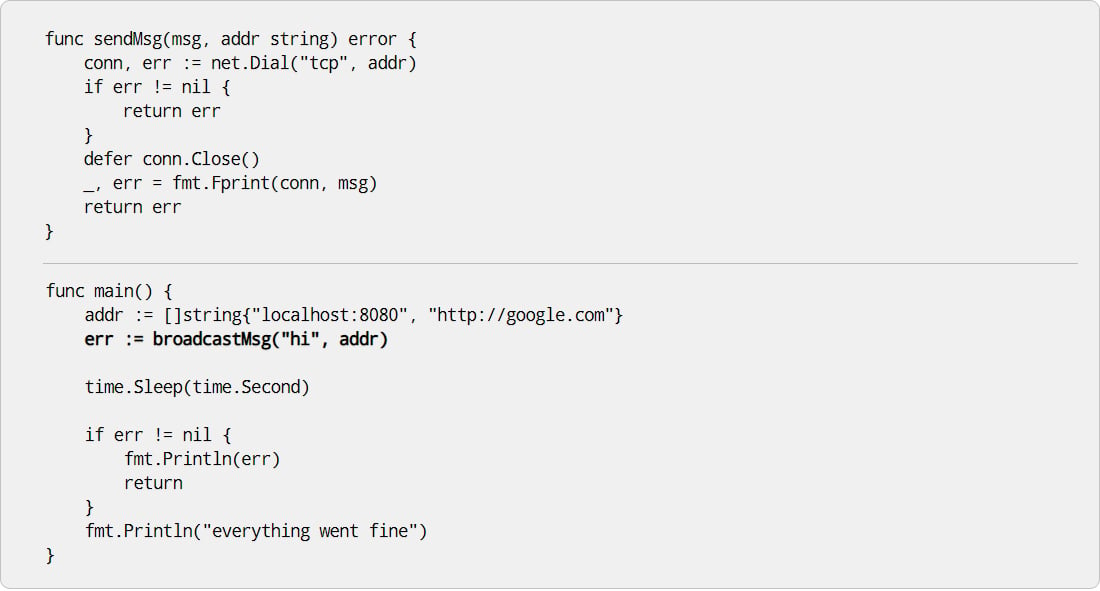 The goroutine is blocked on chan write.
The goroutine carries a source to the chan.
The chan will never be accumulated with garbage.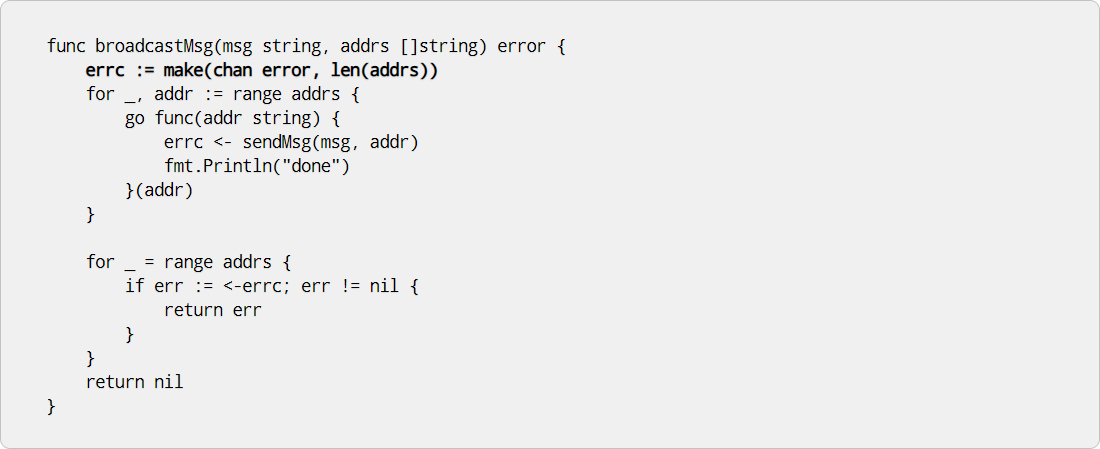 What to do if the capacity of the channel stays unpredicted?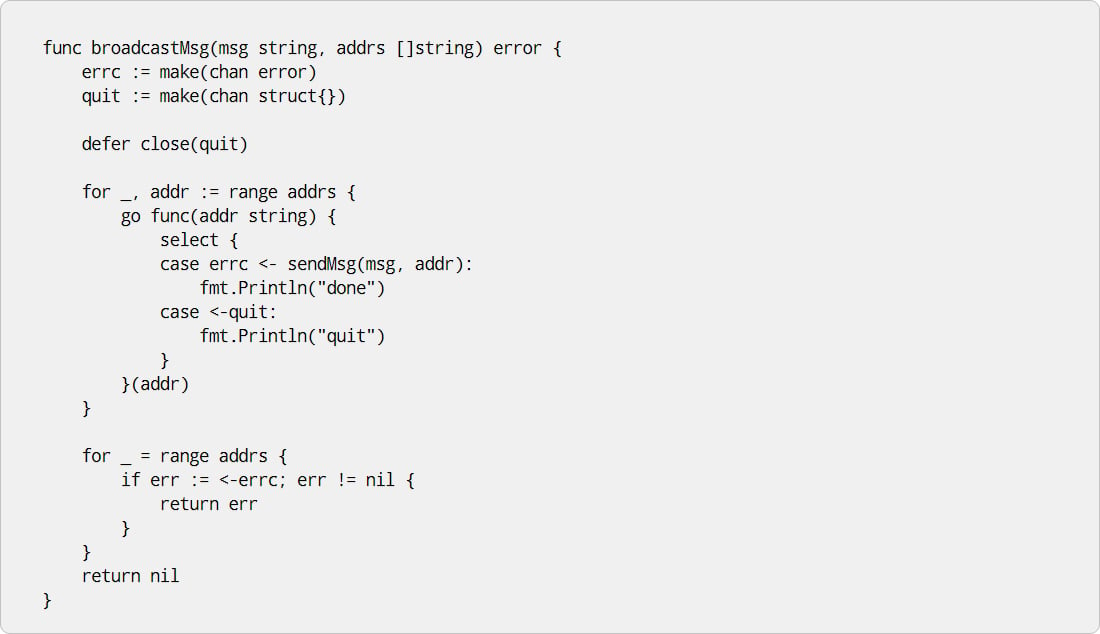 Go Best Practices for New Go Developers
⧪ The first and foremost thing that you need to know is that Go is entirely a new programming language. Hence, try to avoid composing codes similar to your current or existing language of choice. Invest some time to know about the 'Go Way' of doing things. Moreover, don't use concurrency only because you need to use concurrency. Avoid using it. Begin with an easy and straightforward function and types at the initial stage. With time, you can level up to advanced levels and concepts like concurrency and interfaces.
⧪ Make sure you keep the functions shorter. Avoid going overboard with big and long variable names. Additionally, avoid generating garbage as well.
⧪ Devote some time to analyse the distinction between named and unnamed types. They are the core of your type interchangeability. Consequently, take time to understand the laws of reflection. However, if you understand the DNA of types, you can avoid a lot of confusion and time.
⧪ It is strictly recommended to write Go like Go. Don't try writing it in some other language, as it is neither Python, Java, Or Ruby. It is Go, which denotes the use of smaller interfaces. Return an error if anything fails. Create your code in a simple way, not a clever way. Make it as simple as possible.
⧪ Know the art of structuring your projects. Moreover, if you are constructing binaries that you will disseminate, learning to structure is vital. If you want to reduce confusion, another great is to make sure you avoid the package namespace bloat.
⧪ Formulate small things that can organise well. Make sure you document whatever you export. Consider the current time while you code instead of the future. Create tests for confidence and draw out some time to refactor. If you want to ace this, give a thorough read to Go coding standards and Golnag unit test best practices.
⧪ There is magic to every language, right? Similarly, there is a magic sauce in Go as well. These are interfaces and composition. When you understand both these concepts like crystal clear, you will start writing unique readable codes immediately.
⧪ To be very precise, don't code Go similar to the one that you would do in Java or other OOPS. Go features specific design patterns that must be followed to code perfectly. Hence, learning them becomes necessary.
⧪ Interfaces hold a robust and influential role in the concept of Go programming. You might be convinced to practice reflection as a beginner, but 99% of the time, you can even use an interface rather than reflection. Use and see how the tables turn following Golang interface best practices.
⧪ One of the best pieces of advice is to write the Go code precisely how it desires to be written.
⧪ Usually, whenever a developer learns a unique and new language or design pattern, the tendency to apply it everywhere increases. In this case, Go is not different as well. Go has a plethora of new tricks. The standard library consists of plenty of examples of these.
⧪ One excellent way by which you can know about the Golang best practices is by reading the existing source codes. Later, try applying them to your projects. Another way is to start writing as many test cases as you can. Go offers a phenomenally decent testing package and holds the ability to help to a great extent in case you write code in production.
⧪ It is evident by now that you need to take time to learn the interface of Go. If you don't, you will fail to write the Go code brilliantly similar to your other languages. Welcome channels and interfaces.
⧪ Another thing that you must be knowing by now or must know is that Go is uncomplicated. Hence, be very calm while reading it because not all languages need to be complicated.
⧪ Keep it simple! One of the crucial aspects of Go is its simplicity. Make sure you avoid over-engineering as much as possible. Moreover, instead of putting bigger and larger codebases, try making simple pieces that get along well together.
Conclusion
If you want to do something, then doing it the right way will give you out-of-the-box results. When coding a Go program, as you follow these Go best practices, you will see the efficiency of your program improving. Obviously, it is not easy to implement all the Golang tips because I know it takes time to adapt to changes.
If you have a mind-boggling Golang project idea, then our elite Golang developers can make your wish a successful profit-earning project execution. At Bacancy, we follow the Agile methodology for every project development, which keeps failure at bay.
Frequently Asked Questions
Which companies are using Go programming language for their business?


Famous companies using Golang are Twitch, Google, Uber, Dailymotion, SoundCloud, Medium, and many more.

What are the strengths and weaknesses of Golang programming language?

Garbage collection, memory safety, structural typing, style concurrency are some of the advantages and if you think that graphics matter in your application, then that might be a drawback when using Go.

Is Golang object-oriented language?

Golang is not meant to be an OOP language, it is an advanced language that contains all the necessary features of OOP.