Last Updated on April 26, 2023 | Written By: Paridhi Wadhwani
February 19, 2021
13
min read
Quick Summary: If you are planning to join the top enterprises' league by migrating your business data to cloud computing. Not sure about which cloud vendor between Salesforce or AWS will be best for your business? This blog will clear your doubts and help you choose an idea on the Salesforce cloud computing platform amongst Salesforce vs AWS as the next frontier for your organization.
Have you heard of the Salesforce AWS partnership? We will tell you about the merger and how you can benefit from their collaboration.
Table of Index
Pros of Salesforce
Cons of Salesforce
How much does Salesforce cost?
Pros of AWS
Cons of AWS
How much does AWS cost?
Introduction
The speed with which trends are changing is unbelievable. If you used to carry a USB drive with you as a pocket-staple five years ago, we were considered cool. But if you do that now, people will think you to be outdated.
Having quick access to information was and is vital in the world of business. However, the medium to access information is under transformation. Companies are using cloud hosting services straightaway because they enable cost reduction, consolidating bills, and ensuring server availability whenever needed.
This blog is for cloud partners who are planning for cloud migration from their traditional services to the cloud platform. AWS vs Salesforce- the CTOs always wonder who are top cloud providers and which one they can choose as the best cloud platform in 2023. This blog post will be an informative piece of content that will help you to make a viable business decision.
Top Cloud Service Providers
To stay in the market synchronization post-COVID situation, most IT organizations adopt and leverage cloud services to alleviate the work-from-home pattern and team collaboration. Cloud computing has brought about a digital transformation, and hence IT companies consider it an inseparable part of their functioning.
The cloud infrastructure has tremendously accelerated remote work conditions and video conferencing. Along with flexibility, accessibility, and robust security, companies find the cloud platform a reliable data center. Some of the top cloud services are;
Top Cloud Providers
Salesforce
Amazon Web Services
SAP
Google Cloud Platform
Microsoft Azure Cloud
Today, in this blog post, we will concentrate on the two competitive top cloud vendors: Salesforce vs Amazon Web Services. Let me tell you about the difference between AWS and Salesforce as well as why some top companies use multi-cloud deployments like Salesforce and Amazon Web Services AWS. There are notable similarities in both these top cloud vendors, and lately, both companies have also combined to benefit from their merger.
I am here to tell you all about Amazon AWS vs Salesforce and whether you should choose AWS or Salesforce + AWS cloud service. One more thing we will also going to discuss about is Salesforce on AWS?
Salesforce CRM Introduction
Salesforce is a Software as a Service (SaaS) application providing client relationship management (CRM) service, and this what makes Salesforce the leading CRM. One of the best enterprise cloud platforms that is helping clients worldwide with databases achieves brilliant client relations, interactions, and connections, thereby leading to business growth and development.
The best part is, Salesforce is convertible and gets along well with disparate business frameworks. It has been proved that CRM frameworks will help businesses gain a massive amount of profit by paying very little attention and mind.
According to an examination, for each dollar spent behind the CRM framework, around $5.60 is gained back. This is the need for the hour to gain huge achievement and accomplishment while it collaborates with its clients. To sum up, it is understandable that Salesforce, being the most famous framework, will achieve a better ROI on utilization.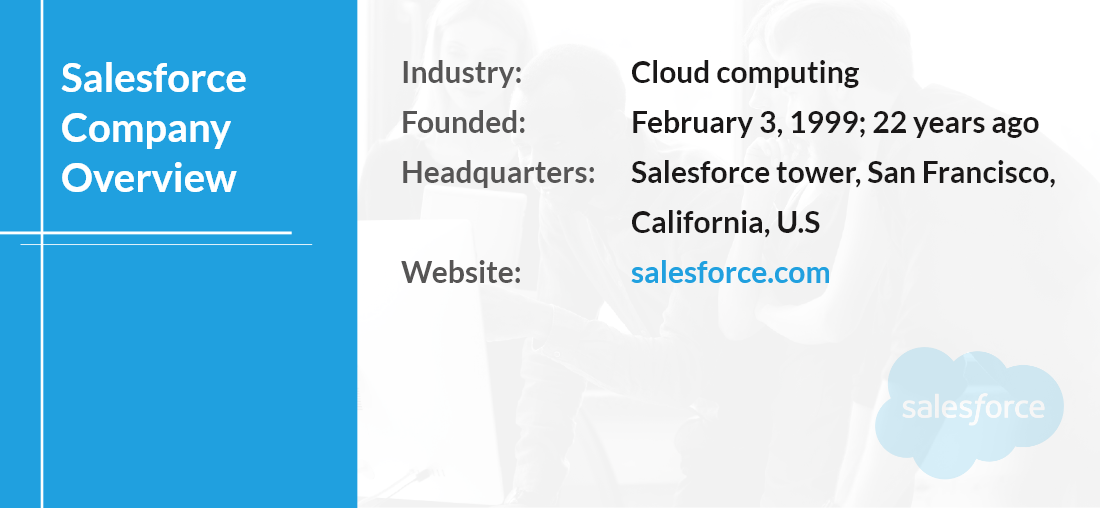 Pros and Cons of Salesforce:
Pros of Salesforce
➙ Flexible: one of the most efficient advantages of Salesforce is that it is highly adaptable. The objects that are spot in Salesforce can be entirely set according to your desires. Any user will not be tied or bonded to a specific set of layouts.
➙ Easily manageable: along with flexibility, another chief benefit of Salesforce is that it is extremely easy to manage. If you have a small-scale organization, you will still be able to incorporate changes on the side of administration.
➙ Innumerable options: the ecosystem of Salesforce contains applications that you can buy via app exchange.
➙ Standard API Links: being the largest web-based platform, Salesforce offers a vast variety of legal API Links. These tools are proven and can be linked at ease without the need to charge for additional hours.
Cons of Salesforce
➙ It is comparatively costly and expensive.
➙ Additionally, you have to pay for each add-on to obtain the most out of the software.
➙ Complicated configuration and set-up.
➙ Extremely time-consuming.
➙ Poor customer support reputation.
➙ Endless learning curve.
➙ The presence of a Cluttered interface makes simple and navigable tasks unnecessarily complicated.
How much does Salesforce cost?
To be upfront, Salesforce is a pricey affair. It is going to cost you around $5000 for a first-time user in one single year.
Salesforce is an expensive and costly program. The licensing is based on a per-user and per month. However, it is an entirely affordable and fair price for users who want various features and functionalities.
At Bacancy Technology, we offer certified Salesforce developers and consultants working at $40 USD hourly or $5000 USD monthly.
Want to transform the legacy system to architecture-driven migration?
We can simplify cloud app integration enabling greater visibility with cloud app security.
Integrate Now
Amazon AWS Introduction
Amazon AWS stands for Amazon Web services. It is an infrastructure as a service(IaaS) and a platform as a service (PaaS). On the other side, Salesforce is a Software as a service(SaaS).
AWS was found in Amazon's online business foundation where Amazon Web Services has gained huge popularity. With time, it has become one of the most famous and prominent cloud solution service suppliers that provide over 100 services, including on-demand stockpiling database, framework and information, investigation, and application advancement.
Pros and Cons of AWS:
Pros of AWS
➙ Extensive: Evolving from on-location stockpiling to the cloud is simple with AWS. The help that AWS has extended in education and training has made it easy and friendly. This cloud powerhouse provides vast information on their website, including instructional videos to get started with AWS, documentation, etc. In addition to it, AWS owns a partner network that involves top skilled firms that help the client structure, manufacture, and engineer to deal with the load of work at applications and hands in terms of AWS.
➙ Cost-Effective: Regardless of your organization's size and age, you can flourish when you can meet the demands and provide services according to them. Think of the expense that you will have to bear for running your application in co-location. The cost can be high. With AWS, you will make the best and correct decision because of AWS cost-effective nature.
➙ Security: AWS Security is paramount in each field. It is essential to shield your business from any possible risks, information risks, and hacks. AWS has brilliant security features that stick to the security laws. This platform has shown great trust and security. This is why AWS is considered as an excellent secured framework, both virtually and physically.
➙ Innovation: Many professionals around the globe claim that the AWS pricing is competitive, but the service that it claims to deliver and its extensive approach to innovation has led to creating many prominent corporate brands in AWS's client list. Although AWS may have tough competitors like Google and Microsoft, however when the topic is about dedication and innovation, you will not find any other cloud service provider in the industry who can defeat AWS.
➙ Global Leader: AWS has a vast network in around 190 nations today. It has gained tremendous support and extension across the world, having millions of active clients. Many major and small organizations have partnered with AWS and have been satisfied. The achievements do not end here. AWS has been offering services to the public sectors as well.
Cons of AWS
➙ Amazon sets certain limits by default that vary from region to region. These resources include volumes and images. You have the persimmon to launch these in a limited area. It provides limited information as well.
➙ Security issues: As security should be one of the main features, AWS limits a few of its not reversible features.
➙ Technical Support Fee: AWS asks for a fee immediately when you ask for support based on 3 packages, including business, developer, and enterprise.
➙ Cloud Computing Issues: AWS can pop up with general cloud computing issues when you move or migrate to a cloud-like as a limited control or downtime along with backup protection. Although these are temporary issues, users can get over them with time.
How Much Does AWS Cost?
Each framework seems pricey and cheap from person to person. Similarly, many people believe that their company is charged around a few hundred dollars per month. They think AWS is expensive. However, many believe that oracle licensing is bigger than AWS. In many states, the pricing is pretty affordable, and in many states, it is not expensive at all.
The point to be noted here is that when a company moves from on-premises to cloud, they usually make use of the lift and shift model. This is why it is understandable that there will be cost savings when the companies are migrated.
Cloud Infrastructure Market Share- Salesforce vs AWS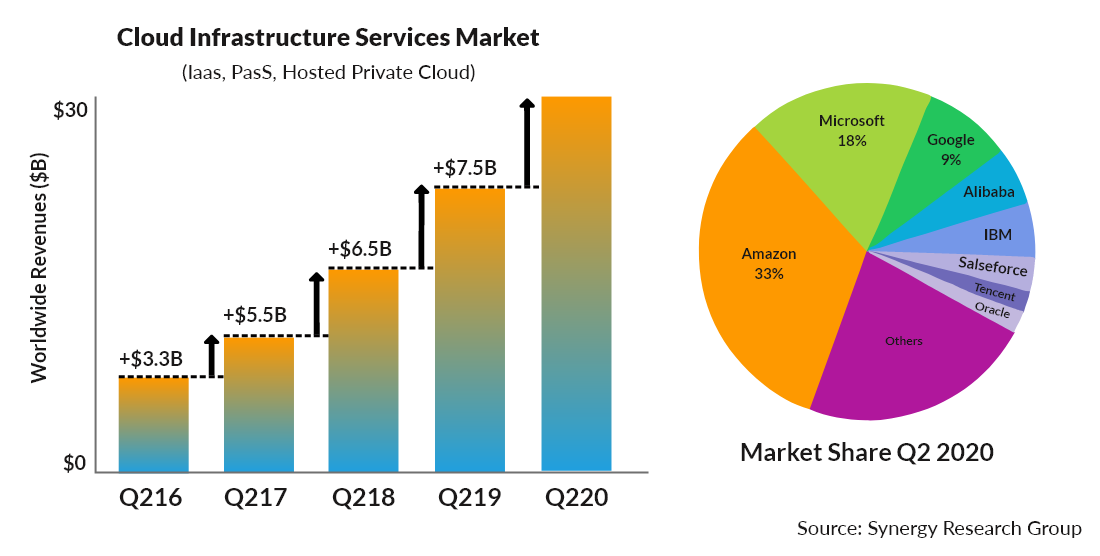 As per the Synergy Research group data, the cloud computing industry's market share in 2020 reveals that the graph is continuously growing. In the battle of Salesforce Vs AWS Vs Azure, see how the pie chart is distributed. According to Gartner, the total public cloud revenue in 2019 was $227.8 billion, and in a few years, by 2023, it will grow as high as $354.6 billion.
➙ At 33% stands Amazon's AWS market share.
➙ Microsoft Azure stands at 18%.
➙ Google cloud platform stands at 9%.
➙ On a good note, other platforms such as Alibaba, IBM, Oracle, and Tencent compete equally with the Salesforce market share.
Similarities- Salesforce vs AWS
There are few similarities that Salesforce and AWS have. Few include,
➙ Both of them, i.e., AWS and Salesforce, are cloud computing services and provide valuable certifications.
➙ Both stand as a global leader in terms of service in the cloud market: Salesforce for customer data and AWS for cloud infrastructure.
➙ Both of them support and favor the best app deployments.
➙ Salesforce AWS can both handle cloud-style operations.
Salesforce vs AWS- The contrast between Salesforce and AWS
The famous Exoprise Systems had tweeted about different Cloud Services' performance, showing a graph of overall cloud service trends. Check out here: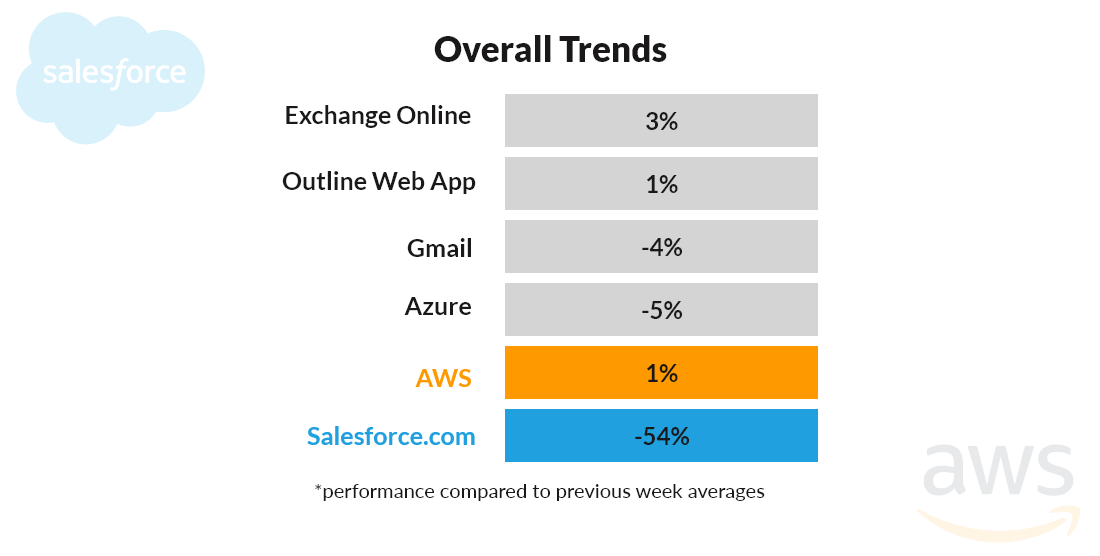 To particularly find about the difference between Salesforce and Amazon Web Services, here are the distinctions.
Salesforce is a firm that provides a plethora of applications for such businesses that offer PaaS and SaaS. In contrast, AWS (Amazon Web Services) is specifically a cloud service platform that gives IaaS.
AWS entirely focuses on infrastructure, whereas Salesforce is more inclined and focused on customer success.
AWS is all about offering rapid, simplified, and cost-effective access to storage, virtuality machines, and hosted applications in the IaaS cloud. On the other hand, Salesforce is SaaS that is trying to construct along with PaaS.
AWS allows its customers and users to move and migrate their current enterprise software license to its cloud(Amazon), focusing more on infrastructure. In contrast, Salesforce holds a distinct perspective. Salesforce does not force customers and users to migrate their applications into its cloud(Salesforce). It encourages customers to stay confined to their cloud.
Enterprises are getting quite comfortable with each passing day with AWS as amazon offers each thing in place and permits them to conquer their packaged software in its cloud. On the contrary, Salesforce aims to be where the enterprise can build its next-gen applications and store them in them.
AWS is fighting in the cloud market because of the similar IaaS services that offer services in all niches. At the same time, Salesforce does not compete with the offerings of other platforms. Having found a section in its ecosystem, Salesforce nurtures and helps its customers to grow.
Cloud Integration or Cloud to cloud app Integration?
Be it Salesforce or AWS, we have got you covered on top cloud service providers!
Free Consultation
Salesforce & AWS merger: Why and When?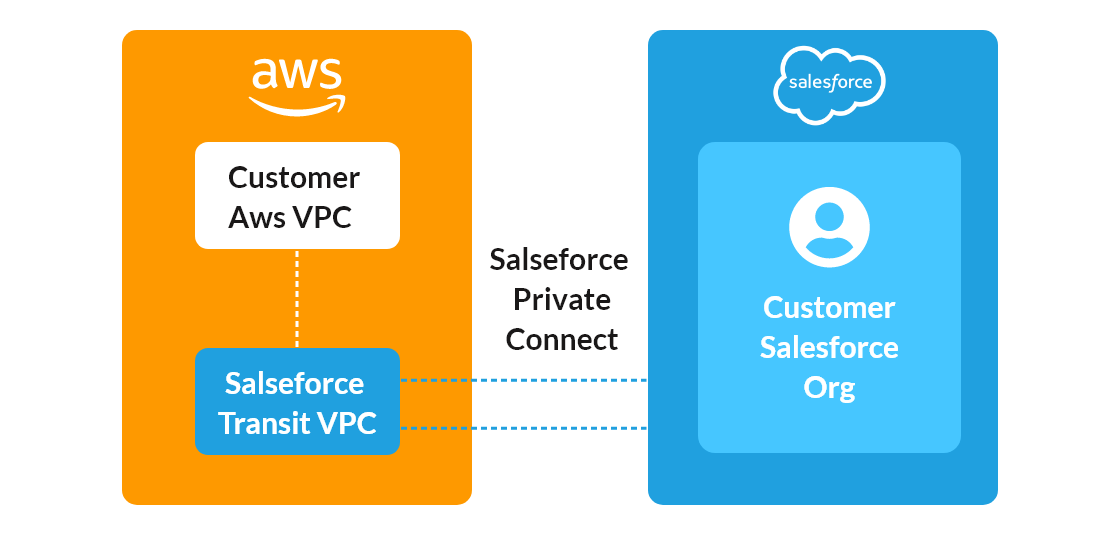 Salesforce and Amazon – the global leaders of CRM and infrastructure cloud computing-underwent a global strategic partnership in 2016 and expanded the successful collaboration in 2019.
Salesforce integration with AWS is filling up the technology skill gap by addressing enterprises' cloud computing needs. Being a wholesome application, Salesforce serves on your organization's customer data, and with AWS, you get the infrastructure to manage the same crucial customer data.
With the collaboration of both these giant cloud services, Salesforce enabled its Heroku app development service as well as its basic platform as a service PaaS- Force.com.
By itself, Salesforce hosted on AWS shows the strength of the reliable AWS platform.
We have expert Salesforce consultants that can avail you the best advantages of the Amazon web services platform for your business.
Salesforce vs AWS Career Choice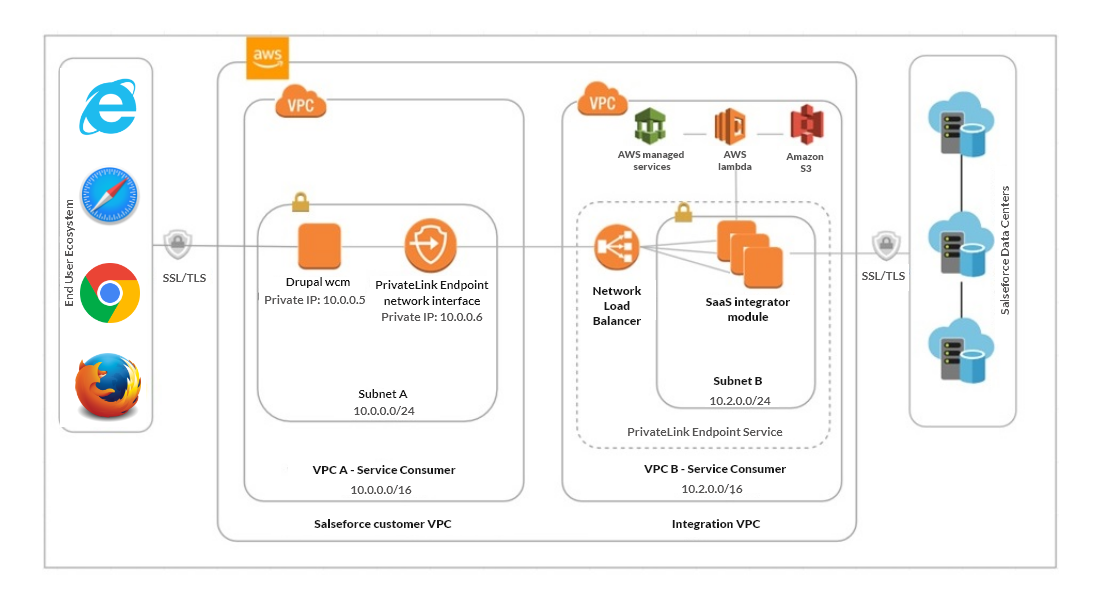 Young developers who are just starting their careers are often confused about which technology has a better career scope between Amazon AWS vs Salesforce.
Well, Salesforce itself relies on Amazon web services for its platform and infrastructure as a service. This ideation has proved the favorable combination of both these cloud services. Hence, to expect the best career inclinations, you must learn the mastery in both Salesforce and AWS.
Salesforce career opportunities
The Salesforce certification program acknowledges you with the basics of marketing automation and sales collaboration. The various Salesforce jobs and their average salaries are:
Salesforce Administrator: ranges between $40000 to $95000 per year.
Hire Salesforce Developer: around $90000 to $125000 annually.
Salesforce Consultant: around $55000 to $125000 annually.
Salesforce Certified Sales Cloud Consultant: approx $150000 per annum
AWS Career Opportunities
In the realm of AWS, you must get certified as an AWS solutions architect, developer, SysOps administrator, and DevOps engineer. The various AWS jobs and their average salaries are:
AWS Certified Solutions Architect- average salary in the US is $148,456 per annum.
AWS Certified DevOps Engineer's average salary $137,724 annually.
AWS Certified Solutions Architect- an associate's average salary is $130,883 per year.
AWS Certified SysOps Administrator- average salary $130,610 per annum.
AWS Certified Developer- annually $130,272 for an associate.
Wrapping it up
Choosing anyone among Salesforce vs AWS depends on you looking at the range of abilities and features that both these cloud services offer. However, there is no doubt; Salesforce is superior to AWS, looking at the market demands. Bacancy Technology hosts skilled cloud architects who can gauge your enterprise's potential and requirements and select the ideal cloud partner service for you.
Choose Salesforce, if:
⧪ Your application needs high scalability and customization.
⧪ Your marketing team will benefit from social media integration, marketing leads monitoring, sales pipeline monitoring, and lead nurturing.
⧪ Your business data is immensely crucial and prone to threats and risks.

Talk to our Certified Salesforce Consultant who can avail your company with intellectual Salesforce customization services.

Choose AWS, if:
⧪ You wish to pay only for the cloud services you use because AWS has a pay-as-you-go payment approach.
⧪ You want to make use of scheduled services.
⧪ Your application requires various third-party libraries.

Our AWS Certified Solutions Architect will accelerate your digital adoption with AWS-managed service providers.
Frequently Asked Questions:
What is special about Salesforce?

One of the prominent reasons why Salesforce is popular is its additional features that no other CRM software possesses. These include workflow creation, collaboration tools, contact management, opportunity tracking, custom engagement tools, mobile-ready dashboard, task management, and many more.

Which CRM is better? AWS or Salesforce

Well, Salesforce is the better CRM when compared to AWS. Salesforce is SaaS, whereas AWS is both IaaS and PaaS. AWS is a hosting platform. There may not be a direct comparison, but the merger of both is beneficial for sure.

Why is Salesforce famous?

Salesforce is considered the number 1 CRM(customer relationship management) platform. It helps you in sales, commerce, marketing, and service thereby aiming to keep your customers happy.