Last Updated on March 3, 2022 | Written By: Paridhi Wadhwani
March 27, 2019
6
min read
Quick Summary:
This blog covers the basic information about Salesforce and the types of services Salesforce provides. It covers about the company and the software features. Learn about the perks of using this most popular Salesforce CRM.
Introduction to Salesforce
Salesforce is a US software company, known for marketing the CRM Sales Cloud. It helps connect clients with companies in a new and effective way through sales, marketing, services, analysis applications, community management and much more. It's tools are aimed at both SMEs and large corporations.

Why use Salesforce CRM for your growing business? With the range of CRM products and solutions offered by Salesforce, you can register, manage and analyze customer activities all in one place in the cloud environment.
Salesforce Solutions
Sales Cloud

This product helps you make sales faster and smarter.

Service Cloud

Permanent customer assistance, anytime and anywhere.

Marketing Cloud

Keeping track of customer behavior, anticipates market behavior in real time and in the future.

Commerce Cloud

Make your purchases online and in stores, taking the experiences registered in a personalized way.

Quick Read: Migrate your eCommerce business to Salesforce Commerce Cloud

Cloud App

You can design your own applications quickly, help to realize effective business.

Einstein Analytics

Do a business analysis on any data, from any device.

Community Cloud

You can create, modify and renew the participation strategies of customers, partners and employees.

IoT Cloud
Explore a new world through the Internet of things.
Salesforce CRM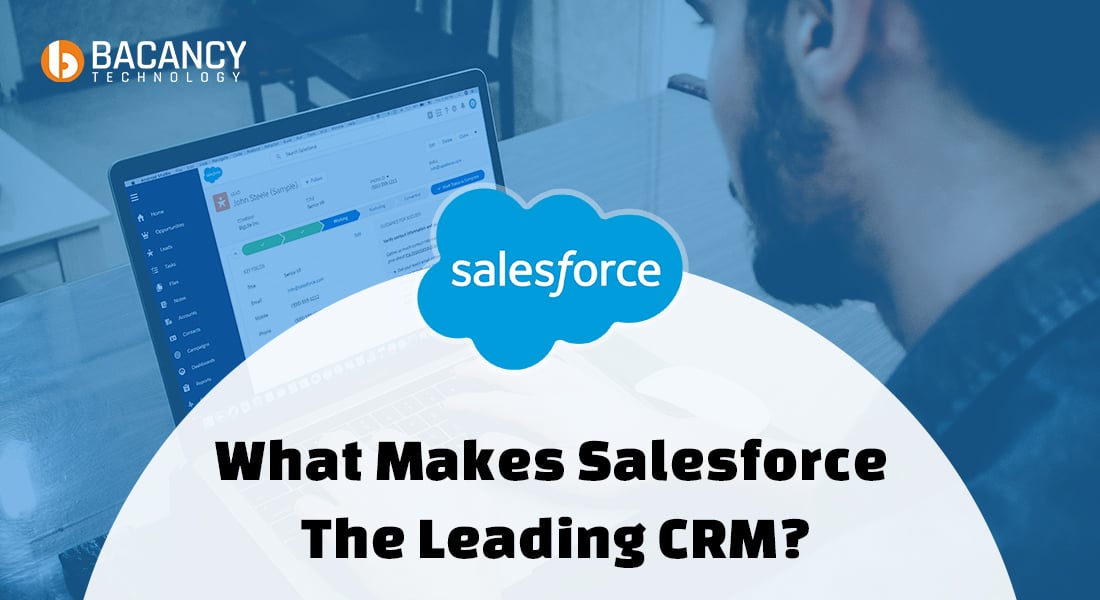 What makes salesforce unique?
Salesforce software is cloud-based, you do not need expert visits to install, configure, or manage it. Just log in and discover the variety of useful tools that await you to manage your company or business.
With Salesforce CRM, a personal connection is established with the client through mobile devices, tablets, phones,
social networks and other platforms.
Salesforce allows you to know the client in detail and you can keep a historical record of the previous behaviors of your client so you can anticipate your needs, possibilities and preferences.
You can control and manage the business or company from any place and any time.
The Company
This company was founded in 1999 by an executive of Oracle, Marc Benioff, when there was not much information about cloud computing, but they had the vision that in the future all the information would be 100% Online.
Taking the SAAS (Software as a Service) model, as a flag, they began selling subscriptions of their CRM at US $ 60 for each user. No licenses were used, they charged for the use of a month of service and who did not want to continue, only unsubscribed. Thus they were growing in a great way in the world industry. In 10 years they reached 2,600 employees with only one software product for sale. Something incredible and worthy of admiration.
They have branches in more than 23 countries and their annual turnover exceeds US $ 7000 million. In 2016, it published an income of US $ 6,205 million in its fiscal report.
Salesforce is a CRM provided by Salesforce.com. Like other softwares of its kind it provides the service of interaction of clients with companies, storing and organizing communications and all the possible information of a portfolio of clients or potential clients of the different departments or sections of a company.
Salesforce CRM features
One of the most innovative Salesforce CRM features is its "Chatter", the software social network. With this several points were noted since all the equipment maintains constant communication, from any device. This encourages interest and keeps the team coordinated in their tasks.
You can keep track of each action or event within the tasks assigned to you, each of the team members, plus they are 100% personalized.
This software is one of the most popular and sold of the moment, which generates more confidence in both customers and companies that use it. It is moldable, it can interact with other software and has many customizable options which adapt to the needs of each company. Learn about the Salesforce tips and tricks to gain the maximum benefits for your business growth.
Eclipse-Java
Salesforce, after the great success of its SAAS policy it developed force.com that is a platform that allows developers to put their code online. All over the world, developers can design applications and serve them on-line using the Salesforce infrastructures as the same ones of the CRM. This technology is Eclipse-Java and the developments are uploaded to the servers.
Why use Salesforce CRM?
The below-mentioned points are the reasons you can call the advantages of Salesforce CRM: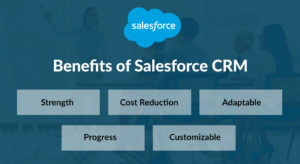 Strength
Through all these years, Salesforce has strengthened its leadership position among companies that adopt CRM technologies. They have been avant-garde in terms of technology by increasing the speed of software development. Since they have customized the commercial process of the companies. That reduces the time to weeks and it does not take months as it happens with other systems.
Cost Reduction
Among the most favorable advantages of Salesforce CRM that several companies have already proven, is the reduction of costs to attract and retain customers, as well as greater efficiency and productivity in employees. The calls are more effective with sales forecasts which are more adjusted to reality, in addition to a greater number of sales and satisfied customers.
Made up your mind for Salesforce Consulting Services?

Our salient Salesforce consultant will materialize your idea.
Contact Us
Adaptable
There are no installations in the computers because of the system developed that is adapted for the cloud. This saves the expenses in purchases of hardware or equipment in which the software that had just been acquired had to be installed in each computer.
Progress
As the company grows, it adapts to the needs that appear. That is, if they started with the Sales Cloud and you have to change then with the growth of the company, you can switch to other tools, such as Service Cloud, Community Cloud or other developments on Force.com.
With the benefits of periodic analyzes that are made of these sales and commercial movements, you can detect market trends, how to improve it and be able to define better strategies.
Customizable
They better know and understand the needs and preferences of customers along with their purchasing habits, payment possibilities, details that indicate how to make sales campaigns more personalized and effective.
So now you know all the information on why use Salesforce CRM.
To Conclude
Salesforce CRM is the leader in this type of applications and we are an experienced Salesforce development company. It has won customers very quickly among other things by not focusing only on sales. It also manages many other processes such as Marketing, Human Resources and other business processes. It is the No. 1 application in the world, although the competence of Oracle, SAP and Microsoft should not be underestimated.
FAQs
CRM is a way to manage and interact with your customers and potential customers by streamlining processes and improving your profitability.

What are the benefits of hiring a salesforce development company?

Here are the advantages of hiring an offshore Salesforce development company:
⦿ Increased focus on your core business competencies
⦿ 360 degree business opportunities
⦿ Extensive skills and capabilities
⦿ Partnership distribution
⦿ Latest technology implementation

Name the best features of Salesforce

Some of the fantastic features of Salesforce are
⦿ Contact management
⦿ Customer Engagement Tools
⦿ Task Management
⦿ Collaboration Tools
⦿ Analytics
⦿ Intuitive Dashboard, etc.