You have surely heard of React with Rails combination, haven't you? There's quite a buzz about this couple complimenting each other. But, do you know what all the fuss is about? Don't worry! We will be discussing and exploring why you should use ReactJS with Ruby on Rails. To keep it straightforward, I have divided the blog post into various sections. So, let's move forward to understand why and how to use Rails as a backend with React frontend.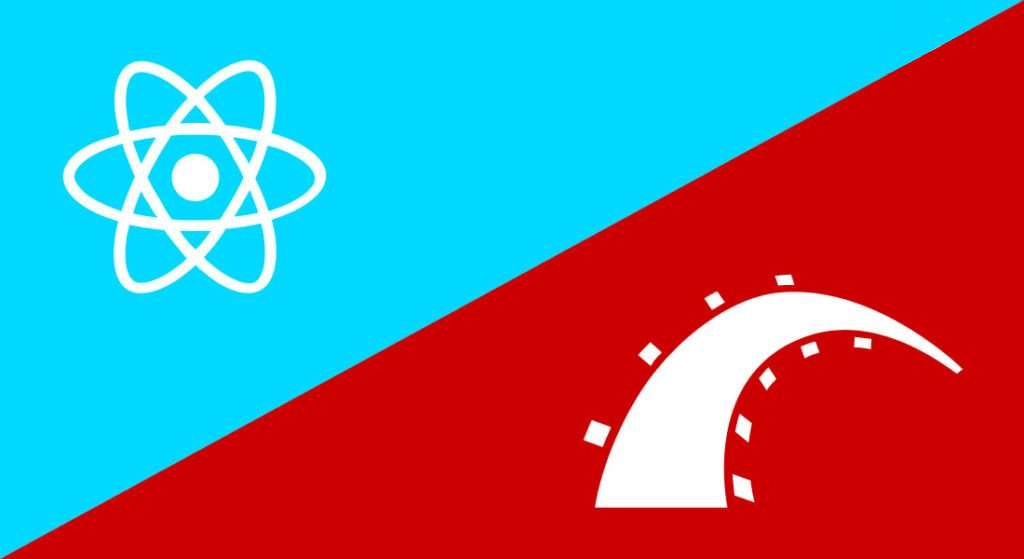 Introduction
ReactJS is a popular Javascript library used for developing frontend for user interactive web applications. ReactJs offers developers the flexibility of creating reusable React components. The primary goal of ReactJS is to develop fast, highly scalable, and straightforward applications. It corresponds to the view in the MVC.
Ruby on Rails is an open-source web framework built on the top of Ruby language. It offers developers flexibility and saves time to develop a scalable application. Ruby on Rails can be said as a collection of libraries that provides a solution for the tasks used repeatedly in the project, such as building tables, menus, or forms. As it runs on the server, it can be classified as a backend development platform.
This was an individual overview of ReactJS and Rails for the starters. Moving forward for exploring the combination. Before discussing the "Why" part of React with Rails, let's see the "What should one keep in mind" part.
What should I consider Before Choosing React with Rails?
Deciding the technical stack is a very important and challenging task. For that, one must be thoroughly familiar with the project's requirements. One should have peripheral vision rather than tunnel vision. An appropriate technical stack is only found when one has a 180-degree perception of the project.
The most chosen way of selecting a technical stack is the internet. Hence it's mostly a subjective concept because people will advise according to their situation. Considering that, here's my take on it.
Below I've mentioned the general responsibilities: why and when you should use React with Ruby on Rails.
Business requirements of the product
Product's requirements and complexity
Budget and timeframe
Thorough understanding of the product
Near challenges faced while developing the product
To ensure that you're not overkilling or underpowering the product
Technical expertise with ReactJs and Rails
Product security and scalability
Now, moving forward towards Why React with Rails?
Top 6 Reasons: Why Use React with Rails?
You might be wondering why you should choose a technical stack consisting of ReactJS and Ruby on Rails. So, the wait is over! Here are the top 6 reasons: why should one choose to React with Rails.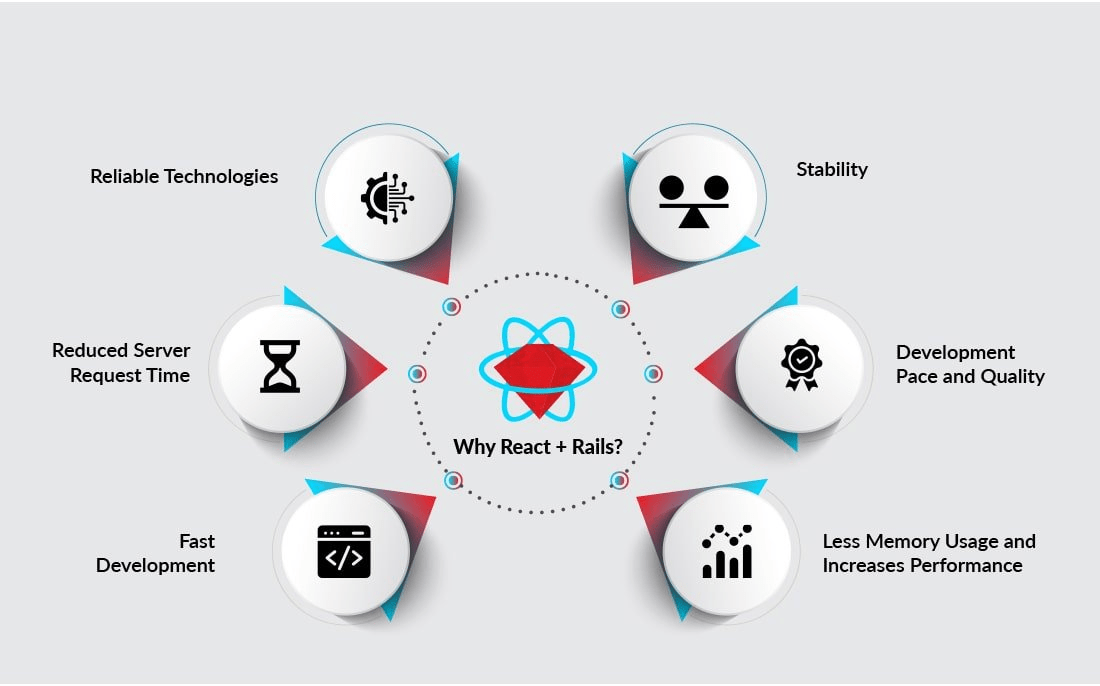 Fast development
Ruby on Rails consists of innumerable built-in modules and code libraries that reduce developers' efforts and time. It also strengthens the communication with the frontend libraries of ReactJS. It also allows reducing the cost of development as lesser time is being utilized on the product development.
Reduced Server Request Time
The loading time of any web application is mandatory, and the foremost thing is kept in mind. No user will ever like to wait for its request made. So, a web application having more loading time can lead to losing a number of its users.
And no client would ever want that!
To prevent users' loss, developers should minimize the server request time and get the response as soon as possible.
According to the experts, it is believed that Ruby on Rails has successfully reduced the loading time of the application to 80% – 90%. Isn't that great?
Reliable Technologies
Without a doubt, I can trust Rails and ReactJs to be the best technical stack. The combination of Rails and ReactJs is used and tested by leading platforms such as Airbnb, Shopify, GitHub, Twitter, Crunchbase, and many others.
Ruby on Rails + React has proven to develop the most reliable and dynamic applications because of their individual strength.
Stability
Rails and ReactJS offer immense and compelling community support. Since both the platforms have stability, you can trust your application to be developed with great efficiency.
Development Pace and Quality
RoR with React is the best combination if you're looking to build a freemium model-based application. When your primary concern is to time to market, then trust ReactJS with Rails. The combination automatically enhances the quality of your product as well as the pace of development.
Less Memory Usage and Increases Performance
If you're facing issues of unnecessary space being occupied, you can choose to deploy your application using React with Rails API. Egghead.io experienced many issues because of unwanted memory storage and finally decided to deploy using React + Rails. It worked as expected and gave improved results with increased performance.
Want to scale up your application and reduce complexities with Ruby on Rails?
Get in touch with us to hire Ruby on Rails developer to enhance the performance of your RoR application.
Advantages of using ReactJs with Ruby on Rails?
Here are few benefits of using Ruby on Rails with React.
Easy to maintain
Even the complex application could be maintained easily and smoothly due to the standalone features of Reactjs and Ruby on Rails.
Smooth testing and Easy automated testing
React with Rails provide useful third-party libraries for testing, which can be configured and used easily with the application.
Immense active community
Since React on Rails has immense popularity, we can get constant and active community support that shares knowledge and help developers to solve the issues.
An excellent ecosystem of tools and libraries
We all know how generous Ruby on Rails and ReactJS are when it comes to third-party libraries and plugins. It has a very excellent ecosystem of tools and libraries to help developers.
Great user experience
The combination never disappoints user experience because it has never compromised the performance. What else users need? Smooth user experience meeting their requirements, and React + Rails offer the same.
Convenient development
Rails enhance the development process and combine it with the best frontend layer- ReactJs, development convenient and rapid.
Quality and performance assurance
As I mentioned above, the application's performance has never compromised because of the combination. It assures the quality and performance of the application thoroughly.
Well-documented and trustworthy
Both, Rails and React have a community that provides trustworthy documentation for developers who have built web apps using this combination.
When to use React and Rails?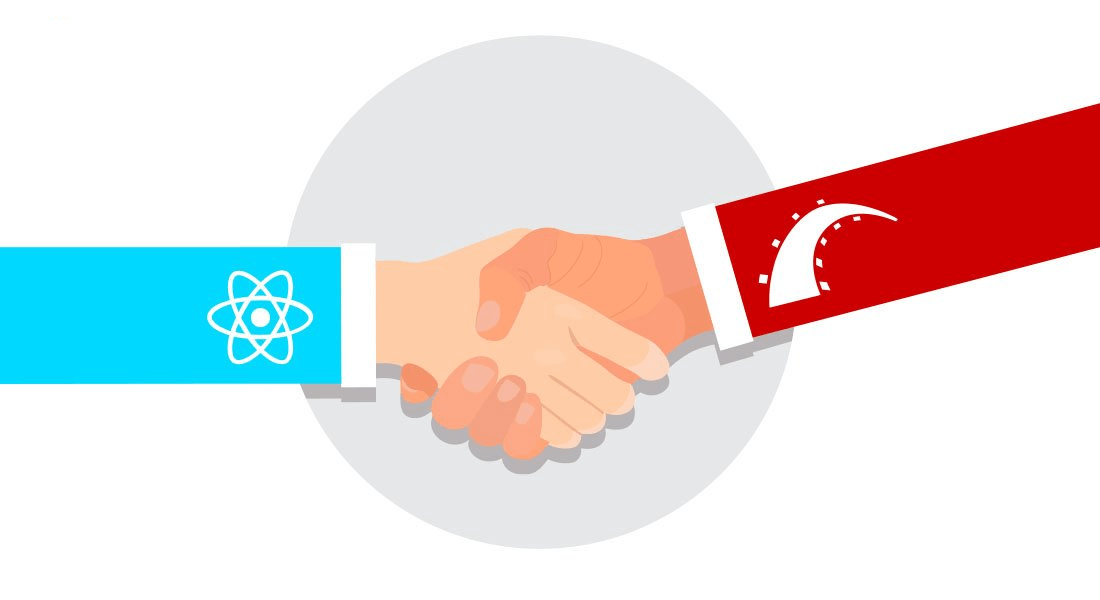 With all the advantages and why use Ruby on Rails with React, you might wonder when you should use the combination. To eliminate your confusion, I have backed up this section with some answers which might help you. You should go ReactJS with Ruby on Rails when you want to develop:
Applications with dynamic content
Complex Single-Page Applications
Applications dealing with larger database
Application to be scaled to mobile platforms: React Native with Ruby on Rails
Applications with higher performance speed
Now, let's see which top companies are using Rails app with React to have surety about all the theories we just went through until now. Moving towards the last section of the blogpost to gain more trust for the combination: Top 6 companies using React + Rails.
Top 5 Companies Using Ruby on Rails with React
Here's the list of globally renowned organizations using React with Ruby on Rails.
Airbnb
This is the best React Rails example. We all have enjoyed the amazing user experience Airbnb has offered. It uses Ruby as a primary programming language, Rails for SSR configuration, and ReactJS for a smooth user interface.
Gusto
Gusto is developed using React on Rails in its main stack for processing billions of dollars. The reason for choosing Rails as its main language was to speed up the rollout of the product.
OpenDoor
OpenDoor is the best site picked whenever a person wishes to sell or purchase property in the US. It has processed approximately 4800 real estate transactions with sales of $1 billion.
They used ROR with Angular when they developed the product in 2014, but gradually for better results, shifted to ReactJS.
Klar
Klar is a Germany-based online rental portal that uses Rails for implementing business logic and ReactJs for the user interface.
Casper
The jQuery code led to inefficiency, poor performance, and difficult user experiences. Casper chose ReactJS for its popularity and advantages of performance, quality, & speed. The website used Rails APIs and integrated the checkouts with Rails as well.
Conclusion
The whole blog post was an answer to the question, "Should I use React with Rails 6?" Agreeing on straightaway without knowing the project's requirements thoroughly can put you in a difficult position. I won't say that React with Rails is a universal solution, but I won't deny the combination if you want to develop dynamic applications with innumerable micro-interactions.
It is challenging and tedious to find a skilled full-stack developer with ReactJS and Rails expertise. To lessen your struggle, I suggest getting in touch with Bacancy because we have full-stack React Rails developers with technical skills. If you're looking for a full-stack developer, please get in touch with us to hire remote Rails + React developer.
Frequently Asked Questions (FAQs)
Rails framework is used mainly for handling backend operations as it is a server-side web app framework. Rails is based on the MVC (Model-View-Controller) architecture. On the other hand, React is a popular client-side Javascript library used to build the dynamic front end. Unlink Rails, React isn't based on MVC architecture, but develop their own architecture- Flux.
Here are three simple ways to integrate React with Rails-
Using react-rails gem and webpacker gem
Using react_on_rails gem
Making two separate applications, one consisting backend, and another frontend. Rails will consist API part and the React app will be connected to the Rails API part.
Since every coin has two sides here are some of the disadvantages of using React with Rails:
Tightly coupled with Rails
As the application grows, it is quite complex to handle the app, so you might need skilled developers
Standalone React and Rails applications can be difficult to proceed