August 29, 2018
3
min read
Last Updated on February 18, 2021
The rapid development of AR technology is presenting unique opportunities to consumers for making their life much easier. And, the same stands true for the real estate development. Being a realtor, you might be aware of the technology's impact on the real estate industry. As most of the businesses today are getting benefited from the AR technology, it is significant to understand how Augmented Reality is transforming the real estate industry.
But first, let's learn what augmented reality is and how the realtors can take the advantage from AR trends.
What is Augmented Reality?
AR can be described as a 3D environment created using a computer, which can also interact with the individuals. It is one among those technologies that changed the way people explore the virtual world. It provides people with the real view of an existing environment through video, audio, graphics, and GPS data. You can easily customize it to aptly suit to your industry and domain.
How can realtors benefit from AR technology?
Real estate industry is using this state-of-the-art technology to carry images and blueprints in real-time. Whether it is crafting a 3D model of a property or providing in-depth information about it, AR technology makes everything appear real and interactive. There are a plethora of reasons why AR is becoming extremely popular.
Better Clarity Over Property

AR technology offers Realtors an opportunity of placing themselves in the customers' shoes. One can select the property of his/her choice and have a window created into the selected property through just a single click on the smartphone app. AR mobile apps allow to virtually walk within the property and check out all the things required. They also enable you to walk through the streets and discover the properties nearby.

Better Exposure

As real estate is one of the fastest growing industries, there is cutthroat competition among the builders and developers. If realtors want to grab the attention of their customers, you must develop an AR app. It is suggested that if your customers are better engaged with your company, they are more likely to spread a word about you or involve in a conversation.

Cost-effective

The AR mobile apps are being considered as the best marketing tool these days and help to promote the services in an impressive way. They are replacing the traditional marketing techniques and capable of reaching the potential customers. AR apps are not only about driving sales but are also helpful in improving your brand loyalty.

Offer a Better Reach to Target Audience

As mobile apps are always there on the users' smartphones, they make it easier for the real state companies to reach their target audience. You can reach your target audience with much more ease by developing an AR mobile app for your business.
Conclusion
As AR solutions are the talk of the town and key to the success of any business, contact today a leading Augmented Reality Application Development Company to get your AR app developed and take your real estate business to the next level.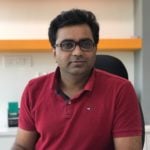 Chandresh Patel is a founder & CEO at Bacancy Technology. He is a founder of vision and mission of Bacancy Technology and constructed work ethics
@bacancytech
to achieve that vision and mission. He oversees Business development, day to day execution of strategic planning and also looks after customer service & delivery. He's an avid blogger and writes on the publications like
Dzone
,
e27.co
,
Marketo
,
Smart Insights
and featured in
Insightssuccess
.