Quick Summary:
Salesforce will be growing more and more in upcoming years. Many companies are shifting towards cloud-based CRM solutions. It will automatically boost the Salesforce ISV (Independent Software Vendor) market. According to a survey, the global growth of Salesforce ISV will be more than $400 Million by the year 2026. It is a great opportunity to become part of the Salesforce ecosystem to fulfill the business requirements. This blog post is the ultimate Salesforce ISV guide that will help you understand more deeply about ISV, Types of ISV, and many more.
Table of Contents
Introduction To ISV (Independent Software Vendor)
An (ISV) independent software vendor is an individual or organization that develops, markets, and sells software solutions that run on cloud platforms like AWS and AppExchange.
ISV Partners provide a customizable Salesforce platform where you can get simple calculator applications or complex applications that include a booking platform. Since ISV apps are developed on the Salesforce platform, you can easily find apps as per your requirement from the AppExchange. You can install them directly into your Salesforce terrain for a flawless experience.
Microsoft Azure, Amazon Web Service, Salesforce AppExchange are the top examples of Independent Software Vendors.
How Do ISVs Work?
Independent software vendors develop the applications or software based on the requirement of businesses, ISV partners, or individual customers. Firstly they clear all the license procedures or provide software and applications on a subscription. This immense demand for the cloud has made software management a lot easier.
Want to scale your business through the Salesforce ecosystem but wondering how?
Connect with our Salesforce Consultant to unlock the true potential of your Salesforce CRM.
What is ISV Salesforce Partner?
In the beginning, most of the ISV used to sell their software directly to the customer. However, it wasn't easy to scale business on a large scale after some time. To solve this issue, the easiest way is the ISV partnership.
ISV has seen immense growth after collaborating with partners. One of the biggest companies in ISV Salesforce partner is Microsoft. Moreover, there are several types of ISV partnerships that are worth considering to increase the growth of the business.
Types and Benefits of Salesforce ISV Partner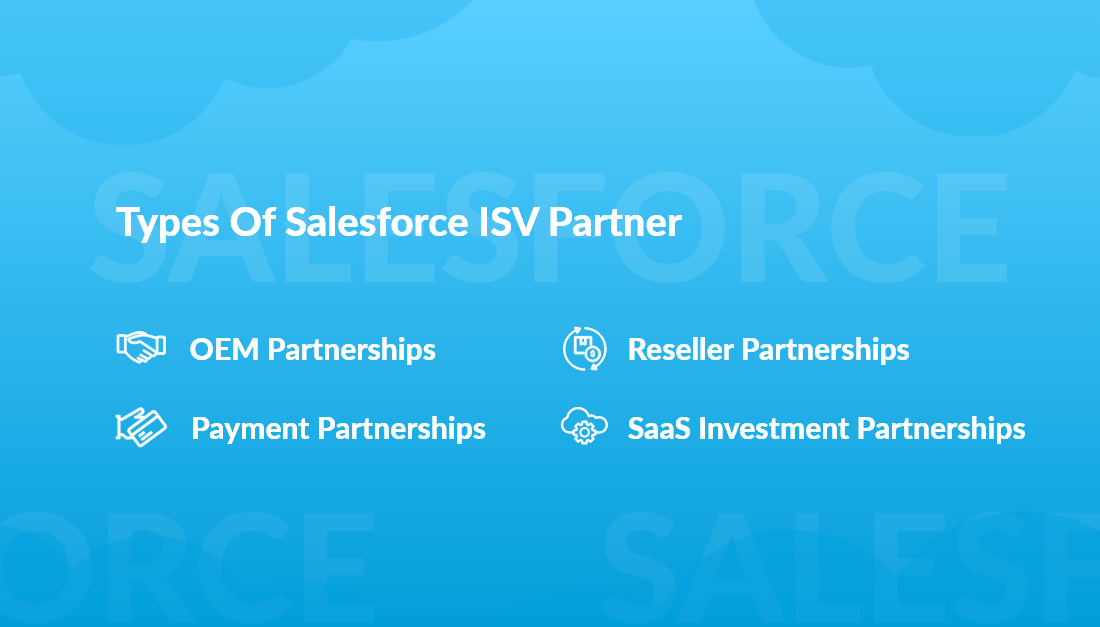 1. OEM Partnerships
OEM (Original Equipment Manufactures) partnership provides solutions by integrating software in existing products or applications.
OEM partnerships add value to the company's existing product by integrating third-party apps or software functions. One of the common examples to understand the OEM partnership is Google Maps which is integrated with Uber's existing application to give an exact solution to its customers.
Benefits of OEM Partnerships
It reduces the development cost and time
OEM partnership provides high-quality elements
The partnership enhances the user experience and functionality of the application
OEM partnership provides flexible production and manufacturing potential.
2. Reseller Partnerships
The partnership in which companies sell products or software to another company is called Reseller Partnership. Reseller Partnership boosts businesses by enhancing their product by adding another Salesforce ISV software.
The growth of businesses increases whenever this partnership sells products to customers that find difficulty in reaching out to the software owners. It helps both the seller and buyer by fulfilling their respective needs.
One of the important factors of Reseller partnership is that it works on the VAR model (Value-added-reseller).
Benefits of Reseller Partnerships
Customers can get access to the global market
Reseller Partnerships provide rapid growth without hiring in-house recruitment
Reseller provides customer support and technical assistance to understand software more precisely
Reseller partnership provides access to selling partners from trusted platforms such as Salesforce.
3. Payment Partnerships
Payment partnership revolves around making payment procedures smooth in any Salesforce ISV. Payment partnerships bring a huge amount of trust and great user experience, which ultimately helps in business growth.
It is required to have a payment partnership with a good payment merchant to get a convenient solution in building, scaling, and managing working payment acceptance procedures.
Salesforce ISV can get revenue benefits by having a payment partnership because few software companies divide the transaction initiated by merchant users. Therefore, a correct payment partnership can help get into a new revenue model through ISV.
Benefits of Payment Partnerships
Large-scale partnership opportunities include high-performance tools to manage vendors and merchants
Payment partnership adds more value to the merchant clients.
4. SaaS Investment Partnerships
Saas Partnership, or investment partnership, helps businesses grow by providing adequate funds. Salesforce ISV is in a very competitive environment where it is required to upgrade or update your product to scale your business.
This Saas investment partnership helps businesses to raise funds through venture capitalists without getting any negative impact on business. Venture Capitalist works as private equity companies that invest some required funds in your business to provide rapid, scalable growth to startups or large corporations.
Benefits of SaaS Investment Partnerships
SaaS Investor Partnerships allow getting high capital raise to boost your business
The business owner can build long-term relationships with venture capitalists to get more funds
Partnership with these SaaS investors helps in getting advice or guidance on business development decisions.
Challenges Faced by Salesforce ISV Partners
After getting details information about the types of ISV partners and the advantages of ISV partners, it is important to understand the challenges that might occur while collaborating with Salesforce ISV partners.
High Competition
As we have understood in the above part of the blog, many businesses are shifting to cloud-based and digital platforms, which is why ISV partners are increasing.
This becomes challenging for Salesforce ISV to attract and get businesses from the organization. It is not possible for every Salesforce ISV partner to get business by avoiding high competition. Therefore, it is important for the service providers to prove their individuality or uniqueness by fulfilling the niche requirement of the business.
Inflexible Review Process
After successfully developing the application, it is required to list the application on the Salesforce platform to have AppExchange. The Salesforce platform does not provide leniency in checking the application's performance. If the application is not upto the mark, it won't be listed on the salesforce marketplace.
Evaluating the application's quality is so strict that if it is not upto the mark, it will get rejected from the listing on AppExchange.
The overall listing process is time-consuming. It might take 2 to 4 weeks to get listed if it passes all the checks. However, the ISV partner gets good credibility once the application is listed on the Salesforce AppExchange platform.
Key Take Away
Salesforce ISV partnership can help a lot of the companies looking for business growth. However, it is necessary to choose Salesforce ISV integration partners wisely. Therefore, you should contact salesforce support services providing company like bacancy. Our skilled ISV partners will help you in boosting business by providing scalability, reliability, capital, etc.
Frequently Asked Questions (FAQs)