Last Updated on July 22, 2021
Quick Summary: In today's digital era, job opportunities are at a record high as there are enormous career opportunities to choose from. It's obvious that new revolutions and development give birth to a growing number of positions to support them. This is the reason I am writing this blog and devoting some time to explore and discuss rewarding positions available in today's IT industry. A full-stack developer is one of them. Let me get you through what full-stack web application development entails and why you should hire a full-stack programmer for your next emerging project/application.
The technological world is growing and revolutionizing, especially in the world of development where a developer requires more than one skill set and specialties. So, this blog will be worth taking a look at those who are interested in upskilling their skillset. In today's full-stack era, there's no such thing as too many skills. The essential skills for front-end developers and the versatile skills of back-end developers make an organization most sought after. Let's have a look at top full stack developer skills.
What is a Full Stack Developer?
To put it in a nutshell, a full stack developer meaning a well-versed programmer who has the expertise of both ends to offer the smooth user experience: front-end and back-end development. A full-stack developer can jump from one part of the application to another without significant overload. This is a huge advantage when planning forward or when designing new features. That's why more and more developer wants to become a full-stack developer in 2020.
The true value of the full stack arises when the developer understands the business requirements behind a feature and then take "full responsibility" on the application.
Having a team of multidisciplinary people means a team of developers who can effectively and efficiently work with UI frameworks, MVC frameworks, data accesses libraries as well as the operating system, application server, and database when a new opportunity appears.
It is also something that helps to create chemistry within a team. The developers work together longer. Even if a project starts with the construction of an API, then moves to mobile and web clients, the same people can make that trip together.
The demand for Full-stack developers is hiking. As the United States Bureau of Labour Statistics, there are goingto be 8.53k anticipated job openings for full-stack developers in the USA, by 2024.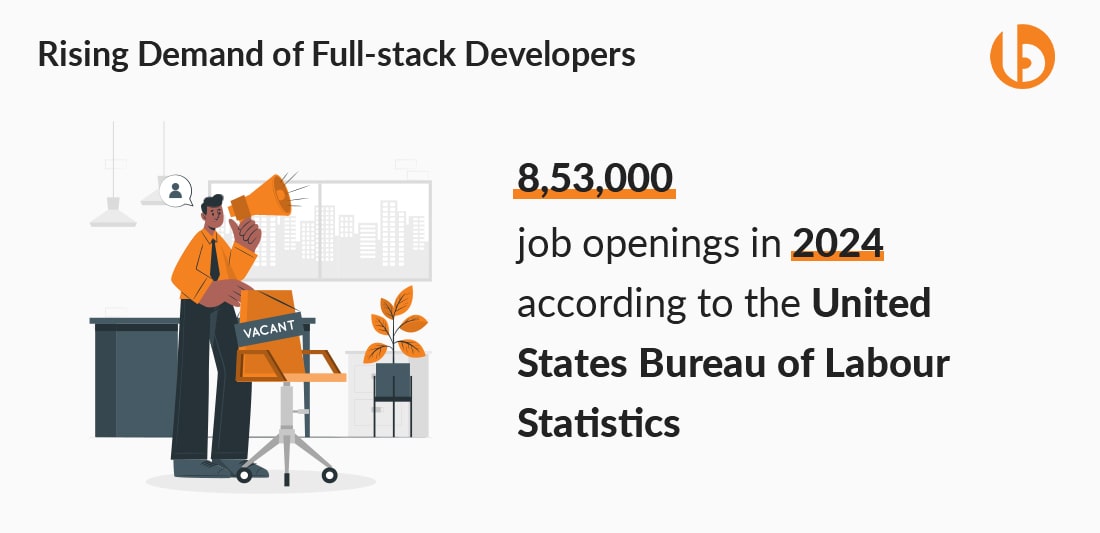 When to Hire Full Stack Developer?
Let's identify and analyze probable project opportunities as well as requirements to understand when to hire full stack developer.

1. Minimum Viable Product
To ensure your proof of concept is viable for your end-users, it is advisable to verify your idea before developing a fully formed application. Hiring a full stack developer for building an MVP can help you get real feedback from real users. Minimum Viable Product development does not demand the product's rich functionality; it is about comprehensively understanding your end user's accurate requirements.
2. App Development for Startups
Being a startup, you need to take care of extra precautions, from a limited budget, fear of failure to finding inspired founders. To give your idea market viability, you need support who shared equal vision for the business. Who else can be a better at lending a helping hand then a full stack developer.
3. Single Page Application Development
SPAs are simple to build because it does not take so much time, and only client-side scripting is required to get the job done. SPAs are known for rendering pages in the browser as they don't use standard request-response for the data exchange between the client as well as the server. The content on the website is dynamically updated without reloading the whole page. Hiring full stack SPA developer can ease your job.
Are you convinced already?

Hire a Full-stack Developer for your Upcoming project and save a fortune!
Hire Full-stack Developers as per your need!
Skills to look into a Full-Stack Developer before Hiring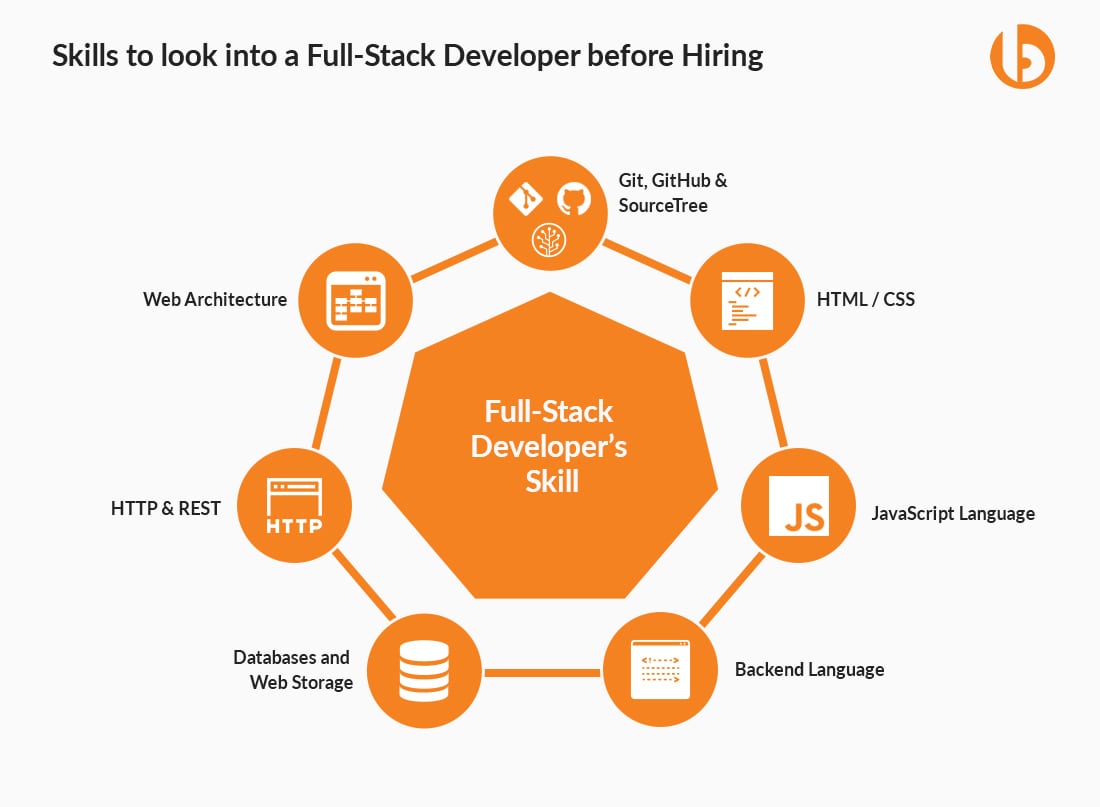 1. Git, GitHub & SourceTree
Git is an open-source web-based repository hosting service that aids effective management of the changes made to applications, websites, codes, documents, and other information relating to application development. All good programmers must know how to work with Git and have their profile on GitHub; if they work alone, then it is highly recommended, and if they work as a team, then it is mandatory.
Git is considered as one of the supreme version control systems. If you know how it works, then you will be able to co-operate with other programmers working on the same project successfully.
To start Git consider these things:
Git examples and practice exercises.
Learn about basic Git commands with examples.
2. HTML / CSS
HTML is an acronym of Hypertext Markup Language, and CSS is an acronym of Cascading Style Sheets to build blocks of web development as it let the developers add and style content for effective web presence. It is one of the basic requirements that cannot be missed. HTML5 and CSS3 are what will allow to style the content and decorate the part closest to the user.
HTML, CSS, and JavaScript assist developers in defining the structure of web pages making use of markup, while CSS deals with the presentation of the HTML elements. Both of these programming languages are used to create an engaging front-end, and become skilled at them is must criteria for a full-stack developer.
3. JavaScript Language
It has become so much mandatory today to learn JavaScript because it is one of the most popular object-oriented scripting languages on the Internet today and it is widely used for a scripting language to add behaviors using HTML. Developers around the world are using it to write client-side, front-end and back-end code for servers.
Following the growth of this language, every time there are new and better libraries, frameworks and tools that you have to know. It is the only language that runs natively in the browser, and can also be used on the server-side (i.e., along with Node.js).
The Full-Stack developer requires to have very in-depth knowledge and extensive experience about java developer key skills as well as its features, such as Angular or React. It offers exquisite features such as functions, prototype, higher-order event delegation, and closure to make web pages responsive. Besides knowing how to work with DOM, know JSON and manipulate it or structure the JavaScript code and modularize it in different parts.
4. Backend Language
Once dominated what is commonly known as the Frontend Ninja, who is capable to manage operations in databases and user authentication among many other functions with the help of front-end languages like:
Node.js: In addition to the high labor demand, Node.js is itself a JavaScript environment which means a developer must know the basics.
Python: It's another most popular language that is widely demanded by clients around the world. It is a language with a very simple and refined syntax that has very large frameworks such as Django or Flask.
Our full stack back end developers are known for bringing state-of-the-art industry practices. We also lend a helping hand to identify the bottlenecks and optimize the performance of your back-end application.
5. Databases and Web Storage
When you want to build web applications, you are required to store the data somewhere you can access later. Otherwise, none of it makes sense. For this, you must hire a developer who understands the benefits of memory storage, relational databases.
Best full-stack developer should have the proficiency to beat the database management with the capability to create, understand, and manipulate the database query. Also, the developer should be skilled enough to differentiate between non-relational and relational database along with the syntax knowledge of XML/ JSON.
To store your data wisely make sure you have a definite answer to the listed below questions.
Peculiarities of relational data
Web storage
Knowledge of NoSQL databases as well as the situations to choose a certain one
Knowledge to link a database and a back-end language you have preferably chosen
6. HTTP & REST
HTTP is the protocol that allows servers to communicate with the client and REST is an interface between systems that uses HTTP to obtain data, or generate operations on that data in all possible formats. In other words, the REST API is the "translator" that allows the Backend to understand the Frontend. So, it is equally essential for a developer to understand the relationship.
7. Web Architecture
If you think that the one who is proficient with above mentioned 6 skills can become a full-stack developer, then you have mistaken. Like, I said at the beginning of the full-stack description, a full stack developer is so valuable for the knowledge of front and back-end and for the delivery of productivity that he/she can reuse to originate.
To create a complex web application, the developer must know how to structure the code and how to separate the files and where and how to structure the data in databases and were to perform some computational tasks. You should develop all the above-mentioned skills to learn to be a full-stack developer.
You may also like to read:
Is Full-Stack Developers a Myth?
Full Stack Development Tech Stack
At Bacancy Technology, our full-stack programmers use top full-stack web development tools, frameworks, packages managers, and web servers to build top-of-the-line full-stack web applications.
You may also like to read;
Top 7 Major Trends in Full Stack Development to Follow for 2020
Conclusion
At Bacancy Technology, we always make a special emphasis on the foundations of each full-stack development project; that's why we use an architecture based on microservices, where each nucleus is responsible for managing some tasks.
Once again, the irrefutable proof that knowledge of the full-stack web developer and full-stack web designer is decisive when starting a project. In order to hire Full-Stack Developer India, one must ensure its ability to see the "Big Picture" because it is not just about seeing how each brick fits into a wall but how that wall supports other parts of the building.
FAQs
What does it mean by full stack?

Full-stack refers to the development of both front-end (client-side) and back-end (server-side) of a site or web application development at the same time. The developer who is well-versed with front end and back end development languages, servers, APIs, databases, and version control systems is termed as a full-stack developer.

Why there is a need of full-stack developer?

Hiring a full-stack developer helps you running every part of your application smoothly and efficiently. A full-stack developer is well-versed with front-end development technologies like HTML, CSS, JavaScript, and third-party libraries such as JQuery, Less, Sass, React. On the other hand, a full-stack developer is also connoisseur at back-end technologies like Java, Ruby, Php, Python, Node and others so the developer can solely integrate front-end app with back-end application as well as infrastructure.

Essentially, any web application development project requires both front-end and back-end developer; however, full-stack developer fills the role of both.

What does a Full Stack Developer do?

1. Single-handedly manage the project and coordinate with the Client
2. Skillfully translate the project requirements into the overall architecture
3. Write back-end code in Ruby, Python, Node or any other preferable language
4. Write optimized front end code in React, Angular, Vue or any other preferable language
5. Identify, understand and debug database related queries
6. Analyze and optimize the performance of the application as well as infrastructure

How long does it take to become a full-stack developer?

Minimum of 3 months will be required to get yourself well-versed will frontend and backend technologies. So around six months will make you a skilled full-stack developer.

Which certification is best for full-stack developers?

LinkedIn Learning, UpGrad, University of Michigan, and more good certifications are great accomplishments for fullstack developers.

What are the roles and the responsibilities of full stack developers?

Fullstack developers are acquainted with the power of both frontend and backend technologies, so they are obliged to look after the user experience and functionality of the web application or website.