November 23, 2018
5
min read
If you are about to start a new business or your business is in the early stages of its creation then you have surely taken the time to choose a name. Maybe the logo is in the design process and you are already seeing who to send to make your business cards. In the digital domain, you've probably already chosen a Twitter handle, Facebook page, an Instagram account and other networks.
But what about your website?
How short is the load time?
How fast it responds to the user's request?
How quickly it is retrieving products from the database?
To answer these questions you must have the knowledge of the platform in which your website is developed. Otherwise make sure that the web developers you hire should be aware of the latest trends in their area of work. Because only in this way they will be able to guarantee that your website will work as intended.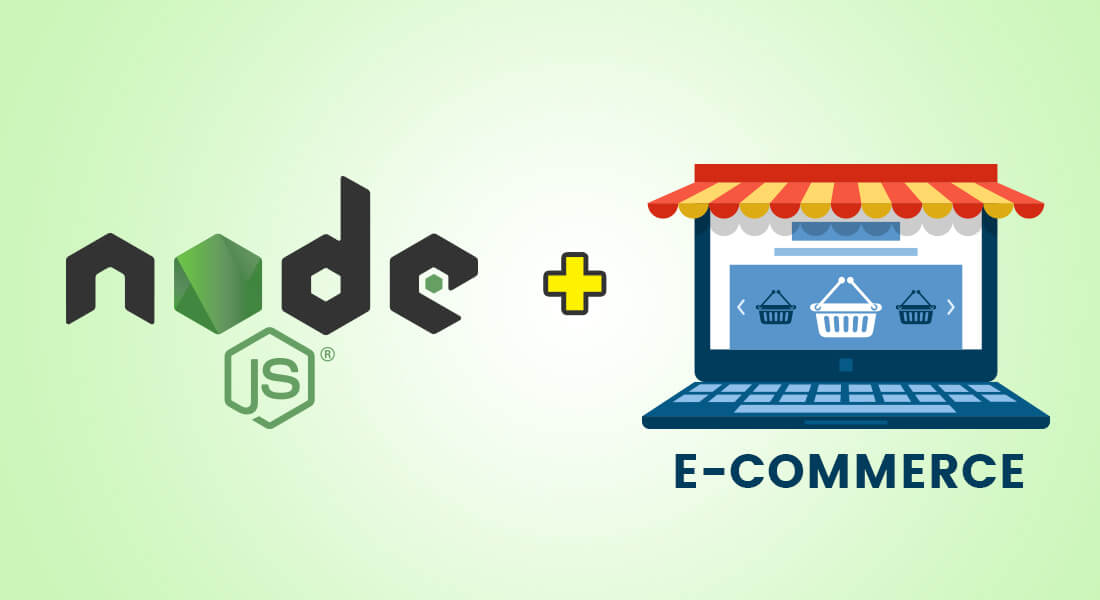 So the first step is to Hire Node Js Developer who are up-to-date and know that Node.js is an open source multiplatform execution environment to develop responsive ecommerce sites and here we indicate some features of node.js
Let's study more about this:
Scalability:
Node.js can run on a variety of servers, including Microsoft Windows, Mac OS X and Unix. It was formulated to generate a scalable system that had enough consistency to generate a large number of connections simultaneously with the server that ideally happens with ecommerce websites. Generally, when a large number of connections are created then the performance and speed of applications and web pages are impaired. This is because of the vast majority of technologies that work from the server side trigger requests in isolation and through independent threads. Therefore, when the number of requests that are made to the ecommerce sites increases then the resources and their consumption increase as well.
Single-Threaded:
Another point to consider Node.js for ecommerce websites is the use of JavaScript. The fact of allowing developers to write in JavaScript, both on the server side and on the client side makes the transfer of data between these points faster and therefore reduces work times. Node.js has a library of different JavaScript modules which can be loaded through a simple function and made available as components ready for web and ecommerce development. An example is the http module, which makes it possible to generate an obsolete web server with a single function. It is also possible to install additional modules with the NPM package management system (Node Package Manager).
Event-based Architecture:
It is ideal to handle high traffic applications of users and events, such as Twitter where hundreds of thousands of tweets are sent every second.
With event-based architecture it is possible to execute the programming code asynchronously. Therefore Node.js relies on single threads and an external input/Output (I/O) system, which allows a parallel processing of multiple write and read operations.
The asynchronous processing of I/O operations is realized through the structure based on Node.js events. This basically relies on a single thread, which is in an infinite event loop. This event loop has the task of waiting for events and managing them. Meanwhile, events can be presented both as tasks and as results. If the event loop records a task such as a database request then it is saved in the background through the callback function of a process. The processing of the task does not take place in the same thread, in which the event loop is executed so that it can immediately go to the next event. If an external task has been performed then the results of the external process are returned via the callback function as new event loop results.
The event-based model without blocking has the advantage that an application based on Node.js never wait for results. Thus, for example, it is possible to execute different database requests at the same time, without the program being stopped. A structure of a website, which requires different external requests, can therefore be carried out with Node.js much faster than a synchronous processing process.
Asynchronous I/O:
Platforms like Linkedin, eBay or PayPal were created with Node.js, which indirectly is a sample of its quality. The classic tasks of a server include answering requests, saving data to a database, reading files from a hard disk, and establishing connections between other network components. These activities are grouped under the acronym I/O (input/output). In programming languages, such as C or Java, I/O operations are performed synchronously, completing one task after another. Therefore, the input-output system is blocked until the current task is completed. Instead, Node.js uses an asynchronous I/O in which the write and read operations are delegated to the operating system or database. This allows you to perform a large number of I/O operations in parallel, without blocking, which gives Node-based applications. Its performance has surprised every Node.js development company from all over the world because it allows to create high-quality works and reduces the margin of experiencing technical errors.
Concurrent Connections:
Node.js opens up a whole new world of possibilities for programmers, who will allow to create highly scalable and innovative applications, writing codes that allow tens of thousands of simultaneous connections in a single server. So far most server programs allow a maximum of approximately 4,000 users connected at the same time, so to increase these figure companies must add servers, a problem that would disappear with the use of Node.js since it can support tens of thousands of concurrent connections and thus lower infrastructure costs. The model on which Node.js is based is the event-driven model, rather than the classic model with concurrent threads or processes. This means that you perform actions only when an event occurs then stay in sleep until the completion notification and then re-enable it to execute statements contained in a callback function. This asynchronous mechanism it is quite known for those who use Ajax.

Chandresh Patel is a founder & CEO at Bacancy Technology. He is a founder of vision and mission of Bacancy Technology and constructed work ethics
@bacancytech
to achieve that vision and mission. He oversees Business development, day to day execution of strategic planning and also looks after customer service & delivery. He's an avid blogger and writes on the publications like
Dzone
,
e27.co
,
Marketo
,
Smart Insights
and featured in
Insightssuccess
.