Quick Summary:
Microsoft Dynamics 365 for Retail Industry has been the talk of every big fish in the market. Here's a deep dive into the sizzling pool of abundance that D365 Retail has to offer. We will see a success story of a brand whose sale speaks for itself- Loreal.
If you are a retailer and are crushing to becoming tomorrow's industry leader, this blog is for you. Acknowledge the challenges that your Retail industry is facing currently and seek the opportunities that generous and magnificent Microsoft D365 for Retail has to offer. Share your thoughts upon this in the comments and share if you find it useful.
Table of Contents
Why Is Microsoft Dynamics 365 For Retail Crucial for Your Business?
Over the years, retailers did not require adapting to a flexible consumer purchasing landscape. Comparatively, if we speak of the present times, customers in this digital age await browsing products and reviews right at their couch or on their commute. The point is to move between stores without skipping a beat.
Several retailers have adapted to the constantly evolving customer purchasing landscape. Furthermore, all digital-centric business models are raising the bar even higher, resulting in retailers re-analyzing and re-evaluating their stores' roles. With the introduction of Microsoft Dynamics 365, or let's just say, Retail d365, retailers have reaped a lot. This holistic software system offers tools to retailers in helping them leverage their business as per the industrial trends.
1. Enhance operations with Smart business insights
Walk ahead of trends with Well-acquainted merchandising decisions
Streamline supply chain management and inventory
2. Delegate Employees to Render Business Growth
Promote information sharing and collaboration
Encourage employees to deliver outstanding service
3. Amuses Consumers With Incredible Shopping Experience
Personalized engagement
Offer frictionless omnichannel journey
Improve store experience
Obtain a single view of the customer
Boost up your business affair and hire Dynamics 365 developer to create a custom retail management software.
In case you are still wondering what exactly is Microsoft dynamics retail management system software, here's a brief:
Dynamics 365 Retail or Retail d365 is an end-to-end retail solution that implements unified commerce across all channels circumscribing mobility, productivity, sales, and intelligence to help workers and retailers obtain more in a mobile-first world. Simply put, this dynamic retail management system is an advanced SaaS solution hosted and operated by Microsoft built on secure, state of the art, flexible, and Cloud engineered architecture. D365 retail holds a solution including the following:
A unified & cross-platform Microsoft Dynamics Point of Sale software (POS) application
A retail experience app (for consumers)
Integrated call center capacity
Integration with third-party eCommerce websites
Create a Modern and Intelligent Store with Microsoft Dynamics 365
What Challenges Does The Retail Industry Face?
Let us all agree that the digital age has brought a whole new set of difficulties for every industry. Not to forget, because the retail industry is all about customer-facing, the challenges faced by retailers are even more perplexing. To name a few, the root of these challenges are the endlessly evolving technological innovations, digital disruptions, and customer expectations. At a point, retailers visualize difficulties expanding their business for the long term.
To eliminate these challenges, responding to the prompt changes in the market has become a necessity. Retail d365 is a crucial solution. Adopting Dynamics 365, retailers can now manage their operations and merchandise more efficiently, render incredible customer experience, and drive consistent innovation. Below are 5 major challenges that retail industries have eliminated by adopting d365 retail.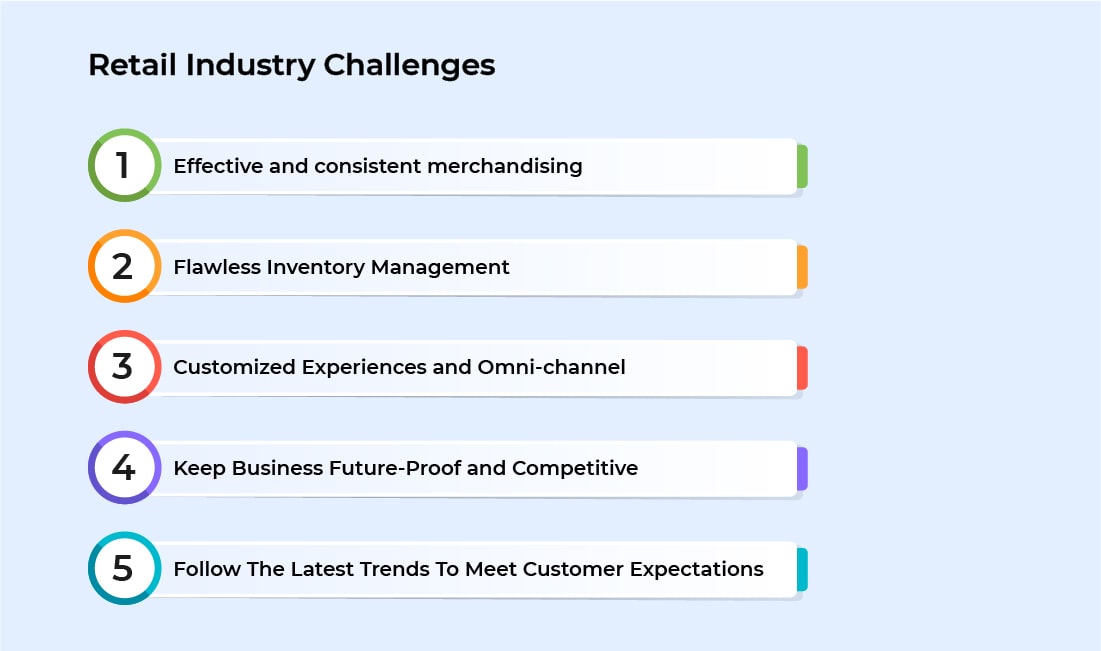 1. Effective and consistent merchandising
Merchandising is generally a crucial part of the retail business. Retailers face huge problems with constant fluctuation in customer behavior and demands. This restrains retailers from maintaining seamlessness, clarity, and consistency in merchandising.
2. Flawless Inventory Management
Managing inventory efficiently is another major challenge for retailers. This is because it compliments sales alignment and good logistics. Inventory management is generally a complex process as it encompasses several factors influencing thorough product delivery and customer satisfaction.
Microsoft Dynamics 365 for Retail helps retailers,
Enhance customer bonding, thus meeting customer expectations
To have a consolidated inventory management platform
Have a clear and elaborated understanding of their organization
Obtain a faster ROI
Automate inventory management
Reporting tasks with in-built machine learning capabilities
3. Customized Experiences and Omni-channel
Customers are no more restricted to the basics. They have high expectations, and using smartphones, they verify the availability of a certain product, check promotions, and then decide either to buy online or offline from the store. Did you know that over 80% of customers prioritize omnichannel experiences? Eventually, retailers face challenges in providing the best customer experience, thus maintaining a competitive edge.
4. Keep Business Future-Proof and Competitive
Not to forget, the retail industry has cutthroat competition. We can witness the AI evolution in the form of virtual personal assistants, chatbots, and IoT devices. Considering all this, retailers should look forward to developing brand new business models to appeal to new customers and maximize customer engagement.
Upon adopting Microsoft retail solutions, retailers stay Agile and keep up with the constant market changes, including fluctuating customer demands and technology. All in all, the objective is to build a foundation for long-term competitive benefits.
5. Follow The Latest Trends To Meet Customer Expectations
Customer requirements are endless. As a result, this growing evolution and wants are sometimes difficult to cater to. Retailers should constantly modify their products, sequencing, product display, and price to uplift conversions and pace with fluctuating customer needs.
If you are just expanding, be happy that Microsoft Dynamics 365 is the best choice for small businesses. By adopting Microsoft Dynamics 365 for Retail POS, retailers can obtain optimized, predictive, and customized insights into customer requirements.
Eliminate Retail Challenges with Microsoft Dynamics 365
Let's take the example of X. X is a retailer and is unable to cope with the ever-changing industrial trends. Looking at his competitors adopting each of the upcoming industrial trends, X starts re-analyzing its existence in the market. Eventually, it experiences less customer engagement, low sales, and restlessness.
To compete in the current omnichannel business landscape, retailers need to stay updated with the trends that come and go in the blink of an eye. As a result, businesses need to leverage a proper, holistic software system that enables rapid decision-making.
That said, when businesses adopt Microsoft Dynamics 365 for Retail, they leverage both ERP (Enterprise Resource Planning) and CRM (Customer Relationship Management) solutions. The platform permits retailers to gain a comprehensive and accurate view of their current business, including a centralized system, customer data, product pricing, order history, and inventory.
You must probably be thinking about how Dynamics 365 partner retail contributes to eliminating retail challenges. The answer to this is yes! Microsoft Dynamics 365 Retail POS is turning tables for all retailers, driving them into the long run by enabling them to procure critical analytics to enact strategic decisions. Below are 5 ways how Microsoft dynamics retail management system software is helping retailers get rid of challenges.
1. Offer a unified, seamless shopping experience
A single omnichannel commerce platform covers all the operations: in-store, digital & back office.
2. Generate And Manage Sales Promotions
Work across all channels. Conduct promotions by catalog, store, or customer affiliation with on-point and accurate real-time data.
3. Customize Consumer Experiences
Exceeded customer expectations via tailored product selection
4. Augment Customer Choice
Provide access to your full product catalog online or in-store irrespective of the location or stock level
5. Better Engage Shopaholics
Render appealing web experiences with personalized and catchy content-driven commerce strategies.
By adopting Microsoft Dynamics 365 For Retail, retailers can obtain optimized, predictive, and customized insights into customer requirements.
Upon adopting Microsoft Dynamics 365 for Retail, retailers stay Agile and keep up with the constant market changes, including fluctuating customer demands and technology. All in all, the objective is to build a foundation for long-term competitive benefits.
Eager to opt for Microsoft Dynamics 365 services for your Retail Business?
Get in touch with the best Microsoft dynamics Consulting provider Now & Let your customers be bombarded with the best!
Partner Dynamics 365 Retail to Manage Retail Processes Efficiently
1. Use Insight To Improve Business Operations
Microsoft Dynamics Retail essentials uses operational and consumer insight to handle businesses more effectively by intensifying the organization's impact besides reducing fulfillment cost and enhancing inventory utilization. Retailers can manage inventory stock Count even more efficiently by providing the stores' economic order quantities. By adopting Dynamics Retail services, day-to-day activities have turned automated now.
The Microsoft dynamics retail management system uses leveled consumer analytics to build a modern shopping experience by providing accurate or relevant recommendations and product selection both online and in-store. When businesses are equipped with the right tools, businesses can access their customers, products, orders, meet their customer needs, and manage inventory in real-time while rendering an excellent customer experience. D365 retail provides a better understanding of data via intuitive dashboards and business reporting.
3. Build A Brand New Adaptable Platform
Dynamics 365 Retail has a vast array of applications that retailers can use to automate third engagement experiences. Retailers can even implement third-party solutions to make it a scalable and extensible platform. Offering deep insights for the correct teams within the organization gives better business outcomes. Microsoft Dynamics 365 partner retail and cloud offer innumerable advantages do retailers, including the ability to create and deploy their sites with the tools of their preference at their convenience
4. Manage Inventory More Efficiently
Now, retailers can manage their merchandise effectively by gaining inventory from the right vendors at the right place. Dynamics 365 partner retail makes it seamless and easy to store real-time data on the recent trends, competitive pressure, and consumer demands giving insights into stock replenishment and allocation. When businesses adopt D365 retail, they get phenomenal help by gaining the correct price and merchandise in the most successful channel by tracking all the product attributes centrally.
5. Render Customer Satisfaction, Increase Brand Loyalty With Unified Commerce
Microsoft Dynamics 365 For Retail assists retailers drive unified commerce by building a seamless shopping experience for consumers. Initially, D365 retail was built to help businesses execute a consistent shopping experience across the channels irrespective of the location( online or mobile devices). The best part is Dynamics 365 facilitates omnichannel delivery fulfillment tools, thus giving consumers utmost convenience and flexibility to buy products in-store. Moreover, sustaining brand loyalty and customer satisfaction has become easier across all channels, thereby offering customers better brand interactions.
L'Oréal Success Story
You must be well-acquainted with L'Oréal. Known for its quality and beauty products globally, L'Oréal has reached a stage that results from the employees' hard work in over 145 countries. To encourage employees to be more productive and efficient, L'Oréal adopted Microsoft Dynamics 365 Remote Assist on HoloLens 2 to make the installation process, upgrading, troubleshooting, audit manufacturing, etc., easier with the help of remote experts in real-time.
By bringing thousands of employees around the globe via mixed reality, L'Oréal is working on reducing costs, cutting down on travel, and optimizing operations. This benefits the organization's long-term commitment to raising environmental sustainability by minimizing its carbon footprint.
Initially, L'Oréal faced challenges in bringing global work forward and helping the surrounding with mixed reality.
To get rid of this challenge, L'Oréal sought a way to reap benefits from the employee expertise who are absent on site. L'Oréal adopted Microsoft Dynamics 365 Remote Assist on HoloLens 2 to interconnect employees from varied distant locations to look at each other & their work in real-time.
Consequently, employees could react to the same image, share critical information, and use mixed reality annotations even after being physically absent or let's just say, being on the opposite sides of the globe. This reduced the travel and operational costs significantly. Consequently, Microsoft Dynamics boosted efficiency by offering an immediate ROI.
You must be wondering how L'Oréal is streamlining operations, helping the environment, and cutting costs. Here's how!
L'Oréal has been working with Dynamics 365 Remote Assist and HoloLens 2 at each of its factories and has been highly pleased and content with its outcome. The solution provides an easy and efficient way to share knowledge at a firm where work is time-sensitive. L'Oréal admits that troubleshooting has never been any easier ever since it has been using Dynamics 365. The best part is, L'Oréal employees have expressed their comfort and interest in the new technology.
The benefits of using Dynamics 365 have been dramatic. Additionally, because Dynamics 365 Remote Assist eases communication among employees at multiple sites, L'Oréal has successfully maximized and shared the best practices besides bringing top expertise to the table whenever required.
Simply put, L'Oréal acts as per a corporate strategy of universalization. In other words, it means having a robust global presence with decentralized operations. The organization ventures to license local teams to deliver consumer products that are ideally suited to their requirements. By implementing Microsoft Dynamics mixed reality technologies, L'Oréal can now add local team access to the company's top experts irrespective of their location. Overall, deploying Microsoft has become a successful investment that has helped the company create successful products that please and benefit customers globally.
Conclusion
By now, after reading the case study of Loreal, you must be pretty sure about the potential of D365 Retail for your business. What are you waiting for Retailers? We assure you that Microsoft Dynamics 365 will break your business barriers and make you reach out to your customers in a breeze. Leverage Dynamics Retail services from us as we provide a custom suite to match your business requirements, and reap the sweet rewards.
Frequently Asked Questions (FAQs)