Last Updated on February 22, 2022 | Written By: Riken Solanki
Let me help you understand the definition of full stack developer with the most popular example. People who you are associated with the film industry are one head with many hats in their lifetime journey, Johnny Depp. A single dad, an FBI agent, a book dealer, drug dealer, police officer, the writer, a pirate, notorious gangster and many more. We started believing that diverse roles and experiences fed into his creative virtuosity, making him a nonpareil visionary.
If this extraordinary scenario resemblance man as a programmer today than we would call him a full stack developer. About a half decade ago, a functional website required two different types of programmers to be up and running a web developer and a designer.
On the contrary, software developers are identified with over 41 various job titles, including mobile developer, desktop developer, front-developer, backend developer, web developer and more. Understandably, it is unfair to have one job title to describe your different skill sets. According to a study by EDC, as of 2018, there are 23 million software developers worldwide and 30% them have identified themselves as "full stack developers" as their occupation.
So, who are those 30% full stack developers?
Michael Wales, of Udacity, has described full stack developer as one who can handle all the work of databases, servers, system engineering and can perform cross-functionality on the full "stack" of technology.
"You are a computer. If you become front-end, you'll count the likes on social media. If you become back-end, you'll be breathing deep on a mountain. Listen! One life man. Become a Full stack."Chetan M. Kumbhar
A Tale of Two Development Stacks
The origin of full stack development goes back in 2003 as it's a long and complicated one. It's bound to get complicated as it evolves. Fortunately, the powerful terminology over its precise definition accurately outlines how full stack aligns with the developer and development. In this post, we will have a better grasp as what it means and some unknown facts that have not been discussed yet.
What is a Full Stack Developer?
To understand its definition, let me decode full stack development and its components parts that are
Front end web development
Back end web development
Need to combine both the side of web development, front end and back end technology (please take into consideration that web can be substituted with the mobile application development), and you end up with full stack development. Let's decode the responsibility of each side of the development and understand the importance of the right web development stacks in your full stack web application.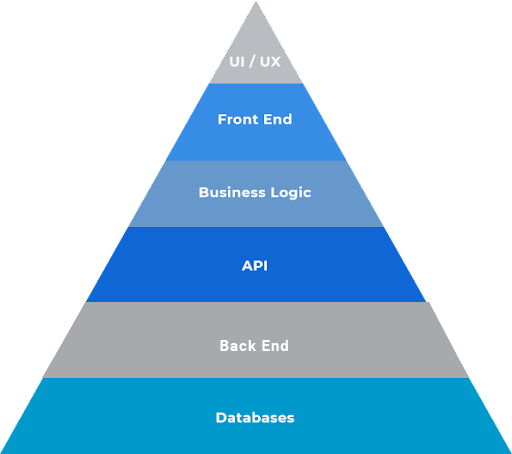 Front End Development
Did you know how long a user stays on your website before clicking away?
Usually, an average user has an attention span of just 6 to 8 seconds that is allegedly less than that of a goldfish, which is 9 seconds. As a web user rush through numbers of pages, the user only read a quarter of the text on the pages user comes across. So your website has a lot of appealing work to do in a shorter period.
In order to not to lose your audience, your web application requires to be eye-catching and should be accurately displayed in different browsers and operating systems. This all can be done hiring front-end developer.
Most Common front-end web development languages include:
Back End Development
On the other hand, the back-end developer works "behind the scenes" of a website. In fact, when you hire back-end developer, it takes care of its server-side operation and of interventions that have no impact on the graphical interface and therefore on what users see by visiting the site. Back-end developer usually makes use of languages like PHP, Python, and Ruby.
Most common back-end web development languages include:
It does not make sense to compare these two development stacks.
To leverage the benefits of the most credible solutions built using top-notch technology, you will be required to hire full stack developer. The full stack developers are well-versed with both the side of development and they hold skillful expertise in building any type of web, mobile or desktop application start from scratch.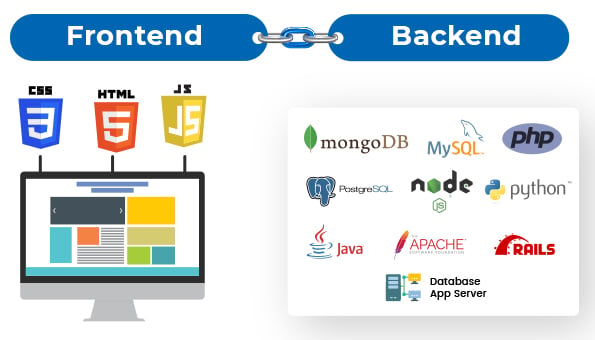 Why Should You Go for Full Stack Development?
Broaden Your Stack knowledge:
Full stack development is indeed crucial. You have the best available options when you are proficient with all the parts of the stack. HTML, JavaScript, CSS to become a programmer. MySQL, Oracle, and PostgreSQL can function as a database analyst. Ubuntu, FreeBSD, and CentOS to become a good system administrator. Futuristic languages for continuous advancement will help you identify and resolve your issue quickly. It's a prime stack for any programmer.
Diversified Job Opportunities
As per the recent survey by Belong.co full stack developers are higher in-demand in this financial year. If I get you through the long term view, then as per the World Economic Forum software and application development in amongst top 5 evolving skills by 2020. There are 17 different industries where transportation, healthcare, logistics, travel, fitness, retail and more who wants to implement front-end, back-end, and full stack development in their existing business.
Growth Prospects
As of Apr 1, 2019, the average annual pay for a Full Stack Developer in the United States is $99,931 a year. ZipRecruiter has surveyed annual salaries as high as $152,000 and as low as $36,500, the majority of Full Stack Developer salaries currently range between $79,500 to $117,000 across the United States.
700 All Notable Programming Languages in Existence
As per the Wikipedia, there are currently lists over 700 programming languages. So to have expertise in more than one programming language is important, but without proficiency and understanding of its concept, it's useless. Therefore, it is required to understand the languages for your stack. To mast full stack development, you need to understand its complex frameworks and technical foundations. Investing more time in adopting different programming language can hone your skills solidify your learning progress.
Jack of All Trades
Full stack developers become the first and foremost choice to hire for any company. The well-versed full-st6ack developer is a unicorn. Full stack developer justifies the difference between knowing the skill and master of specific skill-set. Skilled and valued full stack developers are jack of all traders so ensure to treat them with them as a valuable asset of your business. Full Stack Development is undoubtedly a promising career opportunity and it has the potential for continued growth in the coming years.
Full Stack Developer Excels in:
Optimizing the front-end code in Java, HTML, PHP, JavaScript and more
Create, Understand and Query database
Make use of API's
Writing backend code in Ruby, Java or Python
Better working knowledge of the system infrastructure
Experience in the hardware and operating system
Knows to coordinate with the client and manage the entire project
Networking and security techniques
Full Stack developers have ample of opportunities and benefits to offer. To know more checkout the benefits.
Wrapping Up
Considering the above benefits of full stack developer don't you think it's the rise of magical wizards. Full stack developers have not only a good understanding of web application development, but the programmers have better comprehended from requirement gathering of front-end development to back-end development. However, such proficiency in technical skillsets and in-depth knowledge comes from years of working experience. And finding the right Full stack development company that can transform your app is indeed a tough nut to crack but with the right resources and information, it can transform your app to the next level.