Last Updated on January 30, 2023 | Written By: Riken Solanki
Introduction:
People opting for a start-up business prefer to go online to generate their business leads instead of getting the edges from the offline market, which might be smaller for more effort.
So, for reaching out to the more and more people and promoting the business, one needs a digital presence what better option could be than having an application either a web application or the mobile application that serves as a convenient option for what the company has to offer to its customers.
Nowadays, rather than web applications, mobile apps are much in demand due to their features like accessibility, lower loading time, portability, etc. Hence, the first thing that comes into the mind of the entrepreneur for implementing the business idea is building a fantastic application, which would result in more people getting involved in your business within a short span.
Why a Mobile Application for Business Makes more Sense
Hence, any new business's journey starts with an excellent idea, deployed in a unique mobile application. As such, the entrepreneur has decided to build a mobile app; it is also equally essential to determine which technology and which platform the application should be deployed, be it android, iOS, or both.
If the entrepreneur decides to go for both platforms, he should be able to determine if he wants to build the application individually for both platforms or build a hybrid platform.
Technologies such as Swift, Android, Objective, and C are used to make the applications in android as well as iOS individually. In contrast, there are technologies like Flutter, React Native, PhoneGap, etc. used to develop hybrid mobile applications, a typical demand to be built, which runs on both android and iOS platforms.
Out of all these, React Native is considered the easiest and the best hybrid mobile application development technology in 2020.
You may also like to read;
Top React Native Developer Tools
Now, there might be a question raised, like, "Why React Native would be a better fit for your business apps?"
For this, let's discuss the benefits of building an app with React Native technology. The multiple options available in the market for building a hybrid mobile application have their pros and cons. Many disadvantages of these listed technologies have made it difficult for the developers to learn that particular language, and hence it has become harder to build applications using these technologies.
Advantages of the React Native Technology:
However, the React Native App Development strategy has been proven as the easiest and fastest technology used to build mobile applications. Let's have a look at the advantages of the React Native Technology:
It is used to build hybrid mobile apps, i.e., the single application can work on multiple platforms.
It takes less time to develop a hybrid mobile application than other technologies and, hence, lesser efforts.
It is the most leading framework as compared to other structures used for mobile app development.
It also helps in increasing the efficiency of the developer.
The mobile apps developed to react-native have high performance.
Mobile apps made with react-native have attractive and dynamic UI and UX, along with its support in integrating external modules for native libraries.
You can always transit between native app development and the react native app development and vice versa.
Converting a web application to mobile applications is also possible using react native technology.
The react native programming language is supported by both android and iOS platforms.
Now, you might think that if the framework has gained this much popularity, then which companies are using React Native to their applications? Top companies using React Native are Facebook, Walmart, Skype, Baidu Mobile, Pulse, SoundCloud, Tesla, Instagram, UberEats, etc.
Hence, not only start-ups but also huge companies like Tesla and Facebook have started developing their applications using the react native technology.
Many companies are opting to Hire React native developers to build mobile apps and take their business online.
As a React Native Development company, we can provide you with a dynamic mobile app for your business to help your business reach the maximum audience. Hire React Native developer from the company and get your business app developed that would be equipped with efficiency, high performance, and attractive UI and UX.
Top App Ideas Using React Native Technology
You may also like to read
Why Is React Native The Best Platform To Launch Your MVP?
Now, let's have a glimpse of some of the best app ideas you can consider to build an application with React Native technology:
1. Recipes App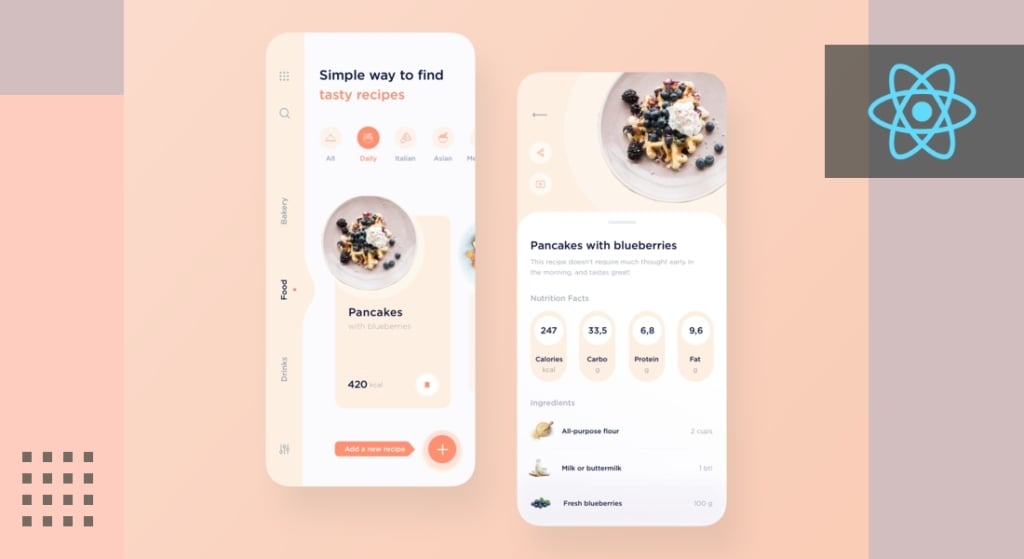 As we discussed earlier, React Native app development will offer the facility of building dynamic and attractive UI. This means that beautiful act native apps can be made for your business, along with no compromise on the user experience part. All you need is to hire the best React Native developer, and the developer will do the needful by building a dynamic and beautiful user interface app.
Also, there are concerns regarding how to launch a react native app on the particular application on the app store for iOS as well as Google Play for Android. For this, there is a provision in the react-native framework that provides documentation containing the steps for the same.
You can easily upload your recipe app built using the react native framework on the respective application repositories.
An application is always said to be completed when an end-user gives positive feedback for it. Hence, to build such an app, it is advisable to hire a react native developer who has expertise in this field. He can make a user-friendly app that contains various features and functionalities and can also take part in the growth of your business.
Features of Recipe App:
It provides the facility for navigating through the activities using the relevant menus, via the navigation bar.
The categories of the recipes are based on the various cuisines added to the application.
The recipes screen will contain the photograph of the dish, and also the description for the same will be added.
The recipe details screen will include the list of various ingredients along with their quantities, added to the recipe, procedure to prepare the dish.
Multiple filters are also included that apply the categorization on parts, categories, preparation time, etc.
Search functionality is also added so that the user can easily search for the recipe.
Embedding videos from social media platforms like youtube is also done.
2. Expense Tracker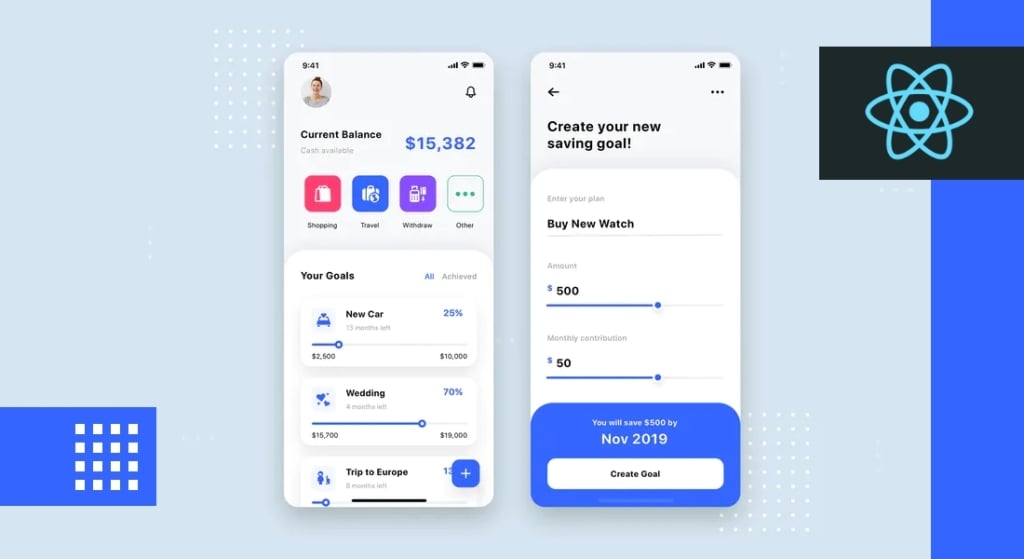 This application can be useful for an individual to track his own expense daily. Users can keep a record for day to day transactions, either monthly or yearly. One can also save their credit card or debit card details or bank account details, use this application, and hence can make a payment wherever necessary.
Also, monitoring of annual or monthly budgets can be done based on day to day expenditure. Also, you can generate the analysis report of your expenses using various graphs and charts. You can also categorize your spending, like household expenses, petrol, etc.
Features of expense tracker:
Screening of day to day expenditure and finally getting the total monthly spending.
The transition among various activities using the navigation bar.
Categorization of the spending records.
Details of the expenditure like description, category, date, and finally, the amount spent can be displayed together.
For making an online payment, payment gateways like PayPal can also be integrated into the application.
3. Music App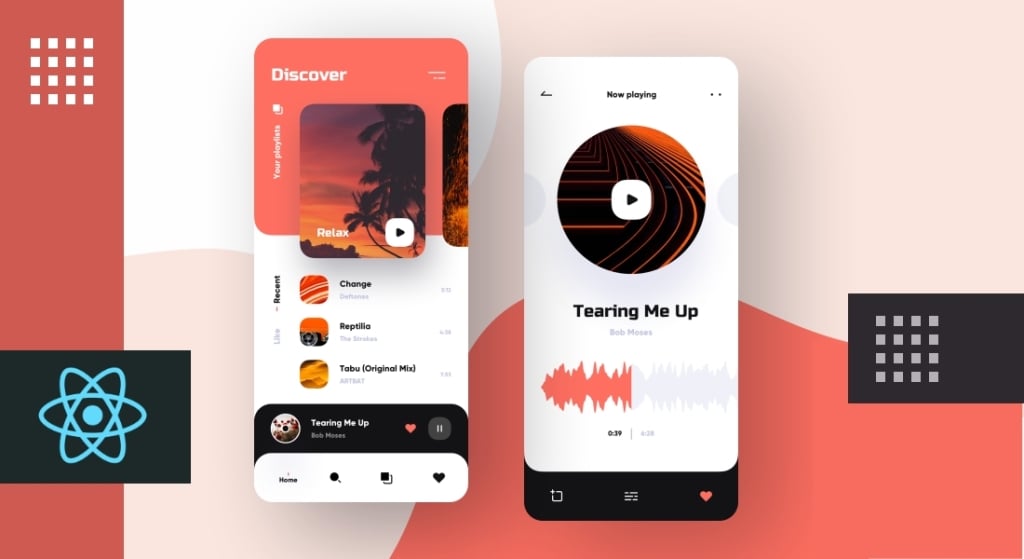 One of the most rapidly growing categories of a mobile application is the music app. If you are a start-up or a new business owner, you must think at least once regarding an investment in this app.
Dynamic and attractive UI can be developed with audio, along with it, a new feature, that is streaming live radio using the react native application development.
You can take the design and implementation of the various music applications like Google Play, Spotify app, etc., as they are made using the react native platform.
Features of music app:
Streaming for Music and Radio.
Multiple radio channels are supported.
Light and dark themes for the applications are recommended.
You can share your favorite playlist on social media.
You can also add your custom playlist by embedding its URL into the app.

4. Shopping App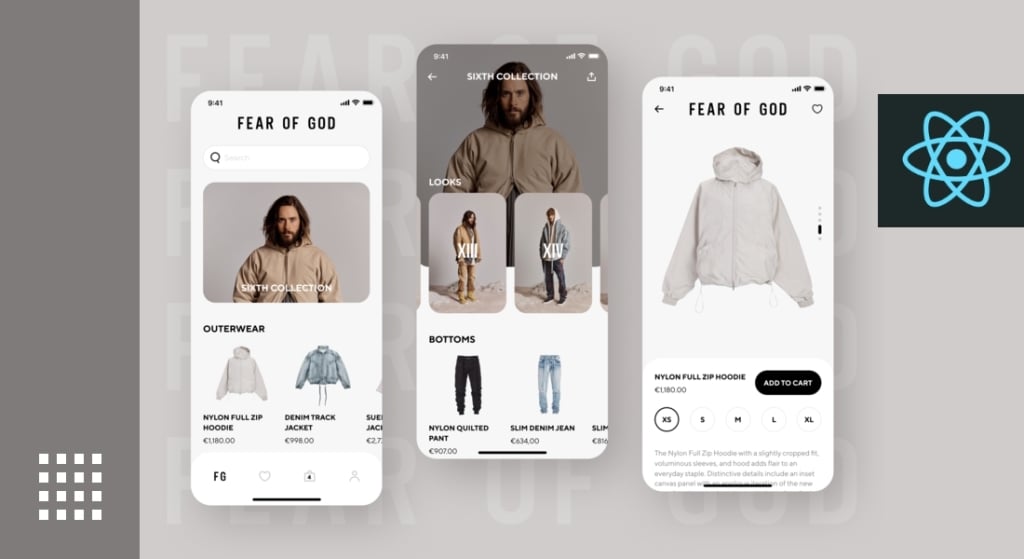 The most popular category of applications is online shopping applications. The idea of starting an eCommerce business has always been in trend. You can refer to the examples of high shopping applications like Amazon, Flipkart, AliExpress, etc.
Features and functionalities of a shopping app include- details and categories of the products, cart, online payment, etc. You can also add some advanced functionalities like tracking of orders, discount coupons, etc.
Features of a shopping app:
Easy navigation between the screens can be done using dedicated tabs and menus.
Push notifications can be enabled.
After-shopping support can be provided.
AR/VR can be introduced in the app.
Payment gateways like Stripe, PayPal, etc. are integrated.
User management can be done using Firebase.
5. Friends near me app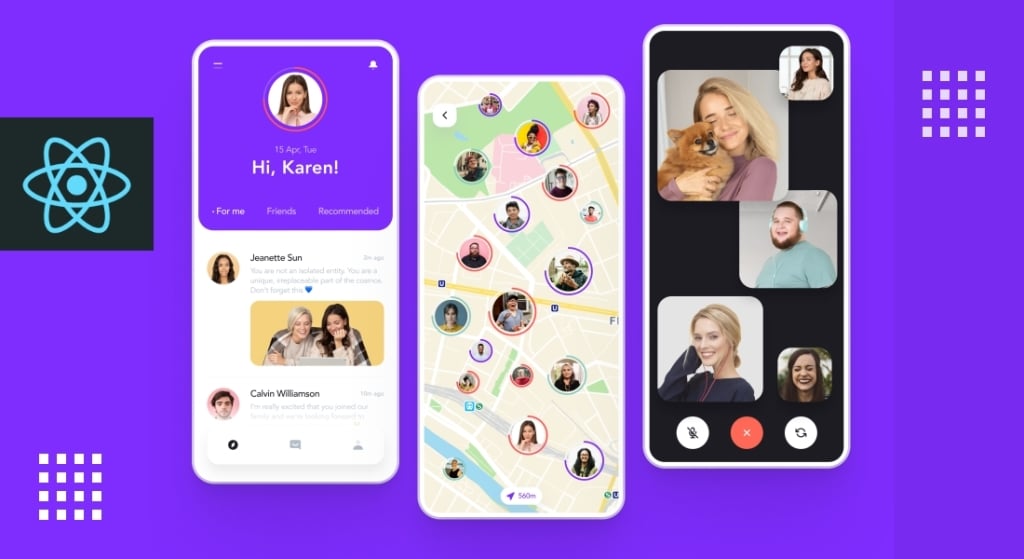 The react native social network app includes the integration of relevant social network and plug-in, navigation through the app, managing the user's location using maps, etc. Hence, if you are looking forward to building a social media app, react-native is the right choice.
Features of friends near me app:
Locations can be managed using the maps.
The chat application can also be implemented with the use of Firestore.
App also recommends friends to the users.
Login, Registration, Google, and Facebook login plug-in are available.
Adoption of React Native technology can help you boost your business in today's digital space. To run a business and simultaneously manage 3 different front-end teams is even a more tedious task.
Whereas React Native here provides peace of mind by allowing teams to share up to 95 percent of their code across Android as well as iOS. This is why more and more big names are adopting React Native, and you should too to transform your app idea into reality in the era of agile development.
Wrapping Up
Hence, what we can conclude from our discussion is that React Native is the best available open-source option to build a cross-platform mobile application. Integrate seasoned and skilled React Native developers from us into your existing team to build visually stunning, robust, scalable, engaging, intuitive, and user-friendly cross-platform mobile applications. Hire full-stack React Native developers from us to build future-proof mobile app solutions.
If you are looking for a React Native Development Company that have well-versed full-stack React Native developers and offering top-of-the-line React Native Development Services, then you have landed on the right page. Hire full-stack React Native developers and get more out of your business.