Last Updated on January 12, 2023 | Written By: Chandresh Patel
The COVID-19 pandemic has brought adverse challenges across the globe. Being a technology leader and your reliable companion, we assure you that our endeavors for contingency and uninterrupted service lay transparent in front of you.
A Note From CEO and M.D – Chandresh Patel
We stand one with our customers, employees, partners, and all other IT organizations to face this challenging situation together. We are sure that all the human efforts, with their ingenuity, will prevail over this crisis.
We strive to operate in a manner that ensures Business Continuity and Uninterrupted Software Development Outsourcing Services. We serve quality software and mobile application development in a way that does not require any physical presence to collaborate with our security software.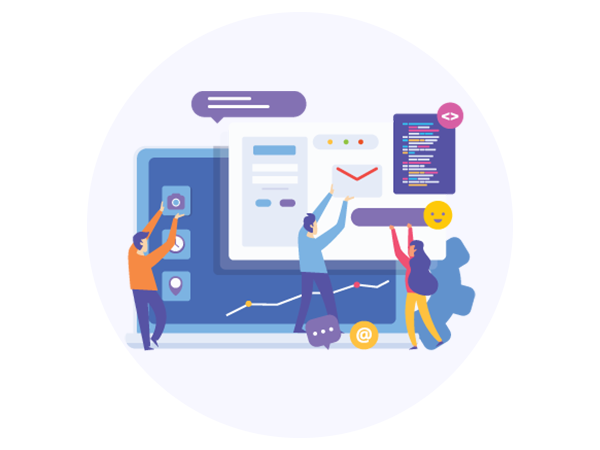 Our existing and new partners can collaborate with our IT services in a secure, remote, and automated way. Our employees are our most valuable assets, and hence their health and safety is our first and foremost concern. They are working remotely from home for the time being, as most of them usually did so anyway, with all the resources available to them. Hence, our day-to-day business and support remain unaltered.
The technical team at Bacancy Technology remains focused on enhancing our ongoing projects, and they make sure that they fulfill the commitments on-time. On the other hand, our team of project managers is remotely working with our clients to meet all their requirements to achieve deliverables.
Running an IT organization of our own, we understand how crucial is your business continuity for you. Hence, we extensively put all our efforts to ensure that all our services are providing you the best possible support.
How We Assure Maximum Productivity in Time of Crisis
We are thankful that most of our work can originate remotely as all our employees are used to working remotely at their ease.
You may also like; COVID-19 Outbreak: How We Can Help You Run your Business-as-Usual and Ensure Productive IT Operations as Earlier.
Collaboration while Working Remotely
Being an Agile Software Development Company, we make use of digital workforce platforms for our Quick Stand-ups and daily meetings while most of our employees are working remotely. Meetings through web conferencing and working extra mile for team collaboration are our critical strengths for bridging the gap.
Safeguarding Accessibility and Security of Infrastructure
All our operations and services are cloud-based, so you should expect no change in our delivery or working procedures, as the situation now demands remote outsourcing partner work. We back-up our employees with all the security tools and infrastructure they need to access during their remote work.
Helping Enterprises and Clients of All Shapes and Sizes With The Emergency Remote Work
Some of our clients are counting on us to put their business continuity upheld- you can too rely on us in case you want your employees to work remotely or in any virtual workplace enhancements. Our employees are reachable anytime to assist you in reconnecting with your remote outsourcing partner reliably.
On-time Support Service
We put-in all our heart works into your services. We assure you that our colleagues are available round-the-clock to assist your needs. Such is the benefit of outsourcing partners.
We are glad that our employees support us immensely with all their dedication and inputs to attain client satisfaction. We use project management tools like Slack Jira for internal communication and collaboration management. We implement cloud-infrastructure and sound security practices to serve transparency and contingency in our work.
Why Should I choose Bacancy Technology for Remote Outsourcing and Software Development Services?
We are offering 100% Risk-free, no-obligation and no advance payment Trial Today.
We let you access our risk-free and no-obligation software development services for up to 15 days before signing up with us. This means you have a sufficient amount of time to inspect our Agile software development process, the capability of resources, to validate the quality of code, turnaround time, and work ethics to evaluate our development services and try out a prospective developer. If you are not completely satisfied, you won't be billed as simple as that.
Remote Outsourcing Services- FAQs
How Bacancy Technology is ensuring Uninterrupted software development outsourcing partnership?

We collaborate with our employees working remotely and make sure that they get secure accessibility and safeguarded infrastructure. We implement cloud-infrastructure and sound security practices.

Can I hire a developer or a team for a specific time period as my own in-house resource?

Yes, certainly. You can hire a dedicated developer or a team as per the Staff Augmentation model. To know more, check out how you can hire dedicated offshore development team just like your in-house team.

While working from home do your developers have a high configuration system?

Yes, we have made arrangements for all the necessary infrastructure to help our employees accomplish their work remotely.